Wimbledon 2006 Recap

Ray Bowers
Each quarter of the singles draws at Wimbledon 06 contained 32 of the world's top players. Each quarter produced its own share of drama in five rounds of elimination play. The four survivors, one from each quarter, then squared away in the tournament's last days for the big cash and glory.
THE QUARTER OF MAURESMO
First Thursday produced fireworks in the top quarter of the women's draw. Venus Williams, my choice to win the tournament, was pushed to the edge of defeat by the veteran American Lisa Raymond, whose firm serving, clean stroking, and excellent net play exemplified the classic grass-court style, superbly played. Two points from defeat, Venus managed to stem the tide, stepping up her aggressive play while achieving better control of her stroking.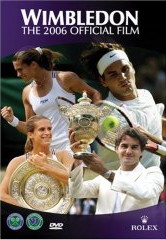 Two days later Venus faltered before Jelena Jankovic of Belgrade, 21, amid a plague of unforced errors--53 including 12 double-faults by official count against only 21 unforced errors by Jelena. Matters were tight at the finish, but Jelena, who had played Venus closely in Rome recently, performed her best in those key moments. Meanwhile on the same day another star from Serbia, Ana Ivanovic, 18, defeated Dinara Safina. But neither Belgrade-born player advanced further, each losing to one of the quarter's last survivors--Myskina and Mauresmo. These two faced off on Second Tuesday, July 4. Mauresmo was the clear favorite, and Amelie indeed prevailed in an error-filled three-setter. Though her forehand was balky, Amelie overcame the damage by coming to net fairly often. Amelie won 20 of 31 net approaches, against 5 of 7 by Myskina. Amelie showed a strong edge in serving velocities.
THE QUARTER OF SHARAPOVA
The two favorites were Maria Sharapova and Elena Dementieva, at opposite halves of the quarter. Enroute to their meeting, Elena lost a set to American Meghan Shaughnessy, while Maria had fourth-round trouble with Flavia Pennetta, who stayed close for most of their long three-setter.
I thought that the strong and athletic Elena could play evenly with Sharapova except in the department of serve/serve-return. In actuality, Maria overwhelmed Elena in most aspects from the outset--outhitting Elena with unrelenting aggressiveness both in serving and off the ground. Maria's mobility seemed as good as Elena's, including in reaching difficult shots comfortably and in good hitting position, while Maria's edge in serving prowess was marked. Behind by a set and double-break, Elena made a brief run toward the end. But with Maria serving at 5-4 for the match, Elena could scarcely find the court.
THE QUARTER OF HENIN-HARDENNE
Martina Hingis's third-round loss to Sugiyama removed much of the theater from this quarter. Martina raised her game nicely to equalize matters after losing the first set, moving quickly forward to meet softish balls and drive them to the sidelines. Martina's run continued, bringing her a 3-0 lead in set three. But Ai refused to quit, showing excellent court mobility until Martina's spell of perfection finally lapsed. The lapse was only slight, but it was all that was needed by an able opponent of admirable resolve. Hingis's defeat removed the only plausible barrier in the path of Henin-Hardenne. Justine indeed won all five matches in the quarter without loss of a set.
THE QUARTER OF CLIJSTERS
Two superstars and the world's strongest teenager inhabited the bottom quarter, promising one or two juicy match-ups. But Svetlana Kuznetsova was stunned on First Friday by lower-ranked Chinese player Na Li. Two days later, Li took out 17-year-old Nicole Vaidisova, again after losing the first set. Meanwhile Kim Clijsters quietly advanced without losing a set to a meeting with Li to determine the quarter's champion.
After falling behind by a set and a break, the Chinese player began a superb five-game run of controlled attack. Forcing play with short-backswing forehands and backhands while covering court easily and swiftly, Na seemed the stronger player. Kim seemed unable to turn matters around, her own power game disturbed by her own errors, her own defenses under test by Na's relentless stroking pressure.
It is hard to explain how Na, so close to winning the second set, failed to do so. In reversing the deluge, Kim won some points by all-out power stroking. But more often, she brought her excellent defensive skills into play, awaiting a miss by Na. It seemed to me that Na, having tasted the rewards of aggressive hitting and gradually frustrated by Kim's retrieving, now moved beyond her own zone of comfort--flattening out her shots for still greater velocity while aiming too closely to the lines. The result was that Na's wonderfully controlled power now began to produce errors. Drama persisted into the final game, where Kim had trouble holding serve to close out matters. The last two points were decided by extremely close errors by Na, who raised her level of risk trying to exploit narrow openings.
SEMI-FINAL -- HENIN-HARDENNE d. CLIJSTERS 64 76
The excellent play of both Belgian stars seemed to bring out the best in one another. Three times, once in the first set and twice in the second, Clijsters broke Henin's serve to move ahead. But whenever this happened Kim seemed to fade and Justine to step up. Kim showed her excellent mobility and sustained power stroking throughout the match. But Justine had equal mobility and the better variety in her play, including willingness to change pace, a more severe backhand slice, and better propensity for net play. Justine's second serve seemed the more effective, although she committed at least five double-faults. Probably determined to attain fullest concentration, Kim seemed emotionless. But Justine's ability to produce her best tennis in the critical moments made the difference.
SEMI-FINAL -- MAURESMO d. SHARAPOVA 63 36 62
Early on, Mauresmo regularly followed her first serve to net, where her volleying seemed mostly unsuccessful. The tactic produced some serve-return misses by Sharapova, however. Meanwhile Maria unveiled her plan, which was to punish any softish return by Amelie with a forehand power approach shot and an aggressive move forward. Maria's serve seemed extremely effective, where she used her 6-2 height (plus another several inches from her serving jump) to obtain good angles, both downward over the net and side-to-side. Her first serve indeed often produced the softish replies requisite to her attacking strategy. But it was Sharapova who lost her serve to fall behind 3-5 when several deep drives by Amelie bounced erratically off the baseline. Amelie then hung on, allowing Maria to contribute a crucial forehand volley miss and surrender the first set. The mental element always lurked -- which player could summon her best game when matters became tight? Having lost the first set, Maria fell behind in the second, 1-3 in games and love-forty on her own serve. But Maria won the next five games and with them the second set, equalizing. For the sometimes fragile Amelie, it could have been a devastating mental blow.
In the third set every game was highly contested. In her service games, Maria was the all-out hitter, working the sides and often forcing misses, but many of Maria's missiles landed outside the lines as Amelie's consistent but firm defensive play lengthened many points. When Amelie served, she was regularly at net behind her first serve and now showed improved volleying. When delivering second serves, Amelie stayed in back court, allowing Maria to blast away trying for winners or to force errors. With Maria showing by far the greater number of unforced errors, almost all of them committed in aggressive striking, the verdict went to Amelie.
FINAL -- MAURESMO d. HENIN-H 26 63 64
Once again, Mauresmo came to net behind almost every first serve, even though early in the match she was often beaten in her volleying. Otherwise during the first set, it was Henin the aggressor, especially off screaming forehands and backhands from baseline depth early in points. Regularly Justine closed toward net without waiting to see whether her forcing drive would give her opponent trouble. Henin's nervy play worked well, and Amelie's ground-stroke replies under pressure did not. It added up to an impressive first-set win for Justine behind two breaks of serve.
The turning point came abruptly. Serving early in the second set at 30-40, Justine forced matters nicely according to her established pattern, and a short reply from Amelie offered an excellent attack opportunity. But Justine lifted her approach-shot forehand just over the baseline, and suddenly Justine was behind by a service break.
Now, it became Amelie holding serve the more easily, and although there were three sudden errors from Amelie giving back the service break in the seventh game, moments later Amelie delivered three superb passing shots to regain the service-break advantage. Although Amelie in game nine again had trouble serving amid what had become a strong wind, she saved three break points and finally closed out the set with an ace.
Early in set three it was clear that the edge had faded from Justine's game. Was it the same physical weakness sometimes evident late in matches ever since her sickness two years ago? Was the wind spoiling the precision of Justine's serve and no-longer-penetrating groundstrokes? Was it Amelie's stepped up firmness and consistency in stroking? But the strong run at closing time that watchers are accustomed to see from Justine did not happen.
The only service break of the third set came in game three behind a succession of errors by Henin, most of them neither forced nor especially aggressive in intent. Meanwhile Amelie's serving was stronger than ever and her net sorties behind serve were now producing regular winners. For the full set, Amelie won 20 of 26 serving points, faced no break points, and failed to place only four first serves into court.
It was a convincing finish to a well-played and attractive match--certainly a high point for 2006 in women's tennis. For Mauresmo, now having won both Australia and Wimbledon 06, first place in the women's rankings is now cemented and beyond any demeaning.
MEN'S SINGLES -- THE QUARTER OF FEDERER
The top quarter contained two-time defending champion Roger Federer along with what seemed an unusually strong array of dangerous contenders. Roger's first opponent was the French teenager Richard Gasquet, who in his short career had established an excellent record on grass and had indeed won the tune-up at Nottingham just a few days earlier. Federer handled Richard's threat unexpectedly easily, dispatching the rising star with aggressive and precision play in straight sets. Then on Wednesday, Roger was again impressive in dismissing veteran grass-courter Tim Henman, who had performed well in the tune-up at Queen's. The next victim two days later was tall, French player Nicolas Mahut, 24, again in straight sets. Mahut played the attacking, net-rushing game well, and although Roger won in straight sets, Mahut won more games than any of Roger's earlier victims. Indeed neither Berdych nor Ancic, two highly regarded rising Europeans who were Roger's next opponents, did as well on the scoreboard. Ancic, whose overall game in recent months had risen to match his serving prowess, was wholly outclassed as Roger scarcely lost a point in his own serving games through much of the proceedings.
THE QUARTER OF BJORKMAN
The leading favorites, at opposite poles of this quarter, were David Nalbandian, the sturdy Argentine, and James Blake, the athletic American who had returned wonderfully after serious health, injury, and family-loss anxieties in 2004. Both became third-round victims of lesser-ranked opponents--Verdasco and Mirnyi--who in turn lost to the quarter's last survivors Radek Stepanek and Jonas Bjorkman. These two played an attractive-well-contested five-setter, both men showing classic grass-court skills, Bjorkman surviving.
THE QUARTER OF BAGHDATIS
Lleyton Hewitt's triumph at Queen's two weeks earlier tapped him the clear favorite in this quarter. He survived the relentless hitter from Korea, H.T. Lee in five sets. Other victims in five-sets were Marat Safin and Fernando Gonzalez, who had shown surprising variety and good court mobility in overcoming Marat. Meanwhile Andy Roddick was surprised by Andy Murray, where Murray's fine backhand and Roddick's inadequacies played large roles toward the end. Little had been heard from Marcos Baghdatis since his amazing run at Australian Open 06, where he reached the final and took the first set from Roger. Now, the Cypriot moved comfortably past Murray, and had a nice lead over Hewitt before contributing the second set amid a bevy of errors. After that Marcos revealed excellent grass-court mobility and a relaxed kind of shot-making that produced not only extreme power when called for but also unexpected angles and touch shots that bounced or skidded low.
THE QUARTER OF NADAL
Perhaps this quarter was the most intriguing of all. Highest seeded was Rafael Nadal, the recent Garros champion, who openly professed his determination to one day conquer the Wimbledon grass. First Thursday brought big trouble for Rafael in the person of American qualifier Robert Kendrick. Showing a strong serve and forehand and an excellent net game, and following serve to net often, Kendrick seemed on verge of toppling the Spanish superstar. Nadal seemed sometimes baffled by the grass-court bounce and by Robert's strong net presence. But Rafael managed to right matters in the third set, and as the American apparently tired from the strenuous nature of his attacking play, it was Nadal clearly the stronger by the fifth set. The day probably afforded many good lessons for Rafael.
It was probably fitting that the game's rising superstar, Nadal, was the opponent for Andre Agassi in Andre's last Wimbledon appearance. For one set, it was dog-eat-dog tennis, ferocious hitting by both men where any softish shot invited the opponent to seize the initiative and take command. Rafael sometimes unveiled severe slice on his backhand side. Corner-to-corner, sideline-to-sideline the rallies between two of history's finest baseline shot-makers. Andre's serve seemed the trickier, producing short points for Andre, helping him to fend off six break points and three set points enroute to a set-ending tiebreaker. In the tiebreaker, the critical mini-break came on a running forehand by Rafael from deep behind baseline, passing Andre in forecourt with a spinning cross-court drive barely clearing the net.
Rafael seemed now in high gear, relishing opportunities to employ his defensive skills. Andre began coming to net sometimes, probably tiring. The end came fairly quickly, both men seeming to understand the inevitable. It was Nadal over Agassi, 76 62 64.
The opposite half of the quarter was headed by Ivan Ljubicic, who struggled in surviving first-round opponent Feliciano Lopez, a strong-serving Spanish player with an excellent record in four past Wimbledons. Ivan won their extended fifth set. Both big servers scored many short points--Ljubicic led in aces 32-26 though Lopez was the higher-velocity server.
But in this quarter, winning five-setters led to early departures. After surviving Lopez, Ljubicic was beaten in five by Tursunov, who was beaten in five by Nieminen. Nadal then took care of the Finnish star, who despite some fine left-handed serving and all-around play rarely threatened to win a game when Rafe was serving.
SEMI-FINAL: FEDERER D. BJORKMAN 62 60 62
Before the match Jonas Bjorkman, 34, said he intended to enjoy every moment of this meeting with Roger. It's hard to see how he found much enjoyment in what happened. Probably Jonas's mental and physical limits had been stretched during his improbable run to the semis. The knowledgeable gallery was patient in watching his inadequate shot-making and movement, aware that Jonas's reaching the semis had been a remarkable achievement. For Roger, the match provided little preparation for the final.
SEMI-FINAL: NADAL d. BAGHDATIS 61 75 63
The scores made it seem a routine outing, but in reality this was a fiercely contested combat most of the way. Point after point brought forth gallery-stirring displays of shot-making and speed. Belief-defying episodes happened almost routinely. Marcos Baghdatis showed the same strengths that had carried him to the final at Melbourne nearly six months before--the forcing first serve, the firm ground-strokes that were flattened out sometimes for rockets into the corners that were often winners, the mobility, control, and court craftiness. There were glimpses too of that personal magnetism that won galleries in Melbourne and tv watchers across the globe. Rafael was only slightly better in nearly all departments. Baghdatis is only 21, Nadal 20. It seems clear that both will be superstar assets for the sport for a long time.
FINAL: FEDERER d. NADAL 60 76 67 63
The long-awaited grass-court meeting of Roger and Rafael met most expectations, although Roger won the first set surprisingly easily. Rafael seemed bothered by the windy conditions and the rough surface, which produced regular bad bounces.
But after the first set, nearly every game and nearly every point became supreme tennis combat. Serving to begin the second set, Roger seemed resolved to implement an aggressive attack. With every powerful first serve, Roger stepped into the court with mind to launch an overspinning rocket to a corner and mfollow up by moving to net. Given Roger's superb offensive skills, it seemed exactly the right medicine for the occasion, and it brought Roger to 40-30 in the first game of the set. But Rafael would now produce one of those magnificent sequences to which no other player today can aspire against Roger. Twice in succession, Rafael from positions of desperation ripped untouchable passsing shots beyond Roger's reach. Roger then, surely affected by the blunting of his best weaponry, erred in his next approach shot. In those few moments, Rafael had essentially offset Roger's first set.
It was hard to believe that tennis had ever been played better, the points more ferociously. Federer continued to attack often, mixing in spells of neutral hitting featuring backspin backhands and overspin from both sides. Nadal held his advantage for nearly an hour. But serving for the second set at 54, Rafael suddenly contributed three unforced errors and a double-fault, gifting the score to 55. Soon afterwards, Roger squeezed out the critical tiebreak game, 7 points to 5, when Nadal netted a pass attempt.
Down two sets to none, Nadal if anything stepped up his energy and will. Neither player surrendered a service game, and matters reached a third-set tiebreaker, where Rafael led early and won by comfortable margin. Rafael's gestures and manner now revealed total confidence. But four games later with Rafe serving at 30-all, Roger stroked three consecutive backhand spinners. Rafael errored on the third one and at break point missed a leaping volley try. With Roger now playing at highest level, it was the end for Rafe.
Barring major injury, it seems likely that Federer and Nadal will stand atop men's tennis for a long time. Their future battles, like their recent final-round meetings at Garros and Wimbledon, will become classics in tennis history. Both men are surely thinking ahead to meetings in the North American summer this year including U.S. Open. Rafael is four years the younger and at Wimbledon 06 showed that he can compete on Roger's favorite surface. My secret wish is that both will capture a crown on the other's terrain--Rafael at Wimbledon and Roger in Paris.
THE TENNIS NATIONS
As expected, the Russian women scored the most match wins, leading the U.S. by count of 34 wins to 27.5. China was third with 18 wins, led by the doubles champion pair, Yan-Zheng.
The U.S. males outscored the others, by narrow margin over second-place Czech Republic (22.5 match wins vs. 21). The Czechs did well in singles behind Berdych and Stepanek, and scored also from good depth in doubles. For the Americans, the Bryan twins contributed 6 wins in capturing the men's doubles, and Bob Bryan scored 2.5 as male member of the runner-up pair in mixed doubles (with Venus Williams).
Wimbledon is the only Slam retaining best-of-five-set format throughout its men's doubles tournament. In my opinion, Wimbledon is therefore the year's foremost doubles event and offers the most significant doubles crown. Of the ten men's pairs atop the ATP year-to-date rankings for 2006, all were in this year's main draw. The victory of the Bryans, following their win at Melbourne Park and their runner-up finish at Garros, cements their claim as current world's champs.
--Ray Bowers
Arlington, Virginia, U.S.A.



Between The Lines Archives:
1995 - May 1998 | August 1998 - 2003 | 2004 - 2015
If you have not already signed up to receive our free e-mail newsletter Tennis Server INTERACTIVE, you can sign up here. You will receive notification each month of changes at the Tennis Server and news of new columns posted on our site.
This column is copyrighted by Ray Bowers, all rights reserved.
Following interesting military and civilian careers, Ray became a regular competitor in the senior divisions, reaching official rank of #1 in the 75 singles in the Mid-Atlantic Section for 2002. He was boys' tennis coach for four years at Thomas Jefferson High School for Science and Technology, Virginia, where the team three times reached the state Final Four. He was named Washington Post All-Metropolitan Coach of the Year in 2003. He is now researching a history of the early pro tennis wars, working mainly at U.S. Library of Congress. A tentative chapter, which appeared on Tennis Server, won a second-place award from U.S. Tennis Writers Association.
Questions and comments about these columns can be directed to Ray by using this form.
---