Player of the Year 2006
by Ray Bowers
with photography by Pablo Sanfrancisco

Ray Bowers
Tennis Server's Player of the Year is not always the #1 finisher in the male or female points race. In making our very first selection, for example, in 1998 we chose the doubles artist Jacco Eltingh, and in 2001 we chose Nicolas Escude for his heroics in bringing the Davis Cup to France. Then in 2003, the extraordinary nature of Roger Federer's first Wimbledon triumph seemed to surpass the achievements of the year's #1's. Last year, in 2005, Rafael Nadal finished behind Roger at #2 in the official rankings, but Rafael's remarkable rise at very young age (including his first Garros triumph along with excellent success on nonclay surfaces) compelled his selection.
The #1 player in this year's men's rankings, Roger Federer, narrowly missed achieving the classic Grand Slam. Roger's only loss in 28 slam matches came in the final round at Garros, where he was beaten by Nadal in four sets. Roger was by far the year's best nonclay player, capturing a total of 12 nonclay tournaments while losing in only two. He also established himself as the world's second-best on clay, reaching the finals at Monte Carlo, Rome, and Garros, losing to Nadal in all three places. In winning the year-end Masters Cup in Shanghai, he defeated Nadal in the semis. It is a picture of near-complete domination of the men's game. Meanwhile in achieving these victories, Roger represented the game, on-court and off, with unfailing sportsmanship, decency, and integrity. For many, his name stands for world tennis today.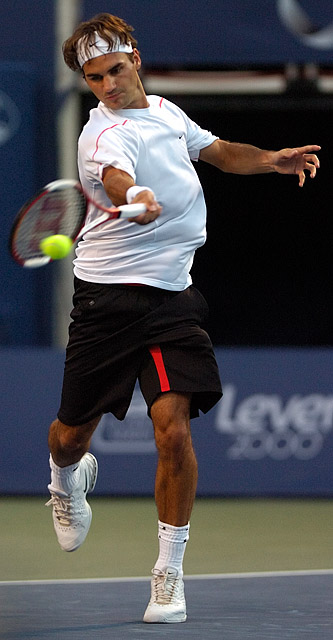 There is always some reluctance here to follow the crowd. But Roger's credentials are simply so powerful that Federer can be our only conceivable choice. We join many others in recognizing his successes of 2006 and his continuing contribution in representing the sport as its champion.
There is only one disappointing aspect in Roger's 2006 record--his absence from Switzerland's Davis Cup meeting with Australia, played in February in Geneva. On that occasion Lausanne-born Stanislas Wawrinka, then age 20, won both his singles matches on behalf of the Swiss team. But without Roger, these became the only Swiss wins in the 3-2 Aussie triumph. Later in the year, Roger was able to join the team in the relegation play against Serbia, where Roger's two singles victories and his doubles win with Allegro assured Switzerland's presence in World Group 2007.
Roger has already announced that he will not play in Switzerland's first-round meeting with Spain in early 2007, citing his emphasis on tournament play. This decision seems to me unfortunate--a setback for tennis in Switzerland, for Davis Cup not only today but in history, and for Roger's own credentials for historic greatness. With Wawrinka, Chiudinelli, and Allegro all ready for strong roles supporting Roger, Switzerland should have a chance to earn its first-ever Cup championship. (Also, the meeting with Spain would give Roger another opportunity against Nadal on favorable playing surface.)
But if Federer is the unquestioned choice as our 2006 Player of the Year, it is worth-while to identify a runner-up, in this case from the women's game. (Twice in its nine-year history, our Player of the Year selectee has been female--Venus Williams in 2000 and sister Serena two years later.)
The high triumphs in 2006 women's tennis were dispersed. Amelie Mauresmo won Australian Open and Wimbledon, Henin-Hardenne won Garros, and Sharapova won U.S. Open. Henin also won the year-ending championship at Madrid and, having reached the finals of all four Slams, finished the year's race as #1. But it seems to me that the achievements and contributions of another player--one who did not win a Slam and finished the year as only #7--are even more worthy of recognition.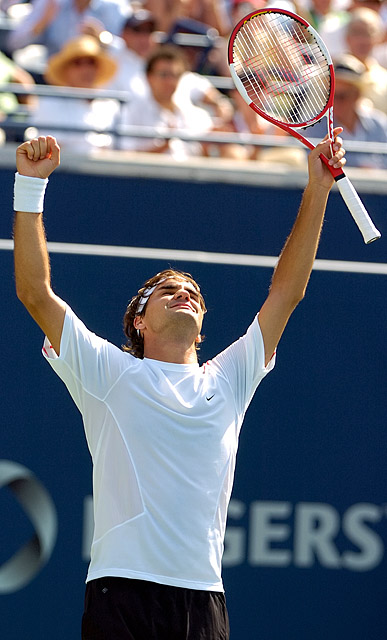 The career of Martina Hingis was close to its zenith back in 1998, when the Swiss Miss won all four Slams in doubles, reached the semis of all four in singles, winning in Australia, won the year-ending championships in singles, and led Switzerland to its best-ever Fed Cup finish. The year before, not yet 17, she had won three of the four Slams in singles, losing only in the final at Garros. In choosing Eltingh narrowly over Hingis for our 1998 award, we offered the lame observation that "after all Martina has many years ahead."
It then seemed inconceivable that there would be only one more Slam singles triumph ahead for the doll-faced teen-ager (Australia 1999). But the rise of first Lindsay Davenport, then the Williams sisters, and then the hard-hitting Belgian and Russian stars meant that Martina's dominance would end almost as abruptly as it had come. Troubled by persisting foot troubles, she announced her withdrawal from the sport at the start of 2003.
Her return to full-time play three years later attracted worldwide interest. At the start of 2006, now aged 25, Hingis at once showed that the old skills were still there. Unseeded, she won three matches in the tune-up at Gold Coast, Australia, then lost to Henin in Sydney, and finally won four matches at Australian Open before losing in split sets to Clijsters, the recent U.S. Open winner. It was indeed an auspicious return for Martina.
As the year unfolded Hingis consistently reached the middle or late rounds as she steadily rose in the official rankings. A tournament championship came in May, when she captured Italian Open. Her pattern of late-round losses to top-ranked stars resumed thereafter, while she made her way to a top-eight ranking and a place in the year-end championships in Madrid. There, she lost to Mauresmo and Henin, both in fascinating three-setters.
Martina's remarkable progress in returning to the world's first eight was followed and admired by fans everywhere. All her matches were intriguing to watch, especially those against the very best opponents. Her presence invariably lifted tournaments, and her continuing journey enlivened each week's tennis news. For these reasons, we make Hingis our Player of the Year 2006 runner-up.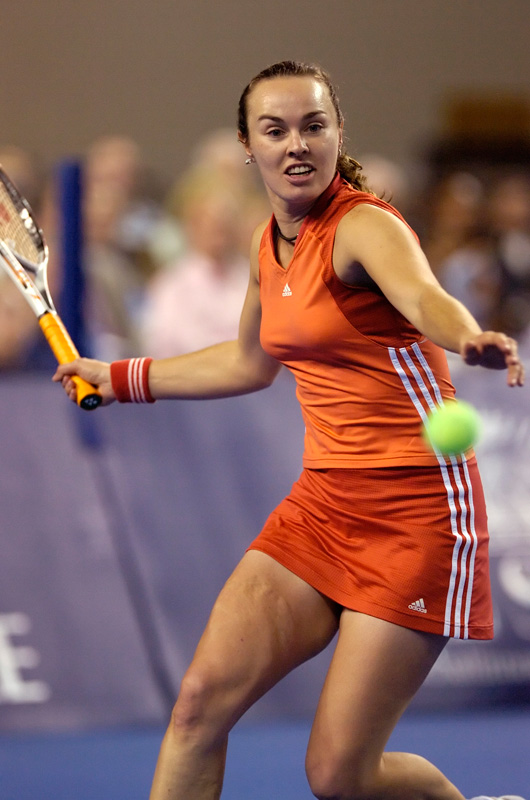 Most of the players ahead of her in the rankings are younger, taller, and stronger, making it seem unlikely that Martina can much improve on her current ranking. But her superb ability at striking the ball cleanly, placing it imaginatively and with precision to all parts of her opponent's court, should keep her close to the top, so that her place in tennis history will only grow. Her early-career success in doubles suggests that if she wishes it, a wonderful future in that realm beckons some day, to the immeasurable benefit of the game.
DAVIS CUP REVIEW
The Davis Cup final between Argentina and Russia, played in Moscow in early December, came to America via The Tennis Channel. Host-nation Russia seemed the favorite at the start, having chosen an indoor, moderately fast hard court, thereby neutralizing Argentina's generally acknowledged superiority on clay. The Russians also possessed the highest ranked player of either squad--World #3 Nicolay Davydenko, a player of excellent court speed, consistency, and attacking instincts, featuring a superb backhand two-hander. Nicolay had climbed nicely in the rankings late in the year. But as the three-day meeting unfolded, the Argentine team--buoyed by Nalbandian's two singles victories--kept matters uncertain until the final point.
The first match pitted Davydenko against Juan Ignacio Chela, a clean and flattish hitter capable of excellent power. The Argentine star had won all five of their previous meetings. But Davydenko now quickly moved ahead of his opponent, seizing a two-set advantage, playing aggressively and generally dominating most points. The packed arena, which included former president Boris Yeltsin, cheered lavishly for Nicolay, but there was also an unabashed and noisy representation in light blue on behalf of the Argentine cause. When Chela won the third set, memories stirred of Davydenko's recent fades in Masters Cup at Shanghai. But in this case the Russian star closed out matters confidently.
In the second match Marat Safin served with spectacular power and placement, his aces far outnumbering Nalbandian's. But more often than not, extended rallies ended in an error by Marat--often it seemed in executing a shot while slightly out of best stroking position. Meanwhile the Argentine star played at his best, regularly claiming the more important points, showing good court speed and consistency. The result was a three-straight-set victory for Nalbandian over the tall Russian and a one-match-all deadlock after the first day.
There seemed no clear favorite for the next-day doubles, as the Russians Safin and Tursunov had never before played together. But the precision, quickness, and--especially--the power of the new combination quickly put into shock Argentines Nalbandian and Calleri. Matters ended quickly. The points and games were short, and there were not very many of them.
Thus the opportunity was Davydenko's to seal the Russian victory in the fourth rubber, day three. But Nicolay proved too unsteady against a rock-solid Nalbandian, who regained top form after a disappointing performance in the doubles. Thus the role of closing out matters was left for Marat Safin, who faced strong resistance from Jose Acasuso. The 24-year-old Buenos Aires resident lost a service game early, but after that play became essentially even, with Jose nearly matching Marat in the latter's strongest areas--first-serve effectiveness and forehand rocketry.
It was Safin's third match in three days, and as the fresher player Acasuso gradually became the stronger in holding serve. Though Safin led by two sets to one, it seemed imperative that Marat win the tiebreaker ending the fourth set. In those critical five minutes, Marat's serving--his last remaining area of superiority--at first held up well. In his first five serving points, all five of Marat's first serves found the service box, and none were returned by Acasuso. But, with Safin holding a single minibreak, Marat's sixth first serve missed the boundary and the score moments later slipped to six points all. It was a critically dangerous situation for the tall Russian. But two points later the Cup was won when Acasuso, having driven Safin well out of court, missed open court with a forehand from inside the baseline. Yeltsin joined the victorious team in the on-court celebration.
PRO TENNIS NATION OF THE YEAR
It was Russia's second-ever Davis Cup triumph, Argentina's second-ever runner-up finish, never having won. The losing semi-finalist nations had been Australia and U.S.A. Other team laurels in men's tennis 2006 were divided widely. In January U.S.A. captured Hopman Cup behind Taylor Dent. World Team Cup, an ATP event held on European clay each spring, was won by Croatia, led by Ljubicic with strong support from Ancic and Karlovic. The leading nation in the match-win tallies at three of the Slams was U.S.A., which showed good strength in both singles and doubles (Roddick, Blake, and the Bryans). The Americans also won the most matches at three Masters Series tournaments (Indian Wells, Miami, and Madrid). The Spanish males led in the tally at Garros, and also at the three clay Masters Series tournaments and at Cincinnati. France led at Canada and at Paris Indoors and was second at Australian Open, Garros, and three Masters events.. Czech Republic was a surprise second-best nation at both Wimbledon and U.S. Open.
Among the women, Fed Cup 2007 was won by Italy, closely pressed by runner-up Belgium, which lost the concluding doubles when Henin could not finish. Earlier in the year, Italian stars Schiavone and Pennetta together won three of their four singles matches in defeating France and then again in defeating Spain. Henin and Clijsters likewise won three of their four singles matches in defeating Russia, while a Clijsters-led squad defeated the Americans.
Russian depth led to that nation's dominance in the year's major women's tournaments. The Russkayas won the most matches at all four Slams and at all ten Tier One tournaments except at Indian Wells, where U.S. and Russia scored equally. Italy finished only a half match-win behind the Russians at Italian Open. Showing the weakness in American women's tennis without Davenport and the Williamses, U.S. placed only third at U.S. Open, behind Russia and France.
There is thus no hesitation in choosing Russia as our Pro Tennis Nation of the Year, for the third time in the last four years. The verdict rests on two impressive pillars--the Davis Cup triumph and the domination of the Russian women atop the match-win tallies. For the record, our distant runner-up is Italy, reflecting that nation's Fed Cup triumph. Special mention goes to Switzerland, home nation of both Federer and Hingis--our Player of the Year and runner-up.
Year 2007 beckons, featuring an array of rising stars, male and female, age 20 and under, all with Top Eight potential or better. Having earned closest watch in Australia in January will be Andy Murray, 19, and Nicole Vaidisova, just 17.
--Ray Bowers
Arlington, Virginia, USA



Between The Lines Archives:
1995 - May 1998 | August 1998 - 2003 | 2004 - 2015
If you have not already signed up to receive our free e-mail newsletter Tennis Server INTERACTIVE, you can sign up here. You will receive notification each month of changes at the Tennis Server and news of new columns posted on our site.
This column is copyrighted by Ray Bowers, all rights reserved.
Following interesting military and civilian careers, Ray became a regular competitor in the senior divisions, reaching official rank of #1 in the 75 singles in the Mid-Atlantic Section for 2002. He was boys' tennis coach for four years at Thomas Jefferson High School for Science and Technology, Virginia, where the team three times reached the state Final Four. He was named Washington Post All-Metropolitan Coach of the Year in 2003. He is now researching a history of the early pro tennis wars, working mainly at U.S. Library of Congress. A tentative chapter, which appeared on Tennis Server, won a second-place award from U.S. Tennis Writers Association.
Questions and comments about these columns can be directed to Ray by using this form.
---