Davis Cup Quarters and Springtime Preview

Ray Bowers
The eight nations still in the running for Davis Cup 2007 were reduced to four this weekend, 6-8 April. Most exciting was the 3-2 victory by Russia over France in Moscow, where a 2-2 tie was broken in the final rubber by Marat Safin, who defeated Paul-Henri Mathieu in straight sets. It was Safin's first action of the weekend. The other Russian points came from Mikhail Youzhny, who won his first-day's singles, and the pair Andreev-Davydenko, who won the doubles in five sets. Thus all four team members contributed directly in the Russian triumph. For France, it was yet another head-to-head loss to the Russians, the fourth since 2002. In three of these meetings it was Mathieu the loser in the fifth and deciding rubber.
Argentina faced a difficult task against Sweden on a fast court in Gothenburg. But if the Argentines could survive, they could look to host-nation's (i.e., clay-court) advantage in the Cup semis and probably in the final. But Swedish strong hitters T. Johansson and Soderling denied the visitors in both first-day's singles, where five of the seven sets played that day were settled in tiebreakers. Bjorkman then paired with Johansson to seal the verdict on Saturday. Argentina's Guillermo Canas, who had performed brilliantly in the recent U.S. tournaments, played only in the doubles.
Meanwhile Germany faced Belgium on a damp clay court indoors at Ostend. Tommy Haas won as expected, and then Philipp Kohlschreiber, belying a poor clay record in 2006, defeated the difficult Olivier Rochus. Then on Saturday, Kohlman-Waske completed the German triumph. The reward for the victors was a September date with the potent Russians, probably in Moscow.
Finally, U.S.A. hosted Spain in Winston-Salem, North Carolina. All 14,400 seats at the Joel Coliseum were sold out in hours. It made for the largest crowd for Davis Cup action in the United States in fifteen years. Also on hand was Tennis Server's Pablo Sanfrancisco, whose photography enriches this column. I watched via Versus Channel.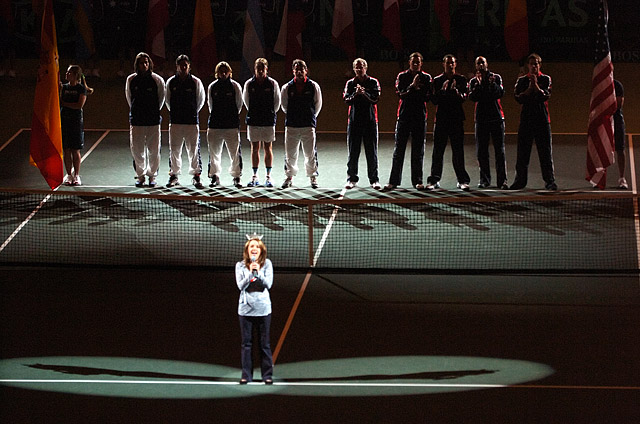 Opening ceremonies at the U.S. - Spain Davis Cup Tie
BLAKE d. ROBREDO 64 63 64
RODDICK d. VERDASCO 76 61 64
The American team was slightly favored, having chosen a fast surface to maximize the serving and forehand power of singles starters Roddick and Blake, and also to minimize the overspin stroking strengths of their clay-court-raised opponents. Spain's chances had been greatly dimmed by the absence of Rafael Nadal, world #2, because of a lingering foot injury. But worries remained for the Americans--Andy Roddick had injured a hamstring ten days earlier and withdrawn from the tournament in Miami, and James Blake had shown a poor W-L record in recent months.
After glorious opening ceremonies, Blake and Tommy Robredo began the tennis action. It became evident that Blake's serves and strokes were generally flatter and faster than Tommy's, both players showing roughly equal control. The American's heavy pressure added to the effect of the very fast court in making it hard for the Spanish star to find his usual precision. James's heavy hitting finally broke Robredo's serve in the tenth game to conclude a tight first set.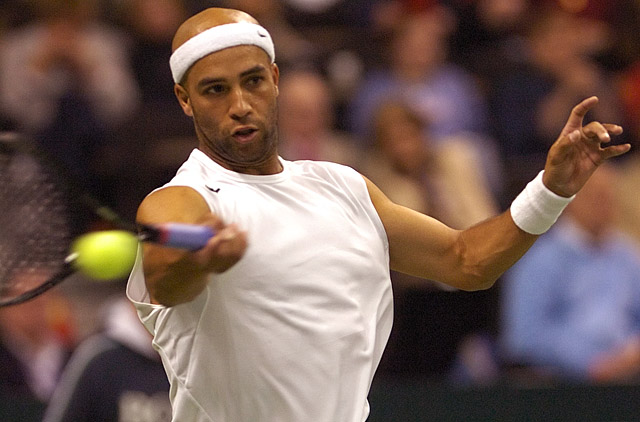 James Blake
The pattern persisted--forcing deliveries by Blake that, helped by the court speed, often broke down Robredo's usually fine all-court game. At net, Blake was almost indestructible with an overhead game that was at the highest level. James's triumph surely was among his finest moments in tennis.

Tommy Robredo
Next, Fernando Verdasco, a 23-year-old left-hander from Madrid, tested Andy Roddick's hamstring by regularly dominating points and making Andy move back-and-forth behind the baseline. With Roddick looking rusty at the outset, Verdasco's serve and forehand carried the visitor to a 52 lead in the first set. But two double-faults in game nine set the stage for two unforced errors by the Spaniard to surrender his one-service-break advantage. Soon afterwards, the American captured the set-ending tiebreaker when Verdasco committed an inexplicable error in the twelfth point.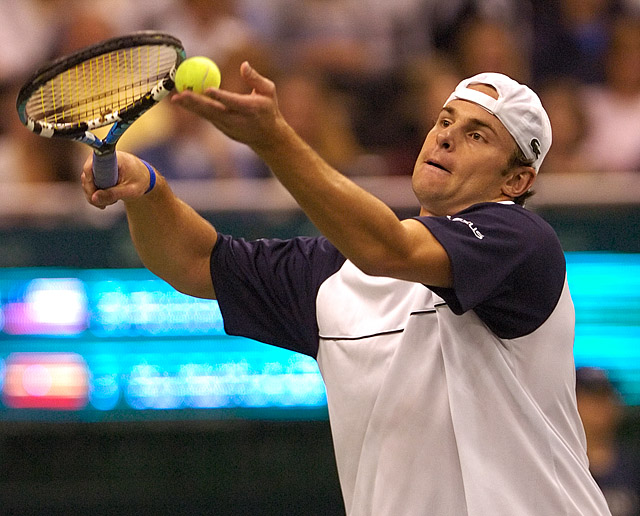 Andy Roddick
The pattern stayed the same--Verdasco dominating most points with forcing play but too often making mistakes, sometimes on easy shots. His serve meanwhile lost some of its effectiveness, and he ended the match having committed nine double-faults to Roddick's none. Andy had trouble at the finish, losing four or five match points before finally prevailing.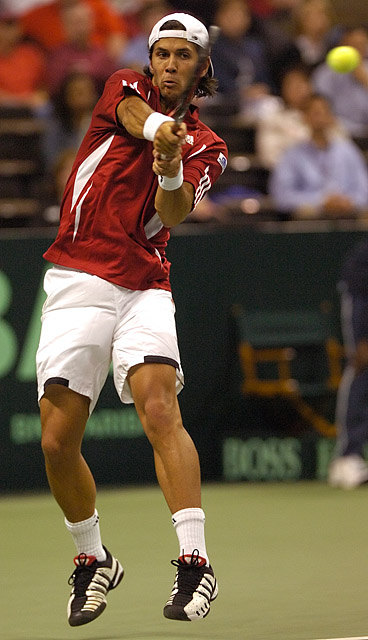 Fernando Verdasco
BRYANS d. LOPEZ-VERDASCO 75 63 36 76
For a while it looked as if neither pair could win a point against opponent's serves. Only occasionally were servers required to make a first volley. It was top-flight men's doubles but at its least interesting.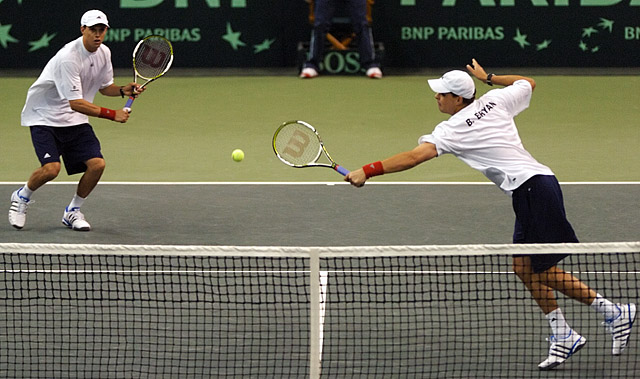 Mike (left) and Bob Bryan
The pattern changed abruptly in game eight, when the Bryan brothers began finding the court with low, softish returns, forcing extended exchanges at which the Americans excelled. An American service break was followed by some uncharacteristic poor serving by Bob Bryan, surrendering the service-break advantage. But two games later Verdasco contributed three disastrous errors in volleying to yield the first set.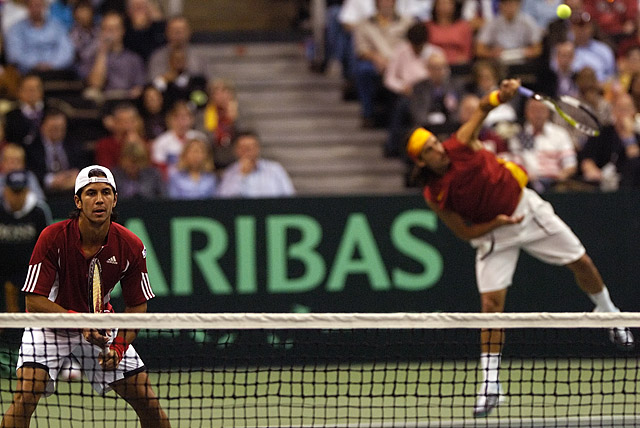 Fernando Verdasco (left) and Feliciano Lopez
Having now found their zone of comfort, the Americans now settled down to exploiting their edge in volleying consistency. Errors in volleying by the Spanish pair came often enough to encourage the Americans in their relatively conservative hitting. The second set's only service break came after several mistakes at net by the Spaniards. But after Feliciano Lopez survived a difficult service game to start the third set, the Spanish pair improved markedly both in serving and net play. As Spanish winners began increasingly to appear instead of errors, hints of concern could be noticed on the Bryan faces. Bob Bryan's serve was again broken by the Spaniards. Lopez closed out the third set with some superb serves.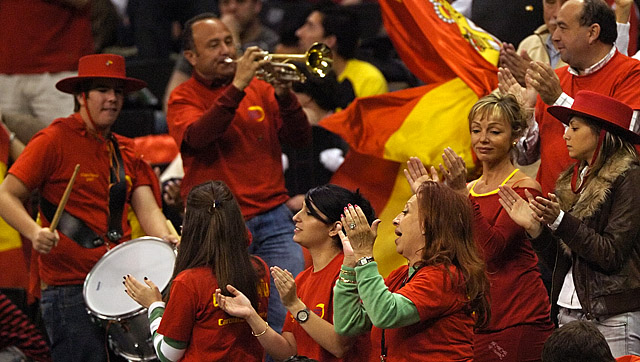 Enthusiastic fans represented both United States (above) and Spain
The crowd involvement in the fourth set became extreme, worthy of great Cup matches of the past. Both pairs weathered difficult moments. The Americans seemed tight but had the lesser trouble in holding serve, though the visitors continued to improve in confidence, consistency, and aggressiveness. The play was now often spectacular, including some magnificent serving by the Spanish pair. It ended in the closest of tiebreak games, the Americans gaining a minibreak early but then yielding it. The difference was a lucky net-cord serve-return by Mike in the tenth point, giving the Bryans the critical minibreak, cemented two points later by a fine Bob poach.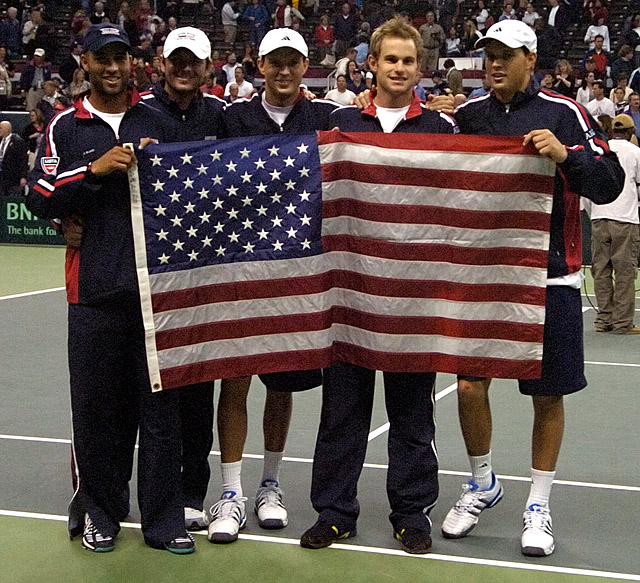 The Americans celebrated their win!
Amid the celebrations, the victorious Americans could now could look forward to a September trip to Sweden.
PROBABILITIES AHEAD
This weekend's four victorious nations will meet September 21-23 to choose the two finalists. Russia will host Germany, where the excellent depth of the host team should prevail, at an estimated probability of 80%. Meanwhile U.S. will play in Sweden. Both squads are strongest on fast, hard courts but the poor clay-court record of the U.S. in recent years might tempt the hosts to choose that surface. I make the Americans a 65% favorite to prevail on any surface. If both U.S. and Russia reach the final round, I make U.S. as host nation the favorite at probability 60%.
Here are the new probabilities for winning Davis Cup 07 by winning both semi-final and final-round engagements:
United States, 39%
Russia, 35%
Sweden, 18%
Germany, 8%
FED CUP 07
Mid-April brings first-round action for the eight nations competing as members of this year's World Group 1. If both Williams sisters play, as is expected, the U.S. under team captain Zina Garrison should advance over Belgium (without Henin). Superb depth assures a win for Russia (without Sharapova) over Spain. France (without Mauresmo, who is recovering from appendicitis) should survive behind Golovin against Japan. The China-Italy match-up is interesting, where the highest-ranked singles performer will be Li Na and where the Chinese are clearly superior in doubles. Play will be on Italian clay, while the Chinese players have shown most of their past success on hard courts. I make the host team a slight favorite. The four winning nations will face off on July 14-15.
CLAY SEASON
The European and U.S. clay-court seasons are upon us, featuring the usual sequence of prime men's events at Monte Carlo, Rome, and Hamburg, through Roland Garros ending in early June. The women's itinerary is similar, where Tier One events at Charleston, Berlin, and Rome will precede Garros. Earlier this year, a sequence of men's clay-court tournaments in Brazil, Chile, Buenos Aires, and Acapulco brought together many of the European and South American players whose skills are best on clay. This group will now cross paths with the world's higher-ranked players, who have played mainly on hard courts so far this year.
Three players compose the topmost echelon. Rafael Nadal--the undisputed king on clay for the past two years--won this year's hard-court tournament at Indian Wells, adding to his already superior credentials for the forthcoming season. Meanwhile world champion Roger Federer, who was runner-up to Rafael at Monte Carlo, Rome, and Garros last year, is obviously determined to improve his career clay-court record. Our third clay-elite member is Guillermo Canas, blinding fast and extremely solid in all-court play. Guillermo, who is now 29, defeated Federer at both Indian Wells and Miami recently. Earlier, he won the tournament in Brazil in his only appearance on the Latin American sequence. Canas returned from a 15-month suspension in late 2006.
Slightly behind the three leaders is a second group, led by Tommy Robredo, winner at Hamburg last year. We include the other recent winners from Latin America--Horna won in Chile, Monaco won in Buenos Aires, Chela in Acapulco. Others belonging at the same level include the likes of Ferrero and Ferrer of Spain, Nalbandian and Acasuso of Argentina, the top Russians, last year's Garros semi-finalist Ljubicic. Also in our second group is Novak Djokovic, 19, who reached the quarters at Garros last year, along with Argentine youth Del Potro, 6-5 at age 18. Americans Roddick, Blake, and Fish should do well in the U.S. Clay Championships at Houston but are usually unsuccessful in the European clay events.
TENNIS NATIONS
It is interesting to track the doings of the tennis nations according to the success of their players at the major tournaments. Among the men, U.S.A. won the most matches at Australian Open 07, where Roddick reached the semis, Fish the quarters, and where the Bryans won the doubles. At the Masters Series tournament at Indian Wells the top nation was Spain, led by Nadal's six wins in capturing the singles. Then at Miami, U.S. was a narrow top scorer, again led by the doubles-winning Bryans. The French males were second at all three events.
Last year, Spain led the men at all the major clay-court events. Second place in matches won went to France at Rome, Hamburg, and Garros and to Argentina at Monte Carlo. The trend should repeat, except that Argentina should be much stronger given the presence of Canas.
Meanwhile the Russian women have led in matches won at all three of the above events as well as at the women's Tier One indoor tournament in Tokyo. That the dominance of the Russkayas will continue into the clay season is unquestioned.
Here's wishing everyone a great clay season.
--Ray Bowers
Arlington, Virginia, U.S.A.



Between The Lines Archives:
1995 - May 1998 | August 1998 - 2003 | 2004 - 2015
If you have not already signed up to receive our free e-mail newsletter Tennis Server INTERACTIVE, you can sign up here. You will receive notification each month of changes at the Tennis Server and news of new columns posted on our site.
This column is copyrighted by Ray Bowers, all rights reserved.
Following interesting military and civilian careers, Ray became a regular competitor in the senior divisions, reaching official rank of #1 in the 75 singles in the Mid-Atlantic Section for 2002. He was boys' tennis coach for four years at Thomas Jefferson High School for Science and Technology, Virginia, where the team three times reached the state Final Four. He was named Washington Post All-Metropolitan Coach of the Year in 2003. He is now researching a history of the early pro tennis wars, working mainly at U.S. Library of Congress. A tentative chapter, which appeared on Tennis Server, won a second-place award from U.S. Tennis Writers Association.
Questions and comments about these columns can be directed to Ray by using this form.
---