Racquets Revisited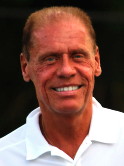 Ron Waite, USPTR
Some years back, I wrote an article about what factors a player must make in choosing a new racquet. At that time, longer racquets (28 and 29 inch) racquet frames were just making their debut on the pro and amateur tennis scene. Some time has passed since this article first appeared and there are lots of new racquet frames available.
In that we are in February, it will not be long before many of us who live North of the Equator will find the weather permitting outdoor tennis play. Many of you write to me at this time of the year with specific questions about purchasing a new frame. So, it seems appropriate to revisit the whole concept of purchasing a new racquet frame in this month's column.
First, it should be noted that I do not endorse any particular brand of racquet. I have my own preference in frames, but this is not to say that my frame should be your frame.
Let's be honest. Racquet manufacturers produce "new" frames each year in the hope of persuading players to "upgrade" to the latest and greatest. These manufacturers pay great sums of money to pros on the tours to endorse their frames. Seemingly, if Andre Agassi is your favorite player, you believe that using his racquet model will enable you to play like Andre. Oh, if it were only so easy!
With all the various factors involved with racquets today, it is easy to get overwhelmed and confused. So it is not surprising that some players will say to themselves that if "so and so" player uses this frame, so should I.
The truth about racquets is that they are not all that different from what they were several years ago when I first published a column on selecting a racquet frame. The cosmetics and construction materials have changed, but the overall play characteristics of frames today are not significantly different than they were then.
So, the first question one must ask herself or himself is: "Do I need a new frame?" The answer is most probably, "No." If you have played with a frame for several years and have hit many balls with this racquet, you may have exhausted the "flexibility" normally associated with the frame. However, the odds are that if your racquet is not damaged, it is still playable within the manufacturer's original specifications.
Many players believe that a change of frame will automatically improve their games. In fact, this is not a preposterous assumption given the marketing that racquet manufacturers use to promote sales. Generally, anyone plays better the first time she/he uses a new frame. Why? Well, the player is probably paying more attention to her/his stroke production because she/he is using a different frame. In a few days, the player generally finds that she/he reverts to the old mistakes and problems, even with the new frame.
One of the great perks associated with writing this column and being a college coach is that I am given lots of frames to play test. Within some constraints, I can honestly say that I can play well with virtually any frame. In fact, to prove the point to my team players, I will often times switch frames mid-match. Generally, I have no difficulty maintaining my strokes. My point? Don't be too eager to give up an "old friend" to adopt a new, "high tech" frame.
In my opinion, there are some good reasons to change to a new frame. These include:
My old frame is damaged or too beat up to make it through another season.
I am looking to get more power out of my frame.
I am looking to get more maneuverability out of my frame
I am looking to shorten the backswing associated with my strokes
I am experiencing consistent arm or shoulder problems with my current frame.
If you are looking to change frames for any other reason, my belief is that you are going to be disappointed. I cannot begin to tell you how many players I know who have purchased a new frame only to return, in time, to using their old frame.
However, if you do seek a new frame, let me give you my general advice and warnings.
First, let's talk about grip. Not only do racquet frames come in different grip sizes, each manufacturer has a somewhat different shape to the grip. Not all 4 1/2 inch frames have identical grip shapes, even though they may have the same circumference. I find Prince grips and Babolat grips to be very similar…more circular and even in shape. Head grips and Volkl grips seem to me to be narrower in shape. Wilson grips fall somewhere in between. It is critical that you choose not only the right grip size but also the proper grip shape. Play testing frames is the only way to make certain that the grip shape suits the way you actually hold the frame.
As for grip size, I recommend that you choose the smallest possible grip that seems comfortable…unless you have reoccurring arm problems…then, I recommend the largest grip possible. I have big hands and play with a 4 3/8 inch grip. When I put my overgrip on the handle, it really is bumped up to a 4-1/2 grip. However, when it comes to grip size there are no rules…choose the grip size that seems best. Still don't be surprised if a grip size that is larger feels better than your normal grip size if the frame is by a different manufacturer. Why? Well, the grips may be shaped differently.
Next, we must consider racquet head size. Racquets are generally either oversized (around 106 to 112 square inches), midplus (95 to 100 square inches) or midsized (85 to 93 square inches). The most popular among players seems to be the midplus family of frames.
Oversized frames provide lots of power and have a greater "sweetspot" (that part of the string bed where contact with the ball permits the greatest amount of control and power). However, their drawback is that they are usually not very maneuverable…especially at the net. I know of no really good volleyer who uses an oversized frame. In addition, I find that oversized frames do not allow for the most powerful serves. If you are primarily a groundstroke player who does not rely upon his/her serve to win via aces, you are probably a good candidate for this family of frames.
Midsized frames are those that are usually preferred by big servers (Goran Ivanisevic) and great volleyers (Pete Sampras). They are very maneuverable and can provide lots of "feel" or "feedback" to the player. If you are a player who relies upon placement, big serves and/or has very good volleys, you will probably love the smaller head sized family of racquets.
Midplus frames are so popular because they provide a bit of the best of all worlds. They can be powerful, impart lots of spin, are often times maneuverable and can enhance placement. If you have no idea of where to begin in selecting a new racquet frame, I suggest you begin here.
Racquet length is not as much of a choice as it was some years back. There was a time that manufacturers were producing lots of frames that were 20 inches or longer. However today, several main categories linger: the traditional 27-inch frame, the very popular 27-1/2 inch frame and the 28-inch frame. The idea behind longer frames is that they can help improve reach, increase spin, soften the impact of the ball impact on the arm, and improve the serve. Believe me, these claims are way overstated.
My perception is that 28-inch frames are just not sufficiently maneuverable. I think one suffers at the net and when trying to hit severely angled crosscourt groundstrokes when using these frames. For me, the 27-1/2 frame is ideal. It does help a bit with the serve, it usually will increase one's ball spin, and yet, it is maneuverable at the net. Still, there is a good reason that most players use a 27-inch frame…they represent the best length for most shots.
Racquet composition (titanium, Kevlar, graphite, boron, ceramics, etc.) is relatively inconsequential. What is important is the racquet stiffness. Stiffer racquets provide more power and permit shorter backswings. In the "old days" widebodies were the first racquets to really be stiff. Today, manufacturers achieve this attribute with lighter, but more less flexible, materials like titanium.
My advice is to play with the most powerful racquet that you can control. The more powerful racquets will allow you to take a shorter backswing, which, in my opinion, is a good goal for every player. Again, string tension does affect power. The tighter the string tension, the less powerful the frame. Once you find a frame that seems to be in your general power range, you will want to tinker with string tension to find the right number of pounds of tension for your game. Remember that power that is not controllable is useless in the game of tennis.
Racquet weight is another important consideration in selecting a racquet. Frames can range from 12 ounces to about 9 ounces in unstrung weight. This is a significant range. The lighter the racquet, the more likely it is to be maneuverable. If you are a player who likes to volley or who plays lots of doubles, lighter frames are probably for you.
Perhaps more important than weight in affecting a frame's maneuverability is the concept of frame balance. Racquets can be "head light" (seemingly heavier near the grip), "balanced" (seemingly equally balanced from grip to the head), and "head heavy" (seemingly heavier in the racquet head). The more head light the frame is, the more maneuverable it becomes. Serve and volley oriented players and one-handed backhand players usually like the head light frames. Head heavy racquets are generally preferred by groundstroke-oriented players, particularly if they hit with two-handed backhands. The balanced frame is really the "universal" frame. It usually favors all strokes equally and is often times the best choice for the all court/all game player.
Most players rarely, if ever, consider the string pattern associated with the frame that they buy. There are some frames that are more dense (more mains and crosses) than others given identical head size. The dense frames usually enhance control and do not break strings as quickly. The sparsely patterned frames generally impart spin more easily, but break string fairly easily.
Lastly, one wants to consider the shock/vibration dampening attribute of a frame if one has persistent arm/shoulder problems. Generally, stiff, light and longer frames are not the way to go, if you suffer these reoccurring maladies. Some manufacturers, like Pro Kennex, make frames that are specifically designed to be pleasing to the arm. However, there is a trade off here…you lose some "feel" of feedback.
Generally, frame that are in someway severely different or "faddish" are not great choices for the long term. No offense Gamma, but you don't see many players who opt for the Big Bubba frame. Frames that are marketed with a "gimmick" usually do not last as being one of the great frames.
If you don't see any pros playing with your frame, it is probably not worth the purchase. Granted, some manufacturers cannot afford to sponsor the pros on the tours. However, if a frame is truly a good one, some pros will find it and use it.
The best indicator of whether a frame is right for you is to play test it…more than once. If you have a friend who hits with a frame, ask him/her to allow you to try it. Most pro shops have demo programs that allow you to try a racquet before you purchase it. You wouldn't buy a car without test driving it, why would you buy a racquet "blindly?"
When you play test a racquet, make certain to play some sets with it. Just hitting with a frame is not the same as competing with a frame.
Hopefully, this column will answer most of the basic questions you may have about purchasing a racquet. Brand is really unimportant. Truth be known, most frame are manufactured in China in one of several plants…regardless of the manufacturer. So, select a racquet for the right reasons…because it feels right, suits your game style and is within your price range.
USRSA certified racquet technicians are great people to speak with when looking for a new frame. They are not bound to any one manufacturer and have the knowledge to answer any of your questions accurately. Most pro shops or racquet specialty stores have USRSA professionals on staff. Their advice is much better than what you will get at most of the larger sports chains.
So, now is the time to start your search for a new frame. If you are a normal consumer, you will probably try between 10 and 20 frames before you find the right one…but it is out there waiting for you.
I am sure that with some careful play testing and a little time, your new racquet will go a long way to helping you become a tennis overdog!



Turbo Tennis Archives:
1996 - 2002 | 2003 - Present
If you have not already signed up to receive our free e-mail newsletter Tennis Server INTERACTIVE, you can sign up here. You will receive notification each month of changes at the Tennis Server and news of new columns posted on our site.
This column is copyrighted by Ron Waite, all rights reserved. Questions and comments about these columns can be directed to Ron by using this form.
Ron Waite is a certified USPTR tennis instructor who took up the game of tennis at the age of 39. Frustrated with conventional tennis methods of instruction and the confusing data available on how to learn the game, Ron has sought to sift fact from fiction. In his seven years of tennis, Ron has received USTA sectional ranking four years, has successfully coached several NCAA Division III men's and women's tennis teams to post season competition, and has competed in USTA National singles tournaments. Ron has trained at a number of tennis academies and with many of the game's leading instructors.
In addition to his full-time work as a professor at Albertus Magnus College, Ron photographs ATP tour events for a variety of organizations and publications. The name of his column, TurboTennis, stems from his methods to decrease the amount of time it takes to learn and master the game of tennis.
---