The Forehand Slice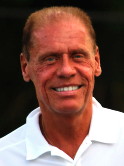 Ron Waite, USPTR
Within the last few months, I have received a few e-mails from readers who have asked me how to properly hit the forehand slice. Those of you who read this column regularly know that I often times attempt to create articles that meet readers' needs and interests. It is in this spirit that I write about this stroke.
The first point I need to make is that this stroke is rarely used in the modern game of tennis. In fact, I do not believe many teachers of tennis nor tennis teaching certifying organizations teach this stroke at all.
In the days of "single grip" tennis (where a player may use one grip for all shots), the surfaces that were most common included grass. Here, the ball rarely bounces high. In fact, the goal in grass or lawn tennis (as the game was once called) was to never let the ball touch the ground. Serve/volley was the tactic that served the player best.
Forehand slice lent itself to lawn tennis in two ways. First, the common continental grip was perfect for executing this forehand. Second, the slice imparted would make the ball stay low if it did indeed bounce. Thus, volleying, half-volleying and groundstrokes were a bit more challenging for the opponent.
In the modern game of tennis, racquet technology, hard court surfaces and the "power" game of groundstroke-oriented tennis have made the forehand slice more of a liability than an asset. Any player who hits a weak forehand slice is likely to see the ball put away for a winner by her/his opponent.
Now, some players (particularly juniors who attempt to hit big shots off of every ball) may find the forehand slice a bit of a problem. They will over hit or net their replies quite frequently. Soon, however, they begin to learn that a three quarter pace shot that is well placed is the best reply…and they begin to win points off of the forehand slice.
Forehand slice is not included in many textbooks on tennis. (By the way, I have just completed the first draft of my instructional book Turbo Tennis and am trying to decide on a publisher as I write this. I welcome your suggestions using this form). Still, there are those emergency situations in which the player has no choice but to hit a forehand slice. This is particularly true when one is returning serve and is drawn out wide. However, any shot that forces the player to stretch on the forehand groundstroke, may be appropriate for hitting with a forehand slice. It will probably keep you in the point, if it is placed properly.
"Pushers" are the masters of when to use forehand slice to their advantage. Their whole mindset is to help you make a mistake and to take all pace off their shots. For the "blaster" who is used to pace, this can be a daunting situation, to say the least.
Unlike backhand slice, the forehand slice movement does not naturally lend itself to an approach shot. To hit backhand slice effectively, the body needs to lean into the shot. This leaning makes approaching the net a natural extension of the stroke motion. With forehand slice, the idea is to hit the ball a bit late with a chopping like motion. There is little that is forward about this stroke motion. Thus, there is a natural pause when hitting the forehand slice that prevents it from being the best approach. However, as I write this, I realize that the masters of this forehand stroke can hit the ball in front of their bodies and move to the net without a hitch. However, this is the exception not the rule.
The forehand slice can lend itself to great drop shots…particularly if they are directed crosscourt. As with all drop shots, high bouncing balls that are taken inside the baseline are the percentage situation for hitting an effective dropper. I think the crosscourt drop shot off the forehand wing is great because it is usually directed at the opponent's forehand wing (assuming both are righties or both are lefties). The true accomplished player will charge the drop shot well and probably go cross-court for a winner or lob to stay in the point. In either case, the player who has hit the crosscourt, forehand drop shot is in perfect position to hit the reply. If your opponent can hit her/his reply to your drop shot by hitting a winner down the line, you either hit a poor drop shot or she/he is very accomplished. Why? Well, hitting the ball down the line means hitting over the highest part of the net, while on the run, off a ball that has little or no pace.
The forehand slice can be an effective offensive weapon if you learn to hit it with pace so that it lands deep in the opponent's court. Obviously, to do this, means that you will have to hit hard with little net clearance. This is where the risk factor becomes obvious and difficult to overcome. Still, I know some players who own a great forehand slice and can hit them for winners more often than not.
Usually, the safest play for the average player is to hit the forehand slice more as a defensive lob. The ball is hopefully hit high, deep and with lots of backspin. This makes the overhead smash by your opponent less likely to be a winner. It also buys you some time to read her/his intentions and to get into proper court position to cover her/his reply.
So, now that we have discussed the pros and cons of this shot, how does one hit it effectively? Well let's start with grip. Whenever possible, use either a continental or eastern forehand grip. Semi-western and western grips require a severe wrist bend to open the racquet face. This open face is necessary to hit the forehand slice.
Here are pictures of the best grips:
The Continental Grip


The Eastern Forehand Grip


The second most significant aspect of executing this stroke properly is to hit from high to low. This is the exact opposite of hitting topspin. Since most of us hit with topspin or hit a flatter ball, this high to low motion (particularly on the forehand side) is a strange and new way to hit a ball.
In this picture of Jana Novotna, you can see that she has the proper grip (continental) and racquet preparation. Note too, that she is taking the ball at a high point in its bounce. Believe me, she has mastered the forehand slice.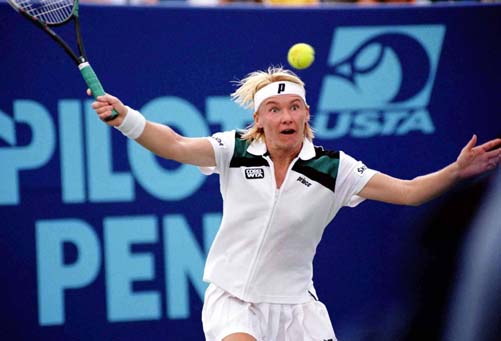 The proper finish to a forehand slice is low, and if possible, in front of the body. This latter component is not always possible. Thus, the forehand slice has often been referred to as a "chop" shot. In the shot below, we see that Mashona Washington was forced back when hitting this forehand slice. She has the low finish, but the backward movement of her body prevented her from having a forward finish. However, this is not uncommon in an "emergency" situation.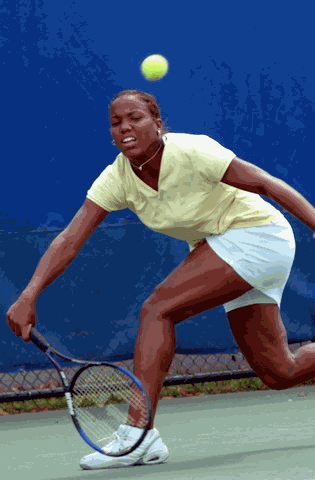 Even lefties find themselves in these situations. Here, we see Henri LeConte hitting a forehand slice reply to a ball that forced him to run hard and wide to his forehand.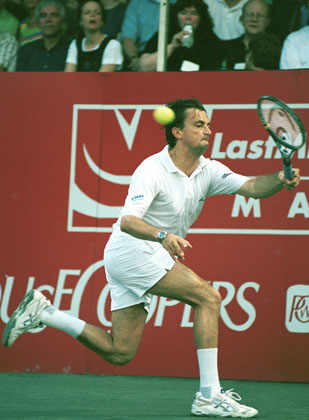 Notice that he is using a continental grip as he executes this shot.
Here is a "gallery" of different players who are hitting forehand slice. In each, however, the player is hitting a defensive shot. More often than not, the player is stretched wide, "jammed" or hitting slice to change the rhythm of the point. Rarely do players use this shot as an offensive weapon in the way that John McEnroe and Jana Novotna could.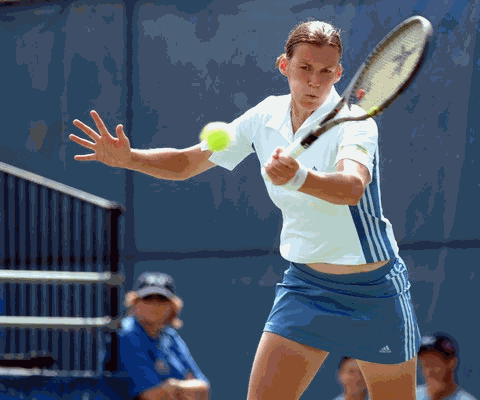 Above, we see Justin Henin being jammed with a serve. Her only reply was to block the ball back with a forehand slice motion. She is using a semi-western grip, which makes the task more difficult. As a side note, she ultimately won the point.
In the picture above, we see the open face that Myskina needs to hit forehand slice. Note that the racquet is above the ball. Her grip is a little too semi-western to make this shot easy to hit, but she is effective with it. She will use it to change the pace of a rally or to slow down the pace of an exchange.
Even Venus Williams will hit the forehand slice when stretched and on the run. What amazes me is the pace that she can bring to this shot. Her grip is semi-western on this shot, which makes the task of hitting effective slice a bit more difficult.
Note that when hitting forehand slice the body is almost always sideways. With continental and eastern forehand grips, you can keep the stance a bit more open. However, semi-western and western grips really almost require a sideways stance to be hit effectively.
The last point to be made about forehand slice deals with deception. In the modern game of hard, flat or topspin shots, the setup for hitting a forehand slice makes deception difficult. Usually, the observant opponent will begin to read when you are going to use this shot and take appropriate movements and measures to assure he/she adjusts properly. Still, there are many who players out there on the recreational courts, who are easily deceived.
So, I don't recommend that many of you make the forehand slice your "typical" or normal forehand groundstroke…unless of course you play on grass exclusively. However, each of us who play the game can benefit from learning this shot. If used judiciously it can keep us in points, and sometimes, actually elicit an error from the opponent.
Remember, tennis is a game of errors…not winners…on any level. If you can help an opponent make an error by using forehand slice, or get back into a rally by slicing high and deep, you will be playing percentage tennis…and if you play percentage tennis, you will become a tennis overdog!



Turbo Tennis Archives:
1996 - 2002 | 2003 - Present
If you have not already signed up to receive our free e-mail newsletter Tennis Server INTERACTIVE, you can sign up here. You will receive notification each month of changes at the Tennis Server and news of new columns posted on our site.
This column is copyrighted by Ron Waite, all rights reserved. Questions and comments about these columns can be directed to Ron by using this form.
Ron Waite is a certified USPTR tennis instructor who took up the game of tennis at the age of 39. Frustrated with conventional tennis methods of instruction and the confusing data available on how to learn the game, Ron has sought to sift fact from fiction. In his seven years of tennis, Ron has received USTA sectional ranking four years, has successfully coached several NCAA Division III men's and women's tennis teams to post season competition, and has competed in USTA National singles tournaments. Ron has trained at a number of tennis academies and with many of the game's leading instructors.
In addition to his full-time work as a professor at Albertus Magnus College, Ron photographs ATP tour events for a variety of organizations and publications. The name of his column, TurboTennis, stems from his methods to decrease the amount of time it takes to learn and master the game of tennis.
---