Attention to Serve & Volley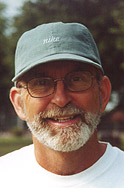 John Mills, USPTA
Many doubles players I teach do not like to play "serve & volley." They do not feel like their serve is adequate or feel that they are not fast enough to come in behind their serve. Many feel that when they do run in after their serve they often times get lobbed back off of the net. If you have these negative feelings, try some of these tactics.
Serve and stay back until you receive a short ball, which will pull you to the net.

Serve and stay back until they hit the next ball to your partner at the net. At this point, they will not be paying attention to you, so you can casually approach the net.

Serve and stay back until your partner receives an overhead. Move forward assuming you are now on the offense.

Serve and stay back until you or your partner hit a good deep lob forcing your opponents to move back. Move forward to gain the offense when they become the defense.

On receiving a weak second serve, chip and charge into the net.
Coming to the net at times when you feel offensive is fun. Coming in at times when you do not feel an advantage is not fun. By using these tactics you might become increasingly confident to the point when you start loving to play serve and volley. Remember that you can still play well and be aggressive by choosing different times and ways to come to the net. Do not be so predictable.
Have fun on the court!



Tennis Anyone Archives:
1994 - 2002 | 2003 - 2016
If you have not already signed up to receive our free e-mail newsletter Tennis Server INTERACTIVE, you can sign up here. You will receive notification each month of changes at the Tennis Server and news of new columns posted on our site.
This column is copyrighted by John Mills, all rights reserved.
John Mills currently teaches tennis at the University of Houston, Clear Lake campus. John Mills' experience includes four years as head pro at the Windemere Racquet & Swim Club, where he was responsible for organization of all tennis activities at the club. John also played college tennis at the University of Houston and has spent 20 years teaching tennis at the Memorial Park Tennis Center, the Pasadena Racquet Club, and as the head pro at the Bay Area Racquet Club.
---