No-Man's Land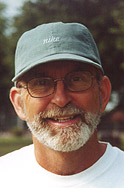 John Mills, USPTA
I refer to "No-Man's Land" to my students as "NASTY LAND!" The two toughest shots in doubles are the low volley and half volley. Of course, when you see the pros play they make them look so easy. However, if you are a normal human being you will find them very difficult. Even if you can make those shots they are difficult to win with. So, when you keep coming forward and your opponents keep giving you low volleys and half volleys and you are not making the shot, or you are popping them up and getting killed, then STOP coming in right away. Stay back after you serve and stay back after your serve return until one of these four things happen:
Your opponents hit the ball to your partner at the net. Remember, at this time your opponents are paying attention to your partner, not you! Take this time to bypass hitting a low volley or half volley in NASTY LAND and move forward a couple of steps inside your service line. You will be glad you did. It will place you in the offense.

You receive a short ball which allows you to hit an approach shot in NASTY LAND, which is better than hitting a low volley or half volley there. A waist high approach shot will be a higher percentage shot then another low volley or half volley.

Any time your opponents hit a high lob to you on the baseline, take it in the air. This separates the men from the boys. By moving forward, you can use your positive forward position to hit a high volley in NASTY LAND and go to the net rather than letting it bounce and move backward. This is usually a big mistake. You will find both of your opponents at the net looking for the weak lob which they will target your partner with.

If you hit a high deep ball and your opponents move backwards allowing the ball to bounce, take this opportunity to move forward (moving through NASTY LAND) and take the offense. You will usually receive a weak return which you can attack.
AVOID NASTY LAND
This does not mean stop going to the net, it means go to the net with a chance to win the point.
Good luck on the courts!



Tennis Anyone Archives:
1994 - 2002 | 2003 - 2016
If you have not already signed up to receive our free e-mail newsletter Tennis Server INTERACTIVE, you can sign up here. You will receive notification each month of changes at the Tennis Server and news of new columns posted on our site.
This column is copyrighted by John Mills, all rights reserved.
John Mills currently teaches tennis at the University of Houston, Clear Lake campus. John Mills' experience includes four years as head pro at the Windemere Racquet & Swim Club, where he was responsible for organization of all tennis activities at the club. John also played college tennis at the University of Houston and has spent 20 years teaching tennis at the Memorial Park Tennis Center, the Pasadena Racquet Club, and as the head pro at the Bay Area Racquet Club.
---