The Wall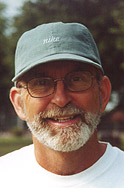 John Mills, USPTA
Everyone has heard of the "Wall Theory." That is when, in doubles, you and your partner form a "wall" (equal distance from the net). This is especially true when you are at the net together. In contrast, I teach my students to form the wall in a slightly staggered position, (that is, one slightly in front of the other by one and one half to two steps).

How many times have you played doubles when you and your partner are in the "wall formation" (the same distance from the net inside the service line) and a ball comes between you and nobody hits it? Why does this happen? You both see the ball and you each see your partner's racket in your peripheral vision. Thus, you think your partner is going to hit it and your partner thinks you are going to hit it.

When you hold the staggered position, the player closest to the net is the "Boss." The "Boss" controls the middle. If the "Boss" does not hit it the partner will still have a play on the ball. This staggered position also helps your team to cover the deep lob. The player farther back from the net will still have a chance to go return the deep lob.

Remember, keep forming the "wall," but try the staggered position. I think you will like it.

Good luck on the courts!



Tennis Anyone Archives:
1994 - 2002 | 2003 - Present
If you have not already signed up to receive our free e-mail newsletter Tennis Server INTERACTIVE, you can sign up here. You will receive notification each month of changes at the Tennis Server and news of new columns posted on our site.
This column is copyrighted by John Mills, all rights reserved.
John Mills' experience includes four years as head pro at the Windemere Racquet & Swim Club, where he was responsible for organization of all tennis activities at the club. John also played college tennis at the University of Houston and has spent 20 years teaching tennis at the Memorial Park Tennis Center, the Pasadena Racquet Club, and as the head pro at the Bay Area Racquet Club.
---