One, Two or Too?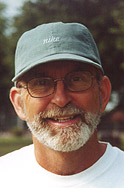 John Mills, USPTA
Many players nowadays have a two-handed backhand groundstroke. The questions is "when should I hit the two-handed versus a one-handed backhand, such as a chip or under spin?"

Whenever the shot is too far away, too wide, too short, too close and fast (jamming you), try the one-handed chip. Whenever the shot is too easy (you can get to the ball easily and you are not being pressed) use your two-handed backhand.

In general, if you are being pressed and are in a defensive position, use the one-handed backhand. If you are not being pressed and are in the offensive position use the two-handed backhand.

Good luck on the courts!



Tennis Anyone Archives:
1994 - 2002 | 2003 - Present
If you have not already signed up to receive our free e-mail newsletter Tennis Server INTERACTIVE, you can sign up here. You will receive notification each month of changes at the Tennis Server and news of new columns posted on our site.
This column is copyrighted by John Mills, all rights reserved.
John Mills' experience includes four years as head pro at the Windemere Racquet & Swim Club, where he was responsible for organization of all tennis activities at the club. John also played college tennis at the University of Houston and has spent 20 years teaching tennis at the Memorial Park Tennis Center, the Pasadena Racquet Club, and as the head pro at the Bay Area Racquet Club.
---