"The Pre-Match Warmup"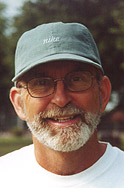 John Mills, USPTA
Remember to take your serves all at the same time in the 5-minute match warmup. Play must be continuous once the match begins. In the 5 minute warmup when your opponent asks for a few lobs to practice their overhead, do not try to return their smash with a lob. Instead, catch it with your racket, then feed them another lob. This prevents the spraying of the overhead off your racket, thus prolonging the warmup. During the warmup, rather than trying to practice your shots, focus on using the time to loosen up your body and mentally prepare yourself for the match.



Tennis Anyone Archives:
1994 - 2002 | 2003 - 2016
If you have not already signed up to receive our free e-mail newsletter Tennis Server INTERACTIVE, you can sign up here. You will receive notification each month of changes at the Tennis Server and news of new columns posted on our site.
This column is copyrighted by John Mills, all rights reserved.
John Mills currently teaches tennis at the University of Houston, Clear Lake campus. John Mills' experience includes four years as head pro at the Windemere Racquet & Swim Club, where he was responsible for organization of all tennis activities at the club. John also played college tennis at the University of Houston and has spent 20 years teaching tennis at the Memorial Park Tennis Center, the Pasadena Racquet Club, and as the head pro at the Bay Area Racquet Club.
---