Move Around It!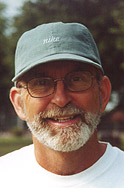 John Mills, USPTA
When I started playing tennis, I stood in the center of the court and saw the tennis world as 50% forehand and 50% backhand. Now, no professional plays like that.

It is more like 60% - 40% or in some cases 70% - 30%. If you want to make a significant improvement in your game try to take more forehands than backhands. Any ball struck to your backhand that is slow or you feel like you have time, move around it and hit a forehand. Once you try this and you like it, try doing the same thing on your volleys and overheads. Remember, it is not a sign of weakness. It is a sign that you are a competitive player and you are playing with your "A" game. Also, it does not mean your backhand is bad. In general, most players can hit a more offensive forehand than backhand.

Many players spend a lot of money on technique, when the answer to the problem is enhanced footwork. This also confuses your opponent to try shots which they do not own into a part of the court that they are not used to hitting the ball to.

Remember, if you get the chance - "Move Around It!"

Good luck on the courts!





Tennis Anyone Archives:
1994 - 2002 | 2003 - Present
If you have not already signed up to receive our free e-mail newsletter Tennis Server INTERACTIVE, you can sign up here. You will receive notification each month of changes at the Tennis Server and news of new columns posted on our site.
This column is copyrighted by John Mills, all rights reserved.
John Mills' experience includes four years as head pro at the Windemere Racquet & Swim Club, where he was responsible for organization of all tennis activities at the club. John also played college tennis at the University of Houston and has spent 20 years teaching tennis at the Memorial Park Tennis Center, the Pasadena Racquet Club, and as the head pro at the Bay Area Racquet Club.
---