Move To The Music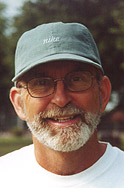 John Mills, USPTA
How many times have you played a point and you make contact with the ball in the same place on the court as your were before the ball was hit? I call this "getting eaten-up by the ball." The problem is that you are not getting into the point soon enough.

Many players will not react to the ball until it is already on their side of the net. That is too late. When you play under the lights at night, everything will be far worse. Solution: Keep your feet or body constantly moving -- it can be an up and back rhythm or a side-to-side motion. Then pretend you are listening to music. However, the music does not start until the moment right before your opponents hits the ball. Once you hear this sound, the music starts. The music will continue through your constant movement until the point is over. Keep moving and reacting until the point is over.

The traditional way to say this is to "split-step." No matter where you are on the court or what you were doing, "stop" right before your opponent hits the ball. This allows you to move in any direction from a balanced start. The greatest mistake players make is that they allow the ball to come to them. This is where the "better" player will move to the ball. If you can hear the music, and "music is movement," then you will move toward the ball or in case of a lob you can move back for it.

Remember, music is movement. The music starts right before your opponent makes contact with the ball. Once the music starts, keep moving until the point is over. In doubles, you should be moving even when your partner is hitting the ball. Points usually do not last very long. You are not going to be exhausted by this constant movement.

Move to the "music."

Good luck on the courts!





Tennis Anyone Archives:
1994 - 2002 | 2003 - Present
If you have not already signed up to receive our free e-mail newsletter Tennis Server INTERACTIVE, you can sign up here. You will receive notification each month of changes at the Tennis Server and news of new columns posted on our site.
This column is copyrighted by John Mills, all rights reserved.
John Mills' experience includes four years as head pro at the Windemere Racquet & Swim Club, where he was responsible for organization of all tennis activities at the club. John also played college tennis at the University of Houston and has spent 20 years teaching tennis at the Memorial Park Tennis Center, the Pasadena Racquet Club, and as the head pro at the Bay Area Racquet Club.
---