Have Fun!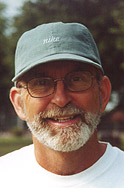 John Mills, USPTA
You are playing a lot of doubles, but you are in a rut and not having fun. Have Fun!

Start taking some chances and try to become more aggressive at least some of the time.

Start making something happen, instead of waiting to lose.

Try to follow your first serve to the net at least once every service game. If you win the point doing that, try it again.

Do not serve and volley every time and do not serve and volley very often on your second serve, unless it is strong. Remember, serve and volley on your first serve sporadically.

For fun, take your opponent's weak serve and follow it to the net. Many of your opponent's second serves are weaker than their groundstrokes. A typical scenario in doubles is you getting the weak second serve return back to the server and staying back. He/she gets to start the point with a huge comfortable groundstroke, putting them in the offensive, after serving a very weak second serve. Taking the second serve and moving to the net behind it does several things:

It allows you to take the offensive
It puts great pressure on the server when they see you advancing, making unforced errors
It forces the server to hit out of their "comfort zone"
It is "Fun"
The "Party" is at the net.

Any time you or your partner throw up a good lob over the heads of one or both of your opponents, move forward as a team to the service line, where you will probably receive a lob that you can play offensively with a smash.

Remember, it is no "Fun" to play "lob" to "lob" and it is less fun to watch that kind of match. Try these tips and start having more "Fun"! You can do it!

Good luck on the courts!





Tennis Anyone Archives:
1994 - 2002 | 2003 - Present
If you have not already signed up to receive our free e-mail newsletter Tennis Server INTERACTIVE, you can sign up here. You will receive notification each month of changes at the Tennis Server and news of new columns posted on our site.
This column is copyrighted by John Mills, all rights reserved.
John Mills' experience includes four years as head pro at the Windemere Racquet & Swim Club, where he was responsible for organization of all tennis activities at the club. John also played college tennis at the University of Houston and has spent 20 years teaching tennis at the Memorial Park Tennis Center, the Pasadena Racquet Club, and as the head pro at the Bay Area Racquet Club.
---