The Baseline In Doubles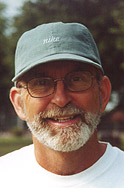 John Mills, USPTA
Of course, everyone knows where the actual baseline is on the doubles court. However, in a doubles match, it is smart to never aim at the actual baseline.

If your opponent is behind the actual baseline pretend you are aiming at an imaginary line half way between the baseline and the service line, commonly called 3/4 depth. This allows you to over hit and still get your shot in and still keep your opponent back. However, as your opponent moves forward (inside the baseline) toward the net, it is smart to imagine that the baseline is always right in front of your opponent close to their feet. When you see the court this way you quit making errors "long" over the baseline and "wide" across the sideline.

You will start playing higher percentage tennis. You will reduce your long and wide errors, forcing your opponent to hit up on the ball, protecting your partner. Remember... keep hitting the ball "under" your opponent or at their feet. It will prevent many unforced errors and protect your partner. The baseline is always moving as your opponent moves. Pay attention to where your opponent is on the court.

Good luck on the courts!





Tennis Anyone Archives:
1994 - 2002 | 2003 - 2016
If you have not already signed up to receive our free e-mail newsletter Tennis Server INTERACTIVE, you can sign up here. You will receive notification each month of changes at the Tennis Server and news of new columns posted on our site.
This column is copyrighted by John Mills, all rights reserved.
John Mills currently teaches tennis at the University of Houston, Clear Lake campus. John Mills' experience includes four years as head pro at the Windemere Racquet & Swim Club, where he was responsible for organization of all tennis activities at the club. John also played college tennis at the University of Houston and has spent 20 years teaching tennis at the Memorial Park Tennis Center, the Pasadena Racquet Club, and as the head pro at the Bay Area Racquet Club.
---