No Control - Try This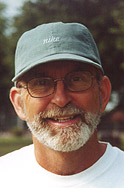 John Mills, USPTA
Problem: You do not feel like you are hitting the ball where you want it to go.

Situation: Instead of using the entire court, just use the alley. Both you and your practice partner stand slightly behind the baseline opposing each other. Try to control the groundstrokes within the confines of the alley. Try to alternate from hitting a forehand then a backhand. Start off hitting slow until you both gain control. Then alternate forehand then backhand, until you can keep the ball in play several shots in a row. Do not add pace until you have mastered control.

As you try this, you will hit early and/or late. Thus, you will learn how to be square on your contact, you will learn how to make your strokes longer and you will learn how to control the ball. Remember, if you went target shooting you would not aim at the house and think you were a good shot. You would aim at a small target. Even if you did directly hit the smaller target, you would become a better shot.

The alley is 4 1/2 feet wide. So, there are approximately 7 alley widths on a singles court, like lanes in a swimming pool. As you start to decide where you will hit the ball, picture this 4 1/2 lane. By aiming in the middle of your alley you can fail a little left or right and still be successful. Don't think the pros aim at the lines. Try this practice for at least 30 minutes every practice session. You will see how it improves your control.

Good luck on the courts!





Tennis Anyone Archives:
1994 - 2002 | 2003 - Present
If you have not already signed up to receive our free e-mail newsletter Tennis Server INTERACTIVE, you can sign up here. You will receive notification each month of changes at the Tennis Server and news of new columns posted on our site.
This column is copyrighted by John Mills, all rights reserved.
John Mills' experience includes four years as head pro at the Windemere Racquet & Swim Club, where he was responsible for organization of all tennis activities at the club. John also played college tennis at the University of Houston and has spent 20 years teaching tennis at the Memorial Park Tennis Center, the Pasadena Racquet Club, and as the head pro at the Bay Area Racquet Club.
---