THOSE WHO LOVE THE GAME
Alex Aitchison
Greg Moran
Continuing our series of "Those Who Love The Game" profiles, I'd like to introduce you to a man who not only has made tennis an important part of his life, but who's contributions to the sport he loves have been profound.
Born in Australia in 1931, Alex Aitchison was introduced to tennis at the age of nine by his brother George, a teaching pro. "I used to hang around the courts all day long, picking up balls and sweeping the courts," remembers Alex "and when George had the time, he'd hit with me."
Aitchison soon "caught the bug" and began to play competitively. He played Church tennis every Saturday and competed in junior tournaments throughout Australia. He became very good, but not quite good enough. "In Australia at the time, money was very tight for tennis players so if you weren't in the top six, which I wasn't, you couldn't travel to tournaments outside of the country.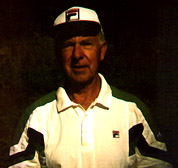 Alex Aitchison
While Aitchison loved to play and compete, his life was soon to take one of many unexpected turns. "One day," he recalls, "Adrian Quist, who was the Chairman of the Dunlop Sports Company, came to me and said, 'You're never going to make it as a tennis player. You realize that don't you?' I thought it was very nice of him to inform me of that but before I could respond he quickly added, 'So I've got a job for you.'"
At the age of 20, Aitchison became the International Promotions Manager for Dunlop Sports in Victoria, Australia and was involved in promoting all of Dunlop's sports activities as well as the Davis Cup competition.
In the 50's, 60's and 70's, the Davis Cup held much more prestige that it does today. It was considered a great honor to represent ones country and Aitchison, while he was with Dunlop, became associated with quite possibly the greatest group of Davis Cup players in tennis history.
Rod Laver, Roy Emerson, Ken Rosewall and the rest of the great Australians of that era were just coming up and Aitchison put a good number of them on the Dunlop "free list" for equipment and worked quite extensively with them.
Australia's Davis Cup captain at the time was the legendary Harry Hopman who led the team to 16 Davis Cup titles between 1939 and 1967.
Aitchison remembers the "Aussies" as "a wonderful bunch of guys that worked incredibly hard." He still sees many of them from time to time at various tournaments and feels that, "all things being equal," Laver is the greatest player ever.
During this time, Hopman was the president of the Victorian Lawn Tennis Association and Aitchison the CEO and General Manager, and the two worked closely together. That is until fate again entered Aitchison's life.
"One day in 1970," recalls Alex, "Hop came to me and asked me to drive him to the airport. On the way he said that he was going to the states and not coming back. I nearly ran off the road."
Hopman left Australia in 1970 and the following January, Aitchison received a phone call at 6:30 in the morning. It was Hopman. "He tells me that he's gotten involved with a facility called the Port Washington Tennis Academy on Long Island and that they were looking for someone to run the place.
"The owner of the academy got on the phone, we talked, and the next thing I knew, my wife Marge and I packed up our three sons and we were off to America. We've been here ever since."
Over the next decade Port Washington became know as "THE" place to train, with players such John McEnroe, Vitas Gerulitas, Bjorn Borg and Tracy Austin as well as hundreds of lesser known players fine-tuned their games at the Academy.
Aitchison has fond memories of his time at Port Washington though he does remember an instance when he was forced to discipline McEnroe.
"McEnroe was a guy onto himself," recalls Aitchison. "He knew it all and you couldn't tell him anything. One time, after he was involved in an incident at the Concord hotel, Hy Zausner, the owner of the academy and I sat him down and suspended him for six months."
"When we told him of the suspension he simply said 'Fine, I don't need you.' I said, John that's up to you but you're suspended for six months whether you need us or not."
Later that same year McEnroe won the Junior Wimbeldon title and went on to the semi-finals in the main draw and the rest, as they say, is history. "I guess he didn't need us after all," Aitchison says with a chuckle.
Aitchison continued at Port Washington until 1986 when a serious car accident left him paralyzed on his right side and, as he described, "unable to perform my duties."
The accident also forced Aitchison, who was still competing in International senior events at the time, to retire from serious competition. Unsure of what was next, fate again lent a hand.
"One day I bumped into Randy Gregson, who was the president of the USTA at the time, and he asked me if I thought the United States needed a program for developing players? I immediately said to him, 'What took you so long?'
"Australia and Germany had development programs. So did Sweden, Canada and Czechoslovakia and here we are the United States, supposedly the greatest tennis nation on earth, and we don't have one." Gregson then said "Fine, you're hired!"
He wanted Aitchison to put together a paper outlining what was needed for such a program. "At the time I was Chairman of the National Junior Tennis Council so I knew what was going on as far as Junior Davis Cup and Federation Cup were concerned and I had a good idea of what I thought we needed to do."
Aitchison traveled across the country 3 or 4 times and his suggestions developed into what is now known as the USTA Player Development program. The program is largely credited with developing current world champion Pete Sampras as well as Jim Courier and many other touring professionals.
In the early 90's Aitchison was looking to "semi-retire." He moved to Newtown, CT and started a company called Tennis Consultants International which worked with major corporations such as Rolex and Remington in order to help them market their products through tennis.
His company also started the International Father/Son and Mother/Daughter competitions which today are held in over 17 countries around the world.
"Once we were settled in Connecticut, Marge and I decided we'd better look for a place to play some tennis. We got out the phone book and went to 3 or four clubs in the area before we walked into the Beaver Brook Tennis Club in nearby Danbury.
"The owner, Jon Bloom, showed us around and we thought the club was great. After the tour, Jon went behind the front desk and I overheard one of the desk girls telling him that they were short a pro for tomorrow's teaching program. Jon came out from behind the desk and asked me if I'd be interested in doing some teaching. I've been there ever since."
A year later the Newtown Tennis Association was having their annual tennis night at Beaver Brook and Alex and Marge decided to attend. "After a few minutes I realized that they were having a meeting and the outgoing president said that they needed to find a new president."
Someone jumped up and said, "I nominate Alex and the president walked over and said" 'Congratulations.' "I nearly fell off my chair but I didn't mind because I was eager to get involved and help promote tennis in the area."
Aitchison was the President for three years and the Association flourished under his direction. He stepped down recently and is now serving as the town's Tournament Director.
With no plans to ever fully retire from tennis, Aitchison continues to devote his time to growing the game and is currently involved in a six week program of free clinics in Newtown designed to introduce new players to tennis. He is also, when he can find the time, working on a book.
When asked to describe the attraction tennis has held for him, Aitchison replies, "I just love it! I love to play and teach and I still get a tremendous amount of satisfaction seeing the smile on a kid's face when they hit their first ball over the net."
Few of us who have made tennis an important part of our lives can truly say that we've given as much to the game as we've gotten. Alex Aitchision is one of the few.



Mortal Tennis/Circle Game Archive
If you have not already signed up to receive our free e-mail newsletter Tennis Server INTERACTIVE, you can sign up here. You will receive notification each month of changes at the Tennis Server and news of new columns posted on our site.
This column is copyrighted by Greg Moran, all rights reserved.
Greg Moran is the Head Professional at the Four Seasons Racquet Club in Wilton, Connecticut. He is a former ranked junior and college player and certified by both the USPTA and USPTR. Greg has written on a wide variety of tennis-related subjects for numerous newspapers and tennis publications including Tennis, Tennis Match and Court Time magazines. He is also a member of the FILA and WILSON Advisory Staffs.
Questions and comments about these columns can be directed to Greg by using this form.
---