U.S. Open 2000: From the Legg Mason

Ray Bowers
The last seven U.S. Opens have been captured by just three men. Pete Sampras won three times during this period, Pat Rafter and Andre Agassi each twice. This year's Wimbledon confirmed the eminence of these three superstars, when Rafter defeated Agassi in a five-set semi and was then beaten by Sampras in a well-fought final. The three thus are obvious favorites to capture the forthcoming U.S. Open. But since all three bring recent injury troubles, the door seems open to several other potential champions.
The hard-court events in August are good predictors of outcomes at the Open. The Canadian Open and the ATP championships in Cincinnati, both held early in August, have in recent years more closely than other major events foretold who would reach the late rounds of the Open. Then last year, the results of the Legg Mason Classic in Washington, which along with the RCA in Indianapolis is held in third week of the month, accurately predicted the Open's champion (Agassi) along with three of its four semi-finalists (Agassi, Martin, Kafelnikov). In watching the Legg Mason a year ago, I was dazzled by Agassi's level of play, but I nevertheless thought it likely that Sampras would defeat Agassi in an Open showdown. The prediction was spoiled when Sampras withdrew at the outset because of back trouble.
THE THREE SUPERSTARS
The three recent champions bring distinctive styles of play that are well suited to the fast, hard courts at Flushing Meadow. Their past achievements are of course superb, but in each case the recent summer produced disappointments and serious questions.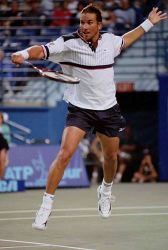 Patrick Rafter.
Pat Rafter brings a magnificent attacking game, founded on a varied, forcing serve and an agility at net surprising for a player Rafter's size. His is the serve-and-volley game--a throwback to the times before high-technology rackets began to favor the baseline power hitters. When his opponent is serving, Rafter typically prolongs matters by slicing backhands patiently cross-court, awaiting his opportunity to move forward. Sometimes, especially in pressure situations, Rafter will attack net behind his return of serve. Rafter contributed two singles wins in Australia's Davis Cup victory over Brazil in July, then lost in the quarters at the Canadian. Renewed shoulder trouble sidelined Rafter during Cincinnati and Indy/Washington. He won his first match yesterday at Hamlet Cup in this final week before the Open.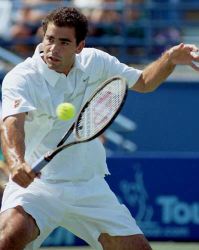 Pete Sampras.
Pete Sampras has a heavier serve than Rafter, and his second serve is probably the strongest in tennis history, carrying vast energy in the form of heavy overspin and pace. Sampras moves to net behind all first serves and many second serves. He wields a strong net game and a signature, crushing overhead. Sampras missed Davis Cup in July with the same leg problems that had troubled him at Wimbledon. He lost to Safin in the quarters in Canada, then played seemingly with restraint in losing to Henman at Cincinnati. At Flushing Meadow Sampras will be seeking his 14th career Slam triumph and his fifth U.S. Open. He first won the Open in 1990 at age 19.
Meanwhile last year's winner, Andre Agassi, maintains a reputation as the current game's greatest hitter, whether off the serve return or from medium depth in back court. He relishes punishing the ball as it rises, nailing forehands and two-handed backhands close to the sidelines. His fast-paced game thrives on the true bounces seen on hard surfaces. At its best, Agassi's clean, consistent power hitting ultimately breaks the stamina and will of most opponents. Meanwhile his serve carries good pace, often allowing him to dominate points at their outset.
Agassi missed Davis Cup in July with back injuries stemming from a car accident. He lost early in Canada and faltered with renewed back trouble in Cincinnati a week later. At the Legg Mason, Agassi seemed to be at his best, relishing the slowish Stadium Court and reaching the final without losing a set. His semi-final victory over Prinosil was so convincing that an Agassi victory over his final-round opponent, Alex Corretja, seemed asssured.
But nothing in sports is certain. Like 7,500 others in the sold-out stadium, I was transfixed as events unfolded. The early games produced a tell-tale clue, when Agassi seemed unable to react to Corretja's 110-mph serves to the wide sidelines. But when Agassi served to the same location at the same velocity, Corretja usually kept the point going.
It also became evident that Agassi was not going to win baseline exchanges easily. Agassi was the flatter, harder, and more aggressive hitter, but he could register winners or force errors only by plastering scorchers very close to the lines. As Agassi went increasingly for high-risk shots, errors began to occur. Meanwhile whenever Agassi softened his pace for variety, Corretja ably counterattacked. As Agassi's frustration increased, so too did his high-risk attempts and his errors. Meanwhile Corretja served nine aces against Agassi's zero--a reflection of Corretja's fine serving and Agassi's lethargy in returning. It ended in little over an hour, Corretja winning, 6-2, 6-3.
Afterwards a discouraged Agassi declined to say that his troublesome back had been a problem or that his rare participation in doubles had cost him needed rest.
Coming to mind was an episode two years ago, when a huge overhead by Agassi struck Corretja, who was at the net, squarely in the chest. The Spanish player fell to the ground in a frightening way. Agassi was visibly shaken and extremely contrite, and although he had been well ahead in the score he went on to lose the match. Agassi had never lost to Corretja before and has never beaten him since. I asked Corretja about the episode. Corretja recalled it well and even remembered the score. Are Agassi's troubles against Corretja somehow related to the episode?
A year ago, Agassi breathed confidence in looking ahead to the Open. Now, the great champion is worried about his troublesome back and how it might inhibit his preparation. His outlook toward the Open seems no longer confident but rather hopeful, indeed wishful.
THE HAMMERERS
Most of the other plausible Open winners have common strengths--powerful serves and an ability to produce extreme power and consistency from back court.

The winner at Toronto this year was Marat Safin, 20. I first watched Safin in early 1998 at Philadelphia and remarked that the tall Russian could become the next Pete Sampras. I later almost gave up on this prediction, as Safin showed problems in temperament and often lost ineptly after strong wins. Last year here in Washington I watched him perform dismally against spinmaster Fabrice Santoro. But Safin showed good results this spring, and at Toronto his power hitting produced a close win over Sampras in the quarters and eventually the championship. At Cincinnati he again lost to Santoro, but he reached the final at Indy, losing in a third-set tiebreak to Kuerten.

Gustavo Kuerten showed at Cincinnati and Indianapolis how his potent serving and ground-stroking--proven effective on clay in winning two French Opens--can translate into victories on hard courts. Despite a nasty blister problem on the finger, Kuerten reached the semis at Cincinnati, defeating a solidly playing Todd Martin and losing to Tim Henman, both in third-set tiebreakers. A week later, he captured Indy, defeating Hewitt and Safin.

I watched Jan-Mike Gambill closely at the Legg Mason. Gambill had reached the quarters at this year's Wimbledon, where he fought well in a four-set loss to Sampras. Gambill, 23, is now a powerful 6'3", blessed with a power serve and heavy groundstrokes from both sides. Returning from injury, Gambill won two matches in Washington before bowing to Nicolas Kiefer. It seemed to me that Gambill's racket stringing was rather loose, giving his serve and two-handers good pace but causing him trouble in volleying opponent's hard-hit shots.

I had looked forward to seeing Mark Philippoussis, 23, in Washington. Runner-up in the U.S. Open two years ago, the 6'4" slugger can overwhelm any opponent. But at the Legg Mason Philippoussis showed only an ability to spray shots. He was unwilling to soften his power game in losing to Brazilian Andre Sa, who simply fed the Aussie's determined error-making. Perhaps it is that Philippoussis must not soften his shots if he is to defeat opponents like Agassi, but his unwillingness to ease up at least temporarily in order to compete against Sa seemed to me disgraceful.

Thomas Enqvist, 26, swept six matches in winning the tournament in Cincinnati. The final was a fascinating contest of different styles, where Enqvist's power serving and flattish hammering from back court were too much for the net-rushing Henman. Few fans realize that Enqvist ranked fourth in the year-long ATP rankings for 1999, behind only Agassi, Kafelnikov, and Sampras.

Magnus Norman, 24, briefly led in the ATP standings this year after attaining the semis in Australia, the finals at Garros, and the championship at Rome. His hard serving and baseline hitting would seem well suited for hard courts, but he lost early at both Canada and Cincinnati.

Last year's Open runner-up, Todd Martin, looked strong at Cincinnati. Against Kuerten, Martin served for the match. But somehow things went awry. What is it about Martin that produces wonderful performances that end in defeat? Still, if Martin brings the strong serve, serve-return, and solid shotmaking seen at Cincinnati, he can defeat any opponent at the Open. His strength in serve-and-volley play provides a further dimension largely missing among the other big servers and heavy hitters described above.
THE STYLISTS
Although his successes have been fewer as his injury problems have become more persistent in recent years, the wonderful serving and volleying of Richard Krajicek will be, as always, splendid to watch. Meanwhile Tim Henman is almost as persistent in attacking as Krajicek but with a shade less firepower off the serve. Kafelnikov, who reached the semis last year, has the all-court game if not the big serve needed to take the crown, but the enigmatic Russian recorded disappointing results this summer.

Lleyton Hewitt, just 19 and now almost six feet tall, has increased his physical strength and thereby added firepower to a game based on determination, lightning-fast court speed, and counter-punching skills. In July Hewitt joined Rafter in sweeping the Cup singles against Brazil, and in August Hewitt upset Cincinnati-winner Enqvist to reach the semis at Indianapolis.

Finally, the Legg Mason winner, Alex Corretja, seems to represent many other European and South American artists raised on clay. His topspin forehands and backhands are picture-perfect to watch--Agassi at Legg Mason complained of endlessly addressing balls that bounced higher off the court than he wished. Against Agassi, Corretja's court tactics and mobility were brilliant. In his victory interview Corretja griped, probably correctly, that writers fail to see him as a hard-court threat despite his several major triumphs on hard surfaces, including at Indian Wells this year. Still, it is clear that Corretja's greater strengths are in the defensive and counter-punching game, assets not suited to hard courts faster than those at Indian Wells and Washington. As Corretja himself noted in Washington, the faster courts in New York will mean that he must be more aggressive.
ANDY RODDICK OF U.S.A.
Andy Roddick.
A star came into view at the Legg Mason.
Just short of age 18, at 6'2" with high and broad shoulders and a 130-mph first serve, Andy Roddick is assuredly ready to win at the pro level. He advanced impressively through the first three rounds in Washington, defeating Voinea, Santoro, and Kucera--European stars currently in the ATP top 100. In watching the three matches, I marvelled at Roddick's powerful and well-placed serves, his strong and error-free net game, his solid groundstrokes featuring variety in placement, pace, and spin, and especially his ability to be patient against these experienced baseliners before attacking. As each match progressed, he seemed able steadily to raise his game, whether he was ahead or behind.
Roddick was finally eliminated in a rain-interrupted quarter-final by an Andre Agassi who was hitting at his best, 6-4, 6-4. Roddick grasped that his preferred location at net was a dangerous place against the rockets of Agassi, so he tempered his serve-and-volleying habits. Baseline exchanges ensued, where Roddick exploited the immediate advantage established by his serving, and though the youngster used his fullest power in higher-risk shots more often than in his three winning matches, this seemed a necessary accommodation against Agassi. Roddick won eight of ten games on his own serve. It was a different story when Agassi served, however, when Roddick won only 10 of 50 points.
Clearly, the centerpiece of Roddick's game is his serving ability. In his four Legg Mason matches, Roddick's first serves were in-court an exemplary 60% of the time, and the teenager won 78% of these points. He also won a very fine 61% of his second-serve points. Roddick hit more aces than his opponents, 40 vs. 23 (11 vs. 9 against Agassi), and fewer double-faults, 10 vs. 16.
There is still a trace of the teenager's awkwardness in Roddick's movements between points, along with a touch of swagger. His court manners are impeccable, disguising a strong fighting spirit. There seem no major weaknesses in his game, though his well-overspun second serve seems to land short fairly often. His volleying ability, which is remarkable for a teenager, yet needs improvement in order to handle pace like Agassi's.
Roddick was born in Nebraska and now lives in Boca Raton. He won the international junior events in Florida last December, won the Australian Open juniors this year, and attained the world's #1 junior ranking. He injured a knee at the French Open juniors and did not compete at the Wimbledon juniors. He played in three tour events prior to the Legg Mason, winning only one match. With another year of growing and learning, Roddick can anticipate Slam triumphs.
THE ODDS
I deem odds for winning the Open as follows:

Sampras, 3-1
Rafter, 5-1
Agassi, 5-1
Kuerten, Safin, Enqvist, Martin, each 20-1
Philippoussis, Hewitt, Henman, each 30-1
Kafelnikov, Krajicek, each 40-1
Norman, Corretja, each 50-1
Gambill, Roddick, all others, each 100-1 or longer
THE PREDICTIONS
Shown here are the main competitors and their seedings in the eight sections of the men's draw. Surprisingly, Krajicek, Rafter, and Todd Martin are unseeded.

Agassi (1), Lapentti (16), Pavel, Clement, Ferreira, Arazi. There could be danger lurking here for the defending champion. Still, Agassi.

Enqvist (7), Hewitt (9), Rios, Novak, Woodruff, B. Black. Enqvist had little success in past Opens. Hewitt is yet improving. Hewitt.

Sampras (4), Squillari (13), Haas, Gimelstob, Tarango. A favorable early draw for a well-rested Pete. Sampras.

Kafelnikov (5), Henman (11), Krajicek, Hrbaty, Ivanisevic. Henman could succeed here, but Krajicek outperformed him in last year's Open. Krajicek.

Safin (6), Ferrero (12), Koubek, Santoro, Grosjean, Federer. It's hard to see Safin failing here. Safin.

Norman (3), Kiefer (14), Bjorkman, Roddick, A. Costa, Gaudenzi. A vote for Roddick would be bold, but he starts off against Costa--a daunting though not impossible assignment. It's hard to see why Norman hasn't done better this summer. Perhaps it's time. Norman.

Corretja (8), Pioline (10), T. Martin, Moya, Chang, Rusedski. Corretja was wonderful in Washington, but Martin has the game to prevail. Martin.

Kuerten (2), Philippoussis (15), Rafter, Gambill, Escude. Rafter simply knows how to win at Flushing. Rafter.

All four quarter-final matches could go either way. I like Hewitt over Agassi, Sampras over his former nemesis Krajicek, Safin over Norman, and Rafter over Martin. Sampras and Rafter then should reach the final, with Pete Sampras prevailing in this Wimbledon-final rematch.
THE WOMEN'S SINGLES
The analysis offered here is short, as the picture is clear. Wimbledon showed that Venus Williams and sister Serena are finally ready to dominate women's tennis. The summertime hard-court circuit in North America confirmed the transition at the top, when Venus won at Stanford and San Diego, defeating Davenport and Seles, and Serena captured Los Angeles, defeating Hingis and Davenport.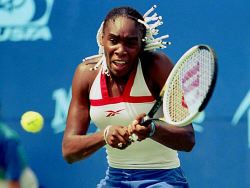 Venus Williams.
An interesting match-up then took place at Montreal in mid-August, where Serena's power totally dominated Hingis for one set. Hingis recovered to win the second set, and Serena retired with a severe foot inflammation early in the third. The match stats were astonishing--Serena struck ten aces to Hingis's zero. Serena hit 32 winners to Hingis's 3 (at least two of Hingis's winners were softies). Meanwhile, Serena committed 33 unforced errors to Hingis's 9. The data confirmed the role of Serena's power.
True, Hingis still leads in the WTA points standings, but the combined power and mobility of either Williams seems a level higher than that of Hingis or Davenport. Venus's ability to move deep into the corner to rip clean backhand winners against Seles was dazzling. It no longer seems necessary that Venus and Serena develop stronger net-attack instincts in order to win, though if this happened their ascendancy would be even more complete.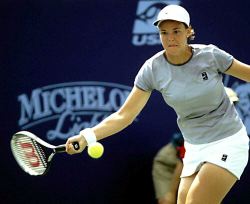 Lindsay Davenport.
Lindsay Davenport's poor results this summer may be attributable to back trouble, but even at her best, Davenport's powerful strokes are only marginally ahead of, and her mobility is considerably behind, either sister's. At Montreal, Davenport retired early with left-foot trouble. Meanwhile, Hingis's magic is surely not gone forever, but it will seldom be enough against the power of Davenport or either Williams. Pierce and Seles remain dangerous, but their mobility disadvantage against the sisters is probably as large as Davenport's. Meanwhile the newer teenagers seem unable to break out upward.
Which Williams will win the Open? Venus won their insipid head-to-head meeting at this year's Wimbledon, and during the summer the sisters avoided competing against each other. The world has not yet seen the sisters play at their best against each other. If for whatever reason the sisters fail to produce a series of classic battles in future years, tennis history will be the serious loser.
Here are the odds:
Venus Williams, 2-1
Serena Williams, 4-1
Davenport, 6-1
Hingis, 8-1
Pierce, Seles, each 20-1
all others, 100-1 or longer
THE PREDICTIONS
How the top players respond to recent injuries will be critical.

Hingis (1), Testud (11), Sugiyama, Boogert. The Swiss Miss has reached the semis or better the last four years. Hingis.

Seles (6), Capriati (15), Nagyova, Schett, Dechy, Rubin. Twice champion, twice runner-up, and with a strong year to date, Seles clearly is the favorite here. Capriati is the younger player and had a good Open last year (though she lost to Seles). A risky pick here. Capriati.

V. Williams (3), Coetzer (13), Serna, Habsudova. A sure thing. Venus Williams.

Tauziat (8), Sanchez Vicario (9), Appelmans, Pitkowski. The marvelous fighter lost closely to Hingis last year. Sanchez Vicario.

Martinez (7), Van Roost (14), Schnyder, Frazier, Suarez, Dementieva. All the players named here have a chance. Every tournament has a surprise newcomer. Dementieva.

Pierce (4), Huber (10), Raymond, Dragomir, Stevenson. A favorable seeding and good draw for Mary, who almost defeated Davenport in last year's quarters. Pierce.

S. Williams (5), Halard-Decugis (9), Talaja, Dokic. No problem here if Serena's foot has healed. Serena Williams.

Davenport (2), Kournikova (12), Clijsters, Srebotnik, Zuluaga. In a section clouded by Davenport's recent injury difficulties, there should be opportunity for the others. Clijsters.

The predictions now flow easily. The clear favorites--Hingis, Venus, Pierce, and Serena--should win their quarter-final matches. The sisters should then win in the semis, thereby setting up an all-Williams final. In contemplating Venus vs. Serena, the possible condition of Serena's sore foot after two week's hard-court play becomes a significant consideration. Largely for this reason, I believe that Venus Williams will prevail to win her first U.S. Open.

Best wishes to all readers for a super Open.

--Ray Bowers

Roddick photo by Ray Bowers. All other photos by Ron Waite.



Between The Lines Archives:
1995 - May 1998 | August 1998 - 2003 | 2004 - 2015
If you have not already signed up to receive our free e-mail newsletter Tennis Server INTERACTIVE, you can sign up here. You will receive notification each month of changes at the Tennis Server and news of new columns posted on our site.
This column is copyrighted by Ray Bowers, all rights reserved.
Following interesting military and civilian careers, Ray became a regular competitor in the senior divisions, reaching official rank of #1 in the 75 singles in the Mid-Atlantic Section for 2002. He was boys' tennis coach for four years at Thomas Jefferson High School for Science and Technology, Virginia, where the team three times reached the state Final Four. He was named Washington Post All-Metropolitan Coach of the Year in 2003. He is now researching a history of the early pro tennis wars, working mainly at U.S. Library of Congress. A tentative chapter, which appeared on Tennis Server, won a second-place award from U.S. Tennis Writers Association.
Questions and comments about these columns can be directed to Ray by using this form.
---