A Wimbledon 2001 Logbook

Ray Bowers
Day 1, Monday
Surprises seemed unlikely this first day at Wimbledon. The number of seeded players in both men's and women's singles had been increased to 32 this year, a change promising extra protection for the topmost stars. But seldom has Wimbledon produced a greater shock than what unfolded on Court One at mid-afternoon.
Martina Hingis was the world's Number One, the tournament's #1 seed, and a former Wimbledon champion (1998). She lost in the first round two years ago amid a public split with her mother-coach, but since then she had reached at least the quarters of every Slam. Her Wimbledon opponent this day was Virginia Ruano Pascual, 27, known recently for winning both the women's and mixed doubles at Garros.
But the Spanish woman was scarcely a doubles specialist today. Her powerful overspin forehand dominated many points, while her undersliced backhand served to frustrate Hingis's bids to exploit the initiative. Ruano Pascual matched Hingis in court-covering ability, while her side-sliced serve was good enough to prevent Hingis from attacking. Hingis was the heavier hitter, but the Spanish player by her boldness and calm plainly earned the win.
Day Two, Tuesday
All top-seeded men and women reached the second round except for Hingis. Playing from his favored location up on the baseline, Andre Agassi survived a tough match against net-rushing Peter Wessels, 6-4 and 180 pounds.
The mythical competition among nations unfolded as if in times long ago. The leading nations on the men's side were the U.S., with eight players into the second round, France with seven, and Britain with six.
Day Three, Wednesday
Pete Sampras seemed his old self when serving, especially in his movement and touch at net, but for long stretches Pete seemed helpless to deliver even a neutral, defensive return against his opponent, Britisher Barry Cowan. Pete's win in five sets did not bode well for his matches ahead.
Heavy-hitting Thomas Johansson recently won the grass tune-up events at Halle and Nottingham, attacking net regularly. But on this day, Andy Roddick's serves and groundstrokes were the heavier and more consistent, as the teen-aged American convincingly outdueled the Swedish star in four sets. Based on the form showed this day, Roddick should be favored against Sampras.
Day Four. Thursday
The day's prime match was Lleyton Hewitt's five-set win over American Taylor Dent, age 20. Hewitt was helpless at the start against Dent's power serving and strong ground-stroking and volleying. Dent took net aggressively on every occasion, and when there showed good athleticism and quickness. One of Dent's serves was clocked at 144 mph. But after a rain break early in set two, Dent's magic disappeared and Hewitt found his.
The U.S. contingent holds a firm lead in matches won. France was second among the men, Russia among the women.
Day Five. Friday
Goran Ivanisevic unleased 41 aces against a helpless Andy Roddick to end the run of the young American. Ivanisevic, 29, who has been a Wimbledon finalist three times but never the champion, regained his old magic in delivering his thunderbolts often seemingly at will. In one of the four sets, Roddick was able to return only four of his opponent's twenty-odd in-court serves. Roddick persisted in attempting to return serve from up on the baseline, and in general he seemed to react poorly to Ivanisevic's offerings.
Day Six. Saturday
Australian chances of accumulating many match-wins in men's doubles was spoiled yesterday and today, when all-Aussie pairs Kilderry-Tramaccchi, Eagle-Florent, Hanley-Kratzmann, and Arthurs-Ellwood all lost second-round matches. It is now clear that the U.S. contingent will prevail among the nations on both the men's and women's side.
Day Eight. Monday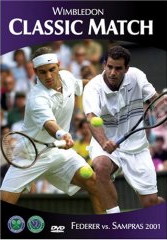 This day's superb tennis featured eight men's and eight women's singles matches. There were three major surprises. Federer defeated Sampras and Escude defeated Hewitt, both in five sets, and Ivanisevic defeated Rusedski in three. I thought that although Sampras played reasonably well, his first and second serves both lacked the bite that has pulled Pete through tough matches in past years. Escude showed surprising determination to seize net when serving, along with excellent quickness and skill once there. Ivanisevic's fluid serve was as good as ever, as Goran out-aced Rusedski by 22 aces to 14 with fewer double-faults.
For about 15 minutes during the evening, I chatted about Wimbledon on Alabama Radio Network. Pete Sampras had been my original choice to win the tournament, so I offered that my new favorite was Andre Agassi. I cited Agassi's excellent performances in Wimbledon 1999 and 2000, his superb record in the first months of 2001, and his strong showing to date in the tournament. I noted that the next day's match-up between Serena Williams and Capriati should be superb, and I corrected the hosts, who seemed to believe that Venus's chances to win the tournament were slight.
Day Nine. Tuesday
Ladies' quarter-finals day. The Serena-Capriati meeting equaled expectations. Williams reached two points short of victory in the second set, but Capriati managed to stem the tide, playing superbly, thereby preparing the way for a third-set collapse by Serena, who was quite ill.
Three of the four highest-seeded women succeeded in reaching the semis, while Hingis's place was taken by the next-higher seed in her section, Justine Henin (#8). Looking ahead, Henin appeared to lack the sustained weight of shot to beat Capriati, while Davenport, who seemed to be playing at her best, seemed the favorite to win their semi-final reprise of last year's final.
The Williams sisters withdrew from the women's doubles because of Serena's illness.
Day Ten, Wednesday
The men's quarters. It was interesting to see Europeans Enqvist and Escude both play serve-and-volley tennis in their meetings with favored Rafter and Agassi, respectively. Escude was more successful than Enqvist, winning a well-played first set over Agassi in a tiebreak. During that set, the trim French star came to net 18 times, winning 67%. But in his three losing sets that followed, Escude's winning percentage at net against Agassi's backcourt artillery fell well below 50%. In all, Escude approached net 77 times, Agassi just 16.
The other favorite, Rafter, prevailed in straight sets over Enqvist while recording only 10 unforced errors. This will be the third year in a row that Rafter and Agassi meet in the semis. Agassi won in 1999, Rafter in 2000. Both men lost to Sampras in the finals.
Ivanisevic played effectively in defeating Safin. The Croatian won the battle of the big serves, recording 30 aces against Safin's 14. Both men often played cautiously from the baseline. Ivanisevic's post-match remark that he was now playing the best of his career seemed on the mark.
Henman came through in a close match against the teen-aged Federer, whose calm determination continued to refute my earlier impression that his on-court temperament was poor.
It was interesting to compare the four matches by counting the number of "net approaches." The match having the most net approaches per total points, was Henman-Federer--nearly 50%.
Day Eleven, Thursday
Both women's semis went three sets. In their meeting Venus Williams and Lindsay Davenport exchanged baseline rocketry, where Venus dominated by her superior mobility into the corners, neutralizing Davenport's big game. Davenport afterwards made much of Venus's serving power, which spoiled Davenport's usual strengths.
As expected, Capriati's havey artillery dominated Justine Henin. But midway in set two, the Belgian star began to increase the weight of her shots, meanwhile delivering a series of unanswerable backhand crosscourts. Her brilliance persisted through a rain delay in the third set, and Capriati was unable to reply effectively.
The two matches confirmed that the women's game has become almost entirely a baseline contest, as the ratio of "net approaches" to total points was much lower than in all four of the men's quarterfinals yesterday.
Days Twelve-Fourteen, Friday through Sunday
Both men's semis went five sets. Rafter prevailed narrowly over Agassi, showing strong serving, brilliant net play, and--in the games served by Agassi--solid baseline tactics. In a mid-morning radio interview with WJOX, Birmingham, I correctly warned that Agassi's early break in the fifth set might not hold up.
I also picked Ivanisevic over Henman to win the second semi. Breaks for rain and darkness extended the match to Sunday, when the Croatian's superior serving finally decided the outcome. Ivanisevic returned Henman's softening serve brilliantly to gain the final-set break.
In the women's final, it looked briefly that a surge of brilliant shot-making by Henin could turn the match against Venus, as it had against Capriati. But Venus's strong serving, her power and mobility to the corners, and surprising touch at net closed out matters, 6-0 in the third.
Day Fifteen, Monday
The lusty final pitted two magnificent warriors. For four sets, the tall Croatian and the athletic Aussie battled evenly. Both moved to net behind every serve. Ivanisevic's strong serving persisted, nearly doubling Rafter's tally of aces but at a price in double-faults triple Rafter's. Both men volleyed superbly, Rafter the more naturally and athletically but Ivanisevic solidly when it mattered. What seemed the inevitability of a five-set final became reality.
The fifth set brought purity in serve-and-volley tennis albeit mediocrity in serve-returning. The serve-returner won more than one point in only 4 of the first 14 games. There were no break points.
Game fifteen started routinely, Ivanisevic scoring in the first point with a virtual winner off his return of Rafter's second serve, and Rafter answering with a splendid volley to the deep corner. It was 15-all.
It came with a suddenness not unusual in grass-court tennis. Horribly, Rafter's next three first serves all missed. Brilliantly, Ivanisevic returned all three second serves--the first one to the Rafter feet producing a floating volley out, the second one a forehand cross-court winner off a nice, centerline service, then finally a clean rocket off a softish serve into the Ivanisevic forehand wheelhouse.
But matters were not yet done, as the Ivanisevic alter ego--the "bad Goran"--suddenly stirred in game sixteen. At match-point 40-30, Ivanisevic double-faulted. Then two points later, at a second match-point, the Croatian double-faulted again. Rafter missed a passing-shot try by centimeters, but at match-point #3 the Australian came through with a backhand lob winner. Staying calm, Goran reached match-point #4 with a bold second-serve virtual ace. Then came yet another second-serve offering, this one a tentative bid into the Rafter forehand wheelhouse--a serve remindful of the one by Rafter the previous game that Goran rocketed for the break. Perhaps it was a bad bounce or perhaps it was a tight Rafter mistiming, but the product was a Rafter forehand into the net.
It had all come down to a few moments of serve-return perfection by the Croatian and a split-second flaw in Rafter's final return bid.
I would have rejoiced in either outcome, as I had come to greatly admire both men during the fortnight. My chagrin at my failed original predictions remained, however, as I had totally underestimated Ivanisevic's ability to regain, indeed surpass, his skills of years ago.
The annual celebration of the sport at Wimbledon once again linked tennis people worldwide. The anachronistic grass surface, and the well-behaved, sportsmanlike, and--on the final day--wondrously noisy gallery redeemed our affection for the magnificent history and traditions of the game. If grass indeed seems out of character with today's tennis, I hope it will survive in just one of the four great arenas of our sport--a challenge to our future champions to build a unique dimension into their superb arsenals.
--Ray Bowers



Between The Lines Archives:
1995 - May 1998 | August 1998 - 2003 | 2004 - 2015
If you have not already signed up to receive our free e-mail newsletter Tennis Server INTERACTIVE, you can sign up here. You will receive notification each month of changes at the Tennis Server and news of new columns posted on our site.
This column is copyrighted by Ray Bowers, all rights reserved.
Following interesting military and civilian careers, Ray became a regular competitor in the senior divisions, reaching official rank of #1 in the 75 singles in the Mid-Atlantic Section for 2002. He was boys' tennis coach for four years at Thomas Jefferson High School for Science and Technology, Virginia, where the team three times reached the state Final Four. He was named Washington Post All-Metropolitan Coach of the Year in 2003. He is now researching a history of the early pro tennis wars, working mainly at U.S. Library of Congress. A tentative chapter, which appeared on Tennis Server, won a second-place award from U.S. Tennis Writers Association.
Questions and comments about these columns can be directed to Ray by using this form.
---