Summer Tennis On The Hard Courts:
U.S. Open Preview

Ray Bowers
A good predictor of outcomes at the U.S. Open is the immediately preceding circuit of hot-weather, hard-court tournaments. The circuit begins in Los Angeles in late July and takes the pro warriors to Canada, Cincinnati, Indianapolis, and Washington. The sequence ends on Long Island the week before the Open.
Last year, Marat Safin was the surprise of the summer, achieving an impressive hard-court record of 13-2 prior to the Open. The young Russian won the Canadian Open and reached the final at Indianapolis, recording a win over Sampras. His fine summer foreshadowed his U.S. Open triumph.
Two years ago, Andre Agassi showed a 15-3 summer hard-court record before the Open. Two of his three losses were to Sampras, whose summer record at 12-1 was better than Agassi's. But Sampras did not play the Open because of injury, and Agassi bore the leader's mantle to win his second U.S. Open.
The pattern was also evident in the years of Pat Rafter's Open triumphs, in 1998 and 1999. In 1998, the brilliant Australian won the Canadian and at Cincinnati as well as the event at Long Island, achieving a 17-2 summer hard-court record going into the Open.
RAFTER AND KUERTEN
Based on their superior summer performances this year, two popular superstars are clear favorites to win the 2001 Open. Shown here are their records for the hard-court season.
Pat Rafter, 15-2
Gustavo Kuerten, 15-3
Pat Rafter's brilliant net-rushing style and deft ground game seem ideally suited to fast courts. He has never won Wimbledon, but was a close runner-up there this year and last. The Queenslander's greatness was most evident in his back-to-back U.S. Open triumphs. But damage and repeated surgeries to the right shoulder have held back the Australian star in recent years. Rafter failed to win a match in the last two U.S. Opens, and from a world #4 standing at the end of 1998 his ranking slipped into double digits amid his Wimbledon achievements.
Is Rafter now ready to capture his third U.S. Open? His fine performances on the hard courts this summer have brought back memories of 1998 and 1999. Rafter missed Los Angeles, which was won by Agassi, but he reached the finals the next three weeks. He lost in the final at Montreal to surprise champion Andrei Pavel and in Cincinnati to top-seeded Kuerten. Then in Indianapolis, he followed a close semi-final win over last year's U.S. Open champion Safin by reversing his previous week's loss to Kuerten. (The win over Kuerten at Indy was tainted, however, as Guga had played a three-set semi earlier in the day and retired early against Rafter.) If Rafter's relentless attacking style remains rock-solid, his serving and his baseline play seem stronger than ever, both superbly designed to complement his net-game skills. Rafter has taken an uncharacteristic step, sitting out the current Long Island tournament in order to rest for the Open, a move likely to improve his chances at Flushing Meadow.
Gustavo Kuerten of the sweeping groundstrokes and pleasant court manner has won the French Open three times, including this year, and is today the world's top clay-court player. But he also shows fine hard-court credentials, including wins last year at Indianapolis and in the Masters Cup, and a runner-up finish at the Ericsson. He finished last year #1 in the overall rankings and is again the leader for 2001 to date. His summer record includes the championship at Cincinnati and the aforementioned appearance in the final at Indy. His recent victims include Henman (twice), Kafelnikov, and Wimbledon champion Ivanisevic (twice). His losses to Roddick and Rafter were more than balanced by impressive victories over each in adjacent weeks, while his loss to Agassi in Los Angeles was a close three-setter. A rib-cage injury at Indy, however, stirs uncertainties.
FOUR OTHER PRIMES
Here are the summer's W-L records (excluding Long Island, now in progress) of stars close behind the two leaders:
Roddick, 9-3
Pavel, 8-2
Agassi, 8-3
Gambill, 8-4
Haas, 8-4
Henman, 7-3
Santoro, 7-3
Rusedski, 7-4
Mirnyi, 7-4
It seems likely that the above players will do better at the Open than their 12-month rankings would suggest. Four of them, discussed below, seem prime candidates to go far.
RODDICK
Andy Roddick, who will turn 19 during the Open, demands close attention. The young American won the August tournament in Washington, the Legg Mason, sweeping through the field without losing a set. Although conditions were very slow, in part because of the gritty Deccoturf surface and in part because of week-long heavy humidity, Roddick's powerful serve proved the tournament's dominant force. Especially impressive was his ability to dominate Marcelo Rios, who played very well earlier in the week. In the final, Andy faced Sjeng Schalken, who had defeated the tournament's perennial favorite, Agassi, by showing dazzling power and consistency off both forehand and backhand. Schalken and Roddick matched equally in their heavy baseline exchanges. But nearly every time the scoreboard showed trouble for Roddick, the American was able to escape by unleashing 130-mph service rockets.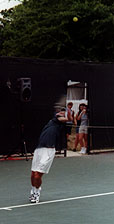 I made a set of photos at the Legg Mason last year showing Roddick's serve motion. His delivery is so fast that it is difficult to study by eye alone. I was lucky enough to capture views showing how Roddick's hips, upper body, and shoulders are turned to face the net with left-shoulder lowered just as (or perhaps just before) the racquet starts its upward thrust. (The first view shows the Roddick hips and shoulders still perpendicular to the net just before they turn.) The leg push, the stored torque in the turned torso, and the work of the right shoulder, elbow, and wrist seemingly combine to produce high racquet velocity.
Can Roddick capture the Open in 2001?
It is not an impossible notion. The groundstrokes are indeed powerful and consistent--Schalken had more trouble with them than with Agassi's. And Roddick's serving ability is magnificent--a first serve of almost unreturnable pace and a second serve of enormous kicking energy. Then there is the fearlessness of youth, the willingness to remain bold in crisis. On the other hand, yet to be proven are Roddick's volleying skills and his ability to react to very fast serves--aspects that rise in importance on a very fast playing surface, as is expected at Flushing Meadow.
I strongly believe that Roddick will go far in this year's Open. If he plays his best, even the very top players will have trouble withstanding his baseline power and heavy serving well enough to win three out of five sets.
AGASSI
Andre Agassi began well at the Legg Mason, reaching the quarters without difficulty. On the stadium court that he seems to own, he displayed his customary power game from close on the baseline, running his opponents from side to side as the temperature and humidity took their toll.
Some said that Agassi's quarter-final meeting with Rusedski was the tournament's finest match in years. Rusedski showed his customary left-handed serving and volleying excellence, along with surprisingly effective baseline skills--all-in-all a problem for Agassi equal to that when he faces Rafter. Agassi finally prevailed in an extended third-set tiebreak, the crowd roaring with every point.
The emotional battle with Rusedski probably weakened Agassi for the next evening against Schalken. Agassi took the first set comfortably over the tall Netherlander after leading 5 games to 1. But even then, it was evident that Schalken had the strokes and mobility to neutralize Agassi's favored pounding style. I wrote in my notebook, however, that Schalken lacked the weapon that could give Agassi trouble. But the missing weapon appeared at the start of set two, when Schalken's magnificent backhand picked up in pace and when the Netherlander began occasionally to flatten out his forehand, producing rockets to the corners that became outright winners. With Schalken serving first, Agassi seemed always hard-pressed to stay even. The single service breaks of a slightly fading Agassi came late in both second and third sets.
Earlier in the summer, Agassi won the tournament in Los Angeles, but he then lost in the first round at both Montreal and Cincinnati. The veteran American's loss to Schalken in Washington and his difficulties against Rusedski seemed to signal that despite his high (#2) seed, the two-time Open champion is headed for disappointment at this year's Open.
THE BRITISHERS
Greg Rusedski's near-success against Agassi in Washington was achieved amid slow conditions intensified by a downpour and recurring sprinkles that forced the players back to the locker room three times during the warmup. Rusedski should match up even better on the faster courts and presumably dryer conditions at Flushing Meadow. Rusedski also played well the week before Washington, in Cincinnati, where he reached the quarters before losing in three close sets to Rafter. Rusedski reached the final at the Open in 1997.
Fellow Britisher Tim Henman reached the semis at Wimbledon this year, losing to eventual champion Ivanisevic after leading, two sets to one. Henman showed good success in North America, losing in late rounds twice to Kuerten in third sets, 7-5 and 7-6. Clearly, Henman is not far behind the leaders. But he has never reached the quarters at the Open in six tries.
THE NEAR-PRIMES
Andrei Pavel deserves note for his triumph at Montreal on fast courts. Several other stars also solid in their summer records are also capable of triumphing at the Open. Pete Sampras is a four-time Open champion and was runner-up last year. Mobile shotmaker Lleyton Hewitt, just 20, reached the semis last year. Last year's champion, powerful Marat Safin, now 21, struggled with injuries this year but at Indy last week battled Rafter to a third-set tiebreaker. Also reaching the semis at Indy was Wimbledon champion, superb-serving Goran Ivanisevic, who lost in three sets to Kuerten.
I see the odds for winning the Open as follows:
Kuerten, Rafter, each 3-1
Agassi, Roddick, Rusedski, each 13-1
Henman, Sampras, Safin, each 30-1
Ivanisevic, Pavel, Hewitt, Enqvist, each 50-1
all others, 100-1 or longer
PREDICTIONS
In here picking the eight quarter-finalists, by rule only four of the top eight seeds may be chosen.
Shown are the eight sections of the men's draw along with each player's summer hard-court record (prior to Long Island). In each section, the four seeded players are listed in order followed by one or two others.
Kuerten (15-3), Ivanisevic (6-2), Hrbaty (2-3), Canas (4-2), Mirnyi (7-4).

Kafelnikov (3-3), Clement (5-3), Moya (2-3), Escude (4-3), Prinosil (0-3).

Hewitt (6-3), Haas (8-4), Enqvist (0-2), Portas (0-2), Mantilla (1-2).

Ferrero (4-2), Corretja (1-1), Todd Martin (3-2), Roddick (9-3), Golmard (5-3).

Grosjean (0-0), Henman (7-3), Santoro (7-3), Rusedski (7-4), El Aynaoui (3-1).

Safin (4-4), Johansson (3-3), Pavel (8-2), Arazi (5-3), Rios (3-1), Ljubicic (6-3).

Rafter (15-2), Sampras (5-2), Gambill (8-4), Lapentti (2-3), Ulihrach (4-2), Chang (6-4).

Agassi (8-3), Federer (0-0), Schalken (6-4), Kiefer (3-3), Koubek (2-2).
From among our six prime favorites identified earlier, I unhesitatingly choose Kuerten, Roddick, Rafter, and Agassi to win their sections. But a choice is needed between Henman and Rusedski, who are in a common section. Henman has the better summer record, but I choose Rusedski from watching his fine performance in Washington.

In the second section, Clement shows the slightly better summer, but I choose Escude for his better net skills. Hewitt is the easy choice in section three.

In the sixth section, it's hard to pass on last year's Open winner, Safin, based on his performance in Indianapolis. But I choose Pavel here for his wonderful win in Canada.

The quarters are easy. Kuerten over Escude, Roddick over Hewitt, Rusedski over Pavel, and Rafter over Agassi. Kuerten then will prevail over Roddick, Rafter over Rusedski, thereby producing a repeat of the Cincy and Indy finals. I pick Rafter to win his third U.S. Open.

THE WOMEN'S SINGLES

The women's summer hard-court circuit consisted of three successive events in California followed by the Canadian Open and finally the Pilot Pen in New Haven. Here are the winning and losing finalists, from whom we identify our elite stars preceding the U.S. Open.

Stanford: Clijsters d. Davenport
San Diego: Venus Williams d. Seles
Los Angeles: Davenport d. Seles
Canada: Serena Williams d. Capriati
New Haven: in progress

Of the six summertime stars named above, five of them--Davenport, Capriati, Seles, and the Williams sisters--compose our current elite group. We leave out Clijsters, whose results after Stanford have been disappointing. Except for Venus at Stanford, none of our elite five lost to any outsider during the period (through Toronto). All are powerful hitters.

Missing from our top group is Martina Hingis. She is in effect replaced by Seles, who defeated her twice during the summer, at San Diego and Los Angeles. Hingis did not compete thereafter because of foot trouble.

Hingis remains Number One in the 12-month rankings, however, and surely belongs in our second rank of players. The young Belgian stars Clijsters and Henin (this year's Wimbledon runner-up) are also at this level. Close behind are Mauresmo and Dokic, and we add improved American Meghann Shaughnessy, who upset Venus at Stanford.

Last year's champion, Venus Williams, stands first among the near-equals. Venus this year repeated her Wimbledon triumph of 2000. Her loss at Stanford came after two weeks away from competition, and was followed the next week by her triumph at San Diego. Her appearance this week at New Haven likewise follows two weeks of rest, creating the parallel thought that the matches there will prepare her for the Open. The other members of our Big Five remain strong candidates to win the Open, but Venus's superiority over the others in power and mobility is irrefutable. If she is at her best she should prevail. It mainly depends on her consistency in play and her physical health.

Here are my odds:

Venus Williams, 2-1
Capriati, Davenport, 6-1
Serena Williams, 8-1
Seles, 15-1
Hingis, Henin, Clijsters, each 20-1
all others, 50-1 or longer

PREDICTIONS

Here are the eight sections of the women's draw. The higher-seeded players are listed first.
Hingis, Dokic, Sanchez Vicario, Frazier, Osterloh

Seles, Shaughnessy, Suarez, Tanasugarn, Lamade

Davenport, Coetzer, Likhovsteva, Montolio, Oremans

Henin, S. Williams, Serna, Torrens Valero, Kremer, Schnuyder

Clijsters, Dementieva, Huber, Nagyova

Venus Williams, Farina Elia, Testud, Raymond

Mauresmo, Tauziat, Rubin, Tulyganova

Capriati, Maleeva, Schett, Schiavoni, Ruano Pascual
Of the top-seeded players in each section, Venus, Capriati, and Davenport are clearly superior to their opposition. Hingis and Seles seem only slightly less secure, but based on this summer's outcomes, I choose Seles to survive against Shaughnessy, Hingis to falter to Dokic.

In the fourth section, Serena's triumph in Canada requires her selection over Henin, while Anke Huber's fine run there, including a win over Mauresmo, propels her above Clijsters. In section seven, I choose Tauziat, who defeated Clijsters in their meeting in LA.

In the quarters, I like Seles over Dokic, Serena over Davenport, Venus over Huber, and Capriati over Mauresmo. An all-Williams final will ensue, with the fresher superstar, Venus, taking the family crown.

--Ray Bowers



Between The Lines Archives:
1995 - May 1998 | August 1998 - 2003 | 2004 - 2015
If you have not already signed up to receive our free e-mail newsletter Tennis Server INTERACTIVE, you can sign up here. You will receive notification each month of changes at the Tennis Server and news of new columns posted on our site.
This column is copyrighted by Ray Bowers, all rights reserved.
Following interesting military and civilian careers, Ray became a regular competitor in the senior divisions, reaching official rank of #1 in the 75 singles in the Mid-Atlantic Section for 2002. He was boys' tennis coach for four years at Thomas Jefferson High School for Science and Technology, Virginia, where the team three times reached the state Final Four. He was named Washington Post All-Metropolitan Coach of the Year in 2003. He is now researching a history of the early pro tennis wars, working mainly at U.S. Library of Congress. A tentative chapter, which appeared on Tennis Server, won a second-place award from U.S. Tennis Writers Association.
Questions and comments about these columns can be directed to Ray by using this form.
---