2007 U.S. Open Review
by Ray Bowers
with Photography by John Meaney




Ray Bowers

All Slams are delicious--filled with action, emotion, high drama. U.S. Open 07 had its share of all these, nicely spread out over the full two weeks. The weather was good, free of rain interruptions or extremes of temperature, although high and shifty winds made shotmaking difficult on several dates. Form generally held up well, where most favorites reached their expected places in the late rounds. There seemed a higher number of very dramatic matches, five-setters especially, through the middle rounds, and although the women's draw was extremely unbalanced, this made for some wonderful confrontations earlier in the tournament than usual.

WOMEN'S SINGLES

Opening Evening honored the memory of Althea Gibson in wonderfully conceived ceremonies, where all principals did their roles well. The tennis featured Venus and Serena Williams, both returning to competition from injury-related absences. Both sisters seemed in full health, though Serena, looking trim, seemed easily winded and also slightly error-prone, though never in danger of losing.

Most members of the women's pre-tournament Big Six progressed through the early rounds, generally by comfortable scores. Henin and Shaparova, both of them former Open champions, overcame lesser opponents, as did the Serbian newcomers Ivanovic and Jankovic. The Williamses also moved ahead by comfortable scores, though again in round two Serena had a prolonged spell of excessive error-making.

The tournament's most shocking reversal came in round three, when an error-prone Maria Sharapova, the tournament's defending champion, lost a split-setter to solidly playing, Krakow-born Agnieszka Radwanska, 18. The Polish youth, unheralded, had carried Kuznetsova to a close three-setter at New Haven the previous week. Sharapova's serve would not behave (2 aces, 12 double-faults), and although Maria continued her usual aggressive striking, amid high winds last year's winner launched far too many unforced errors--a total of 49 against Radwanska's 23.

Agnieszka Radwanska sent Maria Sharapova packing before losing to Israel's Shahar Peer.


Thus the five surviving members of the Big Six were all in the top half of the draw, so that the anticipated match-ups among them occurred relatively early in the tournament.

VENUS WILLIAMS vs. IVANOVIC, 64 62

It was a third-round pairing seemingly worthy of a Slam final. Venus, the Wimbledon champion of early summer but with only a few and indifferent results since then, faced a possibly superior opponent--Ana Ivanovic, who had lost to Venus at Wimbledon but won the subsequent tournament at Los Angeles. Ana, who was now fifth-ranked among the women at age 19 and an athletic 6-1 height, is among the hardest hitters in the women's game, with a playing style featuring power serving and stroking.

Venus had trouble in her first serving game, unleashing two double-faults and several stroking errors amid an apparent resolve to hit fearlessly with all-out power. Venus faced three break points in that game but Ana failed to capitalize. From that early moment on, the superiority of Venus in nearly all aspects of the game was on display. Her stokes carried a ferocity seen in no other woman player today, screaming toward the lines and corners. There were many errors but never enough to change the flow of the match. When Ana gained the initiative in points, Venus usually turned back the attack long enough to produce an error by Ana or perhaps an ill-advised net approach.

HENIN d. SERENA WILLIAMS, 76 61

Justine had defeated Serena in their last two meetings, at Garros and Wimbledon, but Serena had won all previous match-ups on hard courts. Serena began erratically, losing serve in the first game, but after that she steadily raised her play, taking full advantage of her greater height and weight. When she equalized at five-games-all, now forcing play with full energy, it seemed that Justine's chances had passed--that Serena's superior power in serving and stroking would henceforth prevail.

It seemed to me that often in the exchanges that followed Serena fell into the habit of guiding the ball--i.e., taking full strokes but reducing her racket velocity in order to cut down on her errors. Meanwhile Justine continued to generate velocities seemingly beyond that possible given her small body frame. The backswing in her forehand was short, but her timing and coordination allowed her to produce power almost equal to Serena's but with far more precision. Three service aces saved Serena in game eleven. But Justine overcame two double-faults--she dared not soften her serving--and a set point in the next game to reach tiebreak. Both players played well in the tiebreaker, but it was Serena who contributed the critical errors.

Still, it was Justine who looked the more tired, and it seemed likely that Serena could again produce the stroking power and accuracy that had faded late in the first set. But it was not to be, as Justine's forehands now began consistently ripping into the corners. As the score turned to her favor, Justine's tiredness seemed to vanish. The snarling Serena Williams who refused to lose--seen so often in the past--never appeared, as the error-making persisted. Could it be that Serena lacked zest for a semi-final battle against her sister?

VENUS WILLIAMS d. JANKOVIC, 46 61 76

It was a magnificent battle between the supreme aggressive player in women's tennis, Venus Williams, and an opponent--Jelena Jankovic--whose skills in movement, error-avoidance, and defensive play were an almost perfect counterpoint. Throughout, Venus was the more aggressive, though she seemed to stroke a bit softer than in recent matches, perhaps trying to cut down on errors in the face of Jelena's ability to lengthen points. Toward the end of the first set, Venus showed some of the dominance seen against her earlier opponents, but Jelena saved the set by winning the last four points by producing some superb play, mixing offense and defense.

But Venus's raised level resumed early in the second set, and the American superstar built an early lead that Jelena never threatened. In the third set, however, Venus's errors increased and Jelena's play improved. Both players held serve throughout twelve games, but in the final tiebreaker it was Venus who built an early lead from several unforced errors by her opponent and rode that advantage to victory.

In the many extended rallies from back court throughout the match, it was more often Venus who committed the point-ending error. Venus finished with 56 unforced errors against Jelena's 24. But Venus had 60 winners including 9 aces against Jelena's 17 winners, with no aces. Most decisive was Venus's success in coming to net and finishing points once there. Able and willing to advance with little tactical preparation, she often raced forward following a single very-hard-hit ground-stroke sometimes from baseline depth. Her swinging-volleys from mid-court or forecourt were usually deadly, her overhead absolutely conclusive, and her volleying powerful and backed by an impressive wingspan, all backed by a remarkable athleticism. Jelena answered with several fine lob-winners and some effective passing shots. But it was not enough. Of 55 points decided with Venus at net, Venus won 39. In contrast Jelena was at net only six times. It was an appropriate outcome to a thrilling match.

HENIN d. VENUS WILLIAMS, 76 64

This superlative match-up pitted the respective champions at Garros and Wimbledon a few months earlier, clearly the two strongest performers in the tournament to date. They had not faced one another for four years.

It began predictably, Venus surrendering her first serving game. But the play soon evened up as the rocketry of the tall American came under control. Henin--slender and seven inches shorter than her lithe opponent--seemed able to generate almost as much power as Williams, while Williams was less polished in her movements and stroking but favored by her extreme reach and athleticism. Both were renowned for their excellent backhands--Henin's a classic, sweeping one-hander, Venus's a violent two-hander usually of excellent accuracy. But it was the forehands that dominated in the play--Venus's often suspected of unreliability but capable of extreme power, Justine's better controlled thanks to a limited backswing, yet remarkably potent.

Also critical were their respective strengths in serving and serve-returning. Both produced excellent first-serve velocities, Venus's as usual the fastest in women's tennis, though both players proved almost equally capable at producing aces. Second serves were more problematic--Venus contributed an undue share of double-faults, while Justine always felt threatened by Venus's ability to step up and punish second serves. Over the full match, Justine's second serves held up fairly well, carrying enough pace and depth to neutralize Venus's potency. Indeed, Justine's second-serving, despite a few double-faults, may have been the most critical aspect in determining the final outcome.

Henin's defensive skills were at least as good as Venus had seen from Jankovic. Thus Venus could again produce winners off the ground only from well inside baseline or by taking excessive risks. Underlying most exchanges was Venus's unending threat to move forward. The odds favored Venus when at net, where she won 23 of 35 points, although Justine's excellent mobility and passing-shot skills could be deadly if Justine had set-up time and reasonable court position.

Justine stayed ahead in the first set until a thrilling tenth game, when Venus produced her best tennis. Justine briefly retreated into passive play awaiting errors by Venus. But her softened hitting instead fed Venus's aggressiveness and scarcely improved her own avoidance of error. But Justine did not repeat the mistake in the set-ending tiebreak game, which ended in a forcing serve-return winner down-the-line by Justine.

The tricky wind conditions worsened during set two, where Justine won the first three games and Venus then equalized at three-all. Both players complained of weakness, where the latter's sensations of dizziness required pulse and blood-pressure checks by the trainer. Venus's malady, perhaps related to suspected anemia earlier, probably eased Justine's final path to claim her victory. Justine once again showed her superb mental strength in the late stage of a close match.

HENIN d. KUZNETSOVA, 61 63

Justine's final-round opponent was Svetlana Kuznetsova, U.S. Open champion in 2004 but still only age 22. The lower half of the draw, already unusually weak, had been further thinned by the early departures of Sharapova and Petrova. Thus in her journey to the final Kuznetsova faced only one top-twenty player--Anna Chakvetadze, who Svetlana overpowered after playing a dismal, error-prone first set. Justine had defeated Svetlana in twelve of their fourteen past meetings, and she had been playing at her absolute best throughout the tournament. Thus in looking to their Saturday-night final, the main uncertainty seemed whether Justine could maintain her current levels of concentration and play.
Anna Chakvetadze lost to Kuznetsova in a match in which
they both seemed to play well below their abilities.
It quickly became clear that Justine was once again close to her best, while Kuznetsova was well below hers, though she was playing better than at the start against Chakvetadze. Svetlana finally held serve in the fifth game, but Justine soon afterwards closed out the set. The second set was close, where Svetlana played strongly, her weapons now under better control. But Justine captured an extended fourth game (after seven deuces) to obtain the only service-break of the set.
There had been no aspect of the game wherein Justine was not at least equal to Svetlana, including serving and stroking velocity. Her point-winning percentage at net was very high at 81%--she won nine of her first ten points at net. She seemed to win nearly all the extended points. Her physical stamina held up satisfactorily after a flicker of uncertainty, and her mental strengths were scarcely tested. By winning her second Slam of the year--her second U.S. Open--Henin added to a list of career achievements adding up toward historic greatness.
MEN'S SINGLES
At the outset six male players had plausible chances of winning the crown. Assuredly the favorite at roughly even odds was Roger Federer, who had won Australian Open and Wimbledon 07. But a few vulnerabilities had appeared during the year. Roger had been beaten on hard courts at both Indian Wells and Miami, tournaments won by Djokovic and Nadal, respectively, and Nadal had carried him to five sets in their Wimbledon final. (Roger had taken Rafa to four at Garros.) Djokovic had beaten Roger in the final in Canada, and although Roger won the tournament at Cincinnati, he survived his semi-final against Lleyton Hewitt by margin of a third-set tiebreaker. Thus our pre-tournament Big Six consisted of Federer, the others mentioned above (Nadal, Djokovic, Hewitt), plus Roddick and Davydenko.
Two members of the Six stumbled early. Hewitt unexpectedly lost to Argentine player Calleri in the second round. Nadal survived an uncomfortable opening match amid knee trouble--a problem that had earlier led him to consider dropping out of the tournament. Intensive treatment afterwards seemed to help, and Rafa looked strong in overcoming French player Tsonga's power serving, stroking, and volleying. But Spanish countryman David Ferrer produced superb mobility and shotmaking to bring down the handicapped Nadal in a fourth-round four-setter.
Meanwhile Federer lost a set to the tall, unseeded American John Isner but then solved Isner's difficult serving and net game. Davydenko advanced steadily without loss of a set, and Roddick--aided by two mid-match retirements--reached a quarter-final meeting with Roger.
The most harrowing--and probably also the most impressive--journey to the late rounds was that of Novak Djokovic. The Serbian youth narrowly prevailed over Czech veteran Stepanek in the second round in a match brilliantly played by both men before a fully engaged evening crowd. Stepanek had been impressive earlier in the month in Washington, where he extended Roddick in a split-setter. Against Djokovic, Stepanek essentially equaled his younger rival in stroking, movement, and variety, and was by far the more persistent in attacking net. After nearly five hours, with Djokovic stepping up his game toward the end, the Serb star captured the fifth-set tiebreaker in convincing fashion. The applause was thunderous for both men.
After winning against del Potro in three sets, Djokovic again faced an unusually dangerous opponent in the fourth round. Juan Monaco slugged away with Novak for nearly four hours, moving superbly and showing intense competitive mindset. Late in the match Novak seemed seriously fatigued and was clearly pacing himself. His main superiority was in his first serve, which produced 14 aces (against Monaco's three) and provided critical winning points when most needed. It was over in four sets.
The young Serb's next two opponents were scarcely easier, but Djokovic handled both of them--Carlos Moya and David Ferrer--in straight sets amid countless points of brilliance on both sides of the net. Continuing the pattern seen all summer, Novak's maturity and confidence seemed to grow in every outing.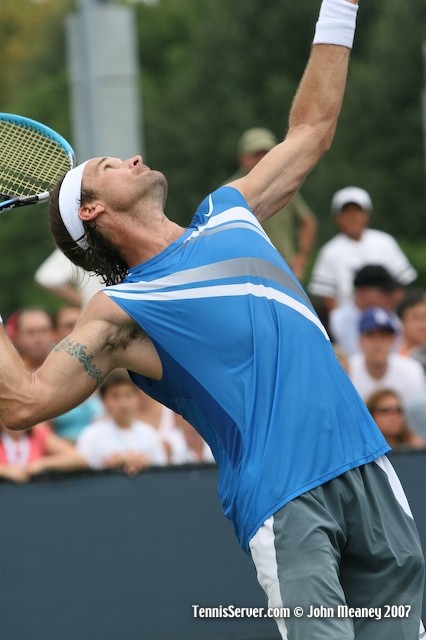 Carlos Moya made a strong run at the Open before falling to Djokovic in straight sets.
ROGER'S RUN TO THE CROWN
Thus it was that Federer in turn would face the three other survivors of our original Six--first Roddick, then Davydenko, and finally Djokovic. All three were in excellent playing condition, all were filled with success from the early rounds, and all would perform at what seemed their best, seriously threatening Roger in repeated stretches. But Roger, who was at his absolute best only occasionally through his final run, would not lose a set in defeating each of them.
In the quarter-final between Roger and Andy Roddick, both players tallied more winners, even excluding aces, than unforced errors, though Roger's winners-vs.-errors balance was considerably better. Total aces were about equal, though Andy's first- and second-serve velocities both averaged more than 10 mph faster than Roger's. It was enough to enable Andy to win all his serving games through two sets, where Andy was serving at high percentage and Roger returning conservatively. But Roddick could never break through Roger's superior all-court play in games where Roger was serving. Roger won both tiebreakers, winning four of Andy's eleven serving points, including a rare, potent serve-return winner. Set three went to Roger after a nice run of superb play by Roger led to the first service-break of the match in the set's sixth game. Federer, 76 76 62.
Nicolay Davydenko was a different kind of opponent--extremely strong in court movement and shotmaking prowess, adequate but not superior in serving strength. It was a strangely quiet match, the crowd not highly engaged, where difficult winds made for conservative play in long stretches. The struggle was essentially even in the first set, which ended abruptly when Nicolay, serving, made two errors from thirty-all. The score stayed close in the third set also, where serves were broken in eight of the twelve games--rather inexplicably, as the winds had declined. Although he was clearly beaten, it had been a fine tournament for Davydenko, whose burden included suspicion of involvement in a recent betting scheme and who hopes to obtain Austrian citizenship. Federer, 75 61 75.
Nicolay Davydenko didn't lose a set at the Open until facing Federer in the semifinals.
Federer's final opponent, Djokovic, brought yet different mix of strengths--serving ability comparable to Roger's, excellent court speed and serve-returning quickness, relentless power in stroking from both sides like Roddick's with excellent sense of placement, along with now-proven mental strengths pointing toward match victories. He also brought the confidence of having beaten Roger in Montreal a few weeks earlier.
The first set went quietly, both men playing carefully amid--once again--difficult wind conditions. Roger was in his outwardly disinterested mode, and Novak achieved early breaks of serve and then multiple match points in both first and second sets. He collapsed badly late in set one but came back well in the second, whereupon Roger began visibly stepping up his serving and stroking power. Both men began hitting to the sides and corners more aggressively. (The wind declined as evening set in.) Djokovic handled Roger's heavier game well, fending off disaster except for two crucial near-aces by Roger midway in the second-set tiebreak. The third set too was close, where Novak yielded the set's only service break in the final game. It ended in a dismal drop-shot try by Novak. Federer, 76 76 64.
Roger's newest Slam is his twelfth, and the missing Garros crown seems now his only mandatory laurel (and perhaps a Davis Cup championship). With clay-court champion Rafael Nadal now hurting, Roger's chances at age 26 seem inviting.
Much can now be expected of Djokovic, who is only 20. He has rapidly and convincingly surpassed his contemporaries of a year ago--Murray and Gasquet. He has proven himself the world's #2 hard-court player, and it seems likely that with added experience his improvement will continue. It is hard to disagree that greatness is at hand.
--Ray Bowers
Arlington, Virginia
Extensive additional photography from the 2007 U.S. Open is available in the Tennis Server Pro Tennis Showcase.



Between The Lines Archives:
1995 - May 1998 | August 1998 - 2003 | 2004 - 2015
If you have not already signed up to receive our free e-mail newsletter Tennis Server INTERACTIVE, you can sign up here. You will receive notification each month of changes at the Tennis Server and news of new columns posted on our site.
This column is copyrighted by Ray Bowers, all rights reserved.
Following interesting military and civilian careers, Ray became a regular competitor in the senior divisions, reaching official rank of #1 in the 75 singles in the Mid-Atlantic Section for 2002. He was boys' tennis coach for four years at Thomas Jefferson High School for Science and Technology, Virginia, where the team three times reached the state Final Four. He was named Washington Post All-Metropolitan Coach of the Year in 2003. He is now researching a history of the early pro tennis wars, working mainly at U.S. Library of Congress. A tentative chapter, which appeared on Tennis Server, won a second-place award from U.S. Tennis Writers Association.
Questions and comments about these columns can be directed to Ray by using this form.
---