Clay Season Outlook 08
by Ray Bowers

Ray Bowers
Clay courts absorb energy from the bounce of the ball, reducing the forward velocity of serves and ground strokes. The "slowness" of the surface thus makes it difficult for the aggressive player to force play or strike outright winners. Rallies are longer, breaks of serve more frequent than on nonclay surfaces. The player's speed and agility in court movement become more important. Moving to net is usually inadvisable unless opponent has been placed under heavy pressure. Drop shots are sometimes useful in breaking the pattern of rallies. Meanwhile the variety usually seen in shot-making and placement often makes clay-court tennis highly entertaining for the watcher.
Not long ago it was easy to divide the male pros into two groups--experts on clay and experts on nonclay, respectively. Most players from Spain and South America were deemed clay-court specialists, able to rally tirelessly from back court behind overspinning ground strokes using Western-grip forehands and two-handed backhands. Their nonclay opposites, often from English-speaking countries, were usually strong servers and aggressive hitters. (Players from continental Europe were found in both groups.) The dichotomy was less strong among the women pros, although a classic historical example saw Chris Evert the erstwhile champion on clay, the net-rushing Navratilova her nonclay counterpart.
Nowadays the dividing lines are fainter. Many of the current Spanish and South American stars are almost equally dangerous whether on clay or nonclay. (Examples include Nalbandian, Canas, Gonzalez, Ferrer, Lopez, Moya.) Meanwhile calculations show that tournament results on clay and nonclay surfaces have become more similar. Nonclay tournaments now predict results at forthcoming clay-court tournaments better than before, though clay events are still the better predictors of clay results. (*See footnote.)
Of immediate interest are the forthcoming German and Italian national championships, both on clay. These serve as tune-ups for the clay-court Slam at Roland Garros, but both also have intrinsic importance as Masters Series events, with long histories. The male pros will commence main-draw play at Rome on May 5, the same day that play starts for the women in Berlin. One week later the scenes will shift, the men moving to Hamburg, the women to Rome. The outcomes will provide grist for our Garros preview, to appear here soon after the making of the main draw on May 23.
NADAL AND FEDERER
It is everywhere accepted that the world's best player on clay in recent years has been Rafael Nadal and that the second-best has been Roger Federer. Nadal was champion at both Rome and Paris in each of the last three years, employing an array of weapons featuring (1) relentless power with severe overspin from both sides, (2) a level of court mobility scarcely matched in today's game, (3) patience and consistency in rallying, and (4) precision and power in finding the passing lanes when under pressure. The formula progressively breaks down the resistance of most opponents, and has kept Rafael atop the clay game almost since his arrival on the pro scene. In head-to-head clay-court play between Nadal and Federer prior to 2008, Rafael led Roger, six victories to one. (Roger led on nonclay surfaces, five to two.)
As runner-up to Nadal at Garros in the last two years and a three-time champion at Hamburg, Federer's record plainly raises him above all others as second to Rafael on clay. By playing in the first of this year's European clay events, at Estoril, Portugal, April 14-20, Roger gave notice that he intended to give full attention to this weakest area in his superb career resume. Roger won that tournament, wearing down solid resistance by Nicolay Davydenko in their Sunday final. (Nadal did not play at Estoril.)
The first of the year's clay-court Masters Series events, at Monte Carlo, April 20-27, brought out nearly all the superstars. Seeded at opposite ends of the draw, both Federer and Nadal successfully marched to the final round. Rafael advanced without losing a set, his formula working as well as ever, wearing down successive opponents including first-tenners Davydenko and Ferrer. Meanwhile Roger nearly lost his first match, against Spain's Ramirez-Hidalgo. In his later matches, Roger produced a relentless back-court game featuring strong serving and consistent delivery of forcing forehands. One after another, his opponents--Monfils, Nalbandian, and Djokovic--were unable to withstand the pressure of Roger's forcing game, delivered relatively free of errors and behind matchless court mobility. Roger's winners unfailingly outnumbered his unforced errors, and the effect of his relentless pressure was suggestive of Nadal's style at its best. Roger and Djokovic, in the first set of their semi-final, together produced what seemed the week's most breathtaking power tennis. But after the first hour the tall Serbian player, who had dethroned Roger as Australian champion back in January, became troubled by breathing or throat problems. His play weakening, Novak soon retired.
MONTE CARLO. NADAL d. FEDERER, 75 75
Once again it was Nadal and Federer in a tournament final, the Mediterranean as backdrop to the south, the white cliffs to the north. The date, April 27, completed a week of fine tv coverage by Tennis Channel. Expectations were high for a memorable match, but the opening produced at best a mediocre level of play, characterized by excessive errors from both men and only an occasional point raising the gallery above perfunctory applause. Roger lost serve three times during the first set, Rafael twice, where most breaks resulted from ragged play, not from successful attacking. Roger showed some excellent drop-shot work, and he came to net behind forcing forehands more frequently than usual, but after some early success the net-approaching began to fail, largely explaining Roger's loss of the twelfth game and, with it, the set.
Roger recovered, winning the first four games of set two, again behind some good attacking. But now Rafael had found his stroking eye. There would be no more unforced errors from the Spanish star. Most of his overspin deliveries now were landing close to the sidelines, as before clearly targeting the less-dangerous Federer backhand. Roger too was hitting well but had trouble judging the bounce of those heavy deliveries by Rafael that landed very close to the baseline. Meanwhile Roger's on-and-off volleying once again faltered. Ultimately, Rafael had the answer for everything Roger could produce--the forcing forehands, the net attacking, the droppers and ensuing cat-and-mouse play, the serving that, indeed, gained in potency toward the end even as Rafael's serve-returning improved even more.
PRIME CANDIDATES
Here are the prime candidates to win the men's singles at Rome and Hamburg. Our main evaluating tool is recent performance on clay, especially at Monte Carlo 08, but nonclay results earlier in 2008 are also considered (Key Biscayne, Indian Wells, Australian Open): The stated odds are meant to apply to either Rome or Hamburg.
-- 1. Rafael Nadal. Champion at Monte Carlo 08. Finalist at Key Biscayne 08, losing closely to Davydenko. World #2 for 2007. (Odds even)
-- 2. Roger Federer. Runner-up at Monte Carlo 08. World #1 for 2007. (Odds 4-1)
-- 3. Novak Djokovic. Three wins at Monte Carlo 08, lost in semis to Federer. Won Indian Wells 08 and Australia 08. (Odds 14-1.)
-- 4. Nicolay Davydenko. Three wins at Monte Carlo 08, lost in semis to Nadal. Runner-up at Estoril 08. Won Key Biscayne 08. (Odds 20-1.)
-- 5. David Nalbandian. Two wins at Monte Carlo 08, lost to Federer in three sets. Two wins on clay, Davis Cup vs. Sweden, early Apr 08. Won first match at Barcelona 08. (Odds 25-1.)
-- 6. David Ferrer. Two wins at Monte Carlo 08, then lost to Nadal. Won Valencia clay tournament, Apr 08. (Odds 60-1.)
-- 7. Nicolas Almagro. Won first two matches at Barcelona 08, in progress. Three wins at Monte Carlo 08, lost to Andreev in three sets. Two clay triumphs in Latin America, 2008, including beating Nalbandian in final at Acapulco. Runner-up at Valencia 08 clay tournament. (Odds 80-1)
The next dozen or so candidates provide a second tier. Most members of the group should reach the middle rounds at Rome and Hamburg, and all are capable of providing dazzling competition for the primes or for others of this tier. (**See rank order listing at second footnote.)
Bjorn Borg won Garros six times, Cochet won it four times, while several others including Nadal, each won three times. Borg's achievement remains beyond immediate reach, but there can be little doubt that by winning the crown in his first three appearances at Garros Rafael Nadal is on track for all-time clay-court greatness.
WOMEN'S SINGLES
Our prime female candidates at Berlin and Rome are the identical six superstars who dominated on the European clay last year. All six were among the eight quarter-finalists at Garros 07, and all are high in the points race for 2008 to date. All appear to be largely healthy, and most seem to have reached a competitive level improved over one year ago.
Justine Henin. The unquestioned queen of contemporary clay-court tennis has been the slender Justine, 5-6, now age 25, who captured Garros last year. It was her fourth Garros crown in the last five years. Justine's superior mobility, her shot-making variety, her surprising power, and her unmatched mental strengths lifted her to the top of the women's rankings for 2007. Since then, however, she descended into less-than-superior results on the hard courts of 2008. In early April a listless Justine lost one-sidedly on a hard court at Key Biscayne to Serena Williams, who went on to win the tournament. Justine then withdrew from the Tier I clay-court event at Charleston, citing right-knee pain. She planned to return to action in Rome.
Serena Williams. Powerful, athletic, and fiercely competitive, Serena has competed selectively in recent years, held back by injuries. She missed both Berlin and Rome in 2006 and 2007, but she reached the quarters at Garros last year, where she lost to Henin in straight sets. Early this year at age 26 she won Australian Open 08, crushing Sharapova in the final match. Serena began the current clay season by winning the tournament at Charleston in a run that included a three-set win over Sharapova. On that occasion Serena overshadowed Maria both in mobility and striking power, clearly dominating toward the finish and showing no problems from an ankle turned in an earlier round. Serena and Justine have faced each other 13 times. Williams leads by 7-6, but Justine won four of their five meetings on clay. Serena was not part of the American Fed Cup team that lost in Moscow in late April.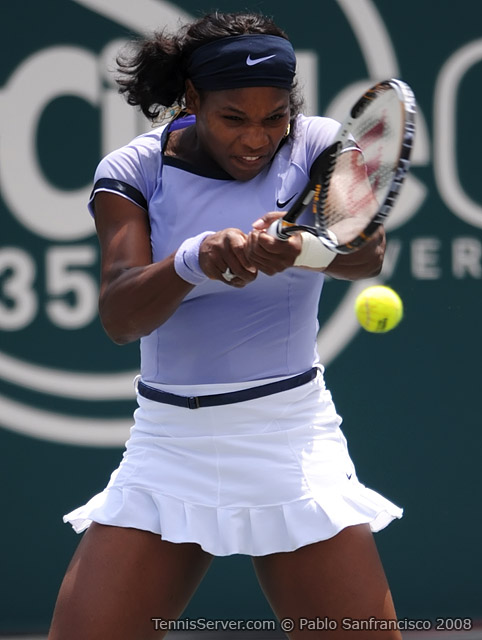 Serena Williams d. Vera Zvonareva 64 36 63 in the Family Circle Cup Final
Maria Sharapova. Having just turned age 21, Maria at height 6-2 has probably not yet attained her fullest potential. She reached the semis at Garros for the first time last year. Although her aggressive game seems not suited for clay, the slow bounce in some cases allows heavy hitters like Maria to unlimber their aggressiveness to full extent, counterbalancing the surface's sapping effect on their forceful shots. Maria thus won the clay-season opener at Amelia Island in April 08, and she split sets with Serena at Charleston before faltering. Maria leads in the overall points race for 2008 to date, having shown improved assurance in serving and in court mobility in winning Australian Open 08. (Maria has withdrawn from Berlin, citing injury.)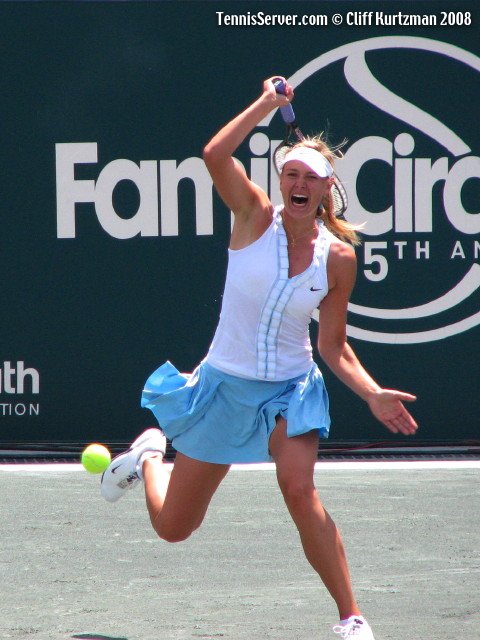 Sharapova lacked the confidence to defeat Serena in the Family Circle Cup quarterfinal.
Ana Ivanovic. Ana was champion at Berlin last year and then runner-up at Garros, where she had been quarter-finalist two years earlier. Now aged 20 and listed at 6-1 in height, Ana has a power game backed by improving court mobility, effective on both clay and nonclay courts. She performed well in the hard-court events of early 2008, finishing second at Australian Open and triumphing at Indian Wells. Ana, like Sharapova, is better known for her hitting power than for her mobility, but like Maria should not be dismissed on clay.
Jelena Jankovic. Jelena lost to Ana in the semis at Indian Wells recently, but otherwise her record is comparable in quality to her Serbian compatriot's. Her clay run last year was strong, when she won the Tier One at Charleston, then lost to Henin at Berlin after leading four games to none in the third set. She then triumphed in Rome, and finally reached the semis at Garros, where she again lost to Henin. Jelena's balanced game features excellent movement and varied shotmaking along with ample power from both sides.
Svetlana Kuznetsova. Svetlana, still only 22, has performed in all four Slams in every year starting in 2002, the year she turned 17, regularly reaching the late rounds. Built for power, speed, and athleticism on any surface, she can be an extremely difficult hurdle for any opponent. Lana was runner-up at both Berlin and Rome last year, and since then she has defended her place in the world's top five. Her immediate readiness was displayed in final-four finishes at both Indian Wells and Key Biscayne 08.
The second tier is sprinkled with veterans. Contrary to the usual situation, the group is probably closer to the prime tier than is the comparable group among the men. Resurging recently has been heavy-striking Vera Zvonareva, now 23, who was unseeded at Charleston but defeated five opponents including Jankovic before losing to Serena in the final. Elena Dementieva, 26, has also risen lately, her chronically troubled serving still far below her excellent strengths in stroking and mobility. Amelie Mauresmo, 28, has struggled to regain her pre-illness place, but she won two singles matches in Fed Cup action in April. Heavy-hitters Venus Williams and Lindsay Davenport seem unlikely to exceed past clay-court limits. Younger near-superstars Vaidisova and Chakvetadze seem to have reached perhaps-temporary plateaus of late.
There has been insufficient clay-court play this year to permit the making of odds that are defensible. Any of the six prime stars could win at Berlin or Rome. My guesswork, marked by uncharacteristic risk-taking, chooses Ivanovic and Kuznetsova to divide the two crowns.
THE NATIONS
Spain is the leading nation in men's clay-court tennis. The Spanish males won the most matches at Roland Garros in every year 2001-2007 except in 2004, when Argentina achieved the honor. The Armada also led all other contingents at Monte Carlo, Rome, and Hamburg in both 2006 and 2007 and at Monte Carlo in 2008. With Spain the strong favorite to continue its dominance in the coming events, second place should be closely contested among Argentina, France, and Russia.
Meanwhile the Russian females have led in match-wins at Garros, Berlin, and Rome in every rendition starting in 2004. With the ascendency of the Russkayas almost certain to continue, second place should fall to United States or France.
What is absolutely certain is that lots of great clay-court tennis lies ahead for watchers across the globe.
--Ray Bowers
Arlington, Virginia
*FOOTNOTE:
Four years of historical correlations, 2000-2003, indicated that for predicting future outcomes at Roland Garros the clay events at Monte Carlo, Rome, and Hamburg should be weighted 2.98 times more heavily than nonclay results at Melbourne, Indian Wells, and Miami. But correlations over the next four years, 2004-2007, indicated that the aforementioned clay events should be weighted only 1.59 times greater than the aforementioned nonclay events. The superiority of clay results over nonclay results for predicting results at Garros has thus decreased by nearly half.
Here is the second tier of candidates to perform well at Rome and Hamburg. (For each candidate the odds for winning either crown are 100-1 or longer.)
-- 8. Igor Andreev. Three wins at Monte Carlo, then lost to Davydenko in three sets. Won first match at Munich 08, defeating Monfils. Crushing forehand can be effective on clay.
-- 9. Philipp Kohlschreiber. Two wins at Monte Carlo, then lost to Davydenko in three sets.
-- 10. Juan Carlos Ferrero. Two wins at Monte Carlo, then lost to Nadal.
-- 11. Gael Monfils. Two wins at Monte Carlo, then lost to Federer. Lost first match at Munich 08 to Andreev. Serve and blinding speed effective on clay.
-- 12. Juan Monaco. One win at Monte Carlo, then lost to Almagro.
-- 13. Tommy Robredo. Two wins at Monte Carlo, then lost to Nalbandian, 61 60. Lost in three sets at Valencia 08 to Ferrer.
-- 14. Andy Roddick. Did not play Monte Carlo. Five-set win on clay over Melzer, Davis Cup, Feb 08. Two wins, Davis Cup, vs. France, hard court, Apr 08.
-- 15. Mikhail Youzhny. Lost to Andreev in first match at Monte Carlo.
-- 16. Richard Gasquet. One win at Monte Carlo, then lost, surprisingly, to Querrey.
-- 17. Mario Ancic. One win at Monte Carlo, then lost to Nadal. Won first match at Barcelona 08, over Murray.
-- 18. Andy Murray. Two wins at Monte Carlo, then lost to Djokovic. Lost first match at Barcelona 08 to Ancic.
-- 19. Sam Querrey. Three wins at Monte Carlo made him the top overachiever there, then lost to Djokovic. Serve and overspin forehand seemed effective on clay.
-- 20. James Blake. Did not play Monte Carlo. Runner-up to Granollers Pujol at U.S. Clay, Apr 08.
-- 21. Fernando Gonzalez. Did not play Monte Carlo. Runner-up to Nadal at Rome 07, showing uncharacteristic patience.
-- 22. Tomas Berdych. Did not play Monte Carlo. Lost two five-setters, Davis Cup, vs. Russia on clay, Apr 08.
-- 23. Jo-Wilfried Tsonga. Limited success since his wondrous run at Australia 08. Right-knee troubles forced his withdrawal from French Davis Cup team in April.



Between The Lines Archives:
1995 - May 1998 | August 1998 - 2003 | 2004 - 2015
If you have not already signed up to receive our free e-mail newsletter Tennis Server INTERACTIVE, you can sign up here. You will receive notification each month of changes at the Tennis Server and news of new columns posted on our site.
This column is copyrighted by Ray Bowers, all rights reserved.
Following interesting military and civilian careers, Ray became a regular competitor in the senior divisions, reaching official rank of #1 in the 75 singles in the Mid-Atlantic Section for 2002. He was boys' tennis coach for four years at Thomas Jefferson High School for Science and Technology, Virginia, where the team three times reached the state Final Four. He was named Washington Post All-Metropolitan Coach of the Year in 2003. He is now researching a history of the early pro tennis wars, working mainly at U.S. Library of Congress. A tentative chapter, which appeared on Tennis Server, won a second-place award from U.S. Tennis Writers Association.
Questions and comments about these columns can be directed to Ray by using this form.
---