Greatest Ever On Clay? Garros 08 Review
by Ray Bowers

Ray Bowers
The match player seeks an optimum level of aggression--i.e., a level of forcefulness in placement, stroking, and court position that must be balanced against chance of error. Many aspects enter the reward-risk equation--ones own capabilities, of course, as well as opponent's strengths and weaknesses in defensive and offensive play. The equation may change during play with changes in playing conditions, the score, opponent's tactics, and each player's remaining mental and physical strengths. Many matches at Garros 08 seemed to fit this kind of analysis, where victory seemed to lie in finding the right level of risk vs. prospective reward.
The cool and damp conditions that prevailed on most dates at Garros 08 assuredly slowed down the speed of the ball both after the strike and especially upon the bounce. The effect on outcomes was not always predictable, as it was not always the patient, defensive player who benefited. Sometimes the slower play helped the stronger hitter, who gained time to prepare for his or her big shots and could still penetrate the slower conditions, while the less-powerful opponent might find his more-limited offensive weaponry seriously dulled.
As usual, the clay surface produced varied tactics. Most players could end points with a single strike from on the baseline or closer, given time to prepare. The best preventative measure against this threat seemed to be heavy and deep hitting, while angular fire offered possibility of opening up opponent's court for attack. There was plenty of room for drop shots, for low, shortish angles, for slices and relentless topspin. Net rushing generally happened only after severe forcing, but an occasional serve-and-volley ploy sometimes produced success at critical junctures. Retrieving in desperation sometimes kept points alive but most often only delayed the outcome. Quickness and energy was important for achieving good shot preparation. Close-in cat-and-mouse play always appealed to galleries.
It was the first Slam conquest for Ana Ivanovic, whose light-footed mobility, effortless-seeming power, and superb mental strength assure more triumphs to come. Nadal's fourth Garros victory, all consecutive, is assured historical significance. That the 22-year-old wonder from Spain will eventually prove himself history's greatest clay-court warrior seems increasingly certain. There were thrills in witnessing the emergence of Ernests Gulbis and the fulfillment of years of high promise by Gael Monfils.
Of the hundreds of main-draw matches played, all had distinctive character and ample drama. In here tracing the tableau as it unfolded, we comment on those matches that seemed the most significant, watched in America via Tennis Channel, ESPN2, and NBC.
WOMEN'S SINGLES: EARLY CARNAGE
Downpours disrupted the scheduling for the first three days. Early excitement came on First Wednesday, in the first appearance of top-seeded, World #1 Maria Sharapova. The rains had now stopped but the afternoon's severe winds steadily exceeded 20 knots, gusting higher. Conditions were thus grossly unfavorable for the aggressive Sharapova, whose extremely high ball toss in serving was affected unpredictably. Maria's serve lost its effectiveness and, with it, the rest of her arsenal. Despite her problems, Maria won the first set. But after that her determined but smallish, teen-aged opponent, Evgeniya Rodina, discovered how to make matters miserable for the tall one. Resolutely keeping the ball in play, Rodina encouraged Maria to blast away to the lines with her customary rocketry. Often slightly out of best hitting position because of the wind and unwilling to temporize in her hitting, the result for Maria was a proliferation of unforced errors. If Maria tried to play conservatively, often Rodina became the aggressor. Seriously close to defeat late in the third set, Maria finally found the needed level of conservative play, cutting out the errors but still playing strongly enough to retain the initiative. Sharapova d. Rodina 61 36 86.
First Friday brought the departure of both Williams sisters. Serena--my choice to win the tournament--faced dangerous Katerina Srebotnik, who had played closely against Serena in Charleston back in April. Tall, slender, and moving with determination and confidence, Katerina now sped to an early service break. In contrast, Serena seemed sullen between points and correspondingly less agile in her movement during play, but her superior power in serving and stroking kept matters close. Katerina's forehand proved rock-solid throughout the first set, deceptively powerful and extremely accurate in deep shots landing close to the baseline. Such deliveries gave Serena trouble amid her slowish footwork. The climax came in game ten, Katerina serving to finish off the first set. Amid at least four deuces, the Slovenian player's superior volleying ability settled matters when Katerina proved impeccable in several net approaches, Serena missing on both of hers.
The second set had a different flavor. Serena, who had shown signs of aggressiveness late in the first set, now shed her early torpor. Moving now with energy, attacking at every opportunity especially against Katerina's second serve, berating herself after misses, Serena tried to find her former self. But although her intensified pressure now regularly put Srebotnik in trouble, Serena's own error-making undid all. Especially the Serena forehand produced some spectacular winners, but it also produced a greater number of errors, especially on important points. Serena's net game, too, failed her, turning several winning opportunities into dismal errors. Katerina's play was below her level of the first set, but it was good enough to take advantage of Serena's many gifts. Serena thus departed, angry with herself but without cause for complaint. Srebotnik d. S. Williams 64 64.
The loss of Venus late the same date was less turbulent. Her conqueror was Flavia Pennetta, who had won the most recent meeting between the two. Flavia showed a nice court composure, concentrating intensely on her shot execution, moving early into position for each shot, and generating an extent of aggressiveness at least as forceful as Venus's. Venus found that her own attacking was not strong enough to overcome Flavia's defensive abilities. In the longish and moderately forceful exchanges, it was Pennetta clearly the equal of Venus in her aggressiveness and, just as clearly, the cleaner hitter of the ball and the less likely to err. Venus finally succumbed amid fading light. Pennetta d. V. Wiliams 75 63.
With three rounds of singles, two of doubles, and one of mixed recorded after one week, the Russian women were far ahead in the number of matches won.
Russia, 28.5
France, 16.5
Czech Republic, 14
U.S.A., 11.5
MIDDLE ROUNDS
There was plenty of warning that Sharapova was in for trouble against Dinara Safina in their fourth-rounder on Second Monday. Dinara had beaten Maria at Garros two years earlier and had recently captured the Tier One tournament at Berlin. True, Maria was indeed slightly the heavier hitter on this day, but the effects of the high humidity and court wetness largely neutralized her edge in power. As in Berlin, Dinara stroked with moderate forcefulness and excellent consistency. The two divided the first two sets, both of which ended in tiebreakers where in both cases the loser had the edge on the scoreboard until the very end. Dinara moved ahead midway in the third set, and although Maria appeared to call on all her powers of concentration and will, her big game failed her at the finish. Safina d. Sharapova 67 76 62.
Safina's quarter-final opponent was athletic Elena Dementieva, who had been Dinara's final-round victim in Berlin. Elena's often-deficient serving now held up well as Elena--hitting cleanly and with wonderful movement and body control--won the first set and took a double-break advantage in the second, one game from victory. But Safina struggled back, taking advantage of a sequence of errors by Elena. With Safina badly winded but refusing to miss, it was Dementieva who finally weakened in the tiebreaker, closed out by a marvelous on-the-baseline forehand by Safina, reaching one set all. In the third set Safina maintained her tight tennis, Dementieva again gave the errors. Safina d. Dementieva 46 76 60.
Meanwhile Kuznetsova along with the Serbian stars Ivanovic and Jankovic all reached their expected places in the semis without loss of a set.
Jelana Jankovic in an early round victory over Cibulkova at Roland Garros 08.

WOMEN'S SEMIS AND FINAL
Dinara Safina had narrowly avoided defeat against both Sharapova and Dementieva. Her semi-final victory over Kuznetsova was less dramatic. Dinara led from the outset, and although many of the points were hard-fought, featuring strenuous baseline duels, most often Dinara proved the heavier and more consistent--indeed the more aggressive-hitter. At all times, Safina seemed the more comfortable and more confident player. Safina d. Kuznetsova 63 62.
Ana Ivanovic continued her past success against countrywoman Jelena Jovanovic. The larger and stronger player, Ana produced the more severe and the more effortless power. Jelena used all her weapons, attacking selectively, to capture the second set, but after matters reached three games all in the third set, Ana turned on her full groundstroke rocketry to pull away impressively. Ivanovic d. Jovanovic 64 36 64.
Having watched the travails of Dinara Safina all week, including recovering from match point down against two opponents, it was easy to empathize with Dinara as she raged against her troubles against Ana Ivanovic on final-round Saturday. Ana seemed to have the slight edge in most departments of the game, including mental composure, but given Dinara's recent miracles things remained uncertain almost to the finish. Both women contributed many wondrous plays as well as probably too many errors. In both sets Ana had opportunity to close out comfortably but failed to do so, just as in both sets Dinara narrowly failed to square matters toward the end. Ivanovic d. Safina 64 63.
Shown here is the final tally of matches won. Tops were the Russkayas, for the fourth straight year. Spain's late rise to a third-place tie reflected six wins by Medina Garriguez and Ruano Pascual in capturing the women's doubles.
Russia, 35
France, 17
Spain, 15
Czech Republic, 15
MEN'S EARLY ROUNDS: EMERGENCE OF GULBIS
James Blake as usual sought a level of aggressiveness that would allow him to control matters without excessive errors. The problem was that James's opponent, Latvian teen-ager Ernests Gulbis, struck with even greater forcefulness than James and even earlier in rallies. Gulbis, who was unseeded at 6-3 and age 19, achieved more winners and contributed more errors than Blake, but the ferocity of his hitting within an acceptable rate of error turned the scoreboard in his favor. The newcomer is a right-hander with two-handed backhand, with plenty of zip and good consistency from both sides and in serving, with excellent on-court composure. Born in Riga, Gulbis (like Djokovic) attended the training center at Munich under tutelage of Niki Pilic.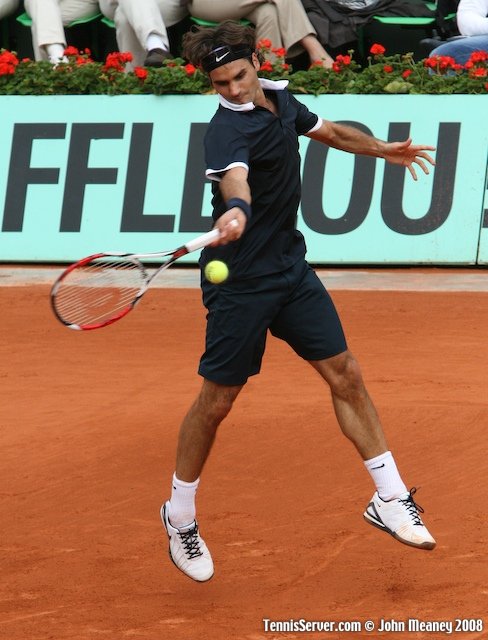 Roger Federer in an early round victory over Montanes at Roland Garros 08.


Meanwhile the Big Three males safely survived their first three matches, Nadal winning all nine of his sets, Federer and Djokovic both losing only one set enroute.

The tally by nations looked surprising. Even though French stars Gasquet and Tsonga contributed nothing, France stood nearly tied with Spain atop the count. Of the sixteen singles players still in the tournament, five were from France, four from Spain.

Spain, 22.5
France, 22
USA, 16.5
Argentina, 13.5

MIDDLE ROUNDS

The persisting damp, slow conditions seemed to suit Chilean Fernando Gonzalez, who swept to a quarter-final berth with a convincing win over American Rob Ginepri. Gonzalez has always been known as a big hitter, and in his earlier matches he showed that his potent forehand could regularly penetrate the heavy conditions. After losing the first two sets to ninth-seeded Stan Wawrinka, the strong Chilean then broke through to win three 64 sets.

Gulbis faced Novak Djokovic on Second Tuesday in the first of the men's quarter-finals. The two Young Lions provided a display of ferocious power tennis, both men striking with severe power and aggressive placement on another day of damp, cool conditions. Gulbis, the larger of the two, seemed to generate his power with less effort and also showed greater willingness to take risks. The result was three close sets, all won by the World #3. Gulbis's almost unlimited potential seemed obvious, as the Latvian teenager proved himself only a year behind the Serb both in his physical and his tennis development. Djokovic d. Gulbis 75 76 75.

Federer worked hard in defeating Benneteau in straight sets, advancing to a quarter-final meeting with Gonzalez, who had won their most recent meeting (indoors at Masters Cup). Fernando swept through the first set, breaking Roger's serve three times behind severe and consistent hitting by Gonzo along with some stretches of desultory and ragged play by Roger. The prevailing heavy conditions again seemed to favor Fernando's penetrating forehand. But early in set two, Roger's efforts to step up his play began to take effect. There was little temporizing by either player as the two alternated in dominance from point to point. Gradually it became Roger who took command on the scoreboard and retained it, increasingly comfortably, to the finish. Federer d. Gonzalez 26 62 63 64.

Meanwhile Nadal easily turned aside the Nicolas Almagro, also in straight sets. The heavy conditions took velocity away from Almagro's heavy deliveries in bouncing, while Rafa's heavy overspin gripped the dampish surface and accelerated. Thus the three pre-tournament elites all reached their predestined berths in the semis. The fourth semi-finalist remained to be determined in a quarter-final battle between Paris-born Gael Monfils and David Ferrer. Their showdown proved to be a fascinating test of styles and minds.

Monfils at height 6-3 has a potent serve, absolutely superior court mobility, and a capability for mercurial all-court play. But his victory over the tough Spanish star was mainly attributable to his penchant for soft, non-forcing stroking, reminiscent of what was once called "pat-ball." It is a style seldom seen today, but given the heavy conditions and Ferrer's less-than-superior power in the attack, Gael's mobility and agility were sufficient to stave off his opponent long enough to yield, often enough, a mistake from David. Ferrer meanwhile worked to draw his opponent wide, albeit at raised level of risk, which sometimes led to winners or forced errors in favor of David. David thereby won the second set, and at that point, with Monfils showing what appeared to be severe lack of wind, it seemed that the Spanish player had found the right formula. But Gael's tiredness passed and, with nearly total support from the crowd, the Paris-born star began mixing in his best serving along with occasional lightning-bolts off the ground. David's own steadiness finally vanished amid a stretch of unforced errors off the forehand. Monfils d. Ferrer, 63 36 63 61.

MEN'S SEMIS AND FINAL

It was a windy and cool Friday, remindful of when Sharapova struggled in serving against Rodina, though conditions were not quite so treacherous. The wind probably hurt Novak Djokovic in his serving.

Still, Novak played at a high level, seemingly resolved to press Nadal with every shot. But Rafa responded with almost total perfection. There was no amount of pressure--short of several consecutive screamers to opposite sidelines--that Nadal could not absorb and then answer. In most cases, Rafa's reply was a nasty, heavily overspun delivery that promptly neutralized matters. If Djokovic allowed himself to make a neutral offering, Nadal was quickly atop matters, himself becoming the attacker. Nadal d. Djokovic 64 62 76.

In the second semifinal, Federer quickly showed his ability to demolish the pat-ball tactics previously favored by Monfils against Ferrer. Monfils thus fell behind by an early break, but then, having learned his lesson, Gael began using more of the court, no longer gifting Roger with near-sitters. Roger, who returned nearly all of Gael's serves during the set albeit defensively, in his other stroking continued to force matters. Although his edge seemed to diminish, Roger gained a second service-break before the set ended.

In the second set the French speedster continued raising his forcefulness along with his own level of net play, serving, serve-returning, and defensive court coverage. The points grew in ferocity as matters gradually turned to favor Monfils until it seemed that that Roger's only effective weapon was his own strong serve. When Monfils captured the set in a final burst, it seemed to me that, with the score now even, Roger was in real trouble.

But Federer took the third set, rather comfortably, amid too many errors by Gael. Roger was now delivering more than his usual quota of drop shots, often catching his opponent deep, and also stepping up his net-attacking. (For the match in its entirety, Roger won 49 of 64 points when at net, Monfils 26 of 45.) Roger's brilliance in drop-shotting and at net persisted into the fourth set, which yielded many of the hardest-fought points of the day. Once again playing at his best, Monfils now ripped away with his heaviest artillery, returning to defensiveness only occasionally. (He scored ten aces for the day, Federer only two.) Crowd involvement was extreme, mainly in support of the French player. The set's only break of serve came in the final game, where Roger produced three superb, winning volleys. Federer d. Monfils 62 57 63 75.

Can there be a Tennis Server reader who did not see the Federer-Nadal final, either as it happened or on tape later? Nadal's magnificent defenses defeated Roger's superb attacking so fully as to be among the more memorable happenings in tennis history. Roger tried everything that his many admirers could have asked, doing so at a level of play that probably would have succeeded against any other opponent. But just as against Djokovic, Nadal's performance approached perfection. There was one strong run by Roger, attacking early in the second set. The Spanish champion, pressed hard, responded as the champion should. Otherwise, although the match was filled with brilliant play, Roger scarcely won a game. Nadal d. Federer 61 63 60.

For the record, here is the final tally of matches won. Helping Spain to its top finish were Nadal's seven singles wins and four each by Almagro and Ferrer.

Spain, 28.5
France, 24
USA, 19.5
Serbia, 14.5

The year's clay-court play is not finished, but there is no question that Nadal is the year's champion on that surface. Djokovic and Federer follow, far behind, with the likes of Gonzalez, Almagro, Ferrer, Davydenko, and perhaps Wawrinka closely next.

Matters now resume on grass. Can Nadal translate his genius on clay into a Wimbledon triumph? After watching his performance at Garros 08 and his fine run at Wimbledon 07, I believe Rafa can do just that.

--Ray Bowers
Arlington, Virginia



Between The Lines Archives:
1995 - May 1998 | August 1998 - 2003 | 2004 - 2015
If you have not already signed up to receive our free e-mail newsletter Tennis Server INTERACTIVE, you can sign up here. You will receive notification each month of changes at the Tennis Server and news of new columns posted on our site.
This column is copyrighted by Ray Bowers, all rights reserved.
Following interesting military and civilian careers, Ray became a regular competitor in the senior divisions, reaching official rank of #1 in the 75 singles in the Mid-Atlantic Section for 2002. He was boys' tennis coach for four years at Thomas Jefferson High School for Science and Technology, Virginia, where the team three times reached the state Final Four. He was named Washington Post All-Metropolitan Coach of the Year in 2003. He is now researching a history of the early pro tennis wars, working mainly at U.S. Library of Congress. A tentative chapter, which appeared on Tennis Server, won a second-place award from U.S. Tennis Writers Association.
Questions and comments about these columns can be directed to Ray by using this form.
---