Year of Nadal, Decade of Federer
by Ray Bowers

Ray Bowers
Rafael Nadal's great victories at Garros and Wimbledon 08 ended the tennis year's first half. Rafael now holds a strong lead in the year's points race, but he remains well behind Roger Federer in achievements during the current decade.
MEN'S RACE 08
Novak Djokovic held the early lead in the 2008 race from his triumphs in Australia and Indian Wells, but during the spring he slipped behind Nadal and Federer. The year-to-date standings immediately after Wimbledon showed the Big Three well ahead of all others.
Nadal, 955 (won Monte Carlo, Hamburg, Garros, Wimbledon)
Federer, 685
Djokovic, 649 (won Australian, Indian Wells, Rome)
INDY AND TORONTO
The tournament at Indianapolis, July 14-20, gave a taste of midsummer conditions in North America. The winner was French player Gilles Simon, 23, who showed an exceptionally solid backhand, excellent court movement, and good patience in long rallies. A common element throughout Simon's run was his edge over his opponents in endurance amid the high temperatures.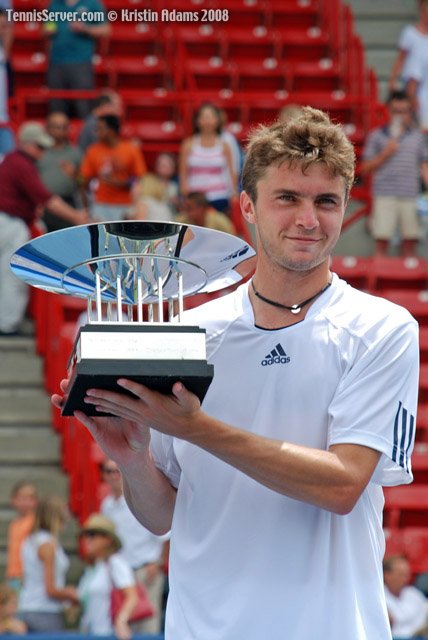 Frenchman Gilles Simon defeated Dmitry Tursunov to win his first ATP title at Indianapolis.

Toronto brought a stronger field, July 21-27, featuring all members of the Big Three. First-day action exposed the erratic forehand of today's teen-aged super-prospect Ernests Gulbis, who lost to Acasuso. To old-fashioned me, it seemed that Ernests is the victim of today's exclusive penchant for the open-stance forehand.
From the start Wednesday evening, Roger Federer opened up his Big Game against Indy winner Gilles Simon. Pouncing on every ball, Roger drove to the corners with his full sizzling power, moving forward regularly to net. Federer thus took the first set comfortably. But after that, Simon seemed to adjust to the energy of Federer's strikes and began to show the brilliance he displayed at Indy. The rock-solid backhand, the movement, the composure, the quick recovery after exhausting points--all were once again on display. Frustrated upon the quality of Simon's counterplay, Roger began to contribute too many errors, especially off his forehand. There were many brilliant shots by Roger, and much of the time he kept Gilles on the run. But too often in critical stretches Roger seemed unable to sustain his attacking without making too many errors. The end came dismally for Roger. Needing to hold serve to reach five games all, Roger contributed four consecutive errors. The game--and the match--ended in about ninety seconds. Simon d. Federer 26 75 64.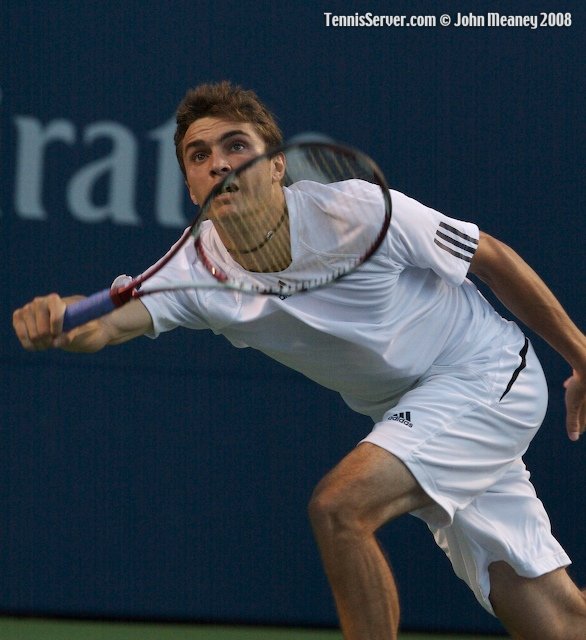 Gilles Simon (top) gave Roger Federer (bottom) an unexpected early exit from the Rogers Cup.

Croatian riser Marin Cilic, age 19 and height 6-5, defeated Andy Roddick in a close three-setter on Thursday, behind strong serving and groundstroke power that slightly exceeded the American's. Along with his forcing play, Cilic showed more-than-adequate consistency and court movement, outlasting Andy in many of the long rallies. (But Cilic fell the next day to Simon, who had followed his won over Federer by beating Soderling.) Cilic d. Roddick 64 46 64.
Marin Cilic (top) ousted Andy Roddick (bottom) 64 46 64.

For much of the second set on Friday Novak Djokovic, fighting from behind against Andy Murray, finally attained a set point that promised to equalize matters at one set all. But the opportunity was only fleeting, and thereafter the superiority of Murray became unmistakable. Throughout, both men slugged away in countless exchanges of unimpeded ferocity, corner to corner, each moving the other over the Decoturf, both attacking superbly off the ground. Meanwhile both returned serve well, so that neither scored many aces or short-point successes. The biggest difference--and the key to Murray's victory this evening--was Andrew's lateral mobility and controlled power when forced onto the defensive. Repeatedly Andy ripped back Djokovic's strongest attacking blows, neutralizing or sometimes reversing the Serbian star's domination in the play. The result was a growing number of points ending in errors by Djokovic or winning replies by Murray. It was an impressive outcome between two 21-year-olds. Murray d. Djokovic 63 76.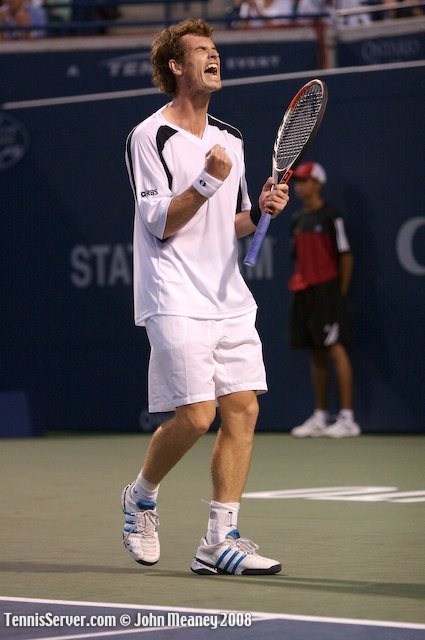 Novak Djokovic (bottom) lost an intense battle to Andy Murray (top) 63 76.

Murray next challenged the only surviving member of our Big Three in their Saturday evening semi. Now, it was Murray's offensive strengths that were primarily tested. Key this night to a possible Murray victory was the ferocious attacking by the Scottish star--relentless, screaming forehands and backhands to the corners that often penetrated even the great resistance of Rafa. I had never before seen Murray so determinedly and effectively on the attack. Rafa answered with his full arsenal.
The margin was close in both sets--a point or two here or there, perhaps a close miss by Murray when attacking. Andy's composure, which had been excellent in recent weeks, now lapsed, seen in crankiness toward the chair umpire. Perhaps a troublesome knee was partly at play as well, along with some absolutely magnificent play by Nadal. At the end it was an out-of-sorts Murray in defeat, but it was also a Murray who had shown his readiness for greatness. Nadal d. Murray 76 63.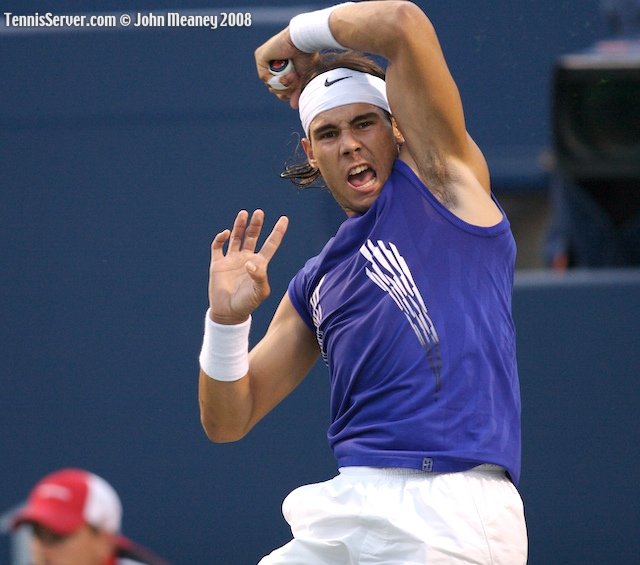 Rafael Nadal (top) bested Andy Murray 76 63 in the Rogers Cup Semifinals.

The Sunday final came as an anti-climax. Nicolas Kiefer, who had outlasted a worn Simon in a three-hour three-setter on Saturday, produced many excellent points for the first half of both sets and assuredly made Nadal produce his best. But the determined 31-year-older faded badly at the finish of both sets. Nadal d. Kiefer 63 62.
Nadal's triumph in Canada lifts him far above the others in the year-to-date race. as follows:
Nadal, 1,055
Federer, 686
Djokovic, 674
The margin of the Big Three over all others is substantial. No other player has as many as 400 points. (Murray has 280.) All three leaders seem likely to continue scoring well, including Federer, who is defending champion at U.S. Open and Masters Cup, but the certainty that Rafa will be ahead at year's end is almost complete. That he will also overtake Federer shortly atop the running-12-month rankings is almost equally certain. Meanwhile, members of the next several tiers showing signs of moving upward are Murray, Simon, Wawrinka, Monfils, del Potro, Tipsarevic, Verdasco, indeed Kiefer. By far the most promising teen-agers are Cilic and Gulbis. There is little security ahead for the players just behind the Big Three.
WOMEN'S RACE 08
More convoluted is the situation in the women's singles race. The year's early leader, Maria Sharapova, slipped to third in late spring, overtaken by new Garros champion Ana Ivanovic and semi-finalist Jelena Jankovic. Then at Wimbledon 08, runner-up Serena Williams also passed Sharapova. Thus after Wimbledon, the top four were closely grouped, well ahead of all others including Wimbledon champion Venus Williams, now seventh.
Ivanovic, 2,761 (won Garros, Indian Wells)
Jankovic, 2,645 (won Italian)
S. Williams, 2,465 (won Miami, Charleston)
Sharapova, 2,455 (won Australian, Doha)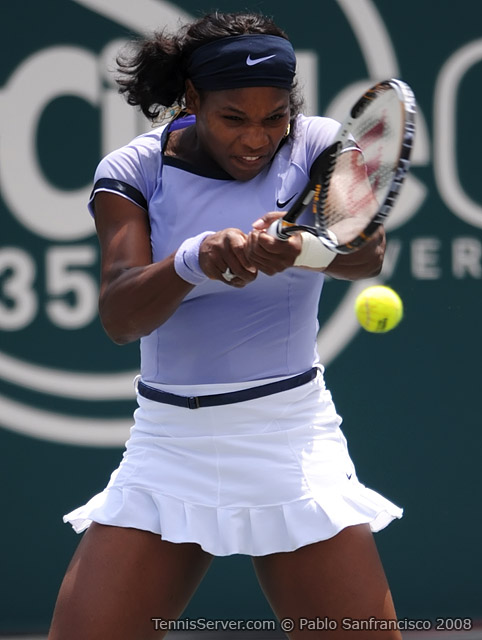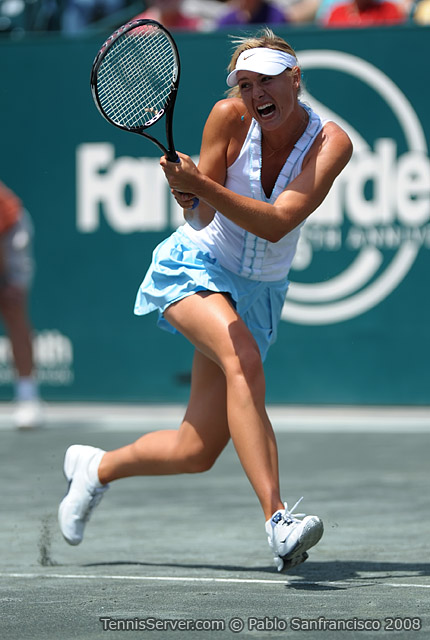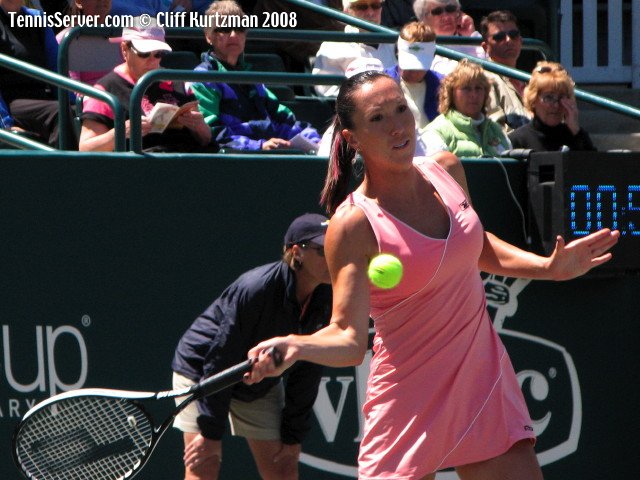 From top: Serena Williams, Maria Sharapova, Jelena Jankovic at 2008 Family Circle Cup, Ana Ivanovic at 2008 Pacific Life Open.

The post-Wimbledon scene was diminished by the passing of the familiar Tier One tournament in San Diego. The usual Tier Twos were held at Stanford and Carson (Los Angeles), though no match-ups among the top group took place. Serena reached the semis at Stanford but then retired during her next match with knee trouble. The Stanford winner was Aleksandra Wozniak, 20, who showed strong strokes and good composure and also benefitted by an injury to her final-round opponent, Bartoli. Jelena Jankovic reached the semis at Los Angeles but lost decisively to Dinara Safina, whose superior power and general avoidance of error continued her strong run of recent months. Jelena's success in reaching the semis, however, lifted her into a near tie with Ivanovic in the year-to-date race. Safina went on to defeat Pennetta in the final.
Starting July 28 is the Rogers Cup tournament, being held this year in Montreal. Ivanovic and Jankovic are the highest-seeded players, followed by Sharapova and five other Russians including Safina. As was the case at Los Angeles, neither Serena nor Venus is present, as both have knee concerns. Uncertainty as to the readiness of the sisters for Olympics and U.S. Open ahead is hardly new.
TENNIS DECADE 201
The decade that began on January 1, 2001--the 201st decade A.D. by our calendar--is now three-fourths completed. It has assuredly been the time of Roger Federer, soon to turn age 27, whose achievements already place him among tennis history's greatest. His closest rival has been Rafael Nadal, who at 22 is nearly five years younger than Roger and shows a clear edge in their head-to-head meetings. Rafa is ahead in their W-L count--12-6 overall, 9-1 on clay, 4-0 in 2008. Still, Federer's margin in overall achievements for the decade seems insurmountable, though the final summation could be close enough that Nadal's head-to-head lead, if it persists, could justify a tie verdict.
Here are their prime accomplishments (Slams, Masters Series, Masters Cups, year-end #1 rankings). All took place in Decade 201.
Federer, 12 Slams, 14 MS, 4 MC (4 times, year-end #1)
Nadal, 5 Slams, 12 MS
No other players are close to the two leaders in their current-decade achievements, but there are several active players who are remotely still in contention for second.
Hewitt, 2 Slams, 2 MS, 2 MC (2 times, year-end #1)
Djokovic, 1 Slam, 4 MS
Roddick, 1 Slam, 4 MS (1 time, year-end #1)
WOMEN'S SINGLES
Again, the picture is cloudier among the female pros. Here are the leading achievers for the decade (Slams, Tier Ones, season-ending tournaments, year-end #1 rankings):
Henin, 7 Slams, 10 TO, 2 set, 1 Olympics (3 times, year-end #1)
S. Williams, 7 Slams, 9 TO, 2 set (1 time, year-end #1)
V. Williams, 5 Slams, 2 TO
Failing a return to the pro wars by Justine, Serena Williams is likely to surpass the slender Belgian star before decade's end. Venus seems too far behind but has better chances of catching the two leaders than any of the other active players still in contention, as follows:
Sharapova, 3 Slams, 5 TO, 1 set
Mauresmo, 2 Slams, 6 TO, 1 set
Ivanovic, 1 Slam, 3 TO
Jankovic, 3 TO
THE DECADE IN DOUBLES
The brothers Bryan have been a dominant force in Men's doubles this decade.

The Bryan twins have stayed together throughout the decade, along the way collecting an impressive list of championship honors. Only slightly less lustrous have been the achievements of the fine North American pair Knowles-Nestor, also a lefty-righty combination. Knowles-Nestor split up in 2008, so that presumably their Decade 201 record is now fixed.
Bryan-Bryan, 5 Slams, 12 MS, 2 MC (4 times, year-end #1)
Knowles-Nestor, 3 Slams, 10 MS, 1 MC (2 times, year-end #1)
Bjorkman-Woodbridge, 5 Slams, 4 MS (1 times, year-end #1)
Bjorkman-Mirnyi, 2 Slams, 8 MS, 1 MC
Note that Jonas Bjorkman achieved successes comparable with the Bryans but with two different partners, both of them strong players but bringing very different kinds of talent.
The women's doubles tally during the decade reflects several major changes in partnership alignments. For the first half of the decade Ruano Pascual and Suarez were the most successful pair, followed by Raymond-Stubbs. Starting at about mid-decade, Raymond-Stosur, along with Black-Stubbs and then Black-Huber began collecting titles rapidly. These five pairs lead the Decade 201 tally along with the sisters Williams, as follows.
Ruano Pascual-Suarez, 8 Slams, 6 TO, 1 set (3 times, year-end #1)
Raymond-Stosur, 2 Slams, 9 TO, 2 set (2 times, year-end #1)
Black-Huber, 3 Slams, 4 TO, 1 set (1 time, year-end #1)
Raymond-Stubbs, 2 Slams, 6 TO, 1 set (1 time, year-end #1)
Black-Stubbs, 1 Slam, 6 TO
Williams-Williams, 4 Slams
Three of the above pairings are currently active, having played in Wimbledon 08. There, Raymond-Stosur defeated Black-Huber in the semis but then lost to the Williamses. A sustained run by any of these pairs could conceivably equal the current-decade achievements of Ruano Pascual and Suarez, who have not played together since early 2007.

THE NATIONS IN DECADE 201
The times of Australian dominance in pro tennis have gone, while American success has also faded somewhat.
Six different nations have captured the Davis Cup in the first seven years of the decade, where Russia is the only two-time winner. Of the four remaining contending nations, the most likely Cup winner this year is Spain, behind Nadal. It would be Spain's second crown in the decade. Meanwhile the U.S. men lead in capturing the most matches at Slams, ahead of the Spanish males in this achievement by 19 Slams to 8 during the decade. Of the eight Garros crowns to date, Spain's males won seven, Argentina's one.
The Russians seem irrevocably ahead among the women. The Russkayas have captured Fed Cup in each of the last four years. (Three other nations captured the Cup in the first three years of the decade.) Additionally, the Russian females have won more matches than any other nation's women at every Slam since 2004, and they now lead the U.S. women in this achievement by 19 Slams to 12 in this decade.
PREVIEW OLYMPICS 08
Tennis at Olympics 08 starts on August 10 and ends with final-round play August 16-17. Nearly all the top male and female pros will be on hand for the 64-draw singles and 32-draw doubles play. Entries were nominated by the nations and were selected according to recent ATP and WTA standings except that several slots were awarded to wild-card players mostly from underrepresented parts of the world.
The court surface at Beijing will be Deco Turf II, the same as at U.S. Open. All matches will be best-of-three sets except that the final rounds in men's singles and doubles will be best-of-five. Tiebreakers will not be used in fifth sets of the men's finals nor in third sets of all other matches. Gold, silver, and bronze medals will be awarded to the top three in all events.
I previously understood that the tennis center in Shanghai, site of Masters Cup 05, 06, and 07, had been built for the Olympics. But a newer complex was built in 2007 at Beijing, including three stadiums, the largest of which seats 10,000. Each stadium has twelve sides, arranged in a circle, where each section rises individually giving an appearance from afar suggesting a flower with twelve petals. Forced-air circulation from outside provides ventilation inside each arena, avoiding build-up of temperatures on-court.
The three leaders of the men's tour--Nadal, Federer, and Djokovic--perhaps along with Andy Murray are the favorites in their chances for singles gold. My own instincts favor Nadal, whose relentless style should be especially hard to beat if levels of heat and and air pollution are high. All three will probably appear in doubles as well, increasing the possibility of fatigue late in the week. The second tier is slightly depleted by the absence of Roddick and Gasquet. Many entrants seem roughly equal to one another in their faint chances to win the event or, more plausibly, to force the top three or four to produce their best.
All doubles entries will be same-nation pairs, so that some of the world's top twosomes will not be together. Among the males, certainly the American pair Bryans will be favored, and there will be other familiar male pairs from Israel, France, Czech Republic, and South Africa, as well as India's reunited Bhupathi-Paes. The Big Three males in singles will probably enter with same-nation partners. Among the females, aside from the Williamses, who won doubles gold in 2000, most pairings will be relatively unfamiliar.
Best wishes to readers worldwide to enjoy Olympics 08. I'll be dividing my attention--attending the Legg Mason here in Washington and watching events in Beijing by TV.



Between The Lines Archives:
1995 - May 1998 | August 1998 - 2003 | 2004 - 2015
If you have not already signed up to receive our free e-mail newsletter Tennis Server INTERACTIVE, you can sign up here. You will receive notification each month of changes at the Tennis Server and news of new columns posted on our site.
This column is copyrighted by Ray Bowers, all rights reserved.
Following interesting military and civilian careers, Ray became a regular competitor in the senior divisions, reaching official rank of #1 in the 75 singles in the Mid-Atlantic Section for 2002. He was boys' tennis coach for four years at Thomas Jefferson High School for Science and Technology, Virginia, where the team three times reached the state Final Four. He was named Washington Post All-Metropolitan Coach of the Year in 2003. He is now researching a history of the early pro tennis wars, working mainly at U.S. Library of Congress. A tentative chapter, which appeared on Tennis Server, won a second-place award from U.S. Tennis Writers Association.
Questions and comments about these columns can be directed to Ray by using this form.
---