Legg Mason, Olympics, and Predicting U.S. Open 08
by Ray Bowers

Ray Bowers
Pro tennis in North America approached its 2008 zenith with the making of the U.S. Open main draw, August 21, in New York. One of the preceding events leading into the Open was the Legg Mason Tennis Classic, held at a pleasantly scaled facility here in residential Washington, D.C. This year the cast of participating ATP pros was less lustrous than in most years, especially so in doubles, because of the Olympics tennis being played in Beijing the same week, August 11-17. But the crowds here were good, the weather mostly free of rain or scorching temperatures, the matches as interesting as ever. The concurrent action at the Olympics seemed to enliven the tennis talk around the grounds. Meanwhile the tournament featured the emergence of two young and rising players, both of whom established that they will be heard from in the future.
JUAN MARTIN DEL POTRO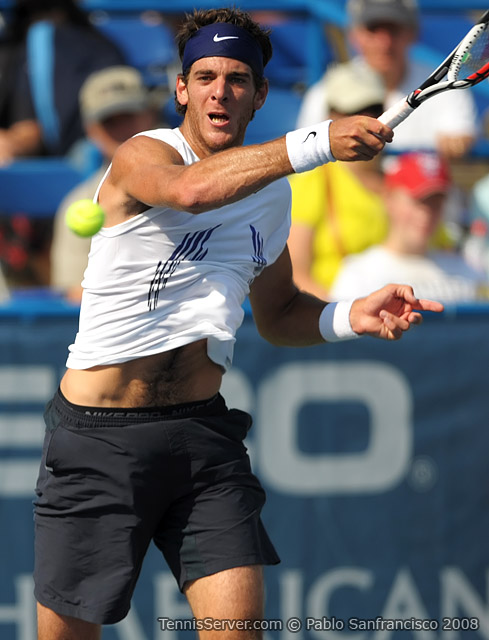 Juan Martin del Potro at Legg Mason 2008.


Juan Martin del Potro, age 19, arrived in Washington fresh from consecutive triumphs in his preceding three tournaments, including a straight-set win over Andy Roddick in the final of Countrywide Classic in Los Angeles the preceding week. The young Argentine player was now ranked in the world's top twenty--the only teenager at that level. Here at Legg Mason, del Potro was seeded second, so that a return meeting with Roddick in the tournament's final round seemed likely.

Physically, Juan Martin seems perfectly made for tennis. At about 6-6 in height, he has a slender, athletic build and walks with obvious flexibility in body and limb. His game features power serving and power stroking, forehand and backhand, which he gradually unveils in the early stages of matches, delivered relatively effortlessly. After the first few games, he is usually bombarding the corners with relentless, heavyweight deliveries carrying both pace and strong topspin. Few opponents are able to sustain effective resistance to the unceasing pressure. He is relatively uninterested in coming to net. An excellent returner of serve, he usually returns from fairly deep behind baseline and uses his reach to help handle an opponent's wide serves. In interviews he is restrained but self-confident.

I watched at least part of all four del Potro victories enroute to the Legg Mason final. Especially interesting was his Friday quarter-final meeting with John Isner, last year's finalist here. From watching Isner earlier in the week, I understood that John's serving ability remained excellent and also that he had improved his back-court game, which now included a more polished rallying ability to go with his potent forehand drive, usually dispatched inside-out to opponent's backhand.

At first both players had trouble handling the other's serve and both seemed comfortable in long rallies. I was slightly surprised, as I had expected del Potro to be superior in both areas. But as the South American began to unleash his heaviest artillery, it became evident that Isner was in trouble. John's errors gradually became more frequent as the weight of del Potro's shot increased. Isner kept trying hard and overall fared better on the scoreboard than I had predicted. Both sets were decided with a single service-break game, 64 64.

Del Potro's semi-final win over veteran Tommy Haas on Saturday, 62 61, was more impressive. Both men began carefully, trying to avoid error in longish rallies from back court. Haas showed the greater variety, working his opponent from side to side and changing speeds and spins. The two divided the first four games, giving little hint of the demolition that would soon begin.

The European would win only one more game thereafter, as del Potro's raised stroking power took effect. Many of the points were interesting, featuring Haas's tactical virtuosity against del Potro's steady forcefulness. But most of them were won by the tall youth from Tamdil. Afterwards Haas explained to reporters how difficult it was to execute his own shotmaking against this opponent's pace, spin, court movement, and control. Haas predicted that del Potro would soon reach the sport's top ten. Del Potro d. Haas, 62 61.

VIKTOR TROICKI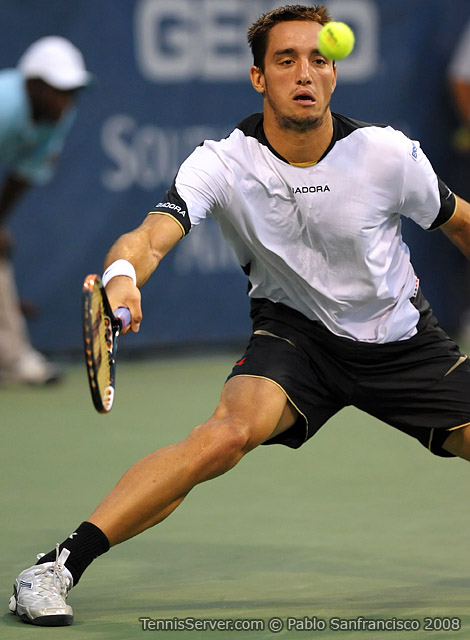 Viktor Troicki at Legg Mason 2008.


Also advancing through the week was unseeded Viktor Troicki, a relatively unheralded competitor ranked just inside the first hundred, the third-ranking player from Serbia behind Djokovic and Tipsarevic. Viktor at age 22 and height 6-3 was relatively new on the world scene, having turned pro only two years before.

In the quarter-finals on Friday, Viktor faced top-seeded Andy Roddick. The gap in their rankings seemed to predict a comfortable win for Roddick, although Argentine player Eduardo Schwank, unseeded, had given Andy serious trouble the previous evening. Also, Viktor knew that he had matched up well in carrying Andy to three sets in their only previous meeting, at Miami 08.

The match began with three consecutive aces by Roddick, untouched by Troicki. Andy went on to capture the first set by winning 25 points (only one more than the minimum) while Victor won only eight. Viktor could do almost nothing right, reacting poorly to Andy's heavy blows, making one inept error after another. By the start of the second set, many in the gallery, wanting Roiddick to win but hopeful of seeing competitive tennis, began encouraging Troicki with applause and calls of his name, "Let's go Viktor."

Roddick had told reporters that Troicki was known as a streaky player. The comment seemed to overhang what happened in the next few minutes. After Andy held serve to begin the second set, Viktor became a different player. He survived a break point to hold the second game of the set, and then broke Andy's serve in the third game after several deuces. I wrote in my notebook, "Troicki is not missing now." The set then unraveled further for Roddick, who after serving two aces to start game seven then lost the next four points and with them, a second service-break and soon afterwards the second set.

After a rain interruption early in the third set it was Viktor who raised his game, showing wonderfully smooth stroking and easy mobility in answer to Andy's determined and relentless blows. Andy's downfall came in the seventh game when he missed 8 of 12 first serves and also double-faulted twice. Viktor closed out the match with two consecutive aces to begin the tenth game. Indeed, for the full match he trailed Andy in total aces by just 11 to 13. Troicki d. Roddick, 06 62 64.

In his next match, against Kunitsyn on Saturday, Viktor employed the same pattern--extremely safe rallying broken by sudden attack. He again showed excellent serving ability, including a 139-mph delivery that placed him for the moment third among the tournament's big servers, behind only Fish and Roddick. Troicki d. Kunitsyn, 64 62.

LEGG MASON FINAL: DEL POTRO d. TROICKI, 63 63

Legg Mason 2008 Champion Juan Martin del Potro.


The first set followed an erratic pattern. Serving into a difficult Sun in the third game, del Potro became the first to lose a serving game. But after that, in an interval that included a delay for trainer's attention to Troicki's back, the Serbian player lost his next three serving games. Meanwhile del Potro gradually raised the level of his stroking power. Probably both Viktor's discomfort and Juan Martin's heavier artillery contributed to del Potro's strong run.

The second set brought an attractive clash of the favored styles of both contestants. Juan Martin was now ripping away with full authority on almost every shot, driving Viktor into the corners regularly. Troicki answered with his customary fine defensive play, delivering relentless short-backswing forehands and backhands just firm enough to keep his opponent at bay and with almost absolute avoidance of error, meanwhile occasionally ripping an abrupt and accurate attacking shot toward a sideline. A single break of Troicki's serve late in the set settled matters, but Viktor had five break-point opportunities during the set, winning none.

Afterwards, Troicki explained that his back problem had been nagging in recent weeks and had gotten worse by playing on hard courts. Generally, he was pleased at his performance in the tournament. Del Potro too was satisfied, allthough he criticized his own level of play, especially his seven double-faults, five of them in the second set. The teenager's winning streak now stood at 19 matches, with prospects for further extension the next week in New Haven. He seemed more interested in the latter opportunity than in resting for the U.S. Open just ahead, but one day later he withdrew from the New Haven event, citing exhaustion. Troicki retired early in his second match at New Haven.

Clearly the future is bright for both del Potro and Troicki. By their recent wins over Roddick, both proved their ability to make trouble for higher-ranked players. (Troicki won his only meeting with Djokovic, at Umag in 2007.) Neither is highly ranked in our U.S. Open prediction, discussed below. But be not surprised if either makes a strong run in New York.

OLYMPICS 08

The fascination of the live play at Legg Mason kept me from watching as much tennis from Beijing as I had planned. Surely like most Olympics viewers, I cringed when watching the final-set meltdown of Serena Williams against the eventual champion, Elena Dementieva, and was dazzled by the power doubles of Serena and Venus in easily winning the doubles final against their Spanish opponents. James Blake's hard-charging effort in the second set in defeating Roger Federer was exciting to watch, but at the same time there was sadness in seeing the great champion of our times once again fail on this singular stage.

I watched the singles finals from my recorder. The women's pitted two Russians--Safina and Dementieva--both sluggers from the baseline. By reputation Dementieva was the better mover but the less solid server. The difference indeed lay in the serving, but it was Safina who contributed 17 double-faults, Dementieva only three. Otherwise the match featured many magnificent baseline power duels, where neither player's offense was strong enough to overwhelm the other's defenses, leaving most points to be decided by errors relatively unforced. Elena's small edge in stamina became clearer and Dinara's frustration with her serving woes increased as the play lengthened. Dementieva d. Safina, 36 75 63.

For Fernando Gonzalez to have defeated Rafael Nadal in the men's final would have been an upset of almost unprecedented dimension. Fernando played aggressively, at what was surely his highest level, trying to seize the initiative by backing up his potent first serve with forehands of extreme power. The barrage called forth Rafael's magnificent defensive and counter-punching skills, but the most dazzling weapon of the date was the Nadal attacking forehand, which carried equal velocity to Rafael's and yet more overspin and accuracy.

A lull by the current world's #1 allowed Gonzalez to reach two set points in the second set, either of which might have momentarily equalized matters. But after Rafael again found his best tennis in one-sidedly winning the set-ending tiebreak game, the tiredness set in for Fernando. There was still plenty of fire in the Gonzo forehand, but the outcome of the third set was never in doubt. Nadal d. Gonzalez, 63 76 63.

There is no national team award in Olympics tennis, but it was interesting to track the match wins by nation, especially since the doubles involved only same-nation pairs. France was the nation whose men's contingent won the most matches--twelve victories in all, mainly from broad early-round success in singles plus three doubles wins by Clement-Llodra. Switzerland and Spain tied for second, each with nine wins, including five for the Swiss by Federer-Wawrinka in capturing the doubles gold and six for Spain by Nadal in singles. The women's tally showed Russia on top, reflecting that the Russkayas won the gold, silver, and bronze medals in singles. U.S.A. was second in the team tally behind the success of the sisters in doubles.

PREDICTING U.S. OPEN 08

In here predicting outcomes at U.S. Open 08, we weight player results at recent major tournaments. (See footnote on the calculations.) Our computer in this case emphatically identified the top three.candidates, listed here with their calculated scores "Sc" and odds for winning the tournament.

#1. Rafael Nadal, Sc 6.18, odds even. As champion of Garros, Wimbledon, and Olympics 08, Nadal's play this spring and summer has been so strong that it is hard to see how anyone can beat Rafa in best-of-five-set competition. Still, there are possible pitfalls enroute to a first U.S. Open crown for Rafa, including the chance of injury or that one of his leading rivals will perform at his absolute highest level (thereby requiring the same of Rafa).

#2. Novak Djokovic, Sc 5.20, odds 2.7-1. The firm-hitting 22-year-old is approaching prime tennis age, having won Australian Open 08, then beating Nadal both at Indian Wells 08 and at the recent Cincinnati Masters, and most recently taken a set from Rafa at the Olympics. Novak was runner-up last year at U.S. Open, losing the final to Federer in three close sets.

#3. Roger Federer, Sc 4.72, odds 4.5-1. Having won U.S. Open the last four years, Roger's chances this year cannot be taken lightly. His results to date this year, however, are well below those of recent years, showing losses in most of the events he has entered. Outwardly, Roger's skills seem no different than before, but he seems no longer able invariably to summon his very best tennis at critical times--a hallmark of his past greatness. At age 27, he is apparently being overtaken by the younger tennis generation, which includes Nadal and Djokovic.

Here are the 2008 head-to-head W-L records among the Big Three. The values seem to support the results of our model.

Nadal over Djokovic, 4-2
Nadal over Federer, 4-0
Djokovic and Federer, 1-1 (tied)

THE NEXT THREE

#4. Nicolay Davydenko, Sc 2.91, odds 65-1. The 27-year-old Davydenko sometimes plays with absolute brilliance, as in winning Miami 08 in a run that included a final-round win over Nadal. Typically he plays well but exits in the late rounds, as in reaching the semis at U.S. Open 06 and 07. Lightning-quick on court, he plays a strong all-around game suited to either clay or hard courts. His 2008 record against the Big Three is 2-2.

#5. James Blake, Sc 2.83, odds 77-1. Blake ranks higher in our calculation than in the official seedings, lifted here by his fourth-place finish and win over Federer at the Olympics. His 2008 record against the Big Three is 1-3, but he defeated Nadal three times without loss in previous years before losing twice to Rafael in 2008.

#6. Andy Murray, Sc 2.70, odds 105-1. Murray's success in the North American summer events--reaching the semis in Toronto and winning at Cincinnati--raised him from the pack in our calculations. Seeded sixth at the Olympics, he lost in the first round at Beijing. His 2008 record against the Big Three is 3-4.

The odds for all other players are 300-1 or longer.

Shown below are the four quarters of the draw. Players are listed with their calculated values of Sc. Three of the quarters are headed by a member of the Big Three.

TOP QUARTER

Nadal 6.18, Blake 2.83, Berdych 2.05, Mathieu 1.50, Nalbandian 1.49, Kohlschreiber 1.42, Fish 1.30, Soderling 1.36, Karlovic 1.22, Monfils 1.10, Querrey 0.89, Troicki 0.42. There should be many intersting match-ups in this quarter, but no one seems capable of winning more than one set from Nadal. Probably Blake is the most dangerous threat, given James's past success against Rafa. But Nadal remains the strong favorite here.

SECOND QUARTER

Murray 2.70, Ferrer 2.28, Wawrinka 2.24, Youzhny 1.89, Simon 1.67, Lopez 1.40, Monaco 1.33, del Potro 0.55. None of our Big Three inhabit this quarter. The calculations make Murray the favorite, correctly so in my opinion although Ferrer is actually the high-seeded player in the quarter. If Murray plays at the level seen just prior to the Olympics, he should certainly prevail. Young del Potro must surmount Simon to reach a meeting with Ferrer, but in my opinion the teenager is capable of beating both. The choice to reach the final four is Murray.

THIRD QUARTER

Djokovic 5.20, Roddick 2.06, Kiefer 1.78, Tsonga 1.68, Gonzalez 1.67, Cilic 1.66, Moya 1.37, Seppi 1.32, Robredo 1.29, Safin 1.22, Gulbis 1.16. There is no serious hurdle for Djokovic in his section, except perhaps a third-round meeting with young Cilic. Andy Roddick, whose lackluster summer seems to point to further disappointment ahead, must surmount the impressive teenager Gulbis early-on. Andy seems the likely quarter-finalist opponent for Djokovic, but his chances against the powerful 21-year-old seem faint. The unhesitating choice here is Djokovic.

BOTTOM QUARTER

Federer 4.72, Davydenko 2.91, Gasquet 1.97, Andreev 1.96, Verdasco 1.7, Haas 1.65, Tipsarevic 1.54, Tursunov 1.44, Stepanek 1.38. This quarter, like the first, holds many interesting liikely second- and third-round match-ups. The four-time champion, Federer, should certainly be safe, but starting in the third round against Stepanek he dare not play very far below his best. Either Andreev or Verdasco will come next, both dangerous. Davydenko and Gasquet are in the opposite section from Roger, and their quarter-final should be closely fought. Federer must be conceded this quarter.

FINAL FOUR

An important matter in recent draws has been whether Djokovic would fall into Nadal's or Federer's half. Unlike what has usually happened, in this case Federer and Djokovic are aligned to meet in the semis. Our calculations point to the younger player, and although it is difficult to pass on the erstwhile champion, Novak Djokovic is indeed my selection. In the other half, although a Murray win is conceivable, the probabilities strongly favor Nadal.

Thus a Nadal-Djokovic final seems ahead, a match-up likely to recur in many future Slam finals. In judging the probable outcome, the superb abilities of Djokovic in many areas of the game must be acknowledged. But Nadal's remarkable command of his own unique array of strengths, all assembled in a magnificent system of defensive and offensive tactics, makes a Rafa triumph by far the more likely. Novak could--indeed probably will--win at least one set and also carry at least one other into a tiebreaker. It should be Rafael's third consecutive Slam crown, essentially assuring him the year-end #1 world ranking.

WOMEN'S SINGLES

Maria Sharapova is sidelined with shoulder trouble, and last year's champion, Justine Henin, has retired from the pro game. Seven prime candidates--the eight leaders in the 2008 points race less Maria--stand out in their chances for winning the crown. But matters remain very unclear among this group, especially as to the readiness of the sisters Williams. Composing the Big Seven are two American, two Serbian, and three Russian players.

Serena and Venus Williams. The readiness of the sisters Williams for the newest Slam is, as usual, unclear. Either, if at her best, can be heads above all others, but injuries and perhaps other distractions have intermittently weakened their performances over recent years. Last year at the Open, both in turn lost to Henin. Their most recent singles triumph came at Wimbledon 08, where both reached the final without having lost a set, Venus prevailing. After that, both were mostly away from competition until the Olympics, where both lost in the quarter-finals.

Jelena Jankovic and Ana Ivanovic. The two Serbian stars rank almost together atop the year-to-date race, with Jankovic in first place by a small margin. (Ivanovic's lead in the 12-month running standings caused her to be seeded first at the Open.) Jelena's major 2008 triumph came at Rome, while Ivanovic won at Indian Wells and Garros 08. Jelena, the older at 23, has an attractive all-court game built about mobility and well-controlled stroking. She won three matches at Beijing before losing in split sets to eventual runner-up Safina. Ana, 20, is taller, heavier, and more powerful, with seemingly the stronger serving and stroking weaponry. Ivanovic's summer was spoiled by a hand/thumb injury, which forced her withdrawal at the Olympics and creates doubts as to her readiness for the Open.

Dinara Safina, Elena Dementieva, and Svetlana Kuznetsova. Safina ranks behind the Serbs and Serena in fourth place in the 2008 race, ahead of the other members of this Russian trio and Venus. Dinara was a big summertime winner, starting an upward surge when she triumphed in Berlin and reached the final at Garros, both on clay. Continuing to show her improved movement and power hitting, Dinara then triumphed on hard courts in Los Angeles and Montreal. These excellent results lifted Safina slightly above the other two in the 2008 race, but Dementieva's tough final-round win over Dinara in the Olympics final is a compelling reommendation. Kuznetsova, a well-seasoned veteran at only 23, seems always among the top contenders and was U.S. Open champion in 2004 and runner-up last year.

Helpful in sorting out matters is the 2008 W-L record of each Big Seven member in head-to-head play against other members of the group, as follows:

Safina, 8-2
Ivanovic, 5-2
Dementieva, 6-5
S. Williams, 3-4
V. Williams, 2-4
Jankovic, 3-7
Kuznetsova, 2-5

Safina's success within the group is persuasive, and in my opinion she should be deemed the favorite to win the Open. I rate Dementieva second-best in her chances, as she won both meetings with Ivanovic and was impressive in defeating Safina in Beijing. The Williamses, with four past U.S. Open crowns between them, looked healthy in their Olympics doubles final, so we place them also ahead of Ana, who was unsuccessful in her only outing since Wimbledon. Here then are the seeming probabilities, expressed as odds for winning the Open:

Safina, odds 3-1
Dementieva, 4-1
S. Williams, 6-1
V. Williams, 8-1
Ivanovic, 10-1
Jankovic, 20-1
Kuznetsova, 30-1
Radwanska, Zvonareva, Azarenka, Chakvetadze, Cornet, each 80-1
all others, 200-1 or longer

Likely to attract special interest are Lindsay Davenport and Amelie Mauresmo--veteran favorites seeking to relive old glory. The contingent from China will probably produce some surprises, along with the host of young players rising from eastern Europe.

PREDICTIONS

The highest-seeded eight players at the Open consist of our Big Seven, above, plus Zvonareva, whose recent results have been strong, though our order of merit differs considerably from the official seedings. Each of the eight indeed should win her way to the quarter-finals, though of course it would be remarkable if all eight actually did so. Shown below are the seeded players in each quarter of the draw, shown in seeded order.

TOP QUARTER

Ivanovic (seeded #1), Safina (#6), Hantuchova, Pennetta, Cornet, Petrova, Razzano, Mauresmo. Amelie Mauresmo, who started with two good wins at New Haven this week, lurks as possible third-round opponent for Ivanovic. Meanwhile Alicia Cornet, who is in Safina's section of this quarter, has been rising of late. Both frontrunners, however, seem likely to withstand the challenges of experience and youth, respectively. In the likely quarter-final match-up, Safina's strong play in recent months along with Ivanovic's stretch of inactivity requires choosing Safina.

SECOND QUARTER

V. Williams (#7), S. Williams (#9), Radwanska, Szavey, Cibulkova, Vaidisova, A. Bondarenko, Sugiyama. Drawing the sisters into the same quarter was unfortunate. Venus won their last official meeting, at Wimbledon 08. Serena's record was slightly better than Venus's last week at the Olympics, however, where Serena played well but, having played a tough three-setter against Cornet, became tired and then lost to the eventual champion. There will be longer opportunities for rest between matches at the Open. Largely guessing, the edge this time will be Serena's.

THIRD QUARTER

Kuznetsova (#3), Dementieva (#5), Chakvetadze, Schnyder, Kirilenko, Peer, Schiavone, Srebotnik. Elena Dementieva's improved serving at the Olympics raises her over her higher-seeded countrywoman, Kuznetsova, whom she defeated in their only meeting this year, at Doha. Both should have too much firepower for any of the others in this quarter. Dementieva.

BOTTOM QUARTER

Jankovic (#2), Zvonareva (#8), Bartoli, Azarenka, Wozniacki, Davenport, Medina Garriguez, Bammer. Davenport withdrew from the singles at Beijing and seems at best likely to pull off only one surprise. Jankovic stands low in our analysis, above, and will be pressed by Zvonareva or Davenport, but must be deemed the favorite here.

FINAL FOUR

Safina beat Serena last spring at Garros, but the edge on New York hard courts could shift toward the American. But for me, Dinara's strong summer performances and Serena's limited success since Wimbledon are amply persuasive. Meanwhile in the other semi-final, Dementieva's slightly superior play at the Olympics--seen in their comparative results against Safina--argue for a close win here for Elena.

Safina and Dementieva have met four times in 2008, including in the final at the Olympics. Safina won the first three. Accordingly, although Elena's win in Beijing was in no way tarnished, the greater evidence argues that usually Dinara will be the winner. Thus the choice here--to capture her first Slam and escape from the large shadow of her older brother--is Safina.

Wimbledon 08 will be hard to beat. I'm predicting that this newest Slam will be almost as splendid.

--Ray Bowers
Arlington, Virginia

The weights used in our calculation are determined by how well various predictor events have correlated in their results with those at U.S. Open, as shown in data over the past eight years. Here are the weights used here for predicting player chances (i.e., score Sc) at U.S. Open 08.

U.S. Open 07, 11.7%
Australian Open 08, 11.1%
Garros 08, 5.1%
Wimbledon 08, 9.7%
Indian Wells, Miami, Canada, Cincinnati, and Olympics 08, each 9.4%
Monte Carlo, Rome, Hamburg 08, each 5.1%

The favorite's (Nadal's) chances for winning the crown is here established by judgment at 50%, or even odds. This value is then used to calibrate the field of calculated Sc values to reach an overall probability of 1.0, thereby determining the odds shown in the text for the other players.



Between The Lines Archives:
1995 - May 1998 | August 1998 - 2003 | 2004 - 2015
If you have not already signed up to receive our free e-mail newsletter Tennis Server INTERACTIVE, you can sign up here. You will receive notification each month of changes at the Tennis Server and news of new columns posted on our site.
This column is copyrighted by Ray Bowers, all rights reserved.
Following interesting military and civilian careers, Ray became a regular competitor in the senior divisions, reaching official rank of #1 in the 75 singles in the Mid-Atlantic Section for 2002. He was boys' tennis coach for four years at Thomas Jefferson High School for Science and Technology, Virginia, where the team three times reached the state Final Four. He was named Washington Post All-Metropolitan Coach of the Year in 2003. He is now researching a history of the early pro tennis wars, working mainly at U.S. Library of Congress. A tentative chapter, which appeared on Tennis Server, won a second-place award from U.S. Tennis Writers Association.
Questions and comments about these columns can be directed to Ray by using this form.
---