Player of Year 2008
by Ray Bowers

Ray Bowers
Justine Henin's retirement from pro tennis early in 2008, soon followed by shoulder trouble afflicting the apparent heir to Justine's crown, Maria Sharapova, led to what became a largely formless year at the top level of women's tennis. Honors were widely distributed, as practically all the leading stars were troubled by injuries at one time or another. Looking at the year's foremost achievements, we find that the nine crowns listed here were divided among eight different women. Only one star captured two of them.
The Slams:

--Australian Open: Maria Sharapova
--Garros: Ana Ivanovic
--Wimbledon: Venus Williams
--U.S. Open: Serena Williams
Year-end #1 ranking:

--Jelen Jankovic
Leading Non-Slams:

--Olympics: Elena Dementieva
--Year-end championships at Doha: Venus Williams
Fed Cup MVP:

--Svetlana Kuznetsova
Won most Tier Ones (3):
--Berlin, Canada, Pan-Pacific: Dinara Safina
The above-listed stars were the eight prime candidates to become our female nominee for Player of the Year 2008. As the list's only double-winner, the tall American Venus Williams, established a narrow initial edge in our deliberations over the others.
Both the dimension and also the manner of Venus's Wimbledon and Doha triumphs spoke strongly. At Wimbledon Venus won all seven of her matches without loss of a set, defeating sister Serena in the final round, while her triumph at year-end Doha came by winning five matches without loss, all over top-eight-ranked opponents. The going was hardly comfortable at Doha, however--four of her five victories were three-setters. Remarkable were Venus's composure and intelligent play, which in every match were at least equal to those of her opponent. Usually both assets were pivotal in the outcome.
All the stars listed above offer additional credentials from secondary achievements--reaching the late rounds in the above tournaments, for example, or winning lesser ones. (Venus's include winning the former Tier One at Zurich in October and also, more significantly in my opinion, pairing with sister Serena in capturing the doubles at both Wimbledon and the Olympics. Both sisters outrank any of our other prime candidates in their 2008 doubles success.) Several candidates exceeded Venus in such second-order achievements, but none by enough to overturn Venus's overall edge, which is strengthened by several intangible, perhaps sentimental aspects.
Back in year 2000, a gangly 20-year-old raised the winner's trophy at Wimbledon, having defeated the world's #1 and #2 players enroute. Since then Venus has captured four more Wimbledons--in all a total of seven Slams counting that first Wimbledon. Tennis people everywhere well know her power, athleticism, and calm determination on court, her good nature off. For those in all corners of the world, Venus Williams exemplifies the modern woman-athlete--courageous, determined, strong under competitive pressure. Her place in tennis history will be large.
For her achievements in 2008 along with the considerations given in the preceding paragraph, my pick as female nominee for Player of the Year is Venus Williams.
Several players outside our elite group made noteworthy achievements during the year. Seemingly the second-strongest player to Venus at year's end was her final-round opponent at Doha, Vera Zvonareva. The year's top teenager was strong-hitting Agnieszka Radwanska, 19, who finished #10 in the 2008 points race. The year's doubles champions, in a class by themselves as a pair, were Cara Black of Zimbabwe and Liezel Huber, now of U.S.
THE MALE CANDIDATES
There are several ways of looking at the magnificence of Rafael Nadal in 2008. It was not his most unbeatable year ever, and indeed he finished the year on the sidelines with persisting leg trouble. But 2008 was the year when, at age 22 and after three years as world #2, Rafa finally overtook the great Roger Federer as world champion. For me and probably for most watchers, the historic transition happened in the final round at Wimbledon--probably the greatest match that most of us could remember, ending in an extended fifth set. In narrowly ending Sir Roger's run of five consecutive Wimbledon crowns, Nadal's triumph strongly suggested, perhaps signified, a lasting change atop men's tennis.
Rafa's long, mid-year run, from about April through August--was a memorable achievement of itself. It began when Rafa as usual dominated the springtime clay season in Europe, winning the principal clay events and then Roland Garros, where he beat Federer in the final by one-sided scores. The next week, Nadal entered and won the grass-court tournament at Queen's. Early July brought the Wimbledon triumph, then in late July came victory at Rogers Cup in Toronto, and finally, after 32 consecutive match victories, there came a loss in the semis at Cincinnati. But soon afterwards there was fresh triumph--at the Olympics, where Rafa reversed his loss in Cincinnati to Djokovic.
Winning in the same year both Garros and Wimbledon--two Slams close in time but utterly different in their playing surfaces--had been the specialty of Bjorn Borg but had since become a rarity. Nadal in 2008 went beyond Borg, adding the Olympics gold while competing on yet a different surface.
Throughout, when healthy, Nadal showed that his pounding brand of tennis, punctuated by spells of the sublime, was unbeatable on clay and nearly so on nonclay surfaces. There can be little doubt that Rafael Nadal is our male nominee for Player of the Year.
Still, it is also clear that Roger Federer has by no means departed. Roger at 27 won U.S. Open and, although weakened by early-year illness and late-year back trouble, finished the year at #2 in the rankings. Meanwhile, rising Novak Djokovic won Australian Open 08 and at age 21 finished the year just an eyelash behind Federer at #3. Andy Murray, the same age as Djokovic, finished #4. Both Djokovic and Murray possess balanced power games that should force the two leaders in every meeting to produce their best tennis.
There were moments in the Davis Cup final-round meeting between Spain and Argentina when it seemed a single hero might emerge, whose surpassing achievement on that weekend alone--winning two singles matches and sharing in the doubles win thereby carrying his nation to a 3-2 team victory--might require serious consideration for our honor. But David Nalbandian lost in the second-day doubles and Feliciano Lopez was denied a chance at winning a deciding fifth rubber, thereby eliminating the possibilities.
Also noteworthy was the success of Dan Nestor and Nenad Zimonjic in winning Wimbledon, winning Masters Cup, and unseating the Bryans as world's doubles champions. The year's top teenager was the tall Argentine player Juan Martin del Potro, who turned 20 in September.
PLAYER OF THE YEAR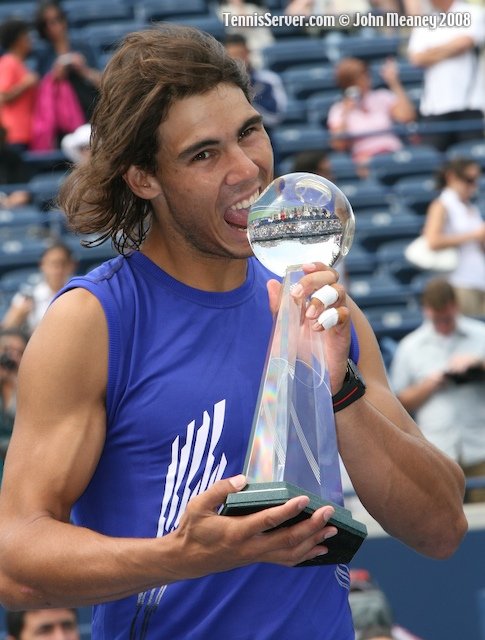 Making the judgment between our two finalists--one male and one female--is seldom easy. In my ten years facing this dilemma, the male has been chosen seven times, always for what seemed compelling reasons. (The three female winners were Venus in 2000, Serena in 2002, and Henin in 2007.)
This time the solution is relatively clear. Year 2008 has been a historic time in men's tennis, but a largely amorphous one in women's. I greatly admire the achievements and long-term contributions of Venus Williams. But there can be little question that the clarity and magnitude of Rafael Nadal's momentous accomplishments of 2008, sketched above, manifestly outweigh the resume of Venus.
We therefore proclaim Rafael Nadal our pro tennis Player of the Year for 2008. Having been similarly honored in 2005, the year of his first Slam, he is the second athlete to have been named more than once. (Federer has won three times.)
TENNIS NATION OF THE YEAR
There are few reservations in choosing Spain our Tennis Nation of the Year for 2008. The wonderful success of Spain's determined warriors in capturing the Davis Cup, especially in their uphill fight without their best player against Argentina in the final round, alone might merit our recognition. Throughout the four Cup engagements that produced the ultimate triumph, several different singles artists contributed meaningfully, while Lopez and Verdasco were fixtures in the doubles. Three of the four enroute victories were as visiting nation, two of them on nonclay surfaces.
Spain's stars were also successful in the year's major tournaments. Nadal won Garros, Wimbledon, and Olympics 08, while Spain's males won more matches than the male contingents of any other nation at Garros, and also at the Masters Series events at Monte Carlo, Italy, Germany, and Madrid. Meanwhile Spain's women were runners-up in Fed Cup, in turn defeating hosts Italy and China on hard courts enroute to a final-round loss to Russia.
Two other nations had noteworthy success during the year. The French males were clearly on the rise, as two young French players finished 2008 in the first ten (Tsonga and Simon) and two others were also in the top thirty (Gasquet and Monfils). None of these youths were used in meaningful matches in France's early-year Davis Cup loss to U.S.A., where veterans Clement and Llodra kept things interesting by defeating the Bryans. Remarkably, the French males outscored every other nation at Australian Open 08 and also at the Masters Series tournaments at Miami and Paris indoors. French teenager Cornet finished the year in the world's first sixteen women. Meanwhile the Russians continued their domination of women's tennis. The Russkayas won Fed Cup 08 along with more matches than the female contingents of any other nation at the Olympics, at all the Tier Ones, and at three of the four Slams. (The U.S. women won the most matches at U.S. Open.)
This is the first time that we have honored Spain in this way. In other years, Russia has been chosen four times, U.S.A. twice.
AHEAD
The pros use the late-year off-season variously--perhaps for rest and recuperation, perhaps for intensive training. Some undergo surgeries previously delayed, others make exhibition appearances. Last year Federer and Sampras played their exhibition series, where Pete pressed Roger closely. Was the series with Pete a factor in the dethroning of Roger in 2008?
The new season in January promises plenty of excitement among the superstars. The pro calendar has been slightly modified, though the Slams and Cups--the foundations of the sport--remain unchanged. We can hope that the competition atop the men's game, flavored by yet another generation of strong teenagers, will equal that of 2008, and that the injuries and retirements that have weakened the women's sport in recent years will abate.
--Ray Bowers
Arlington, Virginia, U.S.A.



Between The Lines Archives:
1995 - May 1998 | August 1998 - 2003 | 2004 - 2015
If you have not already signed up to receive our free e-mail newsletter Tennis Server INTERACTIVE, you can sign up here. You will receive notification each month of changes at the Tennis Server and news of new columns posted on our site.
This column is copyrighted by Ray Bowers, all rights reserved.
Following interesting military and civilian careers, Ray became a regular competitor in the senior divisions, reaching official rank of #1 in the 75 singles in the Mid-Atlantic Section for 2002. He was boys' tennis coach for four years at Thomas Jefferson High School for Science and Technology, Virginia, where the team three times reached the state Final Four. He was named Washington Post All-Metropolitan Coach of the Year in 2003. He is now researching a history of the early pro tennis wars, working mainly at U.S. Library of Congress. A tentative chapter, which appeared on Tennis Server, won a second-place award from U.S. Tennis Writers Association.
Questions and comments about these columns can be directed to Ray by using this form.
---