Report Card, Australia 09
by Ray Bowers

Ray Bowers
Australia 09 was especially memorable on the men's side, occurring in an era where competition among the five or six top male superstars is of highest historic dimension. The final match at Melbourne Park, pitting Federer and Nadal in their first-ever hard-court Slam final, will be long remembered in spite of or perhaps because of its disappointing final moments. Meanwhile the semi-final between Nadal and Verdasco, both in its competitiveness and quality of play, merits a permanent place among the great ones.

The tournament came at a time of formlessness in the results among the top women, following a season where none of the eight or so top female stars was able, in most cases because of injury troubles, to establish clear leadership over the others. Playing very well in winning her last two matches against strong opponents at Melbourne, the tournament's champion, Serena Williams, gave notice that she may be ready once again to grasp megastardom.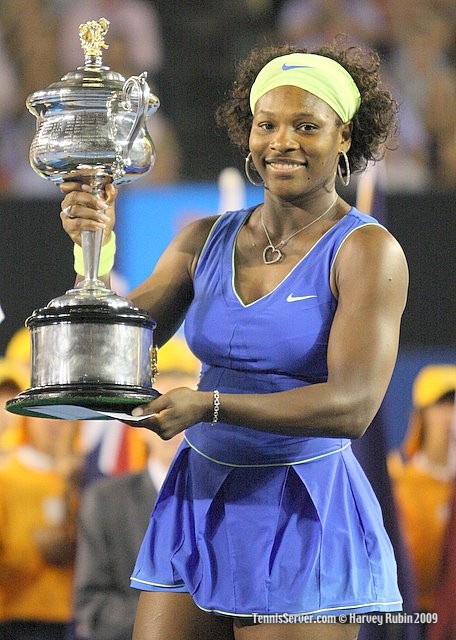 Serena Williams took home the Daphne Akhurst Memorial Cup
with a crushing victory over Safina.

Nadal consoled Federer after an emotionally draining loss.


The heat wave that engulfed Melbourne through much of the period was said to be the hottest on record. Watchers and players were surely miserable, and some matches were hurt by the conditions. But when play was during the evening or when the roofs of the two convertible arenas were closed, the big matches went off well. The television-watching here in America was superlative in quality and satisfying in its quantity.

Clearly the Australian Open remains a marvelous event--a coming together of the tennis as well as the general sporting communities Down Under. The honoring of Australia's tennis history is admirable, as is the reaching to the nation's children, seen in the timing of the tournament just prior to school opening. The wish for home-nation champions is powerful, reflected in the unrestrained crowd support for Jelena Dokic in her return. The magnificent facilities at Melbourne Park are dazzling.

Overall it was a wonderfully satisfying two weeks of tennis -- a strengthening of the Open itself, the Australian tennis tradition, and the sport at large, even as angry exchanges between Serbian and Bosnian rooters spoiled the notion that tennis contributes uniquely among sports to understanding among peoples. We award this year's tournament the letter-grade of A-minus.

GRADING THE STARS

It was hard to remember a Slam that began with more-intriguing possibilities. The men's draw seemed unprecedented in its quality at the top, starting with megastars Nadal and Federer, both of them already assured of historic greatness. Roughly equal with them in their chances to win seemed young Murray and Djokovic, both just 21, who during 2008 had shown unmistakable signs of surpassing the first two. Also on the scene was powerful and athletic Jo-Wilfried Tsonga, finalist sensation at Melbourne Park twelve months before, fifth-seeded now, and seemingly fully recovered from knee surgery several months earlier. Tsonga at his best has seemed all but unbeatable on paved courts. Tsonga and Murray were positioned in the same quarter of the draw, but otherwise it was hard to see how any of the five elites could fail to reach the semis. Only Nadal and Federer would do so, and the two megastars would meet in yet another of their final-round confrontations in a rivalry unparalleled in tennis history.

NADAL AND FEDERER

The first four sets were both fierce and beautiful, both men playing at close to their best, the confrontation inviting comparison with their epic battle at Wimbledon 08. It was their first-ever final-round meeting on hard courts, and the edge shifted back and forth amid countless points of absolute magnificence. Nadal was returning serve from deep, as he had done earlier in the tournament, but otherwise was playing less defensively than against Verdasco, serving with more bite, less willing to allow Federer the unchallenged attack. Nor was Roger inclined to hold back from forcing matters. Rafa won the first and third sets, Roger the second and fourth. It now seemed that the outcome would probably be settled by measure of stamina, where the edge would be Roger's because of Rafa's more-draining semi-final match and his considerably shorter time for recovery.

As the fifth set began there remained plenty of forcefulness in Rafa's serving, which showed more slice than normally--no mere rolling the ball into play, as Rafa had done against Verdasco. Both had made trouble against the other's service games in the previous set, but matters seemed stable--there was no evidence of injury, fatigue, or mental agony that might presage the wreck that would shortly occur.

It came in the fourth game, Roger serving and ahead 30-love, having just blistered a superlative backhand rocket that would leave Nadal standing. Then came an innocent-seeming error, but then a more alarming double-fault for 30-all. Two more backhand errors by Roger followed on high-bouncing Rafa offerings, completing a mini-collapse that gave Rafa the possibly, but not necessarily, critical break of serve.

Players sometimes say that a break of serve is not complete until the leader next holds his own serve, that the best time to redress a service break comes in the very next game. On this date there would be no redress for Roger, only three disappointing errors in the next three points, Rafa serving and ostensibly trying to make Roger hit high backhands. Rafa completed the game soon afterwards and coasted as Roger served successfully to reach score 42, Nadal. But in his next-game bid to break back, Roger contributed four quick errors, surrendering Rafa's serving game at love. Finally, his own mighty first serve missing regularly, Roger unemotionally contributed another batch of errors, giving away the last game and the match. It was a collapse difficult to explain, the recent champion surely in dismay, unable to summon the greatness that had been there so often in the past.

Both men had reached the final round gloriously, neither losing a set except, in both cases, in a single five-setter. Two evenings before the final, Rafael had fought off countryman Verdasco in five magnificent sets, discussed below, while Roger had been taken to five earlier by Berdych, who won the first two sets in their fourth-round meeting. There is thus little problem in assigning the two megastars their letter-grades for their tournament performances. Rafa's brilliance throughout fully justifies the champion's expected grade of A-plus. And Roger's similarly justifies the runner-up's expected grade of A.



Rafael Nadal (top) was victorious over Roger Federer (bottom)
in a memorable Men's final that went five sets.


THE RUN OF VERDASCO

Fernando Verdasco, at age 25 and an athletic 6-2 and 180 pounds, reached #15 in the 2008 rankings and contributed indispensably in Spain's Davis Cup year-end triumph in Argentina. Always known for his potent lefty serve and his forehand of extreme power, improvements in fitness, court mentality, and most other areas had been glimpsed in late 2008 and in the Brisbane and Kooyong tune-ups in Australia. (At Kooyong he stretched Federer to a third-set tiebreaker.)

Now, it was fourth-round at Melbourne Park, the temperature hot but not yet to the extremity that would force roof-closing. Back and forth Verdasco and Murray battled, dominance shifting from one set to the next. Fernando Verdasco seemed the physically stronger, his left-handed serve and forehand the most dangerous weapons on the scene. Andy Murray was the more patient player, willing to accept the defensive for longer stretches, awaiting opportunity to strike. Thus it was that Murray was the one more often forced to sprint into the corners, in doing so expending energy greater than his opponent's in hitting out. Perhaps that was the difference in the fifth set, which might have been won by either player. Murray had been the winner in all five of their previous meetings, indeed had been picked by me to win the tournament. But at the finish on this date it was Verdasco plainly the stronger and more dominating player, able to capitalize on his advantage by his relentless and now relatively error-free pressure.

With the roof now closed and the severe heat thereby moderated, Verdasco again brought his top game that gave few unearned points to his opponent. Jo-Wilfried Tsonga, who had beaten James Blake in a straight-set fourth-rounder, showed that his strong serving and athletic floor play would not be easily neutralized. But after reaching one-set-all, Jo-Wilfried's mistakes turned matters clearly to the Spanish star.

All the assembled assets of Verdasco, old and new, physical and mental, were needed in what became an epic semi-final confrontation with Rafael Nadal under the open roof. Throughout, the dominating shot was Fernando's potent forehand--applied either with strong topspin or flatly, but almost always with full--often extreme--power and aggressively directed. Almost without fail, Fernando grabbed the attack at slightest opportunity, and used his extreme power and excellent court mobility to maximize his forehand asset. His backhand two-hander, delivered mainly flat, also was an attacking weapon. All with remarkable consistency and precision to the corners and sides.

Nadal was also capable of attacking but he did so with greater patience, without the obsessive instincts that drove his opponent. Often, Rafael was kept on the defensive by the fury of Verdasco's blows, but he was scarcely uncomfortable in this role. His position in returning serve 10-12 feet behind baseline, and his willingness to accept the deep-court position during rallies, betold his preference for the defensive. Rafa was, of course, superb in this role, often denying Verdasco the rewards of a magnificent attack by extending points and often reversing matters by ripping hard-to-believe replies. In every set Fernando scored many more winners than Rafa, but he also contributed many more unforced errors, such that the two were about even in their pluralities of winners over errors.

It is difficult to convey the fury of countless rallies, both men committing full energy and skill to the immediate task. The extreme heat earlier in the week had abated somewhat, and as the air cooled upon darkness, the temperature became not a factor. Both men expended large amounts of energy in the many long and harsh exchanges, and both showed tiredness prior to the finish. Verdasco fought off leg cramps at mid-match, but answered by trying to shorten points by raising his level of attacking, which had briefly slackened. This proved successful, and soon there were no longer signs of cramping or indeed of slackened attacking. Nadal's exertions in his defensive effort seemed the more demanding, but Rafa's excellent fitness seemed never challenged.

But as the fifth set drew to its uncertain close, it was Verdasco who finally cracked. Fernando lost his serve in the final, tenth game of the set, by contributing two double-faults. Both double-faults as well as one or two unforced errors in that game appeared related to tiredness. The second double-fault came at match point.

Grading Verdasco for his magnificent run at Melbourne--defeating two of our elites and severely pressing Nadal--is not difficult. We accord Fernando the grade of A, and we also admit him into our elite group as its sixth member. For their good runs prior to losing to Verdasco, Tsonga receives A-minus and Murray B-plus. Both Tsonga and Murray remain among our elites.



Fernando Verdasco (top) bested Jo-Wilfried Tsonga (bottom) before finally
succumbing in an epic match against Nadal.


RODDICK AND DJOKOVIC

The lower half of the draw was almost as stormy. Andy Roddick lost only one set, to Malisse, enroute to his place in the quarter-finals. Novak Djokovic had surprising trouble with Amer Delic and was well pressed by Marcos Baghdatis, both of whom took sets from the tournament's defending champion. The quarter-final meeting of Roddick and Djokovic unfolded under extreme heat --metered on court in excess of 130 degrees F.

Both men held serves behind plenty of heavy artillery to reach tiebreak game ending the first set. Djokovic took the first four points of the tiebreaker, outstriking Andy with aggressive ground strokes close to the lines, forcing Andy deep behind baseine. Djokovic then held his advantage, aided by a fortunate net-cord, to close out the first set.

But as set two unfolded, the younger player began showing discomfort from the extreme heat. Roddick took the set behind a late-set service break, and from then on it was downhill for Djokovic. Andy, who looked trimmer than in recent years, after the match talked of his intensive conditioning effort in December. The Roddick serve and forehand were clearly present on this date, but it was the difference in fitness that made for this Roddick day.



Andy Roddick was victorious over Djokovic before running into a brick wall against Federer.


The roof had been closed for a time but was again open for the Roddick-Federer semi-final Thursday evening. Federer in the first set gave a glimpse of Roger at his greatest. Showing little patience, Roger was quick to pound the corners and sides, grasping the initiative, pressing Andy wide and deep, seldom missing. Andy played reasonably well, showing interest in coming to come to net behind approach-shot opportunities, but on most of those occasions Roger's shot-making and court speed proved too good. Andy fought to five-games-all in sets two and three but to no avail. The overall serving numbers were interesting. Andy's velocities were considerably the greater, but Roger led in aces, 16-8, with no double-faults by Rog. It was hard to remember when Roger's serving and stroking carried better bite and accuracy.

For reaching the semis, one level above his seeded place, Andy gets A-minus. Novak Djokovic receives the grade of B.



Novak Djokovic wilted under the Australian heat in retiring against Roddick.


THE TALL RISERS

The meeting of the two 20-year-olders, both obviously closing on the elites in their careers, came in round four. Both Marin Cilic of Croatia and Juan Martin del Potro of Argentina brought long leverage for their common power-hitting style. Cilic stood at a rangy 6-6, with high shoulders. Del Potro was slightly taller, listed at 6-8. From the outset, both delivered incessant power in serving and stroking, working well to the sides and corners. Both showed excellent ability in moving about the court, answering opponent's offerings. It remained largely a slugging contest throughout, where most points were decided either by unforced error or an unanswerable rocket to the corner following a short shot by opponent. Cilic took set one, but del Potro gradually prevailed, winning in four. Probably the difference was the better in-court percentage of del Potro's first serve.

In his next match Del Potro would not do well against Federer. For the tournament, we assign him the grade of B. Cilic had been unseeded but defeated Tipsarevic in a five-set second-round meeting. Cilic gets B-minus.

Two or three years ago, the rising young star akin to today's Cilic or del Potro was Tomas Berdych, whose forceful serving and stroking along with his tallness resembled the style of tennis of today's wonders. Now seeded #16 at age 23, Tomas took a two-set lead over an off-form Roger Federer behind brilliant attacking, including in his winning a seemingly critical second-set tiebreaker. But after that the unforced-error differential shifted in Roger's favor, and the three-time champion found just enough of his recent greatness to survive against one of Tomas's best performances ever. Tomas receives our B.



Del Potro (top) crumbled under the heat of Federer's game, while Berdych (bottom) fared better,
making Federer come back from a two set deficit.


OTHERS

Three players--Marcos Baghdatis, Gael Monfils, and James Blake--all receive grade of B-minus for winning three matches and showing well in fourth-round matches. Here are more:

--Robredo, Gonzalez. Both won three matches, fulfilling or exceeding seeded status. Both get C-plus.
--Muller. Unseeded, won twice including over seeded Lopez, and extended del Potro. C-plus.
--Sela, Delic, Lu. These three qualifiers each won twice in main draw to earn the grade of C.
--Stepanek, Gasquet, Wawrinka. All won two matches, graded at C.
--Haas, Almagro, Melzer, Ferrer,Safin. All won two matches, graded at C-minus.
--Gulbis, Ljubicic. Both extended seeded players in second-round losses, graded at D-plus.

Players winning only once are generally in the D range. First-round losers are generally not graded except for qualifiers, who receive D-minuses. No player receives F, as there can be no failure in attaining main-draw entry in a Slam.

GRADING THE WOMEN--SERENA WILLIAMS

In contrast to the lustrous men's draw, at the outset the women's talent seemed ordinary. Defending champion Maria Sharapova was absent with long-standing shoulder trouble. Superstars Clijsters and Henin had left the game prematurely a year or so earlier. The winner of the 2008 points race, Jelena Jankovic, had not yet won a Slam, and her Serbian countrywoman Ana Ivanovic, who won Garros 08, had slipped badly in recent months amid injury problems. For me, the obvious favorite for Melbourne was American Venus Williams, 28, who had been at her best of late. Meanwhile sister Serena also commanded wide esteem, having won U.S. Open 08, but since then Serena had scarcely beaten anyone, having appeared infrequently. Four Russian stars completed the upper echelon, including Olympic champion Elena Dementieva, Dinara Safina and Vera Zvonareva, both strong risers in 2008, and Svetlana Kuznetsova.

My prime eight thus consisted of four Russians, two Americans, and two Serbs. Six of them would make the quarter-finals, and the tournament's final four would all come from the group. The tournament's highest achiever would be the tournament winner, Serena Williams, whose game reached its zenith in her final-round demolition of Dinara Safina. It was a one-hour performance seemingly so complete as to suggest the extraordinary grade of A-double-plus.

But our grading policy requires looking at whole-tournament performance. Serena was unimpressive in the early rounds, slow in her reactions, not very focused, seemingly indifferent.

Against Daniela Dulko of Argentina, Serena won the first set but then fell behind in the second. Dulko had multiple set-point opportunities to capture the set, but her accuracy in serving and stroking departed on these occasions. Serena, struggling, managed to keep enough of her big strokes in court to finish off matters. Then in the fourth round, Victoria Azarenka, 19, from Belarus, captured the first set from Serena before retiring with Serena ahead in set two.

There would be yet another, even closer, escape for Serena. She and Svetlana Kuznesova struggled under high Sun and overwhelming heat in a first set marked by ragged play by both players, Svetlana prevailing closely. The roof was then closed because of the extraordinary temperature, and both players emerged refreshed from the 20-minute break. The quality of tennis promptly improved--serving was easier without the difficult Sun, and the speed of the ball was slowed as is typical indoors and as the temperature cooled. Neither player seemed to profit from the changed circumstances, and Kuznetsova, already one set ahead, managed a break of serve to take what seemed a decisive lead, three games to five.

But in serving for the match in game ten, Svetlana failed to connect on a critical volley into open court, and as a result she surrendered her service-break advantage. After that, Serena tightened up her game, greatly reducing her own errors while stepping up her own forcefulness, especially in returning serves. Outgunned narrowly and now without the cushion of excessive errors by Serena, Svetlana bowed out quietly. Upon facing near-defeat, Serena won ten of the last eleven games. It became a turning-point in her tournament play.

When Serena is at her unpredictable best, in my opinion no other woman in tennis can beat her. There was no sign of her recent lassitude In her semi-final victory over Elena Demenieva on Thursday. With the roof closed from the start against the 110-degree outside temperature, Serena moved and stroked with the determination and clean consistency seen on her best days. There were more errors than she probably wished. But the old quickness and power were there, along with the familiar resolve in the long exchanges. Elena Dementieva tried to fight back, a bit demoralized at seeing her best attacking shots returned with apparent ease by Serena. The first set was Serena's.

The second set started wobbly for Dementieva, her first serve departing and two double-faults arising in game one. But she managed to save the 16-point opening game, and then broke Serena with some sizzling serve-returns in set two. But ahead 31, Elena surrendered her advantage, again contributing two double-faults. Serena played well defensively, reaching most of Elena's forcing shots easily, retuning them with only a little less than full power. Often it was Elena the more aggressive hitter, taking the greater risks. There would be many superb points featuring power and movement by both women. But Elena would win only one more game. She surrendered yet another service break, again behind multiple double-faults.

Has one Slam finalist ever dominated her opponent more fully than in the first set of the women's final? Serena, effortlessly brushing aside the strongest offerings by her opponent, Dinara Safina, meanwhile delivered unanswerable firepower of her own, essentially without error, playing as strong a set as I can remember. Then in the second set, Dinara halted her own unraveling and took advantage of Serena's slight relaxation to win several games. But Serena's triumph in under one hour provided one of the most convincing Slam verdicts ever.

Returning attention to Serena's report card, is it correct to downgrade the champion for her early rust? It is not the first time that Serena has found her best game as a tournament unfolded. Probably it is part of her competitive style. But there is no doubt that she was a little lucky at Melbourne. We withhold the champion's usual A-plus. But in the belief that she would probably have found a way, we downgrade Serena only slightly, awarding her the grade of A, mainly for her magnificent finish.

THE RUSSIANS

Russian women were numerically dominant in the late rounds. Safina was the tournament runner-up, Dementieva and Zvonareva reached the semis, Kuznetsova the quarters, Kleybanova and Petrova the round of sixteen. In all but one of these cases, the player equaled or exceeded pre-tournament expectation. All clearly merit good grades here.

Dinara Safina had several dangerous moments in her run to the final round. In her fourth-rounder against Alize Cornet,18, for one set Dinara delivered her greatly superior power to the corners almost entirely without error. But fairly abruptly, the tall Russian then began missing, while the much smaller French player found her own strong game. With Cornet ahead at 5-2 in the third set, things looked bleak for Safina, whose game had descended to its lowest. But seemingly miraculously, Dinara suddenly tightened up her shot-making, cutting out her errors, finding a level of aggression just enough to maintain narrow but unrelenting dominance for the rest of the match.

Temperatures were somewhat cooler for Dinara's evening quarter-final against Jelena Dokic. Amid strong crowd support favoring Dokic, the play was even most of the way, both players attacking fiercely from back court. Safina won the first set, lost the second when she double-faulted four times in losing the deciding game, then won the third amid several untimely Dokic errors in attacking.

Both Safina and her next, semi-final opponent had risen markedly in the rankings in 2008. Dinara was much the larger--a head taller than Vera Zvonareva and listing at 24 pounds heavier. Both threw full effort into their heavy shot-making, where Dinara had the advantage in weight of fire. The points and games were evenly contested, where the ultimate difference was probably Dinara's ability to wield her greater power without an excess of errors. Just as in Serena's win over Dementieva--i.e., in both women's semis-- the winner was the player who lost in the three preceding meetings of the opponents. (So much for relying on the recent head-to-heads in making predictions.)

Safina receives an A-minus here. A-minuses also go to Dementieva and Kuznetsova, Serena's other late-round victims, both of whom performed better than Dinara against the champion. Zvonareva also receives the same grade, recognizing the hard-fought nature of her semi-final loss to Safina following five wins in the tournament, all in straight sets.

Both Petrova and Kleybanova reached the round of sixteen. Petrova receives the more-or-less standard grade of C-plus for doing so, equating to her seed. Alise Kleybanova, seeded #29 at age 19, merits higher recognition, for three reasons. (1) Alise outperformed her seeded level, (2) she upset fifth-seeded Ana Ivanovic, who won Garros last year but after that experienced persistent injury difficulties, and (3) she came close in losing an extended three-setter to Jelena Dokic. Alise strikes firmly and moves reasonably well, but at a listed 154 pounds and height 5-11 appears overweight. Her grade at Melbourne is B.



Darina Safina (top) played tough defeating Zvonareva (bottom),
until her final round thrashing by Serena.


THE SERBS

Less than a year ago It seemed that the departures of Clijsters and Henin might be compensated by the rapid rise of two Serbian stars, Ivanovic and Jankovic. But both fared poorly at Melbourne 09.

The women's fourth round produced the demolition of top-seeded Jelena Jankovic by Marion Bartoli. Bartoli's two-handed deliveries from both sides carried good pace and deceptive direction, regularly leaving the usually athletic Jankovic unready to react. During the first set Jelena's softish serve and strokes created a feast for the French player. Matters tightened in the second set when Jelena stepped up her own pace and aggression, temporarily neutralizing her opponent's dominance. But at four-games-apiece in the second, Jankovic again retreated into caution, losing her serve in an extended ninth game. Bartoli then promptly served out a deserved win.

We give Jankovic the grade of C, reflecting her three early-round wins balancing her helpless response against Bartoli. Bartoli earned her B-plus, hereby awarded. Ivanovic falls between C-minus and D-plus. We grant Ana the C-plus, noting that her conqueror, Kleybanova, proved strong against Dokic in her next outing.

Both Jankovic and Ivanovic were born in Belgrade. Born in the same city only a few years earlier was Jelena Dokic, who moved to Australia with her family as a pre-teen. She twice held year-end ranking in the world's top ten as a teen-ager. After widely reported controversy over the behavior of her father and a several-year estrangement from Australian tennis, Jelena again deems her tennis nationality to be Australian.

Unseeded, Dokic's path to the late rounds was impressive, including wins over current teen-aged sensations Wozniacki and Kleybanova and also over recent top-tenner Chakvetadze before severely pressing Safina, noted above. For her high level of play in nearly reaching the semis, Dokic earns the already crowded grade of A-minus.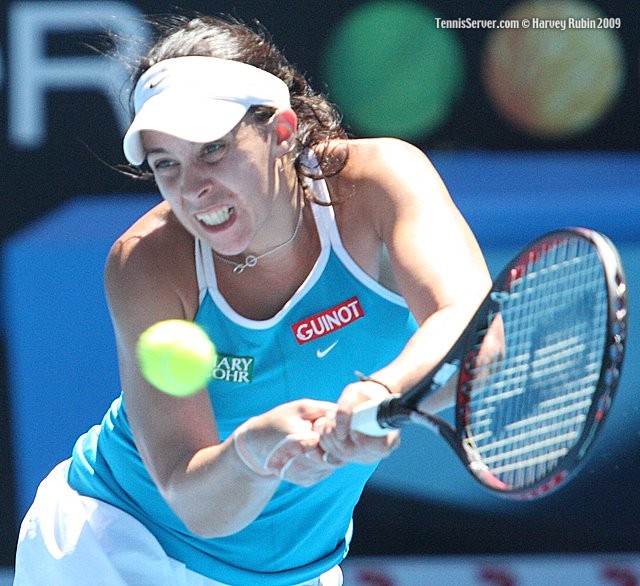 Ana Ivanovic (top) stumbled out early, while Marion Bartoli (middle) took out top seed Jankovic,
and Jelena Dokic (bottom) won over the hearts of Australia in an impressive run.


THE CASE OF VENUS WILLIAMS

Having chosen Venus as my favorite to win the tournament, her loss in the second round to Carla Suarez Navarro seemed incomprehensible. Venus won the first set and then lost the second. When matters then tightened toward the finish, it was Venus's nerves that faltered. Venus briefly held a match point against her opponent's serve. But having survived that moment, Suarez Navarro thereafter played almost flawless tennis, answering Venus's baseline power with crisp and firm hitting of her own, making it hard for Venus to attack and often taking the initiative. An anxious Venus contributed the errors, which became more than occasional in her last serving game. Then, serving for the match at score 65, Carla hit with superb aggressiveness, claiming her victory amid excellent composure and fearless play.

Venus's grade for the tournament is D-plus, raised slightly in view of her scrappy conqueror's success in later reaching the quarter-finals. There, Suarez Navarro would lose to the heavier-hitting Dementieva, who never allowed Carla to find the consistency that had frustrated Venus. For her amazing run at Melbourne, unseeded Suarez Navarro earns B-plus.



Venus took home the doubles championship with sister Serena,
despite a lackluster performance in singles.


OTHER ACHIEVERS

--Victoria Azarenka. Her win over Mauresmo and her fine fourth-round performance against Serena require the grade of B.
--Alize Cornet. Beating Hantuchova and a fine fourth-round performance against Safina also require B.
--Zheng Jie. Three wins and a first-set win before retiring against Kuznetsova bring B-minus.
--Anibel Medina Garriguez. Three wins including over higher-ranked Pennetta call for the grade of C-plus.
--Dominika Cibulkova. Three wins bring a C-plus here.
--Caroline Wozniacki. Two wins and a three-set loss to Dokic bring grade of C.
--Daniela Hantuchova. Two wins and a three-set loss to Cornet bring C.
--Kateryna Bondarenko. Two wins including upset of A. Radwanska bring grade of C.

TENNIS NATIONS

The Russian women, three of whom reached the final four in singles, from the outset led in winning more matches than the female contingent of any other nation.

Russia, 33.5
France, 22
Spain, 18
U.S.A., 18

Matters were closer on the men's side, where France led early but became overtaken by Spain, led by Nadal and Verdasco, and second-place U.S.A., led by the winning doubles pair the Bryans. It was the first time in the nine years of this century that Spain has achieved this distinction.

Spain, 26.5
U.S.A., 23.5
France, 19

Congratulations to all concerned with this glorious tennis event.

--Ray Bowers
Arlington, Virginia

[For more of Harvey Rubin's 2009 Australian Open photography along with Jane Voigt's daily match reports, please see the Tennis Server's 2009 Australian Open Coverage Index.]

APPENDIX -- COMPARING SPEED OF BOUNCE

"Bounce speed" refers to how much a court surface slows down the horizontal velocity of a tennis ball when it bounces. It is generally understood that the Plexipave playing surface at Melbourne Park, and the Rebound Ace used there prior to 2008, provide a slower bounce than the grass at Wimbledon or the Decco-turf at U.S. Open. Thus it was sometimes said that Australian Open provided a neutral surface favoring neither the big servers, net rushers, nor baseliners.

These beliefs can be tested using data from the last four rounds of the men's singles at the various Slams of recent years, including the just-completed Australian Open 09. One indicator of court speed is the percentage of aces. Here are the values for comparison, in total aces per point played.

Australia 09, 7.4%
Australia 08, 7.3%
Australia 06-07, 7.3%
Wimbledon 06-08, 8.9%
U.S. Open 06-08, 7.8%
Garros 06-08, 4.9%

The above values suggest that the change from Rebound Ace to Plexipave increased bounce speed at Melbourne Park only slightly if at all. The data also indicate that Australia is indeed intermediate in its speed of bounce between the fast-court Slams and the clay at Garros. But it has been much more similar to the fast-court venues than to clay.

Other indicators of court speed--percentage of points or games won by servers--give a similar picture, except that the Australian values are close to those at U.S. Open.



Between The Lines Archives:
1995 - May 1998 | August 1998 - 2003 | 2004 - 2015
If you have not already signed up to receive our free e-mail newsletter Tennis Server INTERACTIVE, you can sign up here. You will receive notification each month of changes at the Tennis Server and news of new columns posted on our site.
This column is copyrighted by Ray Bowers, all rights reserved.
Following interesting military and civilian careers, Ray became a regular competitor in the senior divisions, reaching official rank of #1 in the 75 singles in the Mid-Atlantic Section for 2002. He was boys' tennis coach for four years at Thomas Jefferson High School for Science and Technology, Virginia, where the team three times reached the state Final Four. He was named Washington Post All-Metropolitan Coach of the Year in 2003. He is now researching a history of the early pro tennis wars, working mainly at U.S. Library of Congress. A tentative chapter, which appeared on Tennis Server, won a second-place award from U.S. Tennis Writers Association.
Questions and comments about these columns can be directed to Ray by using this form.
---