Unpredictable But Magnificent -- That Time Of Year
by Ray Bowers

Ray Bowers
The triumphs of Roger Federer and Serena Williams at Australian Open placed them well ahead in the early year-to-date standings for 2010. Both leaders lost ground at next two major tournaments -- the March meetings at Indian Wells and Miami. The two events completed the Miami Swing -- the second of 2010's extended sequences, as defined in the scheme used by analyst Charles Friesen of Vancouver, described in my previous column.

Both Indian Wells and Miami were favored with moderately warm spring weather. Aside from some days of high winds at the start at Indian Wells and a day or so of high winds following storms in Miami, playing conditions were close to ideal. As in past years, the hard-surface courts at both sites provided about the same advantage to servers as at U.S. Open. (At Indian Wells the surface is generally deemed to produce a slowish bounce, but the California desert air compensates by retarding the flight of the ball slightly less than elsewhere.) Conditions at both venues generally favor the controlled attacker over a defensive-inclined opponent, certainly more so than on clay, less so than on grass, a progression measurable in historical data.

INDIAN WELLS AND MIAMI -- WOMEN'S SINGLES

The women's field at both Indian Wells and Miami was dimmed by the absence of the previous leader, Serena Williams. An early run of upsets at Indian Wells saw the downfalls of Kuznetsova, Sharapova, Henin, and Clijsters, who together counted a total of 14 past Slam singles crowns. Their places in the tournament's round of 16 were taken by Suarez Navarro, Zheng, Radwanska, and Kleybanova -- a group without a Slam championship and on average nearly three years younger than the aforementioned departees.

Was the turmoil at Indian Wells a sign of a broader changing of the guard -- a transition that had been a year or so in the waiting? The victory of Caroline Wozniacki, 19, over Nadia Petrova in the fourth round and that of Agnieszka Radwanska, 21, over the magnificent veteran Dementieva in the quarters, furthered lowered the average age of the surviving population. Meanwhile the straight-set win by Jelena Jankovic, 25, over the strong Russian 20-year-old Kleybanova was a rare success for the older tennis generation.

Wozniacki and Jankovic met in the Sunday-afternoon final -- two players of similar styles built on movement and patience mixed with moderate attacking. The aggressor and heavier hitter at the outset was Jelena, while the younger star struggled to untrack herself. Jelena won the first four games, but the play then became essentially even, as Caroline indeed found ways of answering with heavier hitting of her own. Jankovic stayed relentlessly in command in her own serving games, however, closing out matters impressively.


[6] Jelena Jankovic (SRB) [left] d [2] Caroline Wozniacki (DEN) 62 64 in the Indian Wells final.
The cast next moved to Miami, now joined by Venus Williams. The picture here reversed, so that it was the established superstars who moved successfully through the early rounds. Henin beat Wozniacki and Clijsters beat Azarenka in mid-round play, setting the stage for an all-Belgian semi-final. Clijsters defeated Henin closely in that up-and-down affair, mildly surprising those who had overweighted Justine's vastly better earlier showing in Melbourne. Clijsters then, playing crisply and unerringly, overcame Venus by overwhelming margin in their Saturday-afternoon final.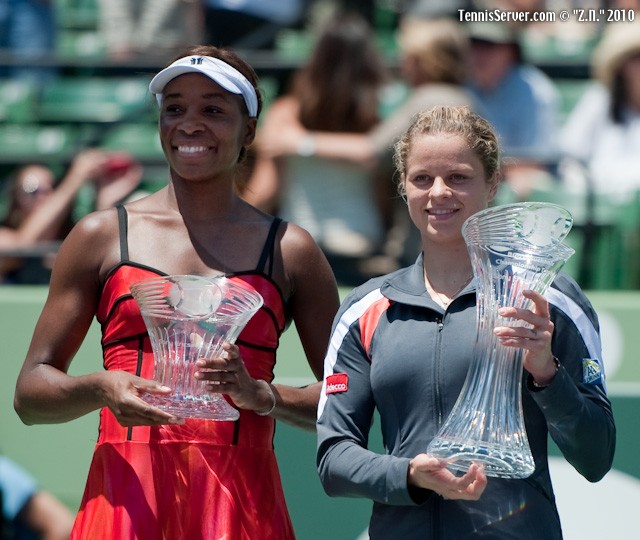 [14] Kim Clijsters (BEL) [right] d [3] Venus Williams (USA) 62 61 in the Miami final.
The events in Miami left Serena still #1 in the rolling-12-month rankings but now #2 in the year-to-date race, surpassed by sister Venus, who acquired 700 ranking points for being runner-up in Miami. Here were the new standings for year 2010:

Venus Williams, 2,380
Serena Williams, 2,320
Justine Henin, 2,100

MEN'S SINGLES -- THE END OF THE BIG SIX

In past seasons we have often watched Roger Federer emerge the winner in a seemingly close match -- whether by his own stepping up of matters for a few critical moments or by his opponent's contributing a momentary fade. Indeed for much of Roger's recent third-rounder against Marcos Baghdatis at Indian Wells, Roger's old magic seemed tantalizingly close. Marcos, playing at top form, kept matters close throughout and shared in many brilliantly played points with the master. But Roger took the first set and held match points in both the second and third. Too often, however, Roger's familiar forcing forehands refused to bite into the desert air and dip downward onto a line. Or sometimes it was Roger's first serve that would not perform as intended. Meanwhile Marcos showed his best court mobility and stroking power, and at the finish it was the pleasant Cypriot who closed out the victory with two strong serving points.

Rafael Nadal meanwhile showed no sign of the knee/leg trouble that had caused his withdrawal in Australia. Rafa now scored comfortable wins over two European opponents, and then overcame tall John Isner in three sets and a recently surging Tomas Berdych in two. Rafa's mobility seemed as good as ever, and his forceful rallying once again found its familiar effect. Andy Murray too advanced steadily in the early rounds, but in the quarters Murray encountered a sizzling Robin Soderling, whose serving and stroking rocketry found the corners and lines seemingly unerringly. The Swede became nervous toward the finish and almost allowed Murray to equalize, but Andy could not quite grasp his opportunity.

The Big Six who finished atop the 2009 men's standings had performed well at Australian Open, but at Indian Wells Davydenko withdrew with an injured wrist, del Potro was absent, nursing wrist trouble, and Djokovic survived two three-setters but then lost to Ljubicic. Thus the departures of Federer and Murray meant that only Rafa among the Six reached the tournament's final four.

Both semis at Indian Wells were gritty, well-contested affairs. In defeating Nadal, Ivan Ljubicic displayed his elegant, power game, approaching perfection as the match lengthened, especially in a third-set tiebreaker that he wholly dominated. The Ljubicic backhand seemed as solid as any in tennis today. Then in another three-setter, Andy Roddick showed no trace of recent leg and shoulder troubles in matching Robin Soderling in baseline weight of shot and in defending well against Robin's rockets to the sides. With both men disciplined in their attacking, matters were decided mainly by unforced errors. Roddick prevailed, clearly the fresher player at the finish.

The Sunday-afternoon final thus showcased Roddick and Ljubicic, who had just turned age 31. Neither man could break the other's serve through two full sets, both ripping away with controlled aggression. Ljubicic played extremely well in both tiebreakers except for a brief fade just before the finish. Ivan's final-round triumph added another surprising outcome to those seen throughout the fortnight.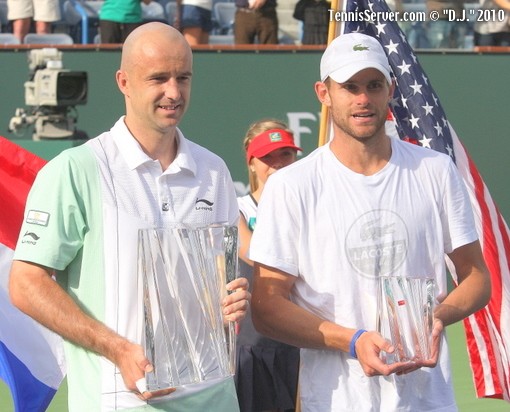 [20] Ivan Ljubicic (CRO) [left] d [7] Andy Roddick (USA) 76(3) 76(5) in the Indian Wells final.
The recent Big Six were even faster depleted at Miami. About a year ago both Andy Murray and Novak Djokovic had seemed ready to dethrone Federer and Nadal, but now both lost their first matches in Miami -- Murray to a hard-hitting Mardy Fish and Djokovic to hustling Olivier Rochus. Federer stumbled in his third match, losing to Berdych after holding a match point. Roger sometimes played with sublime perfection but just as often contributed hard-to-understand errors. With Davydenko and del Potro still sidelined, only Nadal of the Six successfully reached the final eight. (Ljubicic, winner the week before at Indian Wells, withdrew from his first match with back trouble.)

Andy Roddick then knocked out Nadal, coming from behind with some fine attacking play, while in the other semi Tomas Berdych continued his fine run, outslugging Soderling. In the final on Easter Sunday, both men drove firmly from back court, Berdych somewhat more forcefully than Roddick. But Andy never lost his serve throughout the day, while Tomas faltered once in each set, in both cases losing games when his first serve failed to behave. Throughout, Roddick's sliced backhands seemed effective in an unusual way -- i.e., Tomas adjusted well to the severe backspin, but when Andy returned to overspin, Tomas often adjusted poorly, sailing early forehands over the baseline.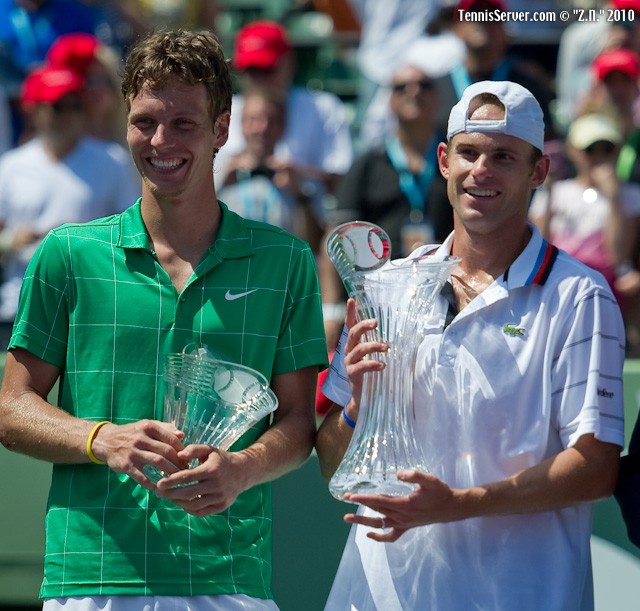 [6] Andy Roddick (USA) [right] d [16] Tomas Berdych (CZE) 75 64 in the Miami final.
With Miami Swing now completed, Roger Federer still led in the rolling-12-month rankings, but the excellent results by Andy Roddick at Indian Wells and Miami now lifted the American ahead of Roger in the year-to-date race. Here were the leaders for 2010 to date (as compiled here):


Andy Roddick, 2,450 ranking points
Roger Federer, 2,225
Marin Cilic, 1,450

The events at Indian Wells and Miami showed that the Big Six has become a thing of the past. Could it be that the notion of a Big Two -- Federer and Nadal -- is also obsolete? Probably not, as the now-starting clay-court season should give new life to the concept.

THE CLAY TRANSITION

April is the time of the tennis year's first great transition -- the change from indoor and outdoor hard courts to the soft clay surfaces primarily of continental Europe. The extreme servers, whose rocketry had full effect on the fast-bouncing courts mainly seen for past months, will see their edge diminish against the modern dirt-ballers, whose strengths are primarily in the severity of their ground strokes, their patience in stroking, their high mobility.

The contrasting strengths of the sport's two megastars of recent years -- Federer and Nadal -- directly track to the opposite court types. Roger's superior first and second serves, his superiority at net, and his singular, penetrating power ground strokes all brand him the classic modern hard-courter. Meanwhile Rafa's relentless overspin in stroking, his superb court mobility, and his ability in counter-stroking from positions of disadvantage, are all marks of the top clay-courter. But what is especially remarkable is that along with their perfection each in his own realm, the two modern greats have also been the world's two best -- together best and second-best -- on both clay and nonclay surfaces.

The two stand as the clear leaders in any prediction scheme for clay season 2010. For four consecutive years, 2005-2008, Rafael Nadal was unquestionably the world"s best player on clay. Rafa captured the French Open at Garros in all four years, while Roger Federer was the Garros runner-up in the last three years of Rafa's dominance. Last year, 2009, was a time of knee/leg anxieties for Nadal. He won the early clay tournaments at Barcelona, Monte Carlo, and Rome, but Roger turned matters around in late spring, winning their final-round meeting in Madrid and then capturing Garros, where Rafa lost closely to Soderling in the fourth round. Roger would beat Soderlng in the final round.

The forthcoming Garros Swing will consist of seven weeks of clay events, mainly in Europe, ending at the two-week French Open at Garros, starting 23 May. The Garros winner will receive 2,000 ranking points -- double the winner's award at each of the Monte Carlo, Rome, and Madrid Masters-1,000's. The year's overall clay-court champion will probably emerge, although several other clay events will carry over into the summer, including German Open in July, worth 500 points to the winner.

Will the year's overall clay crown go to Federer, Nadal, or indeed to some other candidate?

Listed next are the foremost contenders, shown in order of their odds, as estimated here, for emerging as top clay-court point-gatherer for 2010. (Also shown are clay-court points earned in 2009 and points acquired in the recent two-month-long Miami Swing, mainly on hard courts. The sum of the two values roughly align with the player's odds.)


--1. Rafael Nadal. 2009 clay points, 3,430; 2010 Miami Swing points, 720. Nadal's magnificent clay-court run that ended amid knee trouble last spring amply justifies his top place here, though Rafa has not won a tournament since. Odds, even.

--2. Roger Federer. 09 clay, 3,450; Miami Swing points, 135. Close losses at Indian Wells and Miami 2010 only slightly devalue here his fine clay record in recent years and his aura as defending Garros champion. Odds, 3-1.

--3. Robin Soderling. 09 clay, 1,765; Miami Swing points, 1,345. Defeated Nadal to end Rafa's streak last spring and was finalist at Garros. Consistently strong performances since then. Odds, 30-1.

--4. Novak Djokovic. 09 clay, 1,910; Miami Swing points, 850. Scored well in clay Masters Series events last year. Good mover and fine power. Odds, 35-1.

--5. Fernando Gonzalez. 09 clay, 1,510; Miami Swing points, 439. Good mover and fine power. Has tempered his bashing game with patience. Odds, 40-1.

--6. Juan Martin del Potro. 09 clay, 1,340; Miami Swing points, 0. His return from injury is expected soon. He reached the semis at Madrid and Garros last year at age 20. Odds, 45-1.

--7. Fernando Verdasco. 09 clay, 895; Miami Swing points, 745. Tends regularly to reach the quarter-finals in big events. Odds, 50-1.

--8. Andy Murray. 09 clay, 910; Miami Swing points, 225. Has mobility, patience, big-time power. Odds, 55-1.

--9. Andy Roddick. 09 clay 360; Miami Swing points, 1,840. Relentless ground game of late argues for better success on clay than in the past. Odds, 65-1.

--10-12. David Ferrer, Marin Cilic, Ivan Ljubicic. Odds, each 75-1.

--14-17. Tommy Robredo, Juan Monaco, Juan Carlos Ferrero, Nicolas Almagro, Tomas Berdych. All but Tomas from clay-court nations. Odds, each 100-1.

--18+. all others. Odds, 200-1 or longer.

WOMEN'S ODDS FOR CLAY

Which female star will become 2010's top clay-court point-gatherer?

The top candidate is Justine Henin, whose career resume shows four Garros crowns. Kim Clijsters, having been runner-up there twice and having defeated Justine recently at Miami, comes next. The Williams sisters, whose power games are blunted on clay, are farther back. Serena's chances are dimmed by her recurrent knee trouble and Venus's by her historic low achievement at Garros and her poor showing in the final at Miami. Last year's Garros winner, Kuznetsova, has shown disappointing results of late along with signs of shoulder trouble. Meanwhile the player who otherwise dominated last year's clay circuit, Dinara Safina, has been sidelined with back trouble but would become a factor if healed by early May. Here are the estimated odds:


Justine Henin, 3-1
Kim Clijsters, 6-1
Serena Williams, 10-1
Caroline Wozniacki, 12-1
Jelena Jankovic, 14-1
Victoria Azarenka, 16-1
Svetlana Kuznetsova, 18-1
Dinara Safina, Elena Dementieva, each 20-1
Venus Williams, 40-1
Marion Bartoli, Agnieszka Radwanska, Samantha Stosur, each 50-1
all others, 75-1 or longer


The forthcoming women's clay schedule includes the Premier Mandatory tournament in Madrid, the Premier-5 in Rome, Premier tournaments in Charleston, Stuttgart, and Warsaw, plus several lower-paying events, ending at Roland Garros. There will also be several European clay events in July.

A NICE TWIST IN DOUBLES

Decades ago, prior to Open Tennis, the amateur stars of world tennis usually were sponsored by their national tennis associations. Players were expected to play in both singles and doubles at tournaments, and most doubles teams were same-nation pairs, where the national associations typically determined the partnerships. The prestige of Davis Cup helped in encouraging same-nation doubles pairings in both Cup and tournament play.

Today, decades later, even as the top singles and doubles artists in men's tennis have largely become two separate populations, few of the top doubles teams are same-nation pairs. It was thus a pleasant surprise to see that the main-draw list for the men's doubles at Indian Wells showed not only a good representation from the higher singles ranks but also a strong proportion of same-nation pairings. Of the eight seeded pairs (i.e., the current leaders in the doubles rankings), only two were same-nation pairs. But of the other, unseeded 24 pairs, 15 of them were same-nation pairings. It would have been 16 except that Almagro-Robredo withdrew prior to first match. Meanwhile of the top-seeded 16 players in singles, 12 also played in the doubles, all of them with same-nation partners. It resembled a doubles line-up for the Olympics.

Nearly all the unseeded, same-nation pairs at Indian Wells departed in the first two rounds. But the tournament champions were Spain's Rafael Nadal and Marc Lopez, an unseeded pair who defeated top-seeded Nestor-Zimonjic in the final. The unseeded all-American pair Isner-Querrey reached the semis. (The American brothers Bryan, second-seeded, lost in the first round to the two-nation, Czech-German pair Berdych-Kohlschreiber.)

The remarkable entry list and pairings cannot have happened by accident, so it seems that the Indian Wells tournament directorship is to be lauded. The player who led in matches won at the event (singles wins plus one-half doubles wins) was Rafael Nadal with 4 singles and 2.5 doubles credits (5 doubles wins), just ahead of Ljubicic's 6 wins in singles.

We use the same formula in tallying match wins by nation at each tournament. The Spanish males came out ahead at both Indian Wells and Miami, outscoring last year's leading nation at both events, U.S.A. The Russian females led the way at both events, as they had for the preceding three years. Australia was second at Indian Wells, Belgium a close second behind the Russkayas at Miami.

Attracting singles artists into the doubles, especially in same-nation pairings, as at Indian Wells 2010 though less so at Miami, should in time raise the level of and the general appeal of the pro doubles game.

Offered as an appendix to this column is the following discussion of recent Davis Cup action.

--Ray Bowers
Arlington, Virginia

APPENDIX -- DAVIS CUP FIRST ROUND, 5-7 MARCH

Early March brought first-round Davis Cup play for the 16 nations of World Group 2010. The favored nations generally came through safely, except that an unexpected outcome unfolded on an indoor, hard court in Stockholm.

Tennis nation Sweden is now a decade or so beyond its glory Davis Cup years -- the times of Wilander, Edberg, and the other successors of Borg. But with seven Davis Cup crowns, Sweden still leads all other nations aside from the classic Four (U.S.A., Australia, France, and Britain).

Several aspects came together this winter, all pointing to likely first-round success for the Swedes against visiting team Argentina. One was the recent play of the Swedish #1, heavy-hitting Robin Soderling, 6-3 at age 25. Another was Sweden's host-nation edge in choosing a fast, indoor surface on which to host the clay-court-oriented visitors. Finally, the Argentine line-up was badly depleted by the absences of stars del Potro and Monaco, while veteran David Nalbandian, 28, had only lately returned from the sidelines, having undergone hip surgery last May, and was not expected to play singles..

As expected, Soderling won his two singles matches, indeed without losing a set. But the hosts were otherwise unable to find a third point to close their victory. Leonardo Mayer, 22, took a first-day singles for Argentina, and Nalbandian joined with Zeballos to produce the doubles point. Then with matters tied at two wins each, Nalbandian replaced Schwank for the final singles match, where he indeed defeated Vinciguerra. It was the only meeting of the weekend where the verdict depended on a fifth rubber. Argentina 3, Sweden 2.

Meanwhile in Belgrade, the tall Americans made things difficult for their hosts. Seen here via Tennis Channel, John Isner unleashed his expected quota of aces, but at height 6-9 John seemed uncomfortable in his footwork on the indoor clay surface. His opponent, Viktor Troicki, displayed his usual style -- patient, moderately paced deliveries to the sides, mixed with occasional strong attacking -- winning in four close sets. Then Sam Querrey showed his own brand of baseline firepower, winning one set and nearly another, but the slight edge of Djokovic in both stroking and movement provided a sufficient margin. Thus when the red dirt settled that first evening, Serbia held a two-match lead.

On the second day, Isner joined with Bob Bryan in the doubles. (Mike Bryan was ill.) John was quite effective, his movement on clay being less critical in doubles, and was essentially the difference in the American four-set victory. John also competed well in his third-day singles, extending matters to a fifth set, which was settled by the margin of a single service break, where Djokovic's excellent court coverage and powerful counter-punching overbalanced the American's superior serving and corollary attacking. It was Serbia 3, U.S. 1. (Querrey then won the final match, beating Troicki, but the team outcome had been already settled.)

Meanwhile, favored Spain closed out visiting Switzerland (without Federer) behind two wins by Ferrer, while Chile defeated visiting Israel behind two wins by Gonzalez. The latter matches were played at Coquimba, well north of the earthquake-devastated zone in Chile. One other player scored two meaningful singles wins during the weekend -- Youzhny, in Russia's win over India. The five double-winners in meaningful singles -- Djokovic, Soderling, Ferrer, Gonzalez, and Youzhny -- each earned 80 points for possible inclusion in their individual ranking scorecards.

Davis Cup play resumes in early July for the eight surviving nations. Meantime Fed Cup women's final-four action on 24-25 April will pit Russia against U.S.A. in Birmingham on indoor hard court, and Italy against Czech Republic in Rome on outdoor clay. The general speculation in America as to the possible U.S. lineup argues that Fed Cup is much alive here. There will also be several interesting meetings at other locations on the same dates to decide promotion or relegation among the world groups.



Between The Lines Archives:
1995 - May 1998 | August 1998 - 2003 | 2004 - 2015
If you have not already signed up to receive our free e-mail newsletter Tennis Server INTERACTIVE, you can sign up here. You will receive notification each month of changes at the Tennis Server and news of new columns posted on our site.
This column is copyrighted by Ray Bowers, all rights reserved.
Following interesting military and civilian careers, Ray became a regular competitor in the senior divisions, reaching official rank of #1 in the 75 singles in the Mid-Atlantic Section for 2002. He was boys' tennis coach for four years at Thomas Jefferson High School for Science and Technology, Virginia, where the team three times reached the state Final Four. He was named Washington Post All-Metropolitan Coach of the Year in 2003. He is now researching a history of the early pro tennis wars, working mainly at U.S. Library of Congress. A tentative chapter, which appeared on Tennis Server, won a second-place award from U.S. Tennis Writers Association.
Questions and comments about these columns can be directed to Ray by using this form.
---