The Blue-Diamond Path To Glory
by Ray Bowers

Ray Bowers
Hundreds, indeed thousands of young people worldwide invest their years of youth in bids for fame and fortune in pro tennis. Those few aspirants who rise to greatness are the most talented and determined -- the ones who have climbed the ladder by winning at the successive levels of the game. The odds are harsh, even for the high achievers.

As they reach the late teen years, the serious contenders have been reduced by disappointment or injury to several hundred worldwide. These survivors compete in ITF men's and women's futures and ATP Challenger tournaments, where results determine positions in the ATP and WTA ranking schemes. Progress opens the way to significant prize moneys and entry into main-tour qualifying events.

Here, we first examine the early career tracks of recent elite players -- those who have already succeeded in reaching very high world ranking. We hope to learn how player success as a teenager has historically correlated with high achievement as a mature player.

The Blue-Diamond Line




Turning to the diagram shown above, we look first at the upper curve -- the blue-diamond line -- which presents a composite career track of the thirteen male players who have since early 1999 attained a career-high ATP rank of #1. Among those included in our thirteen-player blue-diamond population are Sampras and Agassi from a decade ago, Hewitt and Roddick from later, and current superstars Nadal, Federer, and Djokovic. Each blue-diamond data point represents the median (middle) world rank among our thirteen subjects when each was at the given chronological age.

That our top elites were fast risers as teenagers is dramatically seen. The fastest early riser was Andre Agassi, who at age 18 1/2 held ranking #4. Indeed Andre was the only member of our thirteen who was ranked in the first ten at that age. Note that this ranking measured Andre's performance over the full year starting at age 17 1/2 -- i.e., an astonishingly young age for a male to reach this level. Other very early risers were Nadal, Hewitt, and Sampras, all of whom were in the world's first ten at age 19 1/2. Meanwhile the latest bloomers of our thirteen future #1's were Pat Rafter and Gustavo Kuerten, who reached the first ten only by their 25th and 23nd birthdays, respectively. The players whose early career tracks were closest to the values shown on the chart -- i.e., closest to the group's medians -- were Marat Safin, Roger Federer, and Novak Djokovic.

But the variations from the median are less significant than the overall picture, which shows rapid and steady improvement throughout the late teen years. Rise was especially steep in the 12 months either side of the 19th birthday. A majority of our thirteen blue diamonds were ranked #100 or better on their 19th birthday and #14 or better on their 20th. The 21st birthday too was a noteworthy benchmark, as except for Pat Rafter, whose tenure at #1 was the briefest of our thirteen, all future #1 players had attained at least #14 at that point.

The Light-Blue-Squares Line

Also plotted is the light-blue-squares line, which shows the median career tracks of twenty-seven players who attained best career rank of #8 but never reached #1. Examples are earlier stars Henman and Philippoussis, later performers Robredo, Blake, and Ljubicic, and current players Murray and Berdych.

At all ages of development, the median rank of the blue-square players ranked behind that of our first group, and by a fairly consistent margin -- there is no place where the two groups abruptly diverge. As among the blue-diamond players, the 21st birthday seems to be a critical point among the blue squares, where the rate of rise levels off. If players have not yet attained ranking around #40 by that age, their chances of attaining the first eight appear greatly diminished.

Our main interest here is in the teenaged years and just after. As to the middle and later years, our diagram provides only a little of interest. We note that after about age 22 those players who have attained or are destined to attain #1 -- the blue diamonds -- tend to stay close to very high level for more than a few years. Meanwhile the blue-square individuals reside at the #8 rank or better less lastingly, as the median rank of that population persists at only around #20-25. Then at and above age 27 the curves turn clearly downward, and our two populations become indistinguishable in our plots.

WATCHING THE CURRENT RISERS

We now apply our scheme in evaluating the game's current crop of risers and what might lie ahead for them.

Listed below are seven of today's most promising young players, taken from our watch lists printed here at intervals last year. They are discussed here in the order of likelihood of attaining elite ranking, as suggested by their current positions on our blue-lines diagram.

1. Bernard Tomic

Bernard entered the top hundred last summer after reaching the final eight at Wimbledon. Turning age 19 last October, he is now ranked #37, so that his current place on our diagram is very nearly on the blue-diamond line. Bernard thus announces serious candidacy for future #1 ranking and highly likely early candidacy for at least #8. The Aussie's arsenal of skills is almost unlimited, and he is able to defeat most opponents without tapping his big-game ability. He scored three wins at Australian Open 2012, two of them five-setters, showing good competitive ability under pressure. Last April when he was ranked #75, we predicted a target ranking of #53 one year hence. Now at #37, Tomic is well ahead of our prognosis.

2. Milos Raonic

Back in December 2010 the tall Canadian Milos Raonic, then aged 20, held world ranking #156 -- a praiseworthy standing, but well below our blue-square track. But his success in tournaments of early 2011, and especially his extreme power in serving and stroking, made clear his readiness for early elite status. Shoulder problems, however, halted his climb. He returned from surgery to limited success late in 2011. Then came the tournament championship at Chennai 2012, two match wins at Australian Open, another crown at San Jose, and a runner-up finish at Memphis.

Raonic's serving prowess is equal to Isner's, but his all-court tactical ability has not yet matured. Youth is on his side, however. Having turned 21 in December 2011 and now at world ranking of #24, Milos thus plots about half-way between the blue-diamond and blue-square curves. Accordingly his candidacy for attaining at least rank #8 seems excellent, and, considering the interruption in his development last year, his candidacy for attaining #1, while somewhat low by use of our diagram, cannot be ruled out.

3. Kei Nishikori

Born in Japan and largely trained in U.S.A., Nishikori entered the top hundred in 2008 on winning the tournament in Delray Beach and winning three main-draw matches at U.S. Open. Currently ranked #17 at age 22, he resides in the zone between the blue curves, in recent months having closed slightly his margin beneath the blue-diamond line. Attainment of the #13 ranking by end-of-2012, as projected in an earlier column here, and an eventual ranking of #8 or higher seem reasonably likely, and eventual attainment of #1 ranking remains plausible.

4. Alex Dolgopolov

At a slender 6-0, Alex is both extremely fast and a strong hitter. His rank upon reaching the 21st-birthday in late 2009 was only #132, well below our curves, but he then blossomed upward, attaining rank #13 at age 23 in early January this year. He then slid to his present level of #20, however, losing a five-setter to Bernard Tomic in the third round at Australian Open 2012 and attaining little success since then. A year older than Nishikori and having slipped behind Kei in the rankings, Alex remains perilously close to dropping below the blue-squares curve, suggesting diminishing prospects for reaching #8 or better.

5. Ryan Harrison

American Ryan Harrison, age 19 3/4 at a career-high rank of #65, remains inside the zone between the blue lines, having paralleled the slope of our curves during the past twelve months. Ryan was hurt by an unlucky draw at Australian Open 2012, where he faced Andy Murray in the first round. He then recovered, however, scoring three wins in reaching the semis at San Jose and then winning one match to reach the final sixteen at Memphis. A strong performance in March at Indian Wells, where he reached the final 16 last year, would accelerate his upward momentum. Eventually attaining world ranking #8 or better remains possible, indeed likely.

6. Jack Sock

This Nebraska youth, age 19 1/2, is currently at ranking #303 and thus somewhat below our blue-squares line. He was prominent on our December 2011 new list of risers, but his climb slowed in early 2012 upon first-round losses to fellow American risers Harrison and Kudla in main-tour action. Our December 2011 projection of ranking #124 at year's end 2012 will require improved success in Challenger events pointing toward late-year opportunities in main-tour qualifiers.

THE FEMALE BLUE-LINERS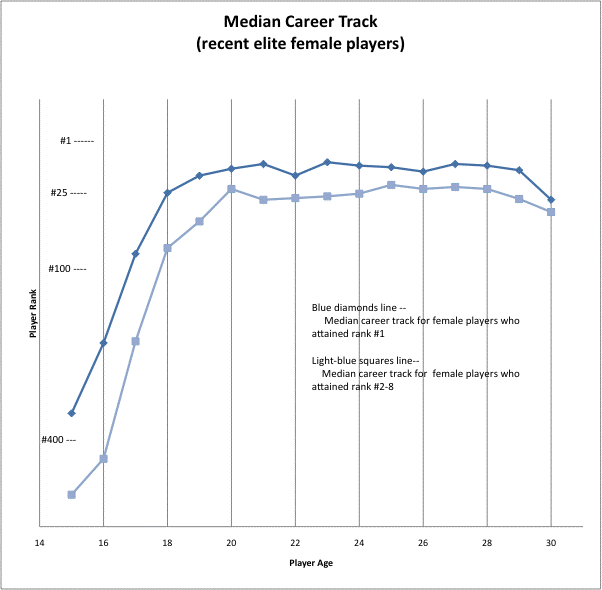 We obtain a similar diagram showing the median career track for female elite players (above chart). Our sample population consists of fourteen women who attained #1 rank (blue diamonds) and nineteen whose career-best rank was #2-8 (blue squares). The blue-diamond players range from Hingis and Davenport of earlier times through current stars Wozniacki and Azarenka.

Our female-player diagram resembles the male in its general features, except that the maturation of the top female athletes is earlier. For example, at every age in age-range 17-20, the female future elites, whether blue-diamond or blue-square, held considerably better rankings than the same-age males. Also, the blue lines bend toward the horizontal at about age 19-20 for the females compared with age 21-22 for the males.

WATCHING THE CURRENT RISERS, FEMALE

Of the female players on our watch lists named during 2011, only one is currently positioned above the blue-diamond line on our diagram. Petra Kvitova thus heads our following list of rising stars, most of them under age 22 and either above or close to the blue-squares line.

1. Petra Kvitova

We named Petra Kvitova among our likely risers last April when she was ranked #19 at age 21. Now, nearly a year later, having won Wimbledon 2011, she is #3 in the rankings at just under 22.

Kvitiva's place above our blue-diamond line -- #3 at age 22 -- is slightly deceptive, as our historical curve shows a discontinuity, bending sharply downward, at that very age. If the aberrant value is excluded, the curve would show median rank at age 22 of about #4-5. Kvitova's place would remain above the curve.

Left-handed, tall, and powerful, Petra has played four critical matches in 2012 to date. She lost three-set semi-finals to Na Li in the Sydney tune-up and to Maria Shararpova at Australian Open. She then won three-setters in Fed Cup action against strong German players Goerges and Lisicki, continuing her past pattern of Fed Cup greatness. She has slipped backward from a brief spell at official rank #2, as Fed Cup achievement carries no WTA points. But having lost early at Indian Wells and not played at Miami last year, she has no points to defend from these events and therefore is well positioned to move upward soon.

2. Sabine Lisicki

Hard-serving, hard-stroking German star Sabine Lisicki is now ranked at a career-high #13. Severe problems with ankle injuries reversed her climb in 2010, but she returned to earlier heights last year. She appeared on our watch list last August when she was ranked #21 with a target rank of #7 one year hence. Her subsequent climb has been uneven, aided by round-of-sixteen finishes at U.S. Open 2011 and Australian Open 2012. Now at #13 at age 22 1/2, she plots in the realm between the blue lines.

3. Christina McHale

McHale at rank #34 and just under age 20 is the world's top-ranked teenager, having reached the round of 32 at both U.S. Open 2011 and Australian Open 2012. She joined Serena Williams in sweeping the singles for U.S.A. in January 2012 Fed Cup action against a Belarus line-up lacking Azarenka. A strong right-hander from New Jersey, she appears to be closing on, although she is still below, the blue-square curve. She is close to the bubble for obtaining seeded status at the forthcoming tournaments in Indian Wells and Miami, which would help her considerably in reaching the middle rounds.

4. Mona Barthel

Strongly improved results lifted Mona from #208 at end-of-2010 to #67 one year later, attracting relatively little notice amid the several other strong German players recently on the scene. Now at age 21 1/2 and height 6-1, she began 2012 by capturing the tournament at Hobart, winning three qualifying-round matches and then five more in the main draw. She won twice at Australian Open before losing to eventual champion Azarenka, and she continued her winning ways at Paris Indoors, winning the qualifiers and then two main-draw matches. Her current rank is #37, improving, though she is still moderately below the blue-squares curve.

5. Sloane Stephens

A year younger than McHale is fellow American Sloane Stephens,5-7 now at #89 in the rankings and comparably with Christina below the blue-squares curve. Sloane penetrated the world top hundred after U.S. Open 2011, where she reached the final 32, and she became the youngest player in the top hundred at year's end.

6. Timea Babos

Born and raised in Hungary, Timea Babos began a rapid upward rise last fall, winning or scoring well in several ITF women's circuit events in Europe and Canada. From an end-of-2011 ranking of #153, she continued her climb by reaching the finals at Quanzhou ITF and winning a first-qualifying-round match at Australian Open. Then in February she reached the semis at the main-tour clay-court event in Bogota and then won the main-tour hard-court event at Monterrey, defeating two former top-forty players enroute (Cirstea and Errani). At height 5-10, her ranking at age 18 3/4 is now #68 -- only moderately below the blue-squares curve.

Although she did not appear on our watch lists of 2011, Timea's recent rise appears to assure her a place on our forthcoming April 2012 list.

7. Laura Robson

Born in Australia and just turned 18, Laura lives in London and represents Britain in competition. A left-hander at height 5-11, she has climbed the rankings parallel to the blue lines of our diagram, though at current ranking #122 she is now well below the blue-square path. She scored several good wins in late 2011 and advanced through the qualifying rounds at both U.S. Open 2011 and Australian Open 2012.

INDIAN WELLS AND MIAMI

The month of March brings the important tournaments at both Indian Wells and Miami, where winners will earn half the ranking-point rewards of Australian Open. Both Indian Wells and Miami occupy two weeks on the calendar, and each will feature 96-player main draws in men's and women's singles preceded by qualifying rounds. The two North American events will conclude the long, hard-court super-season that began last summer and precede the start of the main clay-court season primarily in Europe.

Novak Djokovic will be favored as likely champion in the men's singles, having won both Indian Wells and Miami in 2011 and also having won the last three hard-court Slams (U.S. Open 2011 and Australian Open 2011 and 2012). Still, the other three members of the sport's Big Four -- Nadal, Federer, and Murray -- are capable of defeating Djokovic if Novak is unable to find his very best tennis.

The picture is less clear among the top women, where current form favors Victoria Azarenka. In capturing Australian Open in January, Victoria produced her heavy game with excellent avoidance of error, losing only one set enroute and sweeping Sharapova in the final. Other strong contenders will be Caroline Wozniacki, who won Indian Wells last year, the brilliant and powerful left-hander Petra Kvitova, and recently rising Agnieszka Radwanska, who is the only player to have won a set from Azarenka this year. Maria Sharapova is a former champion at Indian Wells and thrice a runner-up in Miami. Neither Serena Williams nor Kim Clijsters will compete at Indian Wells, but both veterans will be at Miami if recent injury problems are resolved.

Our focus will also reach to the fortunes of the rising players of our watch lists, especially the individuals discussed here in exploring the blue-line diagrams. Early April will also bring a new watch list for the coming 12 months, based on results in 2012's first trimester analyzed using improved numerical formulas.

--Ray Bowers
Arlington, Virginia, U.S.A.

ADDENDUM -- SWITZERLAND vs. U.S.A.

This year's sixteen world-group nations paired off in first-round Davis Cup action, 10-12 February 2012. The favored teams generally prevailed, but there was one remarkable exception.

It happened on indoor red clay in snowy Fribourg, Switzerland, situated at elevation 2,000 feet. There was special poignancy in the meeting, as it signaled the great Roger Federer's bid toward collecting a last missing career achievement -- leadership of his nation to a Davis Cup championship. Roger now had a more-than-competent team-mate -- Stan Wawrinka, who three years earlier attained the world's top ten and was now at 26 still at prime age. Wawrinka and Federer had together won the doubles at the 2008 Olympics. The Americans were without their top player of recent years, Andy Roddick, whose late career had been retarded by nagging injuries. Andy had in 2007 led the U.S. to its only Cup crown of the current century. Also not at Fribourg was U.S. doubles superstar Bob Bryan.

The first match pitted America's Mardy Fish against Stan Wawrinka. Fish was a tough match player, whose contribution had been mostly unsung after his two singles victories, both in five sets, in the U.S. 3-2 win on Colombian clay in late 2010, which averted U.S. relegation from world group. Mardy's best career year then followed in 2011, the American passing Wawrinka in the world rankings and entering the world's first ten. Now in Fribourg, with both Fish and Wawrinka competing at close to their best before a highly engaged but fair-minded gallery, it was Wawrinka who faded at the finish, score 9-7 in the fifth set. U.S. 1, Switzerland 0.

What came next was one of the most hard-to-believe events in recent tennis history. Ever since his spectacular debut here in Washington in 2007, John Isner had gradually improved his court skills, building upon an already unsurpassed serving prowess. Now at world ranking #14, in taking the court against Roger Federer, John showed the product of his intervening years of improvement.

Federer took the first set by margin of a single service break. Both men depended heavily on strong serving, usually followed by aggressive first-strike rockets to the corners. Isner's strategy was one of relentless aggression, employing his severe forehand and often-effective backhand to capture points early, aware of Federer's superior movement and tactical skills. Isner's artillery, Soderlng-like in its penetration, was amazingly error-free, helped by plenty of forehand topspin. Thus Roger too was forced to attack early, preempting John. These patterns, established early, never abated.

The second set was Isner's, where the margin was a single error-prone sixth game gifted by Federer. Roger regained form thereafter, however, and the third set reached tiebreaker. The tiebreak game was closely contested, and it was there where Isner's serving superiority established itself and determined the momentum of the match.

Now behind two sets to one, Federer took an off-court break. In the fifth game that followed, Isner fell behind love-40 on his own serve. But the next three points all were John's -- two of them on aces and one on a nearly unreturnable near-ace. Now at score deuce, the match's decisive moment was at hand. Showing his strongest tennis of the day, the American would win that game along with the three that followed. Isner d. Federer 46 63 76 62. U.S. 2, Switzerland 0.

Sadly, Isner's monumental victory was inadequately reported in the U.S., even as few newspapers had advised readers of the fine television coverage to be seen on Tennis Channel.

The U.S. doubles pair then did its work. Mardy Fish proved a superb replacement for Bob Bryan in the right court, teaming with Mike Bryan almost seamlessly and showing plenty of doubles aggressiveness. Federer-Wawrinka won the first set, but as the Americans became increasingly accustomed to each other, and with Wawrinka below his best after his previous day's five-setter, the American victory came quickly. (Then the Americans comfortably won both third-day singles, as the Swiss team fielded substitutes.) U.S. 5, Switzerland 0.

Credit is owed to American team captain Jim Courier, whose role in the practice week was praised by Isner. Isner also noted that the irregular and slow surface had been helpful to him. It also seemed that the elevation added to the effectiveness of John's serve.

The road to the Cup championship remains long for all eight of the surviving nations. In April the Americans will play host-nation France, the winner probably to face Spain in the semis in September. Meanwhile Argentina and Serbia seem likely to become the other semi-finalists. It should be a superb Davis Cup year.





Between The Lines Archives:
1995 - May 1998 | August 1998 - 2003 | 2004 - 2015
If you have not already signed up to receive our free e-mail newsletter Tennis Server INTERACTIVE, you can sign up here. You will receive notification each month of changes at the Tennis Server and news of new columns posted on our site.
This column is copyrighted by Ray Bowers, all rights reserved.
Following interesting military and civilian careers, Ray became a regular competitor in the senior divisions, reaching official rank of #1 in the 75 singles in the Mid-Atlantic Section for 2002. He was boys' tennis coach for four years at Thomas Jefferson High School for Science and Technology, Virginia, where the team three times reached the state Final Four. He was named Washington Post All-Metropolitan Coach of the Year in 2003. He is now researching a history of the early pro tennis wars, working mainly at U.S. Library of Congress. A tentative chapter, which appeared on Tennis Server, won a second-place award from U.S. Tennis Writers Association.
Questions and comments about these columns can be directed to Ray by using this form.
---