The Tennis Times, They Are A-Changin'
This past year was one of the most significant transitional campaigns in tennis history. New faces, eclectic playing styles and the delightful combination of new countries in the limelight and the renaissance of historic nations such as Australia and Britain showed just how global a sport tennis truly is. It was a year when events continually threw conventional wisdom out the wisdom. Or did you take Kuerten and Majoli in your French Open office pool?
For starters, I'd like to blow away all the dolts who think men's tennis has become nothing more than a power game. First, you'll find evidence of power-lamenting complaints as far back as the early part of this century. Second, there's now such a wide range of victorious winning styles that only the most ignorant tennis observer could dare say that tennis is strictly a matter of power. Start with the Grand Slam winners -- the classic, all-court elegance and brilliance of Sampras, the jaunty exuberance of Kuerten and the athletic netrushing attack of Rafter. Then, move through the ranks and you'll see the fast hands and active feet of a Jonas Bjorkman, the deceptive gifts of a Greg Rusedski, the versatility of Yevgeny Kafelnikov and the tenacity of a Michael Chang. Please, watch closely before you damn tennis and yearn for the good old days.

To steal from Carly Simon, these are the good old days. And they'll likely continue that way for Pete Sampras, arguably the most dominant player of the Open era. Though much has been made about him equalling Jimmy Connors' mark of five straight years as the top-ranked player on the ATP Tour computer, Sampras' accomplishment is mightier: So out of whack was the computer back then that in two of those years Connors didn't even win a Grand Slam tournament (and in another, many didn't consider him the best player for that year either). In any event, Sampras has at least two years of number one-ranked tennis in him -- if not more. Even if he never wins the French Open (I'd be surprised if he did), he should walk through Roy Emerson's all-time record of 12 Grand Slam singles titles sometime in 1999.

The bad news for xenophobic American tennis fans is that once you get past Sampras, we're talking wasteland. His generational peers -- Chang, Agassi, Courier, Martin and Washington -- have their best tennis behind them. Chang will continue to be a top tenner for a couple of years, but by now it's clear that his wonderful tenacity can only take him so far. Agassi's got the talent to return to the top 20, but I doubt he'll ever win another Slam. And the others have been fallen by lack of desire and injuries. All of this will lead us to another hand-wringing cycle of angst about American tennis, with lots of dollars plunged into player development -- at which point, out of the sky, some unknown talent or crop will surface just as today's generation did when everyone was lamenting the end of the Connors-McEnroe era.
But my advice for now is to jettison your flagwaving and appreciate the talents that are making the men's game simultaneously diverse and contentious. The sport's deeper than ever. Next year, there'll be even more tournament winners, as guys like Rafter, Rusedski, Bjorkman, Kuerten, Korda, Kafelnikov and the entire Spanish Armada will try to step up and show they can take charge. But it won't be easy. Longstanding underachievers such as Richard Krajicek and Goran Ivanisevic are still eager to be champions, as is the talented (and potential future underachiever) Marcelo Rios. Throw in guys like Tim Henman and Thomas Muster and you're looking at a 1998 that will bring new meaning to the term "on any given day."
As for the women's game, we have now entered the era of Queen Martina II. Long may she reign. Even though Hingis started to tire by the end of '97, I believe she'll be ready and willing to wear her crown and strut her stuff with typically extroverted flair in '98. But if those who aspire to her throne have their say, it won't necessarily be dominant. She's a mental genius, but her second serve and forehand need improving. Though I'm confident she'll continue improving, I hope her rivals have begun making plans to exploit these weaknesses.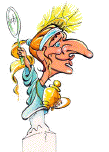 Two players most likely to press Hingis are Steffi Graf and Monica Seles. After a horrible year of injuries, Graf figures to have one more big run in her. It'll be interesting to see if Hingis has gained so much confidence and ability that she can handle Graf. We won't really know until Wimbledon.
As for Seles, the last two years have been a confusing time, as Monica has been plagued by injuries, bad losses (Serena Williams!) and, toughest of all, her father's illness. She too is a great champion, and after being whupped by Hingis in their first two encounters, stretched the wily Swiss girl to the limits in three other matches. It would be great for the sport if both Seles and Graf came at Hingis guns-a-blazing in '98.
Lurking close to the top are Jana Novotna, Lindsay Davenport, Mary Pierce, Irina Spirlea Amanda Coetzer, Arantxa Sanchez Vicario, Iva Majoli, Mirjana Lucic, Anna Kournikova and Venus Williams. The upside is that these are quality players, armed with a wide range of physical and mental artillery. If she could ever win a big title, the netrushing Novotna could impact the playing styles of women's tennis the same way Patrick Rafter is making men remember the volley. But the combination of Novotna's brittle brain, fragile forehand and lack of a big weapon leave her vulnerable in big matches. Though quite different in style, Davenport and Coetzer just seem to fade at the finish. Pierce is a total wild card, able to beat or lose to anyone anytime. Arantxa seems to have mentally capitulated after coming so close so often. And the others just don't seem able to go the distance -- at least yet. One hopes that Lucic, Kournikova and Williams mature nicely in the next two years and can stake permanent claims to the top ten.
A few more musings on what '97 will tell us about '98:
Davis Cup will continue to be a joke, particularly in the U.S. Unless rabbits are pulled out of hats, we'll probably lose in the first round to Russia, a defeat followed by lots of handwringing about player commitments, doubles woes and the timing of the Cup -- but no changes.

Fed Cup figures to get even sillier. The shift from a one-week event to a Davis Cup-style format has been a disaster. I don't care how many people were watching in Spain one year -- this event has become a travesty.

John McEnroe will say something that will be both true and obnoxious.

Jimmy Connors' induction into the Tennis Hall of Fame will be preceeded by some awkward tennis politics and a speech that's polite with a touch of rudeness. Odds are 50-50 on his mother attending.

A player from a nation with NO tennis history will make a big splash during the clay court season -- and never be heard from for the rest of the year.

Richard Williams will show up at a Grand Slam tournament and talk out every side of his mouth. Venus and Serena will remain coachless, but cause enough waves to continue intimidating opponents. Next year is the time we'll see if Venus can truly be a week-in, week-out player. Or maybe Richard's right and she should go right to the Hall of Fame.

No one will understand the focus of the USTA's player development program. Get more players? Get better players? Aim at the inner city? Focus on kids in suburbs? What about recreational tennis? Either way, there'll be some nifty new warmup suits worn by those coaches.

Someone will crack the 150 mph serve barrier and we'll once again here about the need to reform Wimbledon. It'll never happen.

Goran won't win Wimbledon. Pete won't win Paris. Seles won't win Wimbledon.

The ATP Tour's effort to redirect the schedule will go the way it wants -- and piss off the hardworking staff and people who've made Cincinnati such a great tournament. The USTA, eager to see Cincy fall, will silently clap.

A wisecracking American newspaper columnist will proclaim that tennis is dead -- but league participation will continue increasing.

A notable tennis legend over the age of 50 will die.

The US Open will continue to be a monument to corporations rather than tennis lovers. With less Americans making the later rounds, TV ratings will suffer.

Brooke Shields: pregnant. Look for Brad Gilbert to ardently crusade for another client.

Longbody rackets will become even more prominent in clubs. A few more pros besides Chang and Coetzer will start using them.

Nike will work hard to establish a message for itself that doesn't include Andre Agassi.

Tennis will remain an anarchistic, leadership-less, drifting sport. If you play it, you love it. The more you try to make a living from it, the harder it will get. Maybe all this will change if Don King decides to make a pitch for managing Venus. Only in America, right?

---

Sampras and Agassi photos by Cliff Kurtzman. Seles and Graf caricatures are Copyright 1997 by Picture-Partners. Used with permission. No unauthorized replication is allow without the express written consent of Picture-Partners.



Between The Lines Archives:
1995 - May 1998 | August 1998 - 2002 | 2003 - 2007
If you have not already signed up to receive our free e-mail newsletter Tennis Server INTERACTIVE, you can sign up here. You will receive notification each month of changes at the Tennis Server and news of new columns posted on our site.
This column is copyrighted by Joel Drucker, all rights reserved.
Joel's background includes 25 years as a player, instructor, tournament director and writer. His stories have appeared in all of the leading tennis magazines (Tennis, World Tennis, Tennis Week, Tennis Match, and Racquet). He has also written about tennis for many general interest publications, including Cigar Aficionado, Diversion, Men's Journal, San Francisco Focus and the San Diego Reader.
---