With the Doubles Pros at Hartford

Ray Bowers
It was a nice second serve for doubles, with good bite. The receiver in the ad court, a left-hander, returned safely low and slightly cross-court. Server, moving in, volleyed wide and deep to the lefty's forehand. Lacking time to generate the severe topspin he would have liked, the lefty tried a semi-offensive lob down the middle. Server and partner, having seen thousands of like trajectories, let the ball float on, just past the baseline.
It was over. The 1998 ATP World Doubles Championship, November 18-22--five days of head-to-head competition at Hartford among the world's top doubles pairs--had come to an end. So too the long year of pro doubles warfare, begun eleven months earlier in Australia.
It was also the end of a superb tennis career. Jacco Eltingh of the Netherlands, the server of the final point and the world's top-ranked doubles artist, was now departing from competitive play. After seven years with partner Paul Haarhuis, a raw-boned countryman whose abilities closely matched his own, Eltingh at 28 had now finished on top.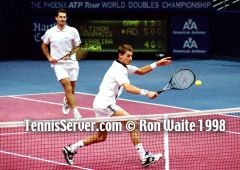 Haarhuis (front) and Eltingh.
What a year it had been for Eltingh-Haarhuis! The Netherlanders captured two 1998 Slams, winning Roland Garros and then defeating Woodforde and Woodbridge -- the Woodys -- in a five-set final at Wimbledon. Earlier, Haarhuis had passed up the Australian Open to be with his wife during the birth of their first child. (Eltingh, playing with Jonas Bjorkman, won the event.) Then in late summer, when Eltingh-Haarhuis were top-seeded at the U.S. Open, it was Eltingh who departed for the birth of his first child. Now, having just won five matches in five days against the world's best, Eltingh-Haarhuis were unquestionably the champions of their sport.
Surely Tennis Server readers who watched the Hartford final on ESPN were, like me, dazzled by the play of Eltingh and Haarhuis. Late in the match I scribbled in my notebook the words, "Can anyone play doubles better than this?" Soon after the last point, I asked the two men whether this match had been their very best. Replying, they acknowledged that today had been exceptional, but that in actuality their absolute best had come earlier this year--on clay at Monte Carlo, in their 6-4, 6-2 semi-final blitz of the Woodys.
It has been a memorable week for me too. I had watched nearly every point of every match and, even better, had been able to talk repeatedly with the players. My notebook gradually became filled with observations and thoughts, some of which follow.
THE SERVE IN DOUBLES
It is sometimes said that the confrontation between server and receiver in tennis is a lot like the one between pitcher and batter in baseball. The Hartford matches reinforced the point. Like the pitcher, the servers employed a necessary level of power, spin, and accuracy. More significantly, like the pitcher, all servers used a variety of all three -- power, spin, location -- mixing things up to keep returner from setting up to wield the power and accuracy inherent in today's rackets.

The best place to watch the server-receiver confrontation is from directly behind server at moderate height in the stands. From this vantage point, serve placement is easily recognized, and the bend of the ball's path during and after the bounce can be nicely seen. One can observe, for example, how in serving his customary slice Paul Haarhuis can trade off the amounts of power and spin at will, causing the ball to bend leftward. (Haarhuis serves right-handed.) I watched Haarhuis slice toward an opponent's backhand-side hip, curving the ball nastily into the body after the bounce, and other times serve to the wide corner of the deuce court, the bend driving receiver off court.

The serving-returning game is more critical than many people realize. In the 13 meaningful matches at Hartford (two late round-robin matches had no bearing on the tournament outcome), less than 73 percent of in-court serves were returned into play, and many of these were weak shots, easily dispatched by server's partner at net. Thus, little more than half of all points required a first volley by server. Admittedly, as is generally understood, net-play and volleying skills are at the heart of doubles. But the serve and return are just as crucial.

It seemed contradictory. If serving is so important, why are the apparently most talented tennis servers not the doubles champions? Why are 120-mph serves, seemingly needed to win in singles, just not seen in top doubles?

Haarhuis explained that given the court geometry of doubles and the presence of a powerful and aggressive partner at net, the server's inherent advantage is huge. It is very difficult to make an effective return of even a moderately forcing serve, he continued. In short, Haarhuis said, a server's advantage from a firm but controlled first serve is so great that he simply must not waste it by delivering a fault. While watching the matches with these thoughts in mind, I concluded that what is important in top-level doubles serving is that (1) first serves should be moderately forceful, mainly by using plenty of variety, (2) a high percentage of such first serves absolutely must be put into play, and (3) the second serve must be almost as strong as the first, even if a few double-faults arise. At Hartford, 64 percent of first and 86 percent of second serve attempts were delivered into court.

Eltingh and Haarhuis are masters of the server-returner confrontation. Haarhuis was voted the top serve-returner by the players at Hartford. When Mark Knowles and Daniel Nestor were asked why they were consistently dominated by Eltingh-Haarhuis, they pointed to the effectiveness of the second serves of the Netherlanders, especially Eltingh's. Interestingly, after defeating Knowles-Nestor in the Hartford final, Eltingh and Haarhuis said essentially the same thing. The strongest aspect of the Knowles-Nestor game, they said, was their ability to attack second serves of opponents. Eltingh and Haarhuis, by putting most first serves into play and by delivering strong second serves when needed, largely neutralized the Knowles-Nestor strength.
DOUBLES BY CLAY COURTERS
Pre-tournament handicappers gave little chance to the seventh-seeded team, the French pair of Oliver Delaitre and Fabrice Santoro. As the three days of round-robin play unfolded, Delaitre at five-foot seven revealed powerful ground strokes and serve returns, which he delivered using the techniques of today's clay-court sluggers. Santoro exhibited a more varied game, though his modest height and his two-handed hitting from both sides also suggested a preference for the back court. (Santoro's #41 ranking in singles was tops among the players at Hartford.) At age 31 and 26, respectively, both men showed excellent foot speed. The two had agreed in early 1998 to concentrate on doubles, and Delaitre indeed stopped playing singles entirely. Having won three tournaments since September and having upset Eltingh and Haarhuis at Stuttgart in October, the pair broke into the top eight only late in the year.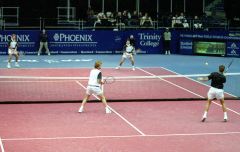 The Woodys (front) vs. Delaitre/Santoro.
Their hot streak continued at Hartford. They upset the Woodys in three sets on the first day, and gave Eltingh-Haarhuis a good fight the next, taking the first set -- the only set lost by the Netherlanders all week -- before bowing 4-6, 7-5, 7-5. They then defeated the fine team of Ellis Ferreira and Rick Leach, thus reaching the Saturday semis, and won the first set against Knowles-Nestor, bowing out at 6-3 in the third.
In all their matches, Delaitre-Santoro played conventionally aggressive doubles, returning well, trying to obtain command of the net, and volleying effectively once on net. But their greatest strength lay in their ability to fight back when pinned in deep court with both opponents at net. Their court mobility was plainly an asset in extending points, but it was their strong shotmaking that allowed them repeatedly to turn things around in such situations. After their second victory, Delaitre in a quiet voice described their thinking.
He began by explaining that he and Santoro were pleased that the court surface at Hartford was not too fast, helping back-court play and minimizing the usual advantage of their opponents in serving. Against a pair of good retrievers like themselves, Delaitre continued, it was hard for even the strongest opponents to close out a given point. When at baseline, he went on, the French pair always fight hard to keep the points alive as long as possible, perhaps hitting a bullet directly at one of the opponents, then one up the middle, perhaps rolling a soft one just over the net cord, meanwhile mixing in the threat of an overspin lob. They hope for an error from opponents or a weak, short reply--a sitter. To beat them, he concluded, their opponents must keep hitting strong, deep volleys, one after another.
Plainly, the Delaitre-Santoro outlook fits their talents nicely and bids well for next year's clay season if not sooner. We will see more of this pair.
AMERICA'S TEAM AND THE I-FORMATION
Johnson and Montana (rear) in I-Formation.
The other underdogs were the Americans Johnson and Montana. Don Johnson, 30, a lefty, the stronger and at six-three the taller of the pair, played four years at University of North Carolina. Montana, 29, who is more the baseliner in singles, played at University of Georgia. Neither has approached the top hundred in singles. But they won the doubles at Monte Carlo this year, defeating Eltingh-Haarhuis in the final. At Hartford, Montana played with a wrapped knee, looking ahead to arthroscopic surgery the next week.
Johnson and Montana play with lots of energy and have sound volleying and overhead skills. They are best known, however, for their use of the I, or tandem, formation, which seems designed to make up for their relatively modest serving abilities. Prior to every serve, server's partner takes his net position directly in front of server, kneeling below the level of the net. As soon as the serve passes the net, the net man rises and moves slightly to one side or the other, as prearranged, thus taking responsibility for that side as well as the center. Server moves forward to the other side. The idea, Montana explained, is to distract the returner by the unusual movements of the pair, and to take away returner's customary shot across the lowest part of the net.
The I-formation tactics were plainly helpful in Johnson-Montana's first-day upset of Bhupathi-Paes. The Americans then lost to Knowles-Nestor, but they next won an exciting three-setter over Sandon Stolle and Cyril Suk, the 1998 U.S. Open champions. There were no breaks of serve in the match, and all three sets were decided by tiebreakers. America's team was finally eliminated in Saturday's semis by Eltingh-Haarhuis.
Several other teams used the I-formation on occasions -- on certain break points for example. The all-lefty pair of Ferreira-Leach used it frequently when serving to the deuce court. After their win over the Woodys they explained that their left-handed slice serves down the middle would bend to the right, pulling Woodbridge to court center. Meanwhile, the I-formation would force him to return in an unaccustomed direction and deny him the lowest part of the net. Later, Woodbridge analyzed his returning of the Ferreira-Leach serves in exactly the same terms. Next day it was interesting to watch Ferreira-Leach consistently use the same tactic when serving to Santoro.
THE OUTLOOK FOR 1999
The absence of Eltingh-Haarhuis should open up next year's race. The Woodys, third this year, plan to remain together and will surely be a foremost factor, certainly a good early bet to regain their perennial Wimbledon championship. Bhupathi-Paes, the youngest players at Hartford and 1998's second-ranking pair, will also contend for the top. Paes, who Americans will remember from his victory in singles over Sampras at New Haven, is a mercurial performer of exciting quickness, while Bhupathi seems the solider and more dependable member of the pair. One surmises that when a point is urgently needed, an opponent is better advised to hit to Paes.

Knowles and Nestor were finalists at both Hartford and the U.S. Open. Both men were healthy at Hartford for the first time in three years and are eager for 1999. Meanwhile South African Ellis Ferreira (no relation to Wayne Ferreira) expects to continue as partner of Rick Leach, who has been successful with many partners. (Leach and Jonathan Stark, both Americans, won Hartford last year.) Stolle and Suk are splitting up.

Haarhuis's partner next year will be doubles specialist Pat Galbraith, 32, a left-hander who usually plays the deuce court. Galbraith's game will be softer than Eltingh's, but he plays aggressive and crafty doubles and will bring a different dimension to complement Haarhuis. Meanwhile the intentions of Jonas Bjorkman and Pat Rafter, who missed Hartford this year because of Rafter's knee surgery, remain unannounced.

Asked where the new American doubles stars are likely to come from, Eltingh mentioned Brian Macphie (who at 26 is no rookie) and Justin Gimelstob, 21. Gimelstob and other young players, Eltingh continued, need yet to improve their sense of doubles and doubles skills. Later, another player mentioned the Bryan twins, who are new on the pro tour this year and are now playing on the Challenger circuit. The Bryans won attention in reaching the doubles final in Washington this summer.

All the players wish that the pro doubles game would emerge from the shadows, and all agree that it should be promoted better. The Woodys pointed out that, partly because of their own fame, doubles has indeed advanced in the last five years or so. Prize money has improved, and there are financial incentives for the singles stars to enter doubles events. The Woodys and others said that it helps when partnerships stay together for many years.

I had been wondering whether doubles would be more attractive to spectators if servers were allowed only one serve. Serves would be returned more often and generally more effectively, so that extended rallies should become more frequent. There would certainly be more breaks of serve. (The serving pair won 67 percent of all points at Hartford, 54 percent of second-serve points.) When I put the thought to Stolle and Suk, both players were instantly negative. Eltingh noted that the balls had already been made softer toward the same purpose.

I tried a different tack in a later interview. I reminded the winners of one prolonged, crowd-pleasing point late in their match. Unrestrained cheering followed the end of the point. In contrast to this exciting action, the remaining two points of the match consisted of serve-return errors. I was shocked when one of the partners replied by saying that he could have ended the point early but had purposely extended it. I first doubted that the player was telling me the truth, but he said that he prolongs points sometimes (to entertain the fans, it was clear). Afterwards, I realized that if true his remarks had confirmed my thinking -- that a way should be found to make points in doubles last longer.

Two days later, back in Virginia, I was disturbed by a news story where John McEnroe, alluding to the Hartford event, said that he at age 39 could still beat today's players. Having watched McEnroe disappoint in Davis Cup doubles late in his active career, I at first thought his words foolish. Still, my recollection of Richard Gonzales competing fiercely at 40 (in singles!) argues that McEnroe might still be competitive in doubles. It would be fascinating to see him re-enter the doubles wars with a strong partner. I would go a long way to watch.

Additional Photos from the ATP Doubles Championships



Between The Lines Archives:
1995 - May 1998 | August 1998 - 2003 | 2004 - 2015
If you have not already signed up to receive our free e-mail newsletter Tennis Server INTERACTIVE, you can sign up here. You will receive notification each month of changes at the Tennis Server and news of new columns posted on our site.
This column is copyrighted by Ray Bowers, all rights reserved.
Following interesting military and civilian careers, Ray became a regular competitor in the senior divisions, reaching official rank of #1 in the 75 singles in the Mid-Atlantic Section for 2002. He was boys' tennis coach for four years at Thomas Jefferson High School for Science and Technology, Virginia, where the team three times reached the state Final Four. He was named Washington Post All-Metropolitan Coach of the Year in 2003. He is now researching a history of the early pro tennis wars, working mainly at U.S. Library of Congress. A tentative chapter, which appeared on Tennis Server, won a second-place award from U.S. Tennis Writers Association.
Questions and comments about these columns can be directed to Ray by using this form.
---