Though A Blunder, Down Under Still Inspires Wonder
The good news is that tennis season is cranking up. The bad news is that I'm tired of seeing the Australian Open function as the Rodney Dangerfield of tennis. This is one Grand Slam desperately in need of reform. It's sickening to hear annual tales of 150 degree temperatures, dangerous rubberized courts and woefully injured players. These are just some of the reasons why Jim Courier, Richard Krajicek, Yevgeny Kafelnikov, Steffi Graf, Monica Seles, Jana Novotna and Mary Joe Fernandez have pulled out.
Worst of all is timing: The first Grand Slam happens in January, and then there's not another Slam until June. That's horrible.
So here's my idea. Just jettison all the logistical concerns and ponder this: Start the year off at the Lipton, then work the circuit geographically until the March Indian Wells tournament. Haul the players down to Australia to play the Aussie Open -- in late March or early April.
But enough dreaming. The reality is that the '98 Aussie Open will be filled with drama and the consistent surprise that makes both circuits so compelling these days. Of the eight semifinalists in the two fields, at least three will be in their first Slam semi. Seeds will topple. Great matches will be held at obscure hours. Weather -- heat, wind, pestilence, locusts -- will be a major factor. And yet for all this, I still believe the holders, Pete Sampras and Martina Hingis, will emerge the victors. And then the result will be long forgotten by early March. It's too bad. Australia, the beautiful Melbourne Park facility and, most of all, the fans who love the sport, deserve a much better role for the year's first Grand Slam.
Here's a look at the fields:
Men: Re-Pete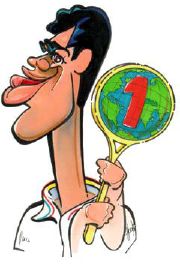 Though I make Sampras at least an even money favorite, there figures to be excessive anarchy in this draw. Here's a look at how it would pan out should all 16 seeds reach their appointed rounds:

1. Pete Sampras
15. Mark Philippousis
10. Sergei Bruguera
7. Carlos Moya
4. Jonas Bjorkman
14. Felix Mantilla
11. Alex Corretja
6. Petr Korda
5. Greg Rusedski
12. Gustavo Kuerten
13. Goran Ivanisevic
3. Micheal Chang
8. Thomas Muster
9. Marcelo Rios
16. Albert Costa
2. Patrick Rafter
Contenders
- You've got to believe Sampras is hungry and eager to take his 11th Slam title. One can only wonder about his condition in the week of the injury that felled him less than two months ago in Davis Cup. But it's too hard to bet against him at this point -- particularly since a number of challenging players (Rusedski, Rafter, Muster and Chang) are all in the other half of the draw. Only the possibility of a semi versus the volatile Petr Korda, the man who took out Sampras at the US Open, should raise the holder's blood pressure.

- Patrick Rafter wants to prove with a vengeance that his US Open win was no fluke. What better place to do this than his native land? But I believe Rafter isn't quite ready to be a relentless threat at the Slams, and that that heavy pressures and oncourt challenges will take their toll.

- Michael Chang has had a rough time of it lately. An injury incurred last week didn't help. Though ripe for an upset, he'll tenaciously grub his way through his first three matches. By the round of 16 or quarters, he'll be gone.

- Andre Agassi has lost 25 pounds and is once again rededicating himself to tennis. He's slated to go up against consistent Albert Costa in the second round. That will be a solid test, but assuming he gets past Costa, Agassi's round of 16 encounter with Rafter could be the match of the tournament.
Early Round Intrigue
- Slovakian Karol Kucera is one of the hottest players on the tour. Off the heels of his win in Sydney, Kucera figures to knock off Bruguera in the first round. Only in Paris has Sergei shown himself an exceptionally willful Grand Slam competitor.

- The winner of that match goes up against the winner of Daniel Vacek-Leyton Hewitt. The 16-year-old Hewitt, son of doubles legend Bob Hewitt, has burst on the scene by taking the title at Adelaide and earning wins over the likes of Andre Agassi and Jonas Bjorkman. It will be fascinating to see if this power-hitting baseliner can build off the momentum he's quickly generated.

- Bjorkman has the possiblity of a second round match versus one-time top tenner Wayne Ferreira. There was a period when Ferreira seemed to have top five potential and Bjorkman was a mere doubles specialist. Now, the tables have turned. Ferreira might threaten the Swede, but Bjorkman's conditioning and love of competition will carry him through.

- Gnat-like Aussie Scott Draper takes on talented Dominik Hrbaty in the first round. Last year, Hrbaty held a 4-2 fifth set lead over Sampras -- and then hardly did much in '97. I'll pick Draper to win this, and then go on to give a tough challenge to Korda.

- Likely second round: Rusedski versus Jonathan Stark, a big-serving clash. They had an epic five-setter at Wimbledon last year, with Rusedski overcoming a two sets to love deficit. Rusedski will have a much easier go this time, but in the third round he'll have to deal with the nimble service returns of Aussie Todd Woodbridge. Greg will get out of that one too, and then, in the round of 16, have a wonderful match versus Gustavo Kuerten.

- Sad to say, but Goran Ivanisevic's best tennis is now behind him. Promise unfulfilled. He'll lose to Tim Henman in the second round.

- Rios-Enqvist second round. Two of the finest talents in tennis. Rios, confident from a win Auckland, will take this one.
Crunch Time
- Sampras will sail through his early matches. He's supposed to meet Philippoussis in the round of 16, but that's no lock, as the big-serving Aussie seemed to lose focus in the last half of '97. It's not guaranteed that Philippoussis will win his second rounder against fluid lefty Hicham Arazi or gritty Hendrik Dreekman. And there's also the chance of Mark going out to Mal Washington in the third round. Even if he wins all of these matches, he'll find himselt outgunned by Sampras.

- The Bjorkman-Korda quarterfinal, a rematch of their U.S. Open quarter which Korda defaulted, will tell a different story. If Korda can serve well and keep the Swede pinned, he'll take control of this match.

- But in the semis, Sampras will seek revenge, and this time give no mercy to the southpaw. He'll figure out the riddle of Korda's big backhand service return. He'll slap many big winners of his own, jolting Korda into overplaying. Most of all, Sampras now respects the resurgent Korda enough to stay mentally in control for the entire match.

- The other half of the draw will teem with anarchy. Kuerten will beat Rusedski to reach the quarters versus Henman, who will have beaten Ivanisevic, Nicolas Kiefer and Chang. But by then Tim will be too tired, and Kuerten will get to the semis. I'd love to see him play Rafter, but I think he'll come up against a surprise semifinalist -- Thomas Muster, Enqvist or even an inspired native, Jason Stoltenberg.

- Rafter-Agassi is the kind of "crossover" event the sport needs: A tennis match that transcends the sport. It will be great to see an inspired Agassi, but I still believe he's not ready to return to the top ten. Rafter will win this in four sets, but then find himself taken out in the quarters by one of the surprise players just mentioned.

-- And by finals time, Sampras will be clicking thoroughly on all cylinders. As he has in all 10 of his Grand Slam victories, he'll quickly seize control of the match, winning the first two sets with consummate ease. His opponent, excited to be in a Grand Slam final, will compete nervously at first and not settle down until the third set -- too late to make an impact. In a way, Sampras is a victim of dominance. He's never been stretched to a fifth set in a Grand Slam final. That won't happen to him Down Under either.
---
Women: Hail Hingis
As much as I love Martina Hingis, I was looking forward to the likes of the tenacious Monica Seles, the talented Jana Novotna and, most of all, the resurgent Steffi Graf, to challenge her in Australia. Alas, all of these three have dropped out of the tournament. Seles' father is on his deathbed. Novotna is conserving her energies. Graf doesn't feel ready to compete yet.

In theory, this should make the '98 Australian Open a romp for Hingis. But the rub of being a shrewd counterpuncher is that romping is not easy. Lacking the bazooka-like forehand of a Graf, the netrushing attack of a Navratilova or oppressive firepower of a Seles, Hingis must still work diligently for every point. She played more tennis last year than she might have imagined. Hopefully, her opponents have studied her game and learned to exploit her serve and forehand. Most of all, this is the year when everyone will be gunning for Hingis. Opponents will run down those drop shots, anticipate those lobs and be on the lookout for that dangerous backhand down the line. And perhaps a few will be wise enough to deny Hingis pace, hit high to forehand and show utter disrespect for her second serve. But then again, maybe Hingis, smart enough to have spoken of these weaknesses, has been spending time in the lab.

Certainly Venus Williams has been studying. Her win over Hingis last week in Sydney shows that she's hear to stay. This will be the first year we finally see how consistent a player Venus can be. Likewise for her rapidly-emerging sister, Serena, who last week knocked off another new face, Mirjana Lucic.

Here's where the seeds are located:
1. Martina Hingis
14. Dominique Van Roost
11. Brenda Schultz-McCarthy
5. Mary Pierce
3. Amanda Coetzer
10. Anke Huber
16. Ai Sugiyama
7. Arantxa Sanchez Vicario
8. Conchita Martinez
12. Sabrina Appelmans
9. Sandrine Testud
4. Iva Majoli
6. Irina Spirlea
13. Lisa Raymond
15. Ruxandra Dragomir
2. Lindsay Davenport
Things will start heating up Hingis in the third round when she goes up against her purported rival, Anna Kournikova. It will be interesting to see if Kournikova has spent more time over the last few months honing her tactics in lieu of her photo collection. I hope she has emphasized tennis, and would like to see her make a run at Hingis. But she's still not polished enough.

In the quarters, Hingis goes up against the winner of the Schultz-McCarthy- Pierce match. I think Pierce will overcome the big-serving Brenda. But Mary, who's beaten Hingis several times, will lack the imagination necessary to take a Grand Slam quarter from the holder.

As Hingis marches to the semis, there'll be an intriguing matchup between Coetzer and Huber. Coetzer is a female Thomas Muster -- her biggest weapon is fitness, grinding and working through every point. Huber is the unfulfilled Steffi successor, a big power player who lacks intellectual resources. But I think in this case she'll hit her way through Coetzer, only to be felled in the quarters by the crafty and hopefully resurgent Arantxa Sanchez Vicario. The last 18 months have been hard for Arantxa. Those tight losses she suffered to Graf at Roland Garros and Wimbledon set her back -- to have come so close, but not bring home the bacon, was extremely frustrating. But I think after relaxing a bit in the last year that Arantxa is ready for another run. Still, she'll lack the guile necessary to beat Hingis in the semis.

The other half of the draw is wildly deregulated. Martinez, Appelmans, Testud, Majoli, Raymond and Dragomir may all be seeded, but even if one reaches the semis, it's hard to take their chances seriously. Most disappointing is Majoli, who has hardly made a dent since taking out Hingis in Paris. I look for Lucic to take out Majoli in the second round. Lucic's draw is favorable enough to get her past Testud in the round of 16 and even over Martinez or Appelmans in the quarters. This Croatian, who many players think hits the ball harder than anyone on the circuit, will reach the semis here and emerge as a top ten player in '98.

Besides Lucic, the future belongs to Spirlea and the Williams sisters. Fate has brought Spirlea and the Williams family together again in Australia: She takes on Serena in the first round, with the winner likely meeting Venus in the second. First, Spirlea will ruin the sister rivalry by humbling Serena. Then, versus Venus, she'll take control early, face a hitch in closing, but finally get it done and never look back until she has to go up against Lindsay Davenport in the quarters.

Now what can we Americans say about Lindsay? She's nice, she hits the tar out of the ball and, well, she's nice. But she's also testimony to the troubles tennis faces in America. Lindsay Davenport lacks that certain aura of physical and mental dominance. Is it athleticism? Does American tennis occur in too cushy a middle-class environment to nurture the drive necessary for global success? Where have you gone, Chanda Rubin (she'll go down to ex- American Pierce in the third round)?

In America, hungry talents like Spirlea are now going into soccer, volleyball and basketball. In Australia '98, though, Lindsay will pound her way to the semis and then she and Spirlea will play a wonderful match -- arguably the best of the tournament. Whoever wins it will then be thoroughly outclassed by Hingis. I'll give the nod to Davenport. Spirlea will be worn out by all the emotional baggage of playing the Williams sisters. Lindsay will actually find herself energized by the heat, engaged with the friendly Aussies and feel relaxed enough to overcome Lucic and reach her first Grand Slam final. But again, Hingis will reign supreme.
---
Sampras caricature Copyright 1997 by Picture-Partners. Used with permission. No unauthorized replication is allowed without the express written consent of Picture-Partners.



Between The Lines Archives:
1995 - May 1998 | August 1998 - 2002 | 2003 - 2007
If you have not already signed up to receive our free e-mail newsletter Tennis Server INTERACTIVE, you can sign up here. You will receive notification each month of changes at the Tennis Server and news of new columns posted on our site.
This column is copyrighted by Joel Drucker, all rights reserved.
Joel's background includes 25 years as a player, instructor, tournament director and writer. His stories have appeared in all of the leading tennis magazines (Tennis, World Tennis, Tennis Week, Tennis Match, and Racquet). He has also written about tennis for many general interest publications, including Cigar Aficionado, Diversion, Men's Journal, San Francisco Focus and the San Diego Reader.
---