Now, What?
What an engaging, surprising and directionless start the tennis season has had. With the reigns of Pete Sampras and Martina Hingis both under fire, 1998 is promising to be yet another wacky, unpredictable year. When you look at the combustible playing styles of the likes of Petr Korda, Marcelo Rios, Venus Williams and Anna Kournikova, to say nothing of resurging veteran (!) Andre Agassi, it's hard to imagine what will now happen. Past in this sport, at least this year, is not necessarily prologue.
Let's start by looking at all the wonderful flux on the Corel WTA Tour. As I've mentioned before, Hingis' inherent counterpunching style was going to make it difficult for her to rule the roost in the manner of a physically oppressive Graf, Navratilova or Seles.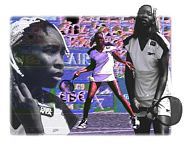 But to see her pressed so quickly by both Williams sisters is staggering. For Venus and Serena, there's a big upside ahead. These two are starting to compose points with far more consistency and focus than ever. I find Serena more smooth, but Venus' all-court prowess is so awe-inspiring that I think it's intimidated other players into passivity. Hingis, for example, played much more to not lose than to win against Venus at both Indian Wells and Lipton. Rarely did she venture in for volleys. There's this sense I have that Hingis doesn't want to take the risk of being passed by Williams -- as if there's a three-point line that would make it humiliating to let Venus rip one by and pump her fists.
But if Hingis is to fight off the likes of Venus, Serena and Kournikova, she can't just rely on her wonderful guile. Hopefully, she'll take these challenges to heart and continue plowing money into R&D, particularly on her serve and forehand. I'm hoping she does, and can create a great rivalry with the Williams sisters. There's also an undercurrent of hostility between Hingis and the Williams' that's both engaging and childish. "There's no question, Serena and I will be one and two," Venus told me at Indian Wells after losing to Hingis in the semis. Minutes later, I shared that information with Hingis, who declared, "She said that again? It's getting kind of boring. Maybe after I'm retired." But after fighting off three match points to beat Serena and losing to Venus at Lipton, Hingis noted, "Before, I was the hunter. Now I'm the hunted one."
Such comments make great theater.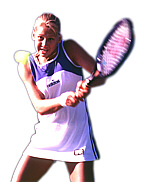 Which naturally brings us to Anna Kournikova. I'll leave the talk about her looks to pedophiles who favor smarmy blondes. As for her tennis, Kournikova's convincing wins at Lipton over Lucic, Seles, Martinez, Davenport and Sanchez Vicario showed she can play at the highest level -- not just for one day, but for an entire tournament. Slams have been won on easier draws. Like Hingis, and unlike Venus, Kournikova is an extremely well-trained, fluid tennis player. Her footwork is terrific, her racket can work like a wand and her touch is sparkling. I see her as a contemporary Evonne Goolagong, floating on instinct, creating openings, even mixing spins -- and also suffering from mental lapses. It was unfortunate that at Lipton she too backed off from attacking Venus and degenerated in one hour from a cocky woman into a shriveled little girl.
These teens -- Hingis, Venus, Serena, Kournikova and, though not quite there yet, Lucic -- are making the women's game hot stuff. Around this group, even 21-year-old Davenport seems a veteran, to say nothing of Sanchez, 26; Martinez, 26; and Novotna, 29. Lindsay's been looking sharp this year, but there's still this sense I get from her that it's better to be liked than feared, that at crunch time she'll move aside and let a hungrier, nastier competitor beat her.
And, of course, lurking but riddled with physical and emotional woes are Graf and Seles. It would be great to see these two ex-champs make big runs at the top once again, but one can only wonder and hope that their bodies hold up. But then again, for Steffi there's never been much youthful joy in her tennis. It's always been a hard, introverted struggle for her, constantly triumphing over one demon after another. But it's different with Seles. One of the saddest sights of this year's Lipton telecast was the sight of Monica holding up her Lipton trophy in 1990. It was Monica's first big win. The world was her oyster, and it showed in her exuberance and rooster-like hairdo. And now, just eight years later, she has faced a stabbing and the near-death of her father. Who can blame her for not caring about tennis these days?
---
As for the men, let's start by hailing Rios but also recognize that while earning number one on the ATP Tour computer in March is impressive, it's not yet the stuff that gets you into the Hall of Fame. Before we trash this brilliant, churlish lefty for reaching the top without a Slam, please recall that others who've occupied the top spot without a Slam on the books over the one-year ranking period include Jimmy Connors, John McEnroe, Ivan Lendl and Pete Sampras.
That said, Rios damn well better earn a Slam. It was a shame to see him so tight in Australia. Six weeks later, he ran Korda into the ground in the desert. Like every great player, the Chilean has absorbed elements of prior champs while creating his own unique style -- it's possible to see portions of McEnroe, Connors, Agassi and Chang in his game. But there's such sensuality in his tennis, so much precision and agility, that I hope this silences for good those who think contemporary tennis is strictly a power game. Still, now that people are gunning after Rios it will be interesting how he fares when he starts defending points in place like Super Nine venue Monte Carlo. More importantly, can he inflict big-time damage at the French Open? The rub of Rios' ascent is that he's a bonafide jerk, chockful of immaturity and so rude even his handlers can't deny it. No doubt we'll here more from folks about him not really being such a bad guy, but tell me this: Has becoming number one ever made anyone in tennis more humble and friendly?
As for Pete Sampras, he need only reach the semis of a small tournament in Hong Kong to reclaim the top spot. But for posterity, he won't really be able to show he's the main man until he once again hoists that Wimbledon trophy over his head in July. I think he will win Wimbledon, but for now the next three months will force him to dig deeper than he ever has. Though his true possibilities to win events will only occur in Hong Kong, Tokyo and Queen's Club, it will be interesting to see if continues grinding away. No one this year expects him to win the French Open, so perhaps he'll swing from the hip, win a few matches and stay focused enough for Wimbledon. This early season slump, though, has been distressing for Sampras followers. To go down as he has -- without seeming able to reach back and grub -- makes one wonder if there really is a decline in the works, or is this just one of those blips champions encounter? The summer will tell the story.
Andre Agassi's resurgence has also been refreshing, and by the end of the year I look for him, Rios and Sampras to be the most solid contenders for the top spot in the sport. What Agassi needs are a few more good wins and a knockout effort in Paris, if not the title then at least the semis and a hard- fought loss. He's showing great confidence, commitment and fitness -- but was made to look downright old against Rios. Those one-week, fastcourt deals in places like San Jose and Scottsdale are one thing, but I'm sure Agassi would have liked something better out of Indian Wells (where he lost to hotshot American Jan-Michael Gambill, a player you'll see in the top 30 by next year) and Lipton (as well as the soon-to-be-forgotten Australian Open; sorry Petr and you friendly folks Down Under). Still, Agassi's confidence is rising.
The rest of the men's top 20 figures to be a massive traffic jam of jockeying contenders, stray cats and random mice. Patrick Rafter's body is breaking down on a daily basis. It's a tribute to his heart that he won the U.S. Open, but he's been strafed by too many players lately to think he's got all the artillery necessary to be number one. Likewise for Korda, who was glorious in Australia but has never had the staying power. Meanwhile, Greg Rusedski is piling up match wins and starting to feel cozy near the top. But today's passing shot artists and slow courts will keep him from taking any Slam other than Wimbledon -- still, that's a place where with enough service returns he can inflict major damage. Likewise for Mark Philippoussis, the man with the big serve but still looking to post quality results in a big time venue (at least a Super Nine).
And what of such past French champs as Kafelnikov, Muster, Chang, Bruguera, Courier and Kuerten? It's clear from these guys' rough times that the sport is extremely demanding on the body -- that to win the French takes such an effort that the victor is vanquished. The only one I think will win another Slam is Kafelnikov -- and for such a fine player, he's maddeningly erratic, prone to bad losses, injuries and whining.
The timing of the year is also favoring Rios. Clay is his favorite surface, but it will be fascinating to see if he can build off his hardcourt success and rack up lots of wins. That's going to be a lot tougher for Agassi, but if he can even squeak out a red clay title prior to the French he'll pick up lots of steam too, and in all likelihood reach high enough in the rankings to get seeded at Roland Garros. It figures to be a great tennis season.
---
Williams and Kournikova photos and artwork Copyright 1998 by Larry Sanborn. Used with permission. No unauthorized replication is allowed without the express written consent of Larry Sanborn.



Between The Lines Archives:
1995 - May 1998 | August 1998 - 2002 | 2003 - 2007
If you have not already signed up to receive our free e-mail newsletter Tennis Server INTERACTIVE, you can sign up here. You will receive notification each month of changes at the Tennis Server and news of new columns posted on our site.
This column is copyrighted by Joel Drucker, all rights reserved.
Joel's background includes 25 years as a player, instructor, tournament director and writer. His stories have appeared in all of the leading tennis magazines (Tennis, World Tennis, Tennis Week, Tennis Match, and Racquet). He has also written about tennis for many general interest publications, including Cigar Aficionado, Diversion, Men's Journal, San Francisco Focus and the San Diego Reader.
---