The Tennis Server's 1998
Player of the Year

Ray Bowers
The brief off-season of pro tennis comes annually at year's end. Fans can look back, savoring the full drama now complete, and some may find it interesting to ponder a personal hero or heroine for the tennis year. My own Player of the Year is the one who, in my opinion, best (1) achieved success in top-level competitive tennis, (2) advanced the values of our sport, and, as a consequence of the first two, (3) contributed to the history and future traditions of the game.
First consideration goes to Pete Sampras, who reached his publicly stated goal of first place in the year-end ATP point standings. Although hampered by physical problems several times during the year, Sampras captured the world's premier event, Wimbledon, for the fifth time, winning a memorable five-set final against Goran Ivanisevic. Sampras also made the Final Four at the U.S. Open, reached the finals of two Super Nines, and sealed his narrow lead in ATP points over Marcelo Rios by reaching the semis at the year-end ATP World Championship in Hannover. Sampras's powerful serving, ground strokes, and net game, along with his general athleticism, make him almost unbeatable when at his best, certainly a worthy champion of our sport over recent years.
Rios finished second to Sampras in the official point totals. The enigmatic Chilean did not win a Slam, but he finished second in Melbourne and reached the final eight at the French. With penetrating shots, superior all-court speed, and wonderful variety in his construction of points, Rios won three springtime Super Nines--Indian Wells, the Lipton, and the Italian Open. He also won the Grand Slam Cup in Munich, a rich event inexplicably not counted in the ATP point rankings, and he won his only Davis Cup singles match before succumbing to injury in Chile's losing effort against Argentina.
I believe that either man, Sampras or Rios, if playing at his 1998 best on his best surface would almost certainly have beaten the other. There were, however, no head-to-head encounters between the two this year. Rios's lackadaisical on-court manner was widely noticed. Probably this is his best way of staying relaxed, though the looseness seems to become more prominent when he starts to fall behind. Still, I believe that Rios's 1998 achievements place him by a narrow margin ahead of Sampras.
A top candidate of course is Lindsay Davenport, winner of the 1998 WTA points race. Davenport reached at least the quarters of all four Slams, won the U.S. Open, and won two Tier Ones (the Pan-Pacific in Tokyo and the European in Zurich). Her rise this year seems owed to her improved court mobility, which helped her defensive play and, probably more significantly, enhanced her power ground game by bringing her to hammering posture more quickly and more frequently.
But just as on the men's side, the official leader's margin was narrow and open to discussion. The women's runner-up, Martina Hingis, matched almost exactly the principal achievements of Davenport. Like Davenport, Hingis reached at least the quarters of all four Slams, won one (the Australian), and won two Tier Ones (Indian Wells and the Italian). She also won the year-end Chase championships in New York--the women's equivalent of Hannover--defeating Davenport in the year's final showdown, thus reversing her loss to Davenport in the U.S. Open final. Hingis played in all three Fed Cup rubbers for Switzerland, winning all her singles matches including two in her country's final-round loss to Spain. (Davenport did not play in the U.S.'s semifinal loss to Spain.) Finally, Hingis achieved a Grand Slam in women's doubles, playing with two different partners, though she lost in the Chase doubles.
I believe that the above achievements of either Davenport or Hingis overshadow those of Rios or Sampras. Moreover, in my opinion, Hingis's victories in Fed Cup and in doubles move her clearly ahead of Davenport.
Two other players merit nominations. Both finished behind the leaders in year-long points but were inordinately high achievers during stretches. Both play aggressively and have top net skills. Pat Rafter won the U.S. Open for the second straight year, after an amazing run in the North American tournaments in August. Rafter held the lead in 1998 points briefly in September. Meanwhile, Jana Novotna's Wimbledon victory ranks as perhaps the year's most singular triumph. Both players excelled in doubles, Rafter qualifying for Hartford with Bjorkman (though not playing there), and Novotna winning three Slam doubles with Hingis. Neither Rafter nor Novotna achieved as much as either Davenport or Hingis, however, though Rafter's record approaches that of Rios or Sampras purely among the men.
One other relatively obscure player held my attention until the year's final matches because of his remarkable Davis Cup record. Playing in April for Italy against India, Andrea Gaudenzi won two singles matches, both meaningful, plus his doubles. Then in July, Gaudenzi won his only meaningful singles and his doubles (with Nargiso) against Zimbabue, and he repeated the achievement against the U.S. in September. Thus, entering the final rubber against Sweden in December, Gaudenzi had carried the Italian team by attaining an undefeated 7-0 personal record, all in meaningful matches. Had he completed his run against the Swedes, thereby winning the Cup for Italy, Gaudenzi would have been my choice for Player of the Year. But, as often happened in international tennis this year, injuries intervened. Gaudenzi--apparently trying to play too soon after shoulder surgery--was sidelined late in his evenly contested first-day's battle against Magnus Norman.
All the above candidates command my deep admiration. But none of them is my top hero/heroine for the year. As I mulled over the various possibilities, the accomplishments and qualities of yet another player began to stand out. It was a choice that gradually became so obvious as to be, for me, almost a no-brainer.
THE PLAYER OF THE YEAR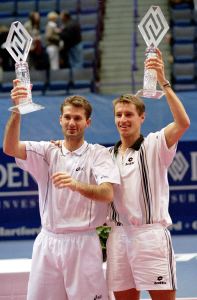 Eltingh, with Haarhuis (Right), as the winners of the 1998 ATP World Doubles Championship. Photo by Ron Waite.

The men's doubles game remains far behind singles in fan appeal, publicity, prize money, and indeed in the ambitions of most young pros. Extended rallies in doubles, which are assuredly exciting for both spectators and players, are too infrequent. Still, doubles is the game most enjoyed by many--perhaps most--ordinary participants.

My choice for 1998's Player of the Year is a doubles specialist, a 28-year-old right-hander, Jacco Eltingh of the Netherlands. For Eltingh, the year was one of remarkable success on court and was reflective of an unusual sense of values off.

Eltingh stopped playing competitive singles in 1997 because of bad knees, having ranked as high as #19 in singles two years earlier. Last year, he and doubles partner Paul Haarhuis ranked second to the Woodys. Year 1998 began awkwardly for them, as Haarhuis missed the Australian season to be with his wife during the birth of their first child. Eltingh therefore played the Australian Open with Jonas Bjorkman, and that one-time pair won the championship, defeating the Woodys in the final.

Re-united in Paris, Eltingh and Haarhuis won Roland Garros in June, defeating Bjorkman-Rafter and Knowles-Nestor. Soon afterwards, they won Wimbledon, reversing their final-round loss to the Woodys the previous year. Meanwhile, Eltingh won two victories in Davis Cup doubles, one with partner Jan Siemerink and one with Haarhuis. Eltingh-Haarhuis entered the U.S. Open as the top seeds, but this time it was Eltingh who departed to be present at the birth of his son, thus forfeiting his chance for a Grand Slam in doubles. Eltingh-Haarhuis ended the year by sweeping the ATP World Championships in Hartford, winning five matches in five days against the world's best.

I watched Eltingh-Haarhuis early in the year indoors in Philadelphia, a tournament with a fine history that, sadly, will no longer be held. I watched the first two sets of their magnificent Wimbledon final by television. (Sadly, the rest of the match was not carried in America.) In November, I watched them in Hartford, and had a chance to quiz them after each of their wins. I was usually able to talk with them almost uninterruptedly for ten minutes or so, as the other American writers were mainly satisfied after obtaining one or two quotes. (Four writers from the Netherlands, who usually sat in the front row with me, conducted their interviews in Dutch.) I came away hugely impressed with the intelligence of both Eltingh and Haarhuis. Their replies often went well beyond my immediate question and invariably revealed a thoughtful approach to the game. Most remarkable to me was their human decency--evident in how they talked about themselves and the other players and, especially, in the dignity and patience they accorded this unfamilar writer with the endless questions. After their final victory, they shook hands with all the writers and initiated a few extra minutes of friendly conversation.

Eltingh has announced his retirement from competitive tennis. He has ruled out occasional reappearances, in Davis Cup or elsewhere. He has lived out of a suitcase since he was 13, he explains, and is ready for a different life. His is seemingly that unusual case where a champion athlete elects to step down while assuredly on top. It is these circumstances, along with his win with Bjorkman in Australia, that justify singling Eltingh ahead of partner Haarhuis here. Finally, although sentiment may be overruling logic here, I choose Eltingh narrowly over Hingis, who, after all, has many years ahead.

It is a privilege to honor Eltingh, a true champion, as the Tennis Server's 1998 Player of the Year.

--Ray Bowers

Ray hopes that readers will tell him where they agree or disagree by using this form



Between The Lines Archives:
1995 - May 1998 | August 1998 - 2003 | 2004 - 2015
If you have not already signed up to receive our free e-mail newsletter Tennis Server INTERACTIVE, you can sign up here. You will receive notification each month of changes at the Tennis Server and news of new columns posted on our site.
This column is copyrighted by Ray Bowers, all rights reserved.
Following interesting military and civilian careers, Ray became a regular competitor in the senior divisions, reaching official rank of #1 in the 75 singles in the Mid-Atlantic Section for 2002. He was boys' tennis coach for four years at Thomas Jefferson High School for Science and Technology, Virginia, where the team three times reached the state Final Four. He was named Washington Post All-Metropolitan Coach of the Year in 2003. He is now researching a history of the early pro tennis wars, working mainly at U.S. Library of Congress. A tentative chapter, which appeared on Tennis Server, won a second-place award from U.S. Tennis Writers Association.
Questions and comments about these columns can be directed to Ray by using this form.
---