The Lions of Senior Tennis

Ray Bowers
The two left-handers began their warm-up. On one side of the net could be seen the familiar groundstroke techniques--the nearly straight elbow on the forehand, the two hands on the backhand, the firm and relatively flat hitting into the ball with little or no overspin. In full tennis whites, Jimmy Connors at 46 still walked about the court with a characteristic swagger. Fans at the Trigon Senior Classic in Richmond, Virginia, third stop on the 1999-2000 season's Worldwide Senior Tennis Circuit for players over 35, had learned to adore the long-time warrior. A principal mover over the years in building the senior pro tour, Connors had won the Richmond event the last two years. His leadership in men's senior tennis, however, had been overtaken in 1998-1999 by his opponent of today.
Across the net was John McEnroe, now 40. If the hair was now greying, still there was the broad headband tied across the forehead. The McEnroe forehand still looked the same to me, not very different from Connors's except with a bit more overspin. There too was the magnificent backhand, a shot that still carried far more pace than seemed possible with the short backswing and minimal effort of the striker. The old timing and balance could be sensed even in the warmup. The practice volleys jumped from the McEnroe racket, the practice serves from the familiar back-to-the-net, twisting service delivery.
Jimmy Connors
Credit: Worldwide Senior Tennis Circuit
Connors's path to the final at Richmond had been relatively easy. He played tight tennis, moving well about the court to deliver firm, controlled ground strokes consistently deep into the corners, denying opponent a favorable attacking opportunity and eventually creating an opening for a vicious and well-paced angle of his own. Connors seemed to attack the ball less fiercely than before, generating his former pace by means of a more controlled stroking of the ball, perhaps in an adaptation to the new racket technology. Connors disagreed with this observation when I asked, insisting that his technique had changed little over the years.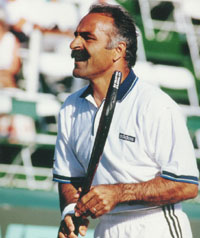 Mansour Bahrami
Credit: Worldwide Senior Tennis Circuit
Neither Guillermo Vilas nor Mansour Bahrami had the weapons to contend with Connors's relentless shotmaking. Against Bahrami, the superiority of Connors's ground game became apparent early in the first set. After that, both players joined in a crowd-pleasing exhibition of offbeat shotmaking and good-natured bantering. Bahrami, who is the senior circuit's fastest server and is among its four or five top competitors, is better known for his array of trick shots and entertaining antics--guaranteed to entertain, indeed dazzle, any gallery.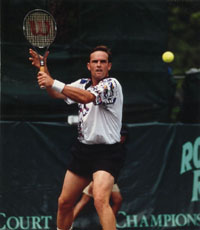 Tim Wilkison
Credit: Worldwide Senior Tennis Circuit
To reach the Richmond final, McEnroe had been pushed to win two intense and high-order matches. In both, McEnroe's serving and volleying strengths--along with a nice dose of clay-court tactics--had carried him through. His first opponent had been North Carolinean Tim Wilkison, a tireless battler who fights for every point and has enough mobility and power to turn around almost any adverse situation. Wilkison lunges, he grunts, he hammers away, and never gives up, having earned the nickname Dr. Dirt. He and McEnroe have opposed each other many times since their early teens. Wilkison has never won, but it was obvious at Richmond--and McEnroe afterwards acknowledged--that the gap between the two is now small. Then in the semifinal, McEnroe faced Jose Luis Clerc, who had upset Andres Gomez. Against McEnroe, Clerc played a horrible first set but he recovered to stay even throughout the second, showing strong serving and a run of magnificent power backhands. Clerc faltered only in the last few points.
At least one of the lions seemed to have mellowed. Connors, comfortably ahead in both matches, enjoyed playing to the crowd and did so in a pleasing way. But McEnroe still challenged every close call, glared at his opponents after their best shots, and raged against himself for making errors. He complained about the loudspeaker system, gave instruction to the net-cord judge, and helped enforce the no-smoking rule in the stands. Against Clerc there was a nasty five-minute eyeball-to-eyeball confrontation between the two players after a close line call, both men ignoring the umpire. Still, McEnroe's harshest edges were gone, and there were many appealing moments when McEnroe led cheers for himself or exchanged high-fives with youngsters sitting courtside after hitting winners.
The tournament was small and informal in comparison with men's tour events, giving me a great chance to talk tennis with ordinary fans, with the other writers, and with some of the players. One day I met Herbert Walker of Forestville, Maryland. Herbert, I learned, is a loyal reader of Tennis Server. He has been a serious player for several years, and it was nice to learn that he enjoys and is helped by the instructional articles in our magazine.
In talking with the players, a good opening topic was the current Davis Cup competition. Andres Gomez, ever friendly and polite, told about his duty with the Ecuadorian Cup team in their recent victory over Argentina. (Gomez and his partner won the doubles.) He is looking forward to Ecuador's engagement with the Netherlands for a place in next year's World Group, and he believes that his team has an excellent chance on the home-court clay. We talked a bit about Ecuador's Francisco "Pancho" Segura, a past star of considerable tennis longevity. Segura grew up with and knew Gomez's father in Guayaquil. Without much prompting from me, Gomez talked about the surpassing of one tennis generation by the next. The physical effects of time have a role, he acknowledged, but the younger players have an important advantage in having grown their games about today's equipment and techniques.
I sought out Australian John Fitzgerald, who lost his first-round singles to Vilas but reached the finals in the doubles. I mentioned the name of a mutual friend--my long-distance correspondent Basil Stafford of Melbourne, who sent me E-mail "postcards" during the Australian Open for daily publication on my Tennis999 web site. Fitzgerald became friendly, and we talked of his bad knee and torn calf muscle, which hampered his mobility and serving against Vilas. Fitzgerald had been in Zimbabue as a broadcaster for the recent Cup matches, and he explained that the Australian victory had not been easy, that the opponents had, as in 1998, played very well. He credited Rafter highly for his two singles wins. We talked about the young Australian women--Dokic, a superb baseliner, and Molik, whose serve is among the best in women's tennis, Fitzgerald said. He also likes the future of Lleyton Hewitt, who is superb in court mobility and counter-punching. Hewitt is not a major threat yet on clay, Fitzgerald replied to my question, because his shots lack the heaviness and topspin of the top clay artists.
I asked him about the senior circuit's visit to Sydney and Melbourne last year. Fitzgerald said that the events had been successful and noted that that a huge crowd had attended a Borg-McEnroe battle. The senior tour will not visit Australia this season, but Fitzgerald understands that the promoter is working on a return in 2000-2001.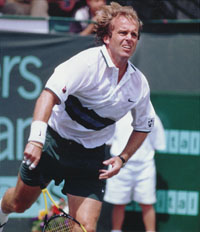 John Lloyd
Credit: Worldwide Senior Tennis Circuit
I caught John Lloyd at a bad time. He had just lost to Bahrami in a "champions" tiebreaker, which takes the place of a third set in senior circuit events. Whoever first captures ten points by a margin of two becomes the winner. I walked back to the players' locker room with Lloyd and asked him how he liked playing the tiebreaker instead of a full third set. Despite his immediate misfortune, Lloyd said that the idea is a good one, that it allows the senior players to play their hardest without pacing themselves for a possible third set. The result was a higher brand of tennis for the fans, he said. I then asked Lloyd about his role as coach of the British Davis Cup team. He confessed that the job was not a demanding one, as the top players have their own coaches and seldom seek further advice. He is looking forward to Britain's relegation meeting with South Africa, and he expects the top British players to participate.
The Worldwide Senior Circuit has grown rapidly in recent years largely under the initiative of Connors. There are 22 scheduled events in the 1999-2000 season. Significant prize money is offered, and the events are linked in a point system which serves to choose the eight contestants for the season-ending tournament in March. The first two stops in 1999-2000 were at Qatar and Raleigh, North Carolina, won by Bahrami and Connors, respectively. Forthcoming tournaments will be in Washington, D.C., in mid-May and in Westchester County, New York, and in San Diego in June.
I've often wondered why senior men's tennis has not attracted stronger general interest, given the popularity of women's tennis and senior men's golf. The fans in Richmond hugely enjoyed the many extended points, the dosage of crowd-pleasing entertainment, and the intense competition seen, for example, in McEnroe's matches. Several of the sessions were absolute sell-outs. I am confident that every paying customer at Richmond would recommend the circuit to tennis friends, and I would unhesitatingly second the recommendation.
Connors Against McEnroe
There was no playing to the crowd by Connors on final Sunday, May 2, 1999, no irritant to perhaps incite his opponent to the furies that sometimes raise McEnroe's game to its peak. There was no banter with one another, no chit-chat with the spectators, nothing but the business at hand. The two had faced each other 33 times on the men's tour, McEnroe winning 20. (McEnroe led 6-3 in the Slams; they split their two meetings in Slam finals, both at Wimbledon.) Connors led on the senior tour, 5-3.

Connors served first and went into the tight-tennis mode that had served him well all week. The first game saw McEnroe twice execute superb volley putaways at net, but it was not enough, and at 40-30 a Connors serve bit the sideline to close out the game for Jimmy.

Things went well for McEnroe for four points into the second game. Mac hit an ace, then a magnificent stretch volley, then another ace to lead 40-15. (It's not easy to ace Connors on slow clay on a cool day.) But then came the early turning point. Connors plastered two superb service-return winners and collected two McEnroe mistakes to close out the break and take the lead, two games to love.

There were many fine exchanges thereafter. Both players drove to the corners incredibly well, and both moved well to maintain the rallies. But almost always it was Connors who came out ahead in the baseline play, and whenever McEnroe reached the net it was Connors who hit the pass. However well McEnroe played, Connors seemed to answer. The warm sunshine during the warmup had given way to clouds and now a few drops of cold rain. And as the wind increased in velocity, McEnroe's precision game slipped off its knife's-edge. Soon it was Connors, five games to love, and then the set was over, six games to one.

McEnroe had looked good in his first appearance at the tournament, in a first-round doubles. But in retrospect, it now seemed that the tough singles play probably had pulled him down. Each appearance, including a poor semi-final doubles effort Saturday evening, seemed increasingly marked by errors. Perhaps he was now tired; especially after playing both singles and doubles last evening. Or perhaps the effects of his long layoff from competitive play (since November) were telling. Certainly the slow, wet clay, and the difficult cold and wind was taking a lot from the McEnroe edge this day.

All the above came to mind as the second set unfolded much like the first. It seemed that McEnroe's only hope was to serve extremely well, to reach net somehow, and then to volley at his very best. Mac tried. He snarled at himself, he glared at every out call, he nodded to the pleas of his fans, but the McEnroe will was not enough. There was simply too much Connors consistency, accuracy, and mobility. And too many errors by McEnroe. Connors won 6-1, 6-2 before a gallery stunned in admiration of Connors's superb play.

Late in the match I began to wonder--is Connors the best over-45 player in tennis history? It was easy in the clarity of the moment to think so. Courtside after the match, I put the question to McEnroe, and the freshly wounded battler--though perhaps understandably in shock--unhesitatingly agreed with the thought. There is of course room for discussion. The old over-45 "masters" tour had showcased the brilliance of seniors Gonzales, then Sedgman in the late 70's, and finally Rosewall in the 80's. Long before that, when I saw my first pro tennis match at 12, I watched an over-45 Bill Tilden take on Fred Perry, recent Wimbledon and U.S. champion. Tilden of course did not win, but he would play (and lose to) Grand Slam champion Budge the next evening. Connors has one indisputable edge over Gonzales, Sedgman, and Rosewall, as his present dominance at 46 is being achieved against opponents as young as 35. I postpone the issue for later thought, but the amazing performance in Richmond seems convincing for the moment.

Connors freely confirms that he is not the player he once was. He has noticed a decline in his vision in recent years, the vision upon which his once-superior serve-returning ability rested. The men's pro game has changed, too, so that Connors's style of tennis is no longer the standard for today's young stars. But Connors's display of concentration, control, and skill, one that by its commanding brilliance stunned the knowledgeable tennis audience at Richmond, will for me remain among the most compelling episodes in my personal history of tennis watching.

--Ray Bowers



Between The Lines Archives:
1995 - May 1998 | August 1998 - 2003 | 2004 - 2015
If you have not already signed up to receive our free e-mail newsletter Tennis Server INTERACTIVE, you can sign up here. You will receive notification each month of changes at the Tennis Server and news of new columns posted on our site.
This column is copyrighted by Ray Bowers, all rights reserved.
Following interesting military and civilian careers, Ray became a regular competitor in the senior divisions, reaching official rank of #1 in the 75 singles in the Mid-Atlantic Section for 2002. He was boys' tennis coach for four years at Thomas Jefferson High School for Science and Technology, Virginia, where the team three times reached the state Final Four. He was named Washington Post All-Metropolitan Coach of the Year in 2003. He is now researching a history of the early pro tennis wars, working mainly at U.S. Library of Congress. A tentative chapter, which appeared on Tennis Server, won a second-place award from U.S. Tennis Writers Association.
Questions and comments about these columns can be directed to Ray by using this form.
---