The Elites of Pro Doubles

Ray Bowers
The reign of Eltingh-Haarhuis atop the doubles game ended with the retirement of Jacco Eltingh at the end of 1998. In their final year together, the Netherlands pair captured the French Open and Wimbledon along with the year-end ATP World tournament in Hartford, where they defeated five opponents all ranked in the world's top eight. Doubles fans wondered who would be the likely successors.
Things gradually clarified as the new year unfolded. Listed here are the winners of the three 1999 Slams to date:
--Australian Open: Bjorkman-Rafter
--French Open: Bhupathi-Paes
--Wimbledon: Bhupathi-Paes
THE CURRENT LEADERS--BHUPATHI-PAES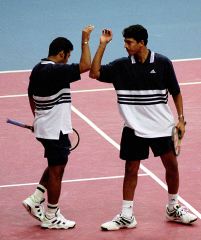 Leander Paes and Mahesh Bhupathi
Credit: Ron Waite
1998 ATP World Doubles Championship

The pair of Mahesh Bhupathi and Leander Paes took the mid-year lead, having reached the final at the Australian Open and capturing the Roland Garros and Wimbledon championships. Their only Slam loss was hardly an embarrassment--a five-set thriller to Bjorkman-Rafter in the final at Melbourne.

Both Bhupathi and Paes were born in India and both represent that nation in Davis Cup play. Bhupathi attended the University of Mississippi 1993-1995, where he won the NCAA doubles championship. At age 25 and six-one, Bhupathi has a harder serve than Paes, and will typically serve first and from the more difficult side. He has a two-handed backhand, and is probably the pair's solider, more-reliable shotmaker. Meanwhile Paes at age 26 and five-ten is the more-animated performer, a real crowd-pleaser. He leaps athletically, makes noises, is mobile and aggressive at net. He has achieved good success in singles, having won the bronze in the 1996 Olympics. Bhupathi plays the ad court. They use the I-formation occasionally, especially on critical points.

I watched Bhupathi-Paes in two entertaining matches last fall at Hartford. They lost in three sets to Johnson-Montana when Bhupathi delivered several double-faults at critical times. Against Stolle-Suk the Indian pair again lost in three, mainly because of a stretch of superb play by Stolle and their own volleying errors at bad times. Their early departure from the event was a disappointment, and at that time I scarcely expected them to rise to their present dominance.
THE OTHER ELITE PAIRS
Four other pairs merit listing among the current elite based on their 1999 performances. None are within instantaneous striking distance of Bhupathi-Paes, but two or three tournament wins could propel any of them to the top.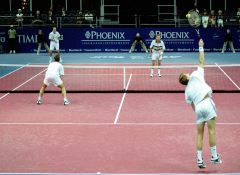 Rick Leach (returning serve at far left)
and Ellis Ferreira (far right)
Credit: Ron Waite
1998 ATP World Doubles Championship

Ellis Ferreira and Rick Leach are both left-handers at six-two. Ferreira (not related to Wayne Ferreira), 29, is from South Africa and attended the University of Alabama, where he was three years an All-American in doubles. Californian Leach, 31, who plays the deuce court for the pair, was twice NCAA doubles champion at Southern Cal. Both men are now exclusively doubles specialists. Leach is a former Australian Open, Wimbledon, and U.S. doubles champion, and he has a 7-2 doubles record playing for the U.S. in Davis Cup.

The pair's record for 1999 through Wimbledon was 21-11. They won the Italian Open and reached the final at Indian Wells. They lost to Bhupathi-Paes in the semis of the Australian, then defeated the Indian pair at Indian Wells, and lost again to them in the quarters at Roland Garros.

I watched Ferreira-Leach closely last fall in their win over the Woodys at Hartford. Ferreira, whose serve was not broken during the match, closed out the first-set tiebreaker with a 124-mph ace. Ferreira-Leach regularly used either the I formation or the Australian formation in serving to Woodbridge in the deuce court, essentially taking away the Australian's esteemed inside-out return. Woodbridge noted afterwards that he found the Ferreira-Leach's left-handed serves down the middle very difficult to return directly ahead, a necessary reply because of the unconventional serving formation. Woodbridge had been earlier voted the tournament's best volleyer by the players, but it seemed to me that Ferreira's volleying was consistently the best on court that day. I mentioned this to Ferreira afterwards, and he said thanks but that he could not equate his volleying ability with Woodbridge's.

Ellis Ferreira has represented South Africa in Davis Cup and at the Olympics. I asked him why so many South Africans seemed to excel at doubles. Ferreira gave an extended answer. The national junior program, he explained, is based at Johannesburg, which is located well inland at an elevation of about 6,000 feet. In such conditions, he continued, a serve-and-volley style is encouraged featuring skills useful in doubles. Young players are unlikely to develop the power topspin ground strokes widely seen in top singles play today. To strengthen the nation's future stars in singles, Ferreira would like to see the national program moved to a coastal area having at least some clay courts. He asked me to write that point in my column, a commitment now fulfilled here.

1999's third-ranking pair is the combination of Jonas Bjorkman and Pat Rafter. Their triumph in this year's Australian Open was stirring, marked by a five-set win over the Woodys in the semis and the aforementioned five-setter over Bhupathi-Paes in the final. Bjorkman brings excellent doubles skills to the partnership, having been a finalist at the French and U.S. Opens in other years with other partners. Rafter of course contributes the superb serve-and-volley abilities widely seen in his singles triumphs. Reaching the semis at Wimbledon this year in singles, Rafter withdrew from the doubles quarter-finals when the scheduling became compressed because of rain. Later, Rafter said he would no longer enter both singles and doubles in Slams.

The fourth-ranking pair is a new partnership this year--Wayne Black of Zimbabue and Sandon Stolle of Australia. Both earned NCAA All-American honors in doubles, Black at Southern Cal, Stolle at TCU. Both have been ranked in the top 100 in singles but have achieved greater success in doubles. Black is a former doubles semi-finalist at both Wimbledon and U.S. Open. Stolle won the U.S. Open last year with partner Cyril Suk.

Black-Stolle won the Super Nine tournaments at Indian Wells and Key Biscayne this year and achieved a fine 7-3 record in the three Slams to date. Probably their best win was over Ferreira-Leach in straight sets at Indian Wells. Stolle is a wiry six-four, Black a smallish five-seven. Stolle partnered Rafter at World Team Cup this spring, winning the event.

Completing the top five are Australians Woodbridge and Woodforde--the Woodys-- who continue to command the esteem of tennis people everywhere. Their 1999 record is below their accustomed standard, however, though they won the winter indoor events at San Jose and Memphis and recorded a close semi-final loss to Bjorkman-Rafter at Australian Open. The Woodys had won Wimbledon for five consecutive years through 1997, but this year the pair went down in the quarters to Haarhuis-Palmer. Soon afterwards, Woodbridge removed himself from the Australian Davis Cup team, apparently in a move to open the way for Stolle. Still, the Woodys remain obviously able to compete at the highest level.
THE BEST OF THE REST
Service breaks are infrequent in doubles but can occur abruptly, from just a few exceptional points. In the thirteen meaningful matches at Hartford last fall, servers were broken in just 13.7% of the games. Thus doubles pairs able to hold serve most of the time have an excellent chance to win sets, indeed matches, against better opponents.
The array of doubles talent just behind the elite group includes a dozen or so pairs capable of playing the front-runners close and sometimes defeating them. Winning doubles matches is their livelihood, and there is nice prize money to be won by the eight pairs that eventually qualify for Hartford.
Doubles fans wondered what would happen in 1999 to Paul Haarhuis, the former champion with Eltingh and a superb ad-court player with a superior serving game. After playing several early-year tournaments with lefty Pat Galbraith, Haarhuis in April began a partnership with American Jared Palmer. Haarhuis-Palmer rapidly accumulated points and reached the finals at Wimbledon, where they lost to Bhupathi-Paes in four sets.
Among other contenders are Australians Arthurs and Kratzman, winners of the German Open this year and at Newport. Arthurs showed his superb serving ability in reaching the fourth round in singles at Wimbledon and taking the first set from Agassi. Meanwhile, the South African pairs Adams-de Jager and Norval-Ullyett maintain solid records, while the French team of Delaitre and Santoro, who reached the semis at Hartford last fall, remain in contention with a style flavored by excellent back-court shotmaking. Mark Knowles and Dan Nestor, finalists at Hartford last fall, are still playing together.
The highest-ranking all-U.S. pair is Reneberg-Stark. Not far behind them are the brothers Bob and Mike Bryan, who entered the pro wars from Stanford only last summer and have risen nicely in the rankings. I watched them during their pro doubles debut in Washington, where they captured the fans in a hard-fought loss on a Saturday evening spoiled by the cancellation of the scheduled singles semi-final. This year the Bryans show wins over Bjorkman-Rafter and, at Wimbledon, over Ferreira-Leach.
THE WOMEN'S DOUBLES
Unlike among the men, nearly all the top women's doubles stars are, first of all, active competitors in singles. Further, whereas except for the Bryans nearly all the top men's doubles artists are in their mid-twenties or older, the oldest of the six winners in 1999 women's doubles Slams is Lindsay Davenport, 23.
--Australian Open: Hingis-Kournikova
--French Open: Williams-Williams
--Wimbledon: Davenport-Morariu
That Martina Hingis at 19 is the best doubles player in women's tennis is almost beyond question. She won the last three Australian Opens with three different partners, and she won the other three Slams in 1998 with yet another partner. Hingis has brilliant in-close quickness and racket control, and she shifts herself about the court and places her shots with instincts for doubles almost unbelievable for a player this young.
Hingis is playing this year with Anna Kournikova, having foolishly said publicly that her usual partner of 1998, Jana Novotna, is now too old and too slow. Kournikova, 18, plays the deuce court and brings a complementing game to the partnership--a strong serve return, good hands at net, a fine overhead game, and, except for a spell of double-faulting early this year, a strong doubles serve. The "spice girls" of tennis swept through the 1999 Australian Open and Indian Wells, gathering victories over Davenport-Zvereva and Novotna-Fernandez. They won the Italian Open in early May, then lost to the Williams sisters in the final at Roland Garros in an extended third set. At Wimbledon Hingis quit the doubles after her first-round loss in singles, stranding Kournikova.
Three other stars--Novotna, Davenport, and Zvereva--paired in any combination, are essentially equal with Hingis-Kournikova. Lindsay Davenport is a strong server and excellent serve-returner and volleyer, while Novotna is an extremely agile net player. Davenport and Novotna were an effective partnership in 1997, winning the U.S. Open and the year-end Chase Championship in New York. Meanwhile Natasha Zvereva, at age 28 holder of 17 Slam championships in women's doubles, seems as solid as ever. Playing together throughout last year, Davenport and Zvereva reached the finals in all four Slams and then won the year-end Chase Championship. This year, Davenport-Zvereva again reached the finals at Melbourne and won the Pan-Pacific. Then, after several losses, the partnership separated.
A kind of musical chairs ensued. Zvereva played Rome with Mary Pierce, then played Garros and Wimbledon with Novotna. (Novotna hurt her ankle when the partners collided at Garros, but the pair reached the semis at Wimbledon.) Meanwhile Davenport played Garros with Pierce, reaching the semis, then won Wimbledon with American Connie Morariu. It seems clear that any combination of Davenport, Zvereva, and Novotna--perhaps also the Davenport-Morariu pairing--belongs in the elite class.
The remaining elite pair is Serena and Venus Williams. The power-hitting sisters captured their first important victory last fall at the Eurocard, then reached the semis at Melbourne this January, bowing to Davenport-Zvereva. They reversed this loss at Indian Wells in March, and then swept through to win Roland Garros losing only one set. They did not compete at Wimbledon.
The 1999 summer tournaments and U.S. Open should produce several head-to-head meetings among the elites. A few other pairs are relatively close behind--the fine French team of Fusai and Tauziat and the Wimbledon runners-up--South African Mariaan de Swardt and eastern European Elena Tatarkova. Meanwhile younger players--Srebotnik, Lucic, Dokic, Stevenson, Molik--may be expected to establish themselves early within the contending group.
MIXED DOUBLES
Official rankings are nonexistent in mixed doubles. Almost the only pro competition is at the four Slams, where most of the top men's and women's doubles players enter the mixed. (I wonder why there is no mixed at the Lipton, the only other place where the men's and women's tours link.) The 1999 Slam results follow:
--Australian Open: Adams-de Swardt
--French Open: Norval-Srebotnik
--Wimbledon: Paes-Raymond
The 1999 mixed-doubles year began at the Hopman Cup in early January. Two-person national teams (consisting of one male and one female player) competed in singles and mixed doubles. There was no clear mixed-doubles champion. Philippoussis and Dokic won the climactic final doubles match for Australia against Sweden but the Australian pair had lost two of three doubles matches in the earlier round-robin. France's Raoux and Testud were undefeated in three round-robin matches.
The Slam winners listed above compose our 1999 elites. To these should be added French Open runners-up Rick Leach and Larisa Neiland, who also made the quarters at Wimbledon. At Wimbledon, the pair of John McEnroe and Steffi Graf generated much excitement, defeating Woodforde-Davenport and Gimelstob-Venus Williams in early rounds. But the scheduling backup forced Graf's withdrawal and led to some public griping by McEnroe. The Wimbledon final, pitting Paes-Raymond against Bjorkman-Kournikova, went three sets and entertained a large gallery long after the singles ended.
A FEW THOUGHTS
Pro doubles remains a fascinating spectacle, especially in the women's game where points are longer than in the men's. Doubles has been gaining in general interest recently but remains far behind singles. Fans are bewildered by the changing partnerships, which often mix national identities, and find it difficult to keep up with the competition from week to week. Reporters and indeed tournament promoters tend to ignore doubles.
Perhaps the doubles game itself needs moderate change, at least on the men's side where extended points are too few. Meanwhile the players themselves must cut down on their withdrawals. (Hingis's departure from the Wimbledon doubles and perhaps that of Serena Williams seemed unnecessary.) Finally, it goes almost without saying that tennis writers should pay more attention to doubles, the game that most ordinary tennis-lovers most enjoy playing.
--Ray Bowers



Between The Lines Archives:
1995 - May 1998 | August 1998 - 2003 | 2004 - 2015
If you have not already signed up to receive our free e-mail newsletter Tennis Server INTERACTIVE, you can sign up here. You will receive notification each month of changes at the Tennis Server and news of new columns posted on our site.
This column is copyrighted by Ray Bowers, all rights reserved.
Following interesting military and civilian careers, Ray became a regular competitor in the senior divisions, reaching official rank of #1 in the 75 singles in the Mid-Atlantic Section for 2002. He was boys' tennis coach for four years at Thomas Jefferson High School for Science and Technology, Virginia, where the team three times reached the state Final Four. He was named Washington Post All-Metropolitan Coach of the Year in 2003. He is now researching a history of the early pro tennis wars, working mainly at U.S. Library of Congress. A tentative chapter, which appeared on Tennis Server, won a second-place award from U.S. Tennis Writers Association.
Questions and comments about these columns can be directed to Ray by using this form.
---