Notes From Hartford
The 1999 ATP World Doubles

Ray Bowers
Twas a rare treat for watchers of doubles--five days of head-to-head competition among nine of the world's ten highest-ranking pairs. The 1999 ATP World Doubles championships began on November 17 at Hartford.
Four of the five inhabited continents were represented. Three players were from Australia, four from North America. Five came from Eurasia, and, perhaps surprisingly, the largest number, six, came from Africa.
Clear favorites to win the tournament were the Indian team of Paes-Bhupathi, 1999 Wimbledon and Roland Garros champions and finalists at the other two Slams. Also present were the Woodys--Australians Todd Woodbridge and Mark Woodforde--the doubles superstars of the 1990's, along with North Americans Sebastien Lareau and Alex O'Brien. Lareau-O'Brien had won the U.S. Open in September as well as the recent major test, the Paris indoors, in early November. Not present at Hartford were the Australian Open champions, Rafter-Bjorkman, absent because of Rafter's recent shoulder surgery.
PLOTS AND SUBPLOTS
The players relished being no longer second-class citizens to the singles stars elsewhere on the circuit. They even seemed to enjoy the attention of the writers.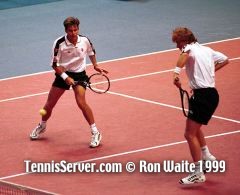 Woodbridge (left) & Woodforde.
Probably the Woodys were the most helpful. Both men are obviously very intelligent. Talking with them was a little like interviewing a scientist who listens to the question and then carefully answers in terms a layperson can understand. The Woodys -- five-time Wimbledon champions -- repeatedly affirmed their determination to regain their former dominance in pro doubles. Woodforde said that he would begin making doubles his main tennis priority.
Alex O'Brien is in many ways the quintessential American. His body language between points and during changeovers is always positive, wholly competitive, ever confident. Off the court, he is outgoing in nature, friendly and talkative. During the week he several times explained his view that good vibrations between doubles partners are critical, that positive enforcement of one another's confidence is at the heart of a team's success.
There's a bit of Luke Jensen's enthusiasm in O'Brien. In one post-match session, he spontaneously began telling how he becomes charged by the loud and highly rhythmatic music that booms through the Hartford Coliseum during the warm-up and changeovers. The sound, he said, raises his adrenaline for peak performance during the match. The day before, I had asked the Woodys that very question and learned from Woodbridge that he scarcely notices the big sound, except perhaps to "sing along a bit if the music is good." Woodforde agreed. The anecdote seemed to show the differences in the emotional nature of the American on the one hand and the two Australians on the other.
The Woodys defeated Lareau-O'Brien on the second day in a wonderfully played, crowd-pleasing encounter. After the match, I mentioned that there seemed an unusually high percentage of successful serve returns. Woodbridge replied that this should be no surprise, as these were the four best serve-returners in the tournament. His comment was surely accurate, although, interestingly, there had been just one service break in the match.
Defending champion Paul Haarhuis was at Hartford with a new partner, Jared Palmer. But the pair lost to the Woodys early in the round-robin phase and later went down in an elimination battle to Lareau-O'Brien. I asked Haarhuis about his long-time partner Jacco Eltingh and learned that the retired champion had suffered a concussion in a recent fall but should soon return to his tennis broadcasting activity.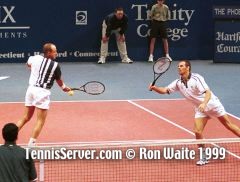 Norval & Ullyett.
I enjoyed watching the African players. The pair of Norval (South Africa) and Ullyett (Zimbabue) had won at Stockholm the previous week but suffered two early losses at Hartford. In their third match, however, they solidly defeated the all-lefty pair of Ellis Ferreira (South Africa) and Rick Leach (U.S.A.), relentlessly using the I formation in serving to Ferreira's backhand. Their obvious pleasure after their upset win seemed almost childlike. Norval showed a nice, bending slice serve and Ullyett some fine all-around ability, thereby showing that Zimbabue has a third hustling player, joining Wayne and Byron Black for Davis Cup play. (The U.S. team will play in Harare next February.) Also interesting was the South African pair of Adams and de Jager, who despite de Jager's bad case of flu played competitively through two losing efforts. The pair have a tendency to plaster the ball at unexpected times, such as on second serves. De Jager told about his own development program for young South Africans, but he noted that the young black players in his country remain well behind the top juniors in other parts of the world.
Wayne Black of Zimbabue was of course a joy to watch. At 5'7", Black barely reaches the chin of his rangy partner, Sandon Stolle. The other players respect and admire Black's quickness and the power that he delivers. No player in the tournament was able to lob effectively over Black, whose overhead--like the rest of his game--is surprisingly big. Black-Stolle fought off several match points and finally defeated Bhupathi-Paes in a late round-robin match, thereby qualifying for Saturday's semi-finals.
Looking ahead to the forthcoming semi, Alex O'Brien said that he hoped that his and Lareau's serving could overpower Wayne. His hope seemed fulfulled for nearly two sets on Saturday, but--like the day before--Black-Stolle stormed back from near-defeat to force a third set. The match was finally decided by a single break of Black's serve despite two aces by Wayne.
The other semi pitted the Woodys against Bhupathi-Paes. The Australians had been undefeated in their round-robin, but in a freak accident Todd Woodbridge sprained his right ankle during the last point on Friday. His ability to play on Saturday was therefore uncertain, but because "he's an Australian" (Woodforde's words) Woodbridge gave it a try. In a splendid match, the Woodys fell to the Indians, two sets to one. Thus Bhupathi-Paes would face Lareau-O'Brien in the Sunday final.
TRENDS IN DOUBLES
Nearly all the players termed the court surface in the Coliseum unusually fast, faster than the indoor surfaces in Europe seen in the recent events. Still, it seemed to me that extended, crowd-pleasing exchanges were more frequent than I had seen here last year. All pairs played conventionally aggressive doubles, competing strongly for net position, moving aggressively or threatening to do so when at net, and nearly always trying to keep their shots narrowly over net.

All-out, preplanned poaches by server's partner at net were rare, but whenever the cross-court serve return was even slightly high and slightly soft, server's partner moved with almost incredible swiftness to intercept it. Returning serve with a lob was not a good counter-measure, probably because of the court speed which made precision in lobbing difficult, even for the master practitioner of the lob return, Leander Paes.

Many serve returns were belted toward the net man, even if the serve was forcing, thus producing a fair number of successful down-the-line passes and errors by net men too eager to poach. Doubles master Pat Galbraith once explained to me that the power of the modern rackets helps the doubles returner more than it helps the server (by facilitating well-paced returns even if struck slightly off racket center). I was seeing a demonstration of Galbraith's point. Still, inevitably, hitting at the net man led to many putaways by the net player--surely exceeding the tactic's rate of success. Though the tactic undoubtedly dampened net-player aggressiveness, the dampening was far from complete.

Likewise noticeable was surprisingly frequent pre-planned poaching by serve-returner's partner. Signals are exchanged beforehand, but the ploy is actually executed only when the return is a better-than-average one--low and dipping--whereupon returner's partner moves quickly forward and toward serve-returner's half of net. His new position at net-center puts much pressure on the net-rushing server, who must adjust to volley or half-volley into the open court, i.e., directly forward. The serve-returner, meanwhile, has started to move over to defend the open area. Many interesting situations developed from this ploy, and I resolved to start trying it at my own club.

Last year at Hartford, the pair of Santoro-Delaitre reached the semis by their remarkable ability to play in back court against opponents at net. The French pair delivered alternating bullets, dipping shots, and overspin lobs, often converting these situations into points won. This year, the only all-European pair was the alternate team of Novak-Rikl, from Czech Republic, who substituted in a late round-robin match against the Woodys. The Czechs did not produce the unusual skills of Santoro-Delaitre, although Novak, who at #41 was the highest ranking singles performer at Hartford, showed nice doubles serving.

Although no team used the I formation exclusively, nearly all pairs used that unconventional serving alignment at times. Bhupathi-Paes, for example, employed it regularly in critical situations. Overall, the I formation was used more widely at Hartford this year than last. (In the I, or "Australian," formation, server's partner crouches below net level at net-center, quickly rising after the serve and moving to defend one or the other side of net, as prearranged with partner. What is also called the "Australian" formation, where the net man simply lines up and plays on the side opposite normal, was not seen at Hartford.)

No player used two hands in volleying. But more than half of the Hartford performers used the two-handed backhand in returning serve and hitting groundstrokes. There seemed no opinion among the players on which was better in doubles, though all recognized that the two-hander slightly limited one's reach. The one-handed underspin backhand, now used at times by most top singles players, was not seen at Hartford except occasionally in chipping serve return.
LAREAU-O'BRIEN SWEEP THE FINAL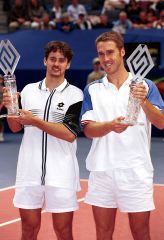 Lareau-O'Brien.
After the five days of wonderful shotmaking, brilliant close-in exchanges, occasional lob winners, and spectacular poaching, at the end it came down to the basics--serving and serve-returning. Bhupathi-Paes were at least equal and probably superior to Lareau-O'Brien in their quickness and all-around doubles court play. But in the accuracy and weight of their serving, coupled with their solid returning on a difficult fast court, the North Americans won the final match decisively, three sets to none.
O'Brien had earlier talked of the importance of mixing up the spin, pace, and placement of the serve. I explored his point by recording the placement of serves during the final. Although I missed some of the deliveries because of inattention or being away from my seat, my data tell an interesting tale.
Of 56 recorded serves put into play by Lareau-O'Brien, 11 were placed within a foot of centerline and another 11 within a foot of the wide sideline. Lareau-O'Brien won all but one of these points.A total of 19 serves went directly at the receiver (in a zone two or three feet wide), and another 15 landed in the intermediate, "wheelhouse" zones of the opponents, 9 of them to the backhand side.
Lareau-O'Brien also mixed in a good dose of the I formation, and the radar gun showed that their first and second serves carried consistently more pace than those of the Indians. With 70 percent of first serves delivered into court, the North Americans won 76 percent of all serving points. For the entire tournament, Lareau-O'Brien won 70.2 percent of points when serving--above the tournament average of 66.8 percent but not as good as the Woodys at 71.0 percent or Black-Stolle at 76.6 percent.
The official statistics for the entire tournament showed that the greater strength of Lareau-O'Brien, however, was in returning serve. In their five matches, Lareau-O'Brien led all pairs by limiting their opponents when serving to a mere 59.0 point-winning percentage. The Woodys held their opponents to 62.5 percent.
Despite their disappointing loss in the Hartford final, Bhupathi-Paes nevertheless retained first place in the ATP rankings as the year's competition ended. Leander Paes is a mercurial and quick-witted individual, both on and off the court, who can be extremely charming and, one guesses, sometimes volatile. There had been rifts between the two partners during the year, and indeed there had been brief periods of separation. During the presentations at court center after the Hartford final, Paes spoke lavish thanks to Bhupathi for making the partnership a success. Later in the press room, the two men talked about the match, confirming the paramount role of serving and serve-returning and denying that injuries or fatigue had contributed to their defeat. (Bhupathi, however, was headed for New York for medical evaluation of long-standing lower-body muscular problems.)
Which of the continents won our imaginary competition?
The leader was North America, claiming five match victories during the week--four won by Lareau-O'Brien and a half-share of the match won by Rick Leach (with Ferreira) and the match won by Jared Palmer (with Haarhuis). Australia could claim four victories--three wins by the Woodys and a half-share of two wins by Stolle (with Black).
The Saturday program included an interesting doubles exhibition pitting Navratilova and Tracy Austin against Gigi and Mary Jo Fernandez, won by the latter pair. The audience warmly applauded each player as she began her first service game. The Sunday mixed doubles, displaying Cliff Drysdale and Luke Jensen, was farcical, although the paying spectators didn't seem to mind.
TENNIS YEAR 2000
The cycle will soon begin anew in January when the Hartford competitors meet again in Australia. The partnership alignments for next year show a trend toward national teams, reflecting that year 2000 will be an Olympic year. Lareau and O'Brien are breaking up--Lareau will team with fellow-Canadian Daniel Nestor, and O'Brien with countryman Jared Palmer. The Canadian pair could be a powerhouse, currently showing ten straight wins in Davis Cup matches. Pat Rafter will probably not play doubles regularly, so Bjorkman will continue with Byron Black. In an interesting pairing, Stolle will sometimes partner Haarhuis. Staying together are Bhupathi-Paes, the Woodys, Ferreira-Leach, and Adams-de Jager. A good bet for 2000 will be the Indian pair, who are relatively young for pro doubles and seem yet to be improving, especially Bhupathi.
After four years, the ATP World Doubles will move away from Hartford. (That city will host a new World Team Tennis franchise, the Hartford Foxfire.) The year-end ATP doubles event will probably be held in Lisbon, the planned site for the 2000 ATP World Singles.
The quality of the competitive tennis at Hartford was incredibly high and certainly more entertaining than last year. Doubles prize money has been substantially improved in recent years (Lareau and O'Brien's check was for a quarter million). But despite the stated intention to elevate doubles in the pro tennis wars, there is still a way to go. Could it be as simple as getting coherent information regularly into the daily world press?
--Ray Bowers
---
All photographs copyright 1999 by Ron Waite
Ron Waite's Photo Archive from the
1999 ATP World Doubles Championships



Between The Lines Archives:
1995 - May 1998 | August 1998 - 2003 | 2004 - 2015
If you have not already signed up to receive our free e-mail newsletter Tennis Server INTERACTIVE, you can sign up here. You will receive notification each month of changes at the Tennis Server and news of new columns posted on our site.
This column is copyrighted by Ray Bowers, all rights reserved.
Following interesting military and civilian careers, Ray became a regular competitor in the senior divisions, reaching official rank of #1 in the 75 singles in the Mid-Atlantic Section for 2002. He was boys' tennis coach for four years at Thomas Jefferson High School for Science and Technology, Virginia, where the team three times reached the state Final Four. He was named Washington Post All-Metropolitan Coach of the Year in 2003. He is now researching a history of the early pro tennis wars, working mainly at U.S. Library of Congress. A tentative chapter, which appeared on Tennis Server, won a second-place award from U.S. Tennis Writers Association.
Questions and comments about these columns can be directed to Ray by using this form.
---