Refuse To Miss
Greg Moran
If you read last month's column, Learn to Say "Too Good" you'll recall I wrote that more than eight out of ten points played (at every level of the game) are decided by an error. I also wrote that errors come in two flavors: forced and unforced.
Sometimes our opponent forces us to miss because a shot, or series of shots, that they hit are just too tough for us to return. They simply beat us and that is when we must learn to say "too good" and move on to the next point.
However, many times errors come as the result of nothing our opponent did but rather our own lack of patience or overly aggressive approach to the game. We try to hit the ball too hard, too low or to too small of an area and we miss. These are unforced errors.
Both types of errors leave a bad taste in our mouths but unforced errors are particularly difficult to swallow because they are, in most cases, a result of our own loss of control, either physical or mental.
Regardless of your level of play, unforced errors play a huge role in all of your matches. Simply put, the fewer you make, the greater the chance you'll have of walking off the court with a win. With that in mind, this month's column is dedicated to the reduction of unforced errors.
In order to successfully battle the unforced error demon you must first change your approach to the game. This means throwing out the "go for it," "aim for the lines," "smack winners mentality" that is so popular these days.
Yes, I know we all love to hit that great, net-skimming, line kissing rocket that our opponents enviously watch fly by. I've hit a few in my day and, you know what? They feel great! You clip the line and feel as if you've just won Wimbledon.
The problem with those shots is that they lead us to believe that we can do it again and we become bound and determined to prove it. Fifteen to twenty unforced errors later, the memory of your "great" shot has been replaced by anger frustration and another notch in our loss belt.
Trust me, when you hit that "great" shot it was, more often than not, a "lucky" shot. "Great" shots may get the crowd (if you actually play in front of one) on their feet but they seldom win tennis matches. What wins tennis matches are a lot of "pretty good" shots and a minimum amount of errors. Forget about the big/great/lucky shot approach to the game.
The next time you step onto the court, take a deep breath and repeat the Mortal Tennis Players' mantra:
I refuse to miss.
I refuse to miss.
I refuse to miss.
I refuse to miss.
I refuse to miss!
Repeat it as you go through your warm-up, in between points and during changeovers. This simple phrase will begin to tame the tennis devil inside of you that is constantly whispering into your ear those dreaded, unforced error inducing, words, "go for it."

Let your opponent go for the winners, while you simply learn not to miss. Here are four tips that I give to my players that always, I repeat always, work:
Prepare. The key to success in every shot in the game is early preparation. This means keeping our eyes focused on the ball from the moment the point begins. It also means keeping your feet moving and, the second you have determined what type of shot your opponent has hit to you, getting your racket ready as quickly as possible.

Height matters. With every shot, your first goal is to clear the net. When you find yourself in a baseline rally, aim your shots 4-6 feet over the net. This will keep you safely over the net and also help to keep the ball deep. If your opponent attacks the net, aim a bit lower (1-3 feet) but always be certain to give yourself enough of a safety margin.

Remember, a poor shot that clears the net keeps you in the point for the simple reason that your opponent must now hit the ball. A hard, impressive looking shot that threatens to tear a hole in the net does nothing for you but lose the point.

Stay away from the lines. I believe it was the legendary Harry Hopman who was famous for telling his players to "hit for the lines." That's great advice if your name happens to be Laver, Emerson or Rosewall. However, with all due respect to "Hop," if your name is Tom, Dick, Sally or Greg, it is horrible advice. "Mortal" players like you and I should aim nowhere near the lines. Keep your shots 4-6 feet inside the sideline and 4-6 feet inside the baseline. This will greatly reduce your number of unforced errors.

Get it up. When you feel off balance or in trouble in any way, remind yourself to "hit up and crosscourt," and by "up," I mean "up." One of the things that separate the true players from the pretenders is that the players recognize when they are off balance or out of position.

These players know that, from an awkward position, the odds of hitting an offensive shot are slim while the chances of committing an error are great. So, rather than take the risk of giving their opponent a free point, they simply return the ball high over the net (15-20 feet) and crosscourt. They are keeping the ball in play and, in a sense, starting the point over again. This is also a great way to catch your breath during a long rally. Jimmy Connors was famous for this in the latter stages of his career.
Forget the "Take no prisoners" approach. Incorporate these tips into your game and I can guarantee that you will see your percentage of unforced errors drop and your number of points won rise.

Suggested Reading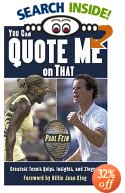 Though tennis may be a game of errors, occasionally someone hits a clean winner and that is certainly the case with Paul Fein's new book You Can Quote Me On That. Fein, one of the world's top tennis journalists for over two decades has served up an ace with this collection of nearly 1700 entertaining, educational and thought provoking quotes from the games greatest personalities and legends.
This is not just a series of witty one-liners. From Bill Tilden up through Serena Williams, Fein has put together a treasure chest of quotes cleverly arranged to give us an inside look at the world's greatest game, it's issues and those who make it special.



Mortal Tennis/Circle Game Archive
If you have not already signed up to receive our free e-mail newsletter Tennis Server INTERACTIVE, you can sign up here. You will receive notification each month of changes at the Tennis Server and news of new columns posted on our site.
This column is copyrighted by Greg Moran, all rights reserved.
Greg Moran is the Head Professional at the Four Seasons Racquet Club in Wilton, Connecticut. He is a former ranked junior and college player and certified by both the USPTA and USPTR. Greg has written on a wide variety of tennis-related subjects for numerous newspapers and tennis publications including Tennis, Tennis Match and Court Time magazines. He is also a member of the FILA and WILSON Advisory Staffs.
Questions and comments about these columns can be directed to Greg by using this form.
---