2008 Tennis Masters Cup
Shanghai, China - November 12, 2008
Editorial by Jane Voigt


Jane Voigt
Roddick Out, Radek In, Murray Through to Semifinal

November 12, 2008 -- At the Indianapolis Tennis Championships this year, Gilles Simon told the press that he wanted to end the season ranked 15-20. To do that he had to play beyond the quarterfinals of a hard-court event, and win.

"I need my first hard-court title," he said, emphatically.

Simon was known as a "clay-courter." Red clay was a comfortable and familiar surface he had grown up on in France. The hard courts of America posed a challenge for the slightly built Simon some friends had nicknamed Poussin, French for "chick." Indianapolis was his chance to work toward his goals. He came here to prepare for Toronto, which was the following week. If he did well in Indy, with its heat and humidity, his confidence would buoy him in Canada -- a Masters Series event. Simon went way beyond his expectations at Indy. He won the title, and hoisted the trophy as his parents applauded from the stands. Simon was off to a good start.

Obviously, by now everyone knows that Gilles has far exceeded his earlier goals. He has made it to Shanghai for his first Tennis Masters Cup competition; he will finish the year in the top ten.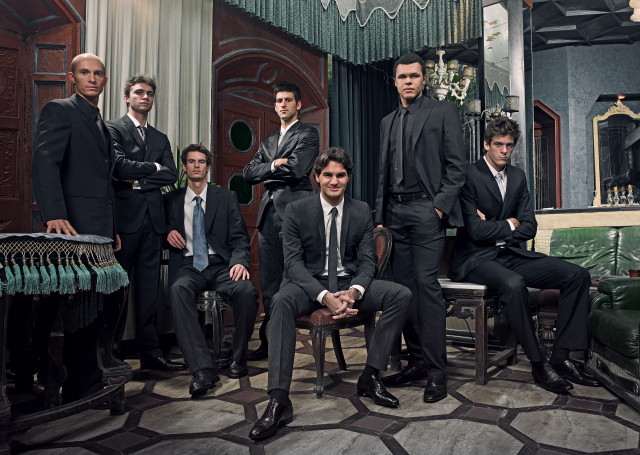 The elite eight of the 2008 Tennis Masters Cup:
(l to r) Nikolay Davydenko, Gilles Simon, Andy Murray (seated), Novak Djokovic,
Roger Federer (seated), Jo-Wilfred Tsonga, and Juan Martin del Potro.
Not pictured is Andy Roddick, who was replaced today by Radek Stepaneck.
(Photograph by Quentin Shih courtesy ATP.)



Although Simon is small in stature, his foot speed and anticipation are among the best on the tour. As he hits a backhand or forehand he accelerates the racquet head, driving balls deep in the court.

"Gilles Simon does so many things nicely," Peter Fleming, commentating for Sky Sports, said after Simon's match with Andy Murray today. "He can accelerate shots. And, he works very hard."

Simon didn't work hard enough to beat the hot Scot Andy Murray. "He never got that critical blow," Fleming said. Andy Murray won the match 64 62, and secured a spot in the semifinals because he won in two, not three, sets.

"With Gilles I tried to be a bit more aggressive," Andy was reported to have said on tennis.com. "I wanted to return well. I knew if I won in two sets I'd be in the semis." "This was one of Andy's best matches here," Greg Rusedski, also commentating for Sky Sports, said. "To beat Gilles Simon -4 and -2 is impressive.

Next up for Murray is Roger Federer. "I'd like to knock him out [of the competition], so I don't have to play him again," Murray admitted. He holds a winning head-to-head record against Federer -- 3 and 2.

Their most recent encounter was in the Madrid final where Andy prevailed. However, he could not surpass Federer at the U. S. Open final, which netted him his fifth title from that Grand Slam.

Earlier today Andy Roddick held a press conference to let the world know he couldn't continue. During practice he had twisted his ankle. It wasn't well enough for match play, especially against Roger Federer.

"The movement's just not there," Andy said, on Sky Sports. "It's disappointing. I feel as if I'm playing catch-up the last few months." Radek Stepanek replaced Roddick in the red group. But the Czech really didn't expect to play this week, but was at the facility as part of the ATP's agreement with sponsors.

"He didn't bring any socks and wanted to borrow some from me," Andy Murray said in a one-on-one shown on tennis.com. "He doesn't have his own racquets. He also said something about not having his contact lenses."

It's true that Stepanek played with a borrowed racquet. The usual Volkl logo wasn't stenciled on the strings, but there was a u-shaped Head logo. Whether Stepanek wore Murray's socks is up for speculation. In any case, neither the socks nor the racquet did the trick. He lost 76 (3) 64. If the statement about "lost" contact lenses was true, Radek performed amazingly well.

In the first set Federer went up a quick break, but couldn't hold it. He looked sluggish. His shots were mistimed. Routine strokes eluded him. However, Roger served well enough to right the ship, something he has done many times in the past. In the tiebreak, Stepanek had too many unforced errors. Federer broke the Czech in the second set and served for the match at 5/3, but couldn't convert. He won with a break. It's sometimes easier that way.

The mighty Federer's sluggish play was tracked to a sudden illness. Here's what Kamakshi Tandon wrote for "The Ticker."

"Roger Federer says he was fortunate to even be able to play on Wednesday after being struck by illness the day before. "'I woke up in the morning and I was feeling terrible,'" he said. "'I guess I got really lucky my match was scheduled late today and then Radek was not playing with his own racket, so that made it a little bit more lucky. I hope with a day of recovery I'll make a miracle happen here and get through to the semis."

The large crowds on hand this week would like to see Roger advance, too. With contingencies from Switzerland, Argentina, and China filling the seats, cameramen have had a field day showing happy fan faces. One person brought a sign that read, "Will you marry me Roger?" No official reply has been released.



Player Profile Index (Men) | Pro Tennis Showcase Archive | Player Profile Index (Women)


SUBSCRIBE TO THE TENNIS SERVER PHOTO FEED
All Tennis Server photography is copyrighted by the photographer and/or the Tennis Server, and all rights are reserved. You may not copy these images without permission. While you are welcome to create hyperlinks to Tennis Server web pages, you may not embed these images into other web pages or blogs without permission. To request permission, please use this contact form. Please be sure to clearly indicate exactly which photograph(s) you are requesting permission to use, as terms and conditions will vary depending on the photographer and the photograph.
---