2010 Cancer Treatment Centers of America Tennis Championships, Surprise, Arizona, USA
October 22, 2010
Editorial by Vince Barr.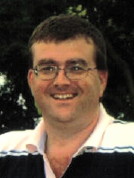 Vince Barr
Chang Rolls, McEnroe Argues in Surprise, AZ

October 22, 2010 -- The 2010 Cancer Treatment Centers of America Tennis Championships kicked off Wednesday in Surprise, Arizona. This $150,000 senior men's Champions Series event is played in a round-robin format with eight players separated into two groups of four each. Each player plays everyone in his group and the one with the best record in each group will face the player with the best record in the other group for the championship. The second place finishers in each group play each other for third place in the tournament. Each match is played in the best two of three sets format but in the event where each player wins a set, a Champions Tiebreaker will be played. This tiebreaker is identical to the "super tiebreaker" played on the ATP Tour in doubles matches where the first player who wins 10 points with a margin of two wins the set and the match. The tournament winner pockets $60,000. To be eligible to compete on the Champions tour, a player must meet at least one of the following five criteria: (1) be at least 30 years old; (2) have won a grand slam singles tournament; (3) been runner-up in a grand slam tournament; (4) achieved a ranking within the top 5 players in the world at some point or (5) participated on a Davis Cup singles championship team.

The first match on Wednesday (10/20) featured Mark Philippoussis vs. Aaron Krickstein. "Flipper," as he is sometimes called, has had struggles with various knee injuries. Technically, he is not retired, at least not in the official sense that I have been able to find. But, for all practical purposes, he won't be returning to the ATP Tour anytime soon. He is 33 years old (turning 34 in early November), did not play on the Tour at all in the last three years and only has one challenger event in Dallas that he played this year. In that match he lost in straight sets (4-6, 4-6) to American Michael Yani who, at the time, was the 161st-ranked player in the world. He does, however, currently lead the champion's tour with 1,500 points (the second ranked player on that list is Jim Courier, with 800 points). He has had six knee surgeries, three on each knee, which has kept him away from the ATP Tour level competition, which is quite sad. It is quite rare for a professional athlete in any sport, let alone an individual one like tennis, to walk away from the game on their own terms.

He was paired with Aaron Krickstein, who reached a career-high singles ranking of # 6 on 2/26/90; he retired in 1996 with nine singles championships. True to form, Philippoussis played from the baseline and was broken in his second service game to go down 3-1 in the first set. However, he won the next five games while breaking Aaron three consecutive times to take the first set, 6-3. The second set started off with Flipper breaking Krickstein's serve. Mark obtained an insurance break in the fifth game of the second set to obtain a comfortable 4-1 lead en route to winning the second set 6-2 (as well as the match). Afterwards, Mark was fairly complimentary of Krickstein's game by noting that "(He) is a brick wall and he makes you earn every point; luckily, I just got into a groove," Philippoussis noted. For his part, Krickstein mentioned the fact that "in tennis, momentum can swing unbelievably fast between both players. He picked up his game at 3-all in the first set and it was kind of a snowball from there," Aaron concluded.

The second match on Wednesday featured Jim Courier against Jeff Tarango. This outcome of this match was in doubt until the very end as both players split the first two sets, with Tarango winning the first one in a regular tiebreaker, 7-6 (5) while Jim won the second, 6-3. Courier ultimately prevailed in the Champions tiebreaker, 10-4 to take the match. Both players did not make themselves available for interviews after the match and, like all other Champions tournaments, no official statistics were kept.

Day 2's matches featured Michael Chang against Jimmy Arias. Jimmy was steamrolled by the younger Chang in straight sets, 6-0, 6-2 and started playing to the crowd in order to lengthen his on court time, or, as he told the crowd, try to make Chang nervous to close it out. To be fair, Arias looked to have some sort of abdominal injury and was taped up fairly well. Perhaps the perspiration might have made the tape uncomfortable to wear, so after the third game of the first set, he ripped it off. A middle-aged woman provided some unintentional comedy by yelling at Arias to "take it all off" to which the crowd laughed and Arias smiled. Shortly after that moment, Jimmy started to "lighten up" a bit and began talking to the crowd between points in order to throw Michael's rhythm off a bit. It didn't work as Chang was all business from start to finish. It seemed like only a few minutes, but the first set quickly got out of hand (if you were rooting for Arias) and he went down in a bagel, 0-6. Arias then turned to the crowd and yelled "Now I've got him right where I want him!" which made everyone laugh.

Arias started off the second set by holding serve and then puffed out his chest and loudly proclaimed "No one beats Jimmy Arias 0 & 0!" That was a reference to Vitas Gerulaitis' famous remark after winning a match against a top-ranked opponent (I think it was Jimmy Connors but it could have been John McEnroe or some other big player at the time) that "no one beats Vitas Gerulaitis 15 times in a row!" The comedic moment in this match came on an out call by an errant Michael Chang volley that landed well long off the baseline. I was sitting at the opposite end of the court and didn't hear the call but saw the line judge extend her hand to indicate that the ball landed long. Arias jumped on the call and walked towards the chair umpire and declared in a loud voice "the line judge called that last ball out, but she did it very, very quietly" (and he lowered his voice at that point to indicate the volume of the call was well short of what you'd expect. The chair umpire looked at the line judge who could only nod her head and then Jimmy approached her and gave her some unsolicited advice: "you need to work on your annunciation" and then gestured towards his abdomen, like a vocal coach might encourage a pupil to sing from the gut rather loudly and the crowd roared with laughter. I think the line judge turned five shades of red in embarrassment but it was quite humorous to see. Still, I do think that whatever injury Jimmy was struggling with hampered his effectiveness in this match; Chang played well, but not enough to allow an in-form Arias to win only two games in the match, in my opinion.

After the match, Michael noted that he "felt really good, the conditions were nice, perhaps a little cooler than what I expected, but I think the recent rain chilled things down a bit." I asked Chang what were some of the differences between a Champions event and a regular one on the ATP Tour, aside from the obvious differences in format and number of events on the calendar. "Well, on the ATP Tour, the mental aspect of the game and the training regimen are totally different than what we do here. Don't get me wrong, we can still go out here and play great matches, we just can't do it as often as we used to when we were playing more regularly on the Tour itself. I'm not going to be at the level of a Federer or Nadal anymore," Chang noted. I then told him that when they get to be his age (38) they won't be able to play the way they do now, either, which brought a smile to Michael's face. "You know, out here (on the Champions tour), you get guys playing who just miss the game; after you retire and do nothing for awhile, you begin to miss playing. At least, that's what happened in my case. Guys who weren't competitive or else just don't want to play tennis anymore don't play these events and that's fine," Chang said.

I then asked Michael if he was interested in coaching and his eyes lit up. "Well, I had been doing some coaching with a young Chinese lady and that was ok, then I started coaching another talented Chinese girl who did well in the NCAA tournament. But I ruined that when I asked her to marry me," Chang laughed. "And then she got pregnant, which set her back even more," he said with a smile. "The baby is due in December and we are expecting a little girl," which will be their first child. Michael really perked up when he started talking about his family and it was nice to see. So much of the time, professional tennis players have to postpone, in some cases, permanently, starting a family due to the demands of their career.

My last question for Chang (Arias skipped his interview) was who he favored for the captaincy of the U.S. Davis Cup. "Jim (Courier) and Todd Martin are and should be the front-runners for the position," Michael noted. "I think that both people would bring different things to the captaincy and both of them would be good for the game in that capacity; so I don't think that anyone can go wrong with either one," Chang noted. As if he anticipated my next question, he looked at me and said that he did not have any interest in the position himself at any time in the foreseeable future, especially with him just starting his family.

The second match of the evening featured John McEnroe against Wayne Ferreira. It was the first opportunity I had to see McEnroe play and he was his usual, bombastic self. Although he won in straight sets, it was not without a significant amount of self-inflicted drama. Predictably, he threw his racquet after he missed an overhead smash by Ferreira and drew a code violation warning. But he was just getting started. Inevitably, there was a questionable line call on one of Ferriera's serves. From my vantage point, it looked like the ball landed a bit long behind the service box but it was called good. McEnroe glared at the chair umpire, and then started to berate the linesman who made the call. "Just show me the mark where the ball landed," McEnroe yelled. The linesman refused to budge and then John got louder and used the "S-word" which I cannot repeat here. Then he stormed over to his chair and started berating the chair umpire and sat down. One lady from the crowd yelled at McEnroe to "just grow up and play" and that set him off even further. "You shut up lady," he yelled. "It's past your bedtime anyway" which was kind of a slam against most of the senior citizens in attendance. At that point, I would have defaulted him from the match if I were the tournament official, but the chair umpire lacked the authority to do that and called the supervisor to the court.

McEnroe talked with the supervisor and apparently calmed down but lost the game as the result of his tirade. I know that most people come to see him implode and to some extent, McEnroe obliges. In the press conference afterwards, I asked him if he feels as though he plays better when he's angry. "Well, I used to play better that way, but that's not the case anymore. People ask me all the time if my outbursts are just part of the theatrics I bring into a match or whether or not I'm seriously that angry on court," McEnroe noted. "I have to say that it's both, because there are things that happen on court that really make me angry but I don't come into a match with the intent of just blowing my top off for no good reason. So, it's kind of complicated. I won't deny that part of it is just giving the fans what they want, but part of it really is me reacting to what I feel are very questionable calls. The anger just boils over because I feel that calls were missed or that the officials were not paying attention or something like that," McEnroe concluded. John won the match 6-4, 7-6 (2); it was the first time he had beaten Ferreira in several tries.

I asked Wayne what were some of the challenges he faced in playing tennis again after his shoulder surgery. "Well, for one thing, the strength in my shoulder is completely gone. It used to be that I could rely on my serve with pinpoint accuracy and I was able to play high percentage tennis, putting the ball where I wanted to put it. That's not the case anymore. Also, rhythm is an issue. Since I don't play as often anymore, I've become a bit tentative in my shot selection. For instance, trying to decide which shot I want to use in a given situation; that used to be automatic and part of the game plan going in. So, those are two adjustments I have had to make in my game as I grew older," Ferreira said.

Friday's matches are split between two sessions, with the first one featuring Philippoussis facing Jimmy Arias, followed by Chang vs. Krickstein. The nightcap starts off with Courier against Ferreira followed by McEnroe and Tarango.





Player Profile Index (Men) | Pro Tennis Showcase Archive | Player Profile Index (Women)


SUBSCRIBE TO THE TENNIS SERVER PHOTO FEED
All Tennis Server photography is copyrighted by the photographer and/or the Tennis Server, and all rights are reserved. You may not copy these images without permission. While you are welcome to create hyperlinks to Tennis Server web pages, you may not embed these images into other web pages or blogs without permission. To request permission, please use this contact form. Please be sure to clearly indicate exactly which photograph(s) you are requesting permission to use, as terms and conditions will vary depending on the photographer and the photograph.
---