Tighten up or lighten up?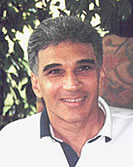 Tom Veneziano
In a football game a receiver finds himself open and makes a spectacular catch with soft hands and a deft touch. Everything seems effortless and instinctive. He then pulls the ball close to his chest and decides to make sure he has control of the ball by squeezing tighter. Oops! To his amazement the ball pops out of his hands for an incomplete pass!
This is how many of you play tennis. You maneuver yourself into position and finally have that perfect shot to end the point. In your excitement you mentally and physically squeeze tighter, only to send the ball into the net or out of bounds, over the fence or into the next county. Anywhere but in the court!Ê
Unfortunately, this scenario occurs often in sports and is a reality most athletes must learn to handle effectively. Overplaying by doing too much at a crucial moment is a pitfall for many a great athlete.
What similar situations are there in tennis and what can you do about it? Three different scenarios come to mind.
1. As mentioned earlier, you finally have an opportunity to go for a winner, but you tighten up and go for too much...overkill! Just like the football analogy where a player squeezes extra tight to make sure he has the ball, you are going to MAKE SURE your opponent does not get the ball back.
2. You are falling behind in a match and feel the game is slowly slipping away. Afraid that you will fall too far behind, you become anxious. You begin pressing in attempt to get the points and games back quickly...overkill! As a result you fall farther behind.
3. You are returning serve in doubles and the net opponent keeps poaching. In your attempt to keep the ball away from the net player you force the ball even more crosscourt, sending your shot to the next court! Well, you finally got the ball away from the net player...overkill! Just like the football player, the ball popped out of your hands one more time.
Although these are all different scenarios, the answer is the same for all three situations with slight modifications. You must face reality, understand your predicament and slow down.
UNDERSTANDING THE SITUATION
You must understand that all three of these situations do not call for anything exceptional. Forget the spectacular play. You just feel like heroics are needed to save the day. You do not have to do anything extraordinary. I watch the determined look on player's faces when they are about to hit a winner, they have fallen behind in a match or they get beaten a few times by a poacher at the net. Like Nostradamus I can almost predict what will happen ninety percent of the time, just watching the situation. I think to myself, "Here it comes, the players imagine they must now do the fantastic in order to win. They will proceed to overthink, overplay, overkill!" Sure enough, it happens.
To stop this scenario from becoming chaos on the court you must first understand what is happening. Your anxiety in these situations is what makes you tighten up and you attempt to do too much - disastrous! You must learn to not give in to this emotional trap. Instead, relax and slow down!
SLOWING DOWN
The solution to all three situations is to slow down...yes slow down, relax, take your time, do not force the play. You've heard this before... play one point at a time. In other words DO NOT RUSH.
When you have that golden opportunity to go for a winner, relax and slow down a little. You are not trying to win ten points with one shot! The winner will count for only one point. All the anxiety does not make the shot or add any points to your score. In fact, more than likely you will subtract points from your score!
When you are falling behind REMIND yourself to slow down and play one point at a time. Never let your apprehension lure you in to a false sense of urgency.
When a player has poached a few times and you are returning serve, relax, slow down, pick your spot crosscourt, then let it go. No need to overplay or over-hit the shot. Remember, your opponent still has to reach the ball and make a good shot.
When these anxiety situations occur, DO NOT TIGHTEN UP, LIGHTEN UP!



Tennis Warrior Archive
If you have not already signed up to receive our free e-mail newsletter Tennis Server INTERACTIVE, you can sign up here. You will receive notification each month of changes at the Tennis Server and news of new columns posted on our site.
This column is copyrighted by Tom Veneziano, all rights reserved.
Tom is a tennis pro teaching at the Piney Point Racquet Club in Houston, Texas. Tom has taught thousands of players to think like a pro with his Tennis Warrior System.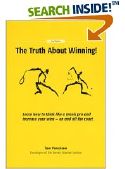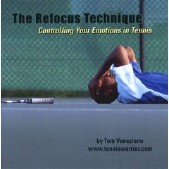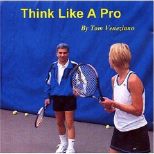 In Tom Veneziano's book "The Truth about Winning!", tennis players learn in a step-by-step fashion the thinking the pros have mastered to win! Tom takes you Step-by-step from basic mental toughness to advanced mental toughness. All skill levels can learn from this unique book from beginner to professional. No need to change your strokes just your thinking.

Audio CDs by Tom Veneziano:



---