A Simple Plan Gone Awry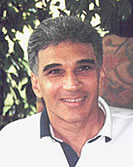 Tom Veneziano
Here's the instruction I gave a pro who was recently playing a tough opponent in a tournament: "Get a lot of first serves in and work your opponent with lots of long rallies." Simple, isn't it? You would think so, but it's not!
In the beginning of the match the pro had three long rallies. He won one and lost two. Right before my eyes I watched the transformation occur. He went from consistent player attempting to work his opponent to erratic player hitting drop shots, attacking the net and blasting balls from the baseline. Anything but consistent rallies to work his opponent.
After just three long rallies, as I watched a metamorphosis overtake this usually excellent player, I had a sudden epiphany: The pro did NOT believe in himself! To validate my suspicion, I asked him when the match ended why he changed his strategy after only three long rallies. Chapfallen, he answered, "It wasn't working, my opponent was out-rallying me." Confirmed! He did not believe in himself!
Do you believe in yourself? Or do you just try to dally with a strategy - try it one, two, or maybe three times and then if you fail you immediately change the strategy? If the pro believed in himself he could have overcome the emotional sting of failing a few times in long rallies. He would have persevered with his strategy until the percentages tilted in his favor. If the percentages did not tilt in his direction he then could have added a few drop shots or net attacks, but the original long-term plan would have stayed intact: Lots of first serves in and lots of long rallies.
It's that emotional avalanche again! A few failures here and there and the emotions go wild. In fact, they can bury you! The next time you implement a strategy that does not work immediately, stop, think, do not emote - cool it and evaluate. Rub a little thought salve on the emotional sting, take control, believe in yourself and STAY WITH YOUR STRATEGY!



Tennis Warrior Archive
If you have not already signed up to receive our free e-mail newsletter Tennis Server INTERACTIVE, you can sign up here. You will receive notification each month of changes at the Tennis Server and news of new columns posted on our site.
This column is copyrighted by Tom Veneziano, all rights reserved.
Tom is a tennis pro teaching at the Piney Point Racquet Club in Houston, Texas. Tom has taught thousands of players to think like a pro with his Tennis Warrior System.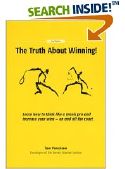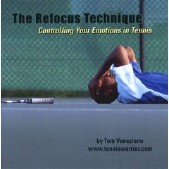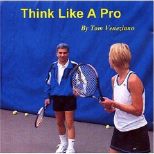 In Tom Veneziano's book "The Truth about Winning!", tennis players learn in a step-by-step fashion the thinking the pros have mastered to win! Tom takes you Step-by-step from basic mental toughness to advanced mental toughness. All skill levels can learn from this unique book from beginner to professional. No need to change your strokes just your thinking.

Audio CDs by Tom Veneziano:



---