A Word To The Wise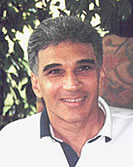 Tom Veneziano
One of the best ways to learn while watching any professional tennis tournament is to listen carefully to the player's interviews and comments. Hidden in those comments is the truth about this great game. Most of these comments go right over player's heads. I hope that as true Tennis Warriors you pick up on these gems. Here are a few below.
In one of Andy Roddick's interviews he was asked what Jimmy Connors (his new coach) has taught him. He said that Connors just wanted him to keep it simple. For those of you who have read my book, "The Truth About Winning," does this sound familiar? "Do the simple right, then do the simple better, then simply be the best at doing the simple. The pros do the simple so well, you think it's complicated!" On any level you must KEEP IT SIMPLE.
In another interview with Roddick, he was asked what he thought of his recent slump and if any other players have given him advice. Roddick said yes, Andre Agassi told him to focus on the process and not to get caught up in the isolated failures he was having. Agassi said he should learn from the process and enjoy the ride. If someone as great a player as Andy Roddick should learn to think that way, shouldn't you? Enjoy the journey.
And how about Roger Federer, the number one player in the world? What is he thinking in his match play? Here is an excerpt from an article on the US Open website, 8 September 2006, written by Brian Cleary after Federer beat James Blake.
"Another of Federer's strengths is his composure on the court. The truth is, he doesn't let himself get too up or down out there for a reason. 'I used to be very up and down,' Federer said after the Blake match, where he held his composure despite the crowd, including Blake's J-Block, that were firmly in Blakes corner. 'Now, I focus on each and every point, you know. I try to let things not get to me. I've realized that has improved my game.'" Can you imagine that! Trying not to let things bother him has improved his game.
The player's interviews contain a wealth of wisdom that can improve your game and mental attitude. You just have to listen carefully and apply the Tennis Warrior philosophy to extract the application.



Tennis Warrior Archive
If you have not already signed up to receive our free e-mail newsletter Tennis Server INTERACTIVE, you can sign up here. You will receive notification each month of changes at the Tennis Server and news of new columns posted on our site.
This column is copyrighted by Tom Veneziano, all rights reserved.
Tom is a tennis pro teaching at the Piney Point Racquet Club in Houston, Texas. Tom has taught thousands of players to think like a pro with his Tennis Warrior System.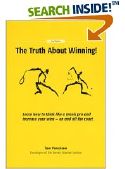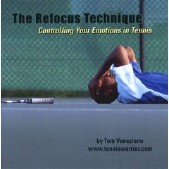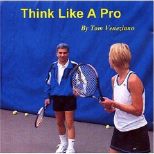 In Tom Veneziano's book "The Truth about Winning!", tennis players learn in a step-by-step fashion the thinking the pros have mastered to win! Tom takes you Step-by-step from basic mental toughness to advanced mental toughness. All skill levels can learn from this unique book from beginner to professional. No need to change your strokes just your thinking.

Audio CDs by Tom Veneziano:



---