Mental Toughness for Juniors and Adults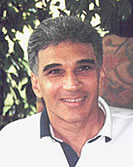 Tom Veneziano
I have been asked many times about mental toughness for juniors. Questions like, "do you have any special material for juniors? How old should a child be before you teach them mental toughness?" In this lesson I will answer these questions and give you more insight into basic mental toughness.
To begin, I have taught mental toughness principles to children ages 7, 12, 16, 24, 40, 55, and older! Yes, as you know, some adults are like children. At times, I'm sure I'm no exception!
Basic mental toughness can be taught to anyone at any age. The foundation for mental toughness is learning to take responsibility for your own mistakes and failures. If I am teaching tennis to a 7-year-old child, I immediately begin orienting the child to mistakes and failures as part of the learning process. I do not make an issue out of failing. In fact, I encourage it! My desire is that the child understands that it's okay to take a swing and miss. Why? Because that's the EXACT mental attitude pros have mastered from years of practice. But, by the time you see them on television they are making a higher percentage of their shots. As a result you are not aware of the years of mental training they endured through their many failures.
Important! The correct mental attitude must be immediately trained into a player and that mental attitude takes priority over making a shot.
Parents obviously can teach their child at an early age to handle failures and mistakes in any endeavor the child may pursue. Even if it's just learning how to walk! By doing this you are teaching them basic mental toughness. This sets the stage for the child to eventually learn some advanced mental toughness and advanced skills like learning to cope with the up and down emotional roller coaster inherent in match play. How is a child or adult going to handle these ups and downs in a match when they have not yet learned to handle a simple failure?
Now, do adults handle failures on the court well? No, not many! They too have to be taught to handle failures and mistakes correctly as part of the process of learning and part of match play. I'm afraid that most people were taught at a young age that failures and mistakes are the bad guys! They have in their psyche that failures are bad, and successes are good. As you develop some mental toughness in all areas of life, you discover that both failures and successes ride together in tandem toward your goals.
Before I go on, let me clarify something that inevitably pops up. I usually hear something like, "I don't want to accept my mistakes. I don't like mistakes!" Well, neither do I! But, I'm not telling you to LIKE your mistakes, I'm telling you to learn how to DEAL with your mistakes effectively. There is a huge difference.
When I teach players of any age I begin with the same mental toughness principles tailored to their age and skill level. Learning to handle mistakes can be applied to a beginner as well as a top professional. As a result my books and tapes can be applied to any level of play. The material can even be applied to other sports, or even businesses. I have martial artists, skeet shooters, soccer players, businessmen, sales groups, etc. using my material. I have juniors who take my books to tournaments and read some of the simple information as a reminder between changeovers. This is a great idea for many players. If you have trouble remembering an important principle you may want to write down a few of the principles and review them quickly on changeovers.
Or use your computer to make a sticker and put it on your racket with a phrase like "the next shot is more important than the last mistake." I made stickers for some of my students who said it saved them many times in a match. Remember--whether you're a junior or an adult, the emotion of the moment can easily make you slip out of the mental toughness zone. A reminder of some sort can help bring your waning mental attitude back.
One last thing. In the beginning of this lesson I gave you an important principle that bears repeating. That principle is:
The correct mental attitude must be immediately trained into a player and that mental attitude takes priority over making a shot.
The priority for everyone, child or adult, beginner, intermediate, advanced or pro, is to train your mental attitude, NOT make a shot. Once you train your mental attitude correctly, making a shot becomes a result. If you think correctly, eventually you will execute correctly!



Tennis Warrior Archive
If you have not already signed up to receive our free e-mail newsletter Tennis Server INTERACTIVE, you can sign up here. You will receive notification each month of changes at the Tennis Server and news of new columns posted on our site.
This column is copyrighted by Tom Veneziano, all rights reserved.
Tom is a tennis pro teaching at the Piney Point Racquet Club in Houston, Texas. Tom has taught thousands of players to think like a pro with his Tennis Warrior System.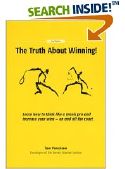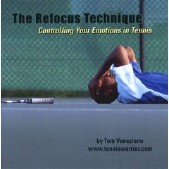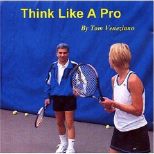 In Tom Veneziano's book "The Truth about Winning!", tennis players learn in a step-by-step fashion the thinking the pros have mastered to win! Tom takes you Step-by-step from basic mental toughness to advanced mental toughness. All skill levels can learn from this unique book from beginner to professional. No need to change your strokes just your thinking.

Audio CDs by Tom Veneziano:



---