Learning strokes from the inside out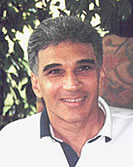 Tom Veneziano
A couple of weeks ago I was reading an excellent book called "Coaching Tennis" by Chuck Kriese (Masters Press, copyright 1997). Chuck Kriese is the tennis coach at Clemson College. I'm always checking out different coaches, their style of teaching, and where we agree or disagree. There is always more to learn. Occasionally I run into some information that is so similar to my methods that I'm shocked.

On page 40 of Chuck Kriese's book he writes about his experience studying under Harry Hopman. Harry Hopman was the Australia Davis Cup coach for 20 years and developed the talents of Rod Laver, Ken Rosewall, Roy Emerson and many others in the 50's and 60's. Here is some of what Kriese had to say when he first stepped onto the courts to study under Hopman.

"In my first month of working for Hopman, I was shocked, surprised and somewhat disappointed to find out that I was not learning all the fancy schoolbook techniques of the great players that I had heard so much about. Hopman was working with current junior players John McEnroe, Peter Fleming and Vitas Gerulaitis. He would put them on workout courts and make them hit thousands of balls as he ran them from side to side and up and back, the whole time encouraging them to push themselves physically beyond their limits. Very seldom did I hear Hopman talk about certain shot techniques, and when he did, it was always in a way that gave leniency to the player's individual form and style allowing the player to immediately adapt."

Hit thousands of balls! Leniency to the individual form and style of a player! I'm loving this stuff! A few paragraphs later he explains that it took him three months to understand Hopman's approach and that Hopman thought it was much more important to train the inner part of the athlete than it was to just train the athlete's technical skills. Kriese went on from there:

"I started asking myself questions about teaching and playing styles. Why were the strokes of the top 10 players in the world so completely different? Why were some players baseline players, and why were others net rushers? Why did almost all the players use different grips to hit the ball? I thought of all the coaches who were teaching structured styles and forcing their pupils to play in certain ways. Then I would watch Hopman. I saw how he could coax the inner part of a player to produce the results that he wanted, but always in a unique way, suiting each player's personality...."

"I realized that although certain fundamental skills are important to deliver a ball with the right force, spin and direction, a player's strokes are developed pretty much according to his individual temperament and his own style."

I love it! With all this is mind, I received a question from one of my students, who asked how he could stop swinging on the volleys. Here is the way I approach this problem for most players.

In the first lesson I immediately begin working on their thinking. I ask my student to slow down and hit the ball easier. I explain that most players hit the volley fast (an anxious swing) and then recover slowly for the next shot, instead of hitting the volley slowly (less swing) and then recovering fast for the next shot. Players actually reverse the process! They hit fast and recover slowly. After the explanation and a demonstration, the student begins to volley with a slightly reduced swing. Since I have a hitter who hits for me while I teach, I can stay on the sideline encouraging my student to volley easy and then recover fast. Hit easy, recover fast, hit easy, recover fast, hit easy, recover fast! This concept I try to instill in them through repetition.

Notice I am not trying to force the block volley, or giving them excessive technical information. However, I am laying the foundation for them to think better about how they hit the volley and eventually mold the volley according to their own style. Every once in a while I remind them to relax. This, too, helps to reduce the swing.

Next, either in this lesson or the next lesson, as they begin improving and automatically reducing the swing, I begin to teach them the concept of working the racket face, not the swing. Again, I'm working on their thinking in regard to volleys. I explain that you do not make a ball go where you want by swinging, but by how you gently adjust the face of the racket. I demonstrate by holding the racket and moving the racket face so it points in different directions. Slight movements of the racket face determine the direction of the ball, not the swing. Work the racket face, not the swing, to develop a good controlled volley. I harp on this concept for a number of lessons until I eventually mold them into a block volley. In time, the correct volley begins to happen naturally while they retain their own style and personality involved in the process.

Rarely do I even say to block the volley. Although sometimes a few words about blocking the ball or just letting it rebound off their strings works like a charm. This is all up to the teacher and what he/she feels will work with that particular student. Thus, the art of teaching is a molding process, coaxing a player in the correct direction with a variety of mental and physical techniques - all with the student's personality, style, form and instinct as part of the learning process.

This is called learning from the inside out. Try it!



Tennis Warrior Archive
If you have not already signed up to receive our free e-mail newsletter Tennis Server INTERACTIVE, you can sign up here. You will receive notification each month of changes at the Tennis Server and news of new columns posted on our site.
This column is copyrighted by Tom Veneziano, all rights reserved.
Tom is a tennis pro teaching at the Piney Point Racquet Club in Houston, Texas. Tom has taught thousands of players to think like a pro with his Tennis Warrior System.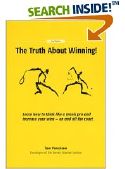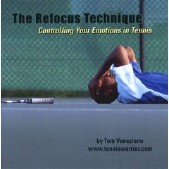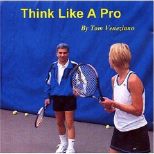 In Tom Veneziano's book "The Truth about Winning!", tennis players learn in a step-by-step fashion the thinking the pros have mastered to win! Tom takes you Step-by-step from basic mental toughness to advanced mental toughness. All skill levels can learn from this unique book from beginner to professional. No need to change your strokes just your thinking.

Audio CDs by Tom Veneziano:



---