The Making of a Champion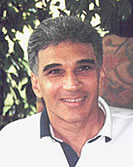 Tom Veneziano
Todd Whitley, a 28-year-old pro I have been coaching, recently played in the men's open division of a USTA tournament. This was his first tournament since he played in the juniors over ten years ago. Two months before the tournament, after careful analysis, we decided to abandon his two-handed backhand for a one-handed backhand which would feel and look more natural. Figuring he only had about two months to prepare for the tournament, we began immediately practicing the one-hander and planned to use the tournament as a training ground to become familiar with tournament play.

Before the tourney began, I instructed him to hit the one-hander no matter what happens, but to be prepared for some of them to sail out! He said okay, he was up for it. Actually in two months, after he had hit close to 8,000 backhands, the one-handed backhand had improved tremendously, though it was not ready for the level of competition in this tournament.

I was on the sideline watching his first match. That was an experience in itself! You should have heard all the comments every time he sailed a backhand out. "What in the world is he doing, he should use his two-handed backhand!" "Why the one-hander? It looks too weak!" "Why did he change? It's not very good!" Meanwhile, Todd is on the court having a blast going for his shots, once again becoming familiar with tournament play and dealing with the misses fantastically. A true Tennis Warrior mentality! And I was having a blast watching him.

This situation reminded me of the fact that most people are externally oriented. Everyone seemed to be focused on Todd's failures and not on the tremendous display of internal mental muscle! He was in a building stage of his game. Todd lost the match 6-1, 6-0, but he fought to the end and WON THE MENTAL BATTLE! Will this help him in his future matches and tournaments? Absolutely!

Surprisingly, the benefits became evident sooner than I thought. That night in the tournament, in a mixed doubles match, he won 6-2, 6-3 while continuing to use his one-handed backhand. The next day he played a singles consolation match and lost 7-5, 6-4. Some backhands still sailed, but he kept plugging away and almost pulled out the match!

That night again he played mixed doubles and won 6-4, 6-4. Todd and his partner were now in the mixed doubles quarter finals! All this with a new one-handed backhand and a dynamic mental attitude. There was a difference in his game already, but it was not physical, it was mental. Todd had used the first match to set the mental stage for future mental momentum, despite the fact that he had a new one-handed backhand. He was determined to do the best he could with the skills he possessed on that day. He succeeded!

I often wonder why some players can handle negatives and failures on the tennis court better than others? It really is just a game! Why should a negative, mistake or a loss make you miserable and affect your partner, your team, and even your life?

Maybe it's just a matter of perspective. And I suppose in this area Todd had an unfair advantage. You see, ten years ago Todd broke his neck in a swimming accident when diving in shallow water. He was laid up for months, followed by years of rehabilitation. Whether he would play tennis ever again was a big question. Somehow, call it determination, call it the grace of God, call it fate, Todd slowly after many years regained use of his crippled motor skills and through sheer determination became an accomplished tennis player again. His hands and legs are still not 100 percent... but you would never know it!

Yes, Todd is one mentally tough individual who has been told many times that he cannot do this or that. Recently, he was told he could not master his new one-handed backhand because he was still too weak from the accident and he needed the two hands. Once again Todd is proving the naysayers wrong. He has the Heart of a Champion and continues to focus on his dream of becoming the best tennis player he can be.

I challenge you to continue focusing on your dream and to become the best tennis player you can be. Whether you would like to move from a 2.5 to a 3.0 player or from a junior to a pro, you can develop the Heart of a Champion. But beware, many will tell you that what you are attempting to accomplish cannot be done. Many will tell you, as in Todd's case, that a new stroke will not work. And many will tell you, when you fail, to give up the fight. Champions focus within themselves, ignore the critic's words and move undaunted toward their goals.





Tennis Warrior Archive
If you have not already signed up to receive our free e-mail newsletter Tennis Server INTERACTIVE, you can sign up here. You will receive notification each month of changes at the Tennis Server and news of new columns posted on our site.
This column is copyrighted by Tom Veneziano, all rights reserved.
Tom is a tennis pro teaching at the Piney Point Racquet Club in Houston, Texas. Tom has taught thousands of players to think like a pro with his Tennis Warrior System.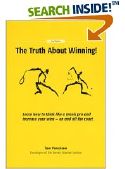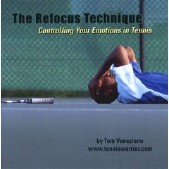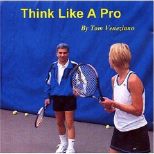 In Tom Veneziano's book "The Truth about Winning!", tennis players learn in a step-by-step fashion the thinking the pros have mastered to win! Tom takes you Step-by-step from basic mental toughness to advanced mental toughness. All skill levels can learn from this unique book from beginner to professional. No need to change your strokes just your thinking.

Audio CDs by Tom Veneziano:



---