The flow zone, finding your timing and rhythm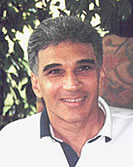 Tom Veneziano
One of the biggest challenges in a match is finding your optimum timing and rhythm, which I call the "match play flow zone." To maintain a good match flow you must learn to create a balance between overplaying and underplaying in your game.

If you can find the correct timing and rhythm in a match you will discover that your strokes will begin operating by themselves. The correct rhythm of a match has a way of carrying your game along with minimum effort. In all sports, coaches are constantly attempting to guide their players into the flow of a game or match. Coaches realize that good things can happen when players are in the flow zone and not overplaying or underplaying. You should learn to do the same.

The best analogy I know to explain this flow concept is called "drafting." This is a term used in cycling where you are directly behind another cyclist and drafting along with him or her. The front cyclist is fighting the wind resistance while the back cyclist is shielded from that resistance. There is a perfect spot behind the cyclist that will allow the back cyclist to not exert as much effort, but still maintain maximum speed. This is an athlete's dream, having maximum results with minimum effort. You are in the flow zone!

Now follow this closely. You are in the perfect drafting spot on the bicycle where you are not overworking or not under working. The flow is effortlessly carrying you along. However, if you pedal too fast, you will move yourself out of the flow or "drafting zone." You will begin bouncing off the bicycle in front, giving yourself a bumpy ride and exerting too much effort for minimum results. Your timing and rhythm will be disrupted and will affect your physical and mental game.

In tennis, this would be equivalent to overplaying in a match. You are pedaling too fast and the ride is bumpy. You are hitting great shots, followed by complete timing failures. Many shots are landing in, but the mistiming is taking its toll physically as well as mentally. You feel completely disconnected and you do not know why. If you knew about the "drafting" concept and understood its application, at this point you would back off a little to move yourself back into the correct "draft."

But, since you do not yet understand this flow concept it does not make sense to play (pedal) slower to improve your timing and rhythm. As a result, you continue to overplay, lose the match and go away thinking, "I played hard and gave it my all." As you can see, knowledge of the flow zone could have saved the day!

Now, what happens when you are in a match, playing cautiously, tentatively, and underplaying? Simple! You have moved out of the flow zone and have to work harder to keep up with your opponent. You have moved away from that perfect zone where the cyclist in front is shielding you from the wind resistance. You have moved so far away that you now have to fight your own wind resistance and work much harder just to keep up. At this point you must step it up and get yourself back into the flow zone where everything seems effortless again.

Your battle on the tennis court, as far as timing and rhythm is concerned, is to learn how to back off when you are overplaying and step it up when you are underplaying. Learn to play in the flow zone where your shots are just flowing and the game is coming to you. This is not an easy task and does take experience, but the first step is to just be aware that this zone exists.

All professional tennis players are aware of this zone. They are constantly trying to balance their game properly so they can let their strokes go! Since most players overplay in their matches I suggest that the next time you play, back off a little and see if you can begin recognizing the flow zone. If you happen to be a player who underplays, step it up a little and you may be surprised how you now can enter the flow zone!

Whether cycling or playing tennis, balance between too much and too little is an art that you must master!





Tennis Warrior Archive
If you have not already signed up to receive our free e-mail newsletter Tennis Server INTERACTIVE, you can sign up here. You will receive notification each month of changes at the Tennis Server and news of new columns posted on our site.
This column is copyrighted by Tom Veneziano, all rights reserved.
Tom is a tennis pro teaching at the Piney Point Racquet Club in Houston, Texas. Tom has taught thousands of players to think like a pro with his Tennis Warrior System.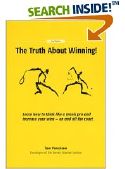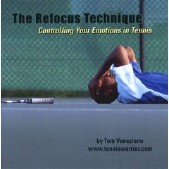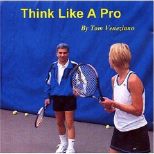 In Tom Veneziano's book "The Truth about Winning!", tennis players learn in a step-by-step fashion the thinking the pros have mastered to win! Tom takes you Step-by-step from basic mental toughness to advanced mental toughness. All skill levels can learn from this unique book from beginner to professional. No need to change your strokes just your thinking.

Audio CDs by Tom Veneziano:



---