Whose problem is it anyway?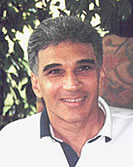 Tom Veneziano
Your child, let's call her Cindy, is a nice junior player but she always gives up when the match she is playing does not go well. As a proud parent, you are annoyed and upset that your child just cannot get it. How is Cindy going to be a good player if she lets the bad times and failures discourage her? Why can she not see the big picture and how this works? You have lectured her and many times even yelled at her, all to no avail. You have watched Cindy play so often that you can predict to the second when her mental attitude will take a dive. You watch, sitting on pins and needles, thinking, "She is playing wonderful tennis, but she is falling a bit behind. Here comes the change of mental attitude." Sure enough it happens; her mental attitude goes south and she loses the match because of it. Time for another talk with Cindy!

This happens not only with juniors but with adults as well. Often in doubles one partner seems to get down on himself when the bad cycles hit. The other partner does not know what to do to get his partner out of this funk. During the match, he tries to send positive signals to let his partner know the bad cycle will pass and to encourage him to stay positive. Off the court, they have talks to see what they can do to improve this situation. Again, to no avail.

I receive many emails asking what can be done about this 'down in the dumps' mental attitude that invariably destroys their game. Well, there is no magical answer, only a different tack to get sailing again. Here is the problem. You cannot change others, you can only change yourself. If an adult or a child is just not getting it you will frustrate yourself and add stress to your own life by forcing the issue. You can offer advice to your doubles partner or teach your children the correct mental attitude, but if they are not willing to make the change themselves or it's not the right time for them to understand, you must back off. Nagging them to death may even make their mental attitude worse, and often does. Give them room to figure out the problem themselves, on their own time table.

You, as the parent or doubles partner, have to see the big picture. Let them work through this faulty attitude themselves, but still be there to give support. This will release the pressure on both of you. When you remove the pressure that player then has the thinking room to figure it out in time. Who knows how long it will take; everyone is different. Making an issue of the situation only multiplies the pressure on your partner or your child and exaggerates the problem.

How long will it take? Maybe a week, a month, a year, or many years... who knows? The question is, how long is it going to take for YOU to release the pressure and guide the process? This brings up an interesting paradox. If you as a parent or doubles partner cannot see the big picture about this situation, how do you expect your partner or child to see it? You are frustrated and stressed out when you should be relaxed and supportive. Do you not think that your frustration has a negative impact on your child or partner? You are expecting them to see the big picture when you cannot!

Which brings up a similar conflict that I see often with parents and children. The child is relentlessly scolded about her mistakes. "You made a mistake here because of this, you failed there because of that, you did not bend your knees and that caused the miss, you're missing because you are hitting too hard, you're hitting too soft and they are killing you, I told you to go crosscourt not down-the-line, you're missing because you are hitting the ball too late, do you really think that tennis outfit is the right color, did you brush your teeth this morning" and on and on. This haranguing goes on for years and the child eventually becomes a nice junior player, yet the parent is confused as to why she cannot handle her failures. The parent has made such an issue of failure for years that subconsciously mom or dad has taught the child that failures are horrible and not to be tolerated. Then, years later, when the child has a problem with failure the parent cannot figure out why. You really do not want the child to make failure an issue in her mind, but failures are an issue in your mind!

In both of these situations YOU must learn to back off and let the process be the teacher, not your nagging. Your child or partner must learn for themselves that "the next shot is more important than the last mistake." Do you know what that means? That means YOU will have to learn how to handle failures yourself with a relaxed mental attitude.

Is there hope for your child, partner or even yourself? Most definitely!

As a child, a certain tennis pro had a huge difficulty with his mental attitude. He would frequently become despondent. Not until years later, as a pro, did he finally solve the problem. Many people, his parents included, told him so often to make so many changes here and there, but nothing worked. As a result, he became hopelessly confused. One day he finally figured it out for himself. Since that time, somewhere around 2001, he has been unbelievably brilliant on the circuit. His name is Roger Federer. One of the greatest players who has ever lived, who at one time not too long ago had a wretched mental attitude. He did make changes, but in his own way, in his own time.

You must step back and give your child or partner the opportunity to forge forward in his own journey of learning. He must learn to conquer his failures and shortcomings on his time, not yours!





Tennis Warrior Archive
If you have not already signed up to receive our free e-mail newsletter Tennis Server INTERACTIVE, you can sign up here. You will receive notification each month of changes at the Tennis Server and news of new columns posted on our site.
This column is copyrighted by Tom Veneziano, all rights reserved.
Tom is a tennis pro teaching at the Piney Point Racquet Club in Houston, Texas. Tom has taught thousands of players to think like a pro with his Tennis Warrior System.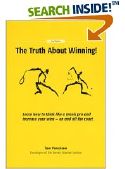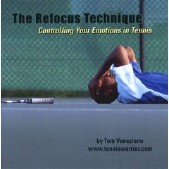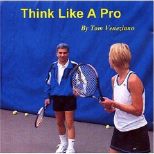 In Tom Veneziano's book "The Truth about Winning!", tennis players learn in a step-by-step fashion the thinking the pros have mastered to win! Tom takes you Step-by-step from basic mental toughness to advanced mental toughness. All skill levels can learn from this unique book from beginner to professional. No need to change your strokes just your thinking.

Audio CDs by Tom Veneziano:



---