Mentally Relax For Increased Accuracy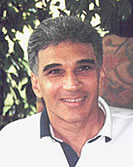 Tom Veneziano
When competing in tennis there are many situations that require a mentally relaxed, calm demeanor. Notice I said mentally relaxed, not physically. The art of moving quickly but still maintaining a calm, objective mindset is one of the most difficult tasks to accomplish in the heat of battle. This calm, relaxed mindset is well within your grasp if you are willing to practice and be patient. But be forewarned, acquiring this mindset does not just happen. Even thinking to yourself "stay calm" will not always do the trick. The internal verbal command to stay calm is a beginning, but mastering a relaxed mindset must be practiced for months. And even after months of practice there are still many different situations to recognize and then make the application. Below are three situations that require a relaxed mental attitude.

1. WHEN HITTING A WINNER

Players painstakingly work a point and find themselves in position for the kill, when suddenly their minds begin to race and they blow the winner. Most players feel they have to increase their mental anxiety to hit winners. You DO NOT have to increase mental anxiety to hit a winner. You can maintain a relaxed mental attitude, yet still vigorously run to a ball and hit a winner. The problem is, when your body is dashing here, there and everywhere your mind usually follows!

To help players solve this problem I constantly remind them to practice calming down the mind as they are about to hit a winner. Players should learn to slow down and take mental tension off their shot when hitting winners. The response I usually get to this advice is, "But if I slow down, my opponent will hit my winner back!" And therein lies the problem! Tennis players think the priority when hitting winners is power, not control. When I finally get players to relax mentally they are totally surprised by the results: Control... resulting in a well-placed winner. Mission accomplished!

2. WHEN RECOVERING FROM CHAOTIC PLAY

I see this scenario all the time. A player is in trouble, frantically moving from side to side, retrieving every tough shot hit by his or her opponent, and displaying fast instinctive reflexes that would make Roger Federer stand up and take notice! Finally the player finds himself out of trouble, physically under control and balanced. Unfortunately he has not made a mental adjustment from the intense mindset of retrieving tough shots, so when the ball comes to him he blasts it to the moon!

When you find yourself in this situation you must learn to adjust your thinking back to a relaxed, calm mindset and NOT let your mind follow the fast chaotic play that preceded. This is tough because everything happens so fast. The first step to solve this problem is to become aware that this is even happening. If you can recognize this situation in practice matches, half the battle is won. Once you do, the next step of a relaxed mental attitude becomes much easier!

3. WHEN YOU ARE SERVING AFTER MAKING ONE OR TWO MISTAKES

When serving most players' tendency is to mentally tighten up and play too quickly if they have made too many mistakes during the game. Mistakes put pressure on a player's mental attitude and that pressure manifests itself in playing too quickly and not staying composed. This results in even more mistakes! I believe players may speed up the play at this moment thinking they will quickly move back to a positive mental attitude by hitting a good shot. This, in turn, will make them feel better about themselves. Unfortunately, in most cases, because players are so mentally intense they over-play and the complete opposite occurs. They are doomed to fail!

Again, provided you can recognize what's happening, this situation is an easy one to fix. When your emotions loom after failing and you are about to serve, don't serve! Instead, stop, take a little walk, relax and regroup. If you like you can straighten your strings during this time and remind yourself that "the next shot is more important than the last mistake!" Then you are ready to serve. Your game will love you for it!





Tennis Warrior Archive
If you have not already signed up to receive our free e-mail newsletter Tennis Server INTERACTIVE, you can sign up here. You will receive notification each month of changes at the Tennis Server and news of new columns posted on our site.
This column is copyrighted by Tom Veneziano, all rights reserved.
Tom is a tennis pro teaching at the Piney Point Racquet Club in Houston, Texas. Tom has taught thousands of players to think like a pro with his Tennis Warrior System.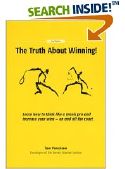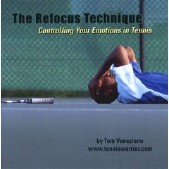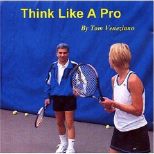 In Tom Veneziano's book "The Truth about Winning!", tennis players learn in a step-by-step fashion the thinking the pros have mastered to win! Tom takes you Step-by-step from basic mental toughness to advanced mental toughness. All skill levels can learn from this unique book from beginner to professional. No need to change your strokes just your thinking.

Audio CDs by Tom Veneziano:



---