Should You Bend Your Knees in Tennis?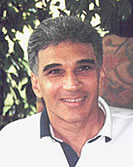 Tom Veneziano
Have you been told over and over again to bend your knees when playing tennis? Is thinking about bending your knees distracting you from playing instinctively? It should be, because it's not necessary. Like the pros you should learn to do whatever is natural on each particular shot. You must also learn to play according to your own style and body type. Some players are stiff, some players are more flexible and some are loose as a goose! One knee bend fits allā is ridiculous!

A fellow teaching pro, one who follows my Tennis Warrior system, tells me how he watches juniors overdo this knee-bending technique all the time. They receive a high ball and attempt to hit the ball with their knees bent! The pro tries to tell them to forget that and just hit the ball. Yet it is almost impossible to get them to play naturally because "you must bend your knees" has been so ingrained into them.

In the tennis industry, bending your knees has become some kind of supreme technique that makes a player's game magically work. After someone misses a shot, other players inevitably yell out, "Bend your knees!" As if that would have miraculously changed a lousy shot to a good one! Parents even join in the action, yelling out to their kids to bend those knees.

One year I was coaching a nationally ranked junior who was a tough, spirited competitor and a hard worker. She was an excellent mover on the court, but her body type was more upright and a little straighter in the legs. I had no problem with it, for her game was advancing rapidly.

Then her mother watched me play one day. I am 5'6" and flexible, wiry, quick on the court, and I naturally bend my knees. After I finished playing, the mother came up to me. "Can you teach my daughter to bend her knees like that?" I was shocked! I explained that I could not because it was not her daughter's style. I am not conscious of bending my knees, it just happens!

It is downright goofy to watch players overdo this bending the knees technique. I have seen players bend the same way on high balls, medium balls and low balls without distinguishing between the different heights of the ball. I have even seen players hit the shot and bend afterward! I have heard every missed shot in the book blamed on not bending the knees. The serve, the backhand, the forehand, the volleys, the overhead, everything! It seems to be the desired excuse of the day.

If I were you, I would forget that excuse because bending the knees as a forced mechanic does not matter. The only time you should consistently bend your knees is when you are sitting down and resting on the changeover!

HOW WRONG BECOMES RIGHT

What do the pros do when it comes to bending the knees? Exactly like the amateurs, some pros bend a lot and some pros bend a little. The first time I saw the French player Gilles Simon play, he was in the first round of an ATP professional tournament. For those who do not know Gilles Simon, he is currently ranked 35, after having reached a career high of number six in the world. Simon does not bend his knees much, which became the topic of conversation for the tournament's commentators. They made comments like, "He is going to have some problems being so upright when he plays," or "He is just so straight-legged. Was he not taught to bend his knees?"

Match after match, Simon kept winning and winning. The negative comments became less and less. In the finals, Simon was winning rather easily and now the comments became, "You know it looks like all the players but Simon are tired. Maybe they are spending too much energy bending their knees." I could not believe what I was hearing! Because Simon was winning (and he did win in the finals) whatever he was doing was now right. Just a week before, his play was all wrong!

NOTE: This is how new 'techniques' develop in tennis. If a great player comes along and wins with so-called incorrect techniques, those incorrect techniques will eventually become part of the correct way to play tennis. That is the story of the two-handed backhand, the swinging volley, the open stance, the buggy whip forehand and many more.

The next time you play a match, think of Gilles Simon and do not worry about bending your knees. Whatever your body type, whether a stiff or flexible player, just let it happen. You will have more fun, win more points and be in harmony with the best players in the world.





Tennis Warrior Archive
If you have not already signed up to receive our free e-mail newsletter Tennis Server INTERACTIVE, you can sign up here. You will receive notification each month of changes at the Tennis Server and news of new columns posted on our site.
This column is copyrighted by Tom Veneziano, all rights reserved.
Tom is a tennis pro teaching at the Piney Point Racquet Club in Houston, Texas. Tom has taught thousands of players to think like a pro with his Tennis Warrior System.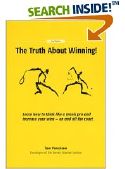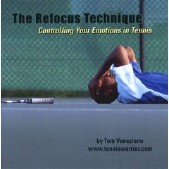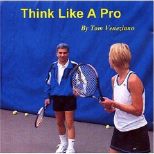 In Tom Veneziano's book "The Truth about Winning!", tennis players learn in a step-by-step fashion the thinking the pros have mastered to win! Tom takes you Step-by-step from basic mental toughness to advanced mental toughness. All skill levels can learn from this unique book from beginner to professional. No need to change your strokes just your thinking.

Audio CDs by Tom Veneziano:



---