The Mental Measuring Technique in Tennis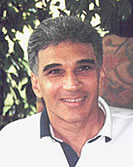 Tom Veneziano
Would you like to learn to hit a forehand or a backhand on the run? Is there a technique you could learn to accomplish this? Sure, but not in the traditional way. Instead, you will have to hit many balls to allow this technique to reveal itself to you. Here is what I mean.

The mental measuring technique is a technique you become aware of after hours of practice hitting on the run. You begin to have a sense of calmness and awareness of how fast to run, how fast to swing and what type of shot and backswing is necessary. This is called measuring the shot. Your brain is instinctively measuring all the different variables required to make the shot as you are advancing toward the ball. There are three stages you must go though to reach the measuring technique level.

Stage One - Mental chaos!
Stage Two - Part mental chaos and part mental control measuring the shot.
Stage Three - Mental control measuring the shot.

STAGE ONE - MENTAL CHAOS

When you first hit on the run you are in total mental chaos. You over-think, over-play, over-do everything! Your mind is racing trying to reach a ball that seems impossible. In the midst of all this chaos you are not only supposed to get to the ball, but also watch the ball, stay calm, prepare properly, be balanced and finally aim the ball somewhere in the vicinity of your opponent's court!

When inevitably all of this does not occur, you could instruct yourself to get that racket ready sooner or watch the ball better or stay balanced. But this is not the answer. The answer is to keep running and hitting and running and hitting until you train yourself out of this stage. Your brain has not analyzed enough balls on the run to know exactly when to take the racket back, what good balance feels like, or how any other senses function on that particular shot.

* In short, your brain needs more application data, not intellectual data, that can only be discovered through the experience of hitting balls on the run. It is process-oriented information you need to advance your game, not static technical or mechanical information.

STAGE TWO - PART MENTAL CHAOS AND PART MENTAL CONTROL

In this stage you have absorbed some valuable application knowledge by hitting many balls on the run. All of a sudden, you discover your running panic has been toned down a little and you begin to feel a sense of control of some parts of your shot. You may feel better contact with the ball, improved racket preparation, or you won't feel quite so rushed. New mechanical feelings and senses are developing and revealing themselves to you. You are also capable of aiming a few shots into the court, but most are still erratic. But in the first stage you couldn't even get the ball in the court!

This is a fun stage because you realize you are on the right track and you know this is the formula for success hitting the ball on the run. You also understand the power of process-oriented information that comes to you after much repetition.

STAGE THREE - MENTAL CONTROL MEASURING THE SHOT

You have arrived. The mental measuring technique is in full bloom! You have a heightened awareness of many senses, including a sense of everything slowing down. This along with improved racket preparation, improved timing, improved balance and improved ball placement is screaming at you loud and clear, YOU CAN DO THIS! You feel a sense of measuring the ball with some uncanny footwork and instinctive racket preparation while you are on the move. Add to that the ease with which you are thinking as you aim the ball on the dead run. You may not make every shot go exactly where you want, but your percentage has gone up dramatically and even some of the bad shots are feeling good. You now know that owning a dynamic running forehand or backhand is just a matter of time and staying with the training formula. You think, Tom was right all along, I'm sorry I ever doubted him. Ha!

This is exactly how the pros have learned to hit on the run. Hours and hours of practice that allow the process to teach them. Neither you nor the pro can force learning new senses by over-thinking mechanics. It will only frustrate you. To learn to hit any shot on the run you must get into the grind and stay there. The sense and feel of a shot will come, and it will happen by itself. That is the easy part. The hard part is to stay the course and not be distracted by a mountain of techniques.

In the end you will learn how to hit on the run, yet you will not know the exact mechanics of the shot. Guess what that means? It means you are now exactly like a pro. They do not know what they are doing mechanically either. That is why when the pros are asked what they are doing when hitting a particular shot, their answer is, "I don't know, I just hit it!" When Pete Sampras was asked how he hits his amazing forehand, he said, "I don't know how to explain, it's so natural." Goran Ivanisevic was also asked how he hits his serve so well. He said, "I toss the ball up and hit really hard." It is a myth that pros technically know exactly what they are doing!

To hit on the run, allow yourself to go through these three phases. And you, too, when asked how you hit that running forehand will humbly exclaim, "I don't know, it just feels natural!"





Tennis Warrior Archive
If you have not already signed up to receive our free e-mail newsletter Tennis Server INTERACTIVE, you can sign up here. You will receive notification each month of changes at the Tennis Server and news of new columns posted on our site.
This column is copyrighted by Tom Veneziano, all rights reserved.
Tom is a tennis pro teaching at the Piney Point Racquet Club in Houston, Texas. Tom has taught thousands of players to think like a pro with his Tennis Warrior System.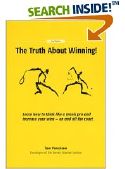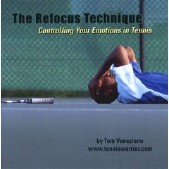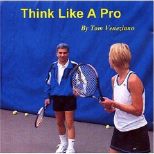 In Tom Veneziano's book "The Truth about Winning!", tennis players learn in a step-by-step fashion the thinking the pros have mastered to win! Tom takes you Step-by-step from basic mental toughness to advanced mental toughness. All skill levels can learn from this unique book from beginner to professional. No need to change your strokes just your thinking.

Audio CDs by Tom Veneziano:



---